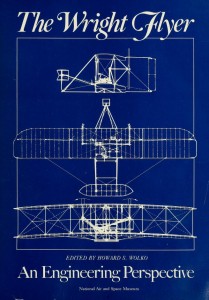 It's December 17th — the anniversary of the Wright Brothers' first machine powered air flight in Kitty Hawk, North Carolina.  In remembrance of that date 109 years ago, the Smithsonian Libraries is featuring The Wright Flyer: An Engineering Perspective by Howard S. Wolko and John David Anderson.  The online version of this 1987 Smithsonian Institution Press book is available via our Digital Library.
In the words of former National Air and Space Museum Director Walter J. Boyne:
"The story of that machine, and the two men, Wilbur and Orville Wright, who designed, built, and flew it, has been told many times. The sequence of events leading up to the birth of powered flight has justifiably received more study than any other episode in the history of technology.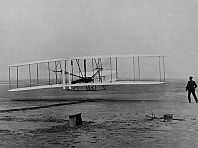 "Yet, for all this attention, the fundamental technological achievements embodied in the design and construction of that machine are still little understood. We find it easy to speak of the engineering genius of Wilbur and Orville Wright, but have difficulty explaining that genius in precise terms.
"On December 16, 1983, as part of the National Air and Space Museum's commemoration of the eightieth anniversary of the invention of the airplane, we invited five distinguished engineers to explore with us specific elements of the aerodynamic, structural, and power plant technology incorporated in the 1903 Wright airplane. As we had hoped, the speakers were able to illuminate the approach, methods, and accomplishments of Wilbur and Orville Wright, drawing on their own years of experience in aeronautics.
"We offer these papers to you in this volume, edited, annotated, illustrated, and with additional collateral material. I think you will agree that the result is far more than a retelling of the old story; it throws new light upon the epoch-making event of 1903 and the genius of the two bicycle manufacturers whose patience, persistence, and creativity changed the momentum of Mankind's eternal pursuit of greater mobility throughout its environment."
— From the book's Foreward.
Learn more in the Smithsonian Libraries' online exhibition Taking to the Skies: The Wright Brothers and the Birth of Aviation, and the National Air and Space Museum's site The Wright Brothers: The Invention of the Aerial Age.