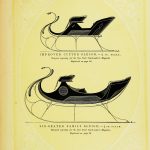 No heated seats or four wheel drive here! If you think you had a hard time dealing with the ice and snow that hit much of the U.S. recently, be grateful that at least your mode of transportation had a roof!
The "Improved Cutler Sleigh" and "Six Seat Family Sleigh" (the original Suburban?) were sleek new sleigh models featured in New York Coach-Maker's Magazine in 1869. However, the magazine was not simply a compendium of designs but was broader periodical "devoted to the literary, social and mechanical interests of the craft."
More images from the magazine, with phaetons and buggies galore, may be found in the Galaxy of Images here. You can also browse the entire first volume of the magazine, which features an illustrated history of coaches as well as a section called "Hopes and Helps for the Young",  here on the Internet Archive.
And remember — only 51 days until Spring!