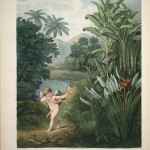 Think romance is only for mammals? This little cherub would say otherwise. Here he trains his arrow on a Bird of Paradise plant, intent on propagation.
This fanciful scene is one of many gorgeous plates in the third volume of Robert John Thornton's New illustration for the sexual system of Carolus von Linnaeus, a steamy name for a book on plant reproduction by a middle-aged doctor.
With its grand illustrations, this last volume is commonly known as The Temple of Flora. Published at the height of Romanticism, these unusual plates, moody and ethereal, made the book famous.
We've digitized the whole book and made if available through the Internet Archive: http://archive.org/details/Newillustration00Thor
You can also browse the glorious illustrations here.
Why settle for a mere bouquet when you could offer your beloved an entire Temple of Flora? Happy Valentine's Day!