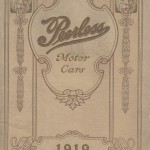 Cars are part of our everyday lives. For many of us, it would be hard to imagine life without cars. So it's not surprising to browse the Trade Literature Collection at the National Museum of American History Library and find catalogs by automobile manufacturers. Let's take a look at one of these catalogs, a catalog describing the 1910 car models for Peerless Motor Car Co.
Along with Pierce-Arrow and Packard, Peerless was one of the "Three Ps" known for making cars. But Peerless did not always manufacture cars. Before the company was Peerless Motor Car Co., it was known as Peerless Manufacturing Co. Their products included clothes wringers, bicycles, and eventually horseless single-cylinder* buggies called Motorettes.
Soon automobiles came along, and in 1902, the company became Peerless Motor Car Co. At first, Peerless manufactured racing cars, notably the Green Dragon driven by Barney Oldfield, but then went on to build luxury cars. The last car built on the assembly line by Peerless Motor Car Co. was in 1931.
But let's go back to 1910 when the company was busy making cars. Peerless Motor Cars 1910 illustrates two models for that year. Model 27 is a four-cylinder thirty horsepower car and Model 28 is a six-cylinder fifty horsepower car. The catalog begins with a description of both models including improvements for the 1910 models. One improvement was "a larger gasoline tank, holding about 22 gallons."
Throughout the catalog are images of several Peerless cars. One of these is the Peerless Limousine. "Planned and built on attractive lines calculated to please the most refined tastes," the Peerless Limousine seated five people. Passengers had the luxury of electric reading lights, armrests, and a speaking tube to communicate with the driver. Other cars illustrated in the catalog include the Touring Car, Roadster, and Landaulet.
Peerless Motor Cars 1910 is located in the Trade Literature Collection at the National Museum of American History Library. Take a look at Galaxy of Images to see more pages from this catalog.
Resources consulted include:
Kimes, Beverly Rae. Standard Catalog of American Cars, 1805-1942. Iola, Wis.: Krause Publications, 1985.
Stein, Ralph. The American Automobile. New York: Random House, [1971].
*Edited on 11/27/2013 to clarify that the Motorette was a horseless single-cylinder buggy.