It is no secret that today's job market is a dog-eat-dog world. With unemployment rates at record highs, the future that many college graduates see on the horizon is a grim and scary place. However, University of California, Berkeley has created a program to help better prepare their students for the post-graduate battlefield. The Externship Program creates opportunities for students to get hands-on experience in a chosen career field during their winter break. The program is made possible by UC Berkeley alumni who generously share their time with undergraduates who are ready to explore a career. Depending on the sponsors availability, the externships can range from one day to one month. Although many other notable universities such as Cornell, USC, Boston College, and University of Pennsylvania have similar externship programs, it is still a relatively unknown opportunity. Below, Haley and Kaylie share their experience working at the Hirshhorn Museum and Sculpture Garden.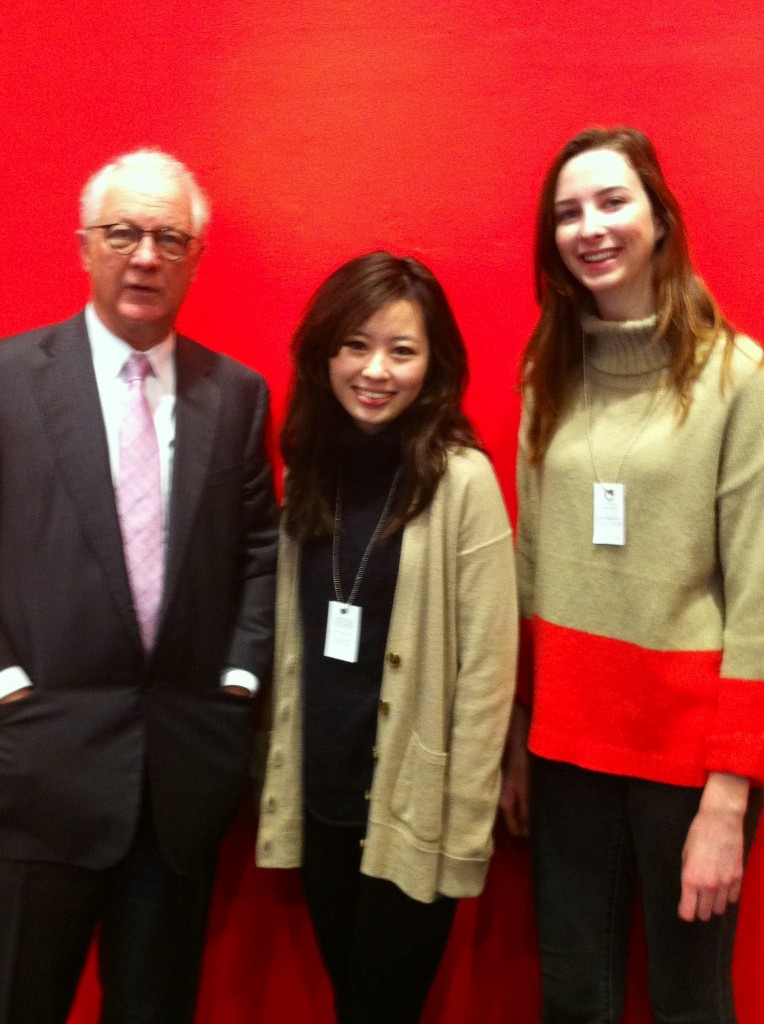 Haley Lundquist:
Hello! My name is Haley Lundquist and I am a junior undergraduate student from UC Berkeley. For the past two weeks I have worked with Anna Brooke at the Hirshhorn Museum and Sculpture Garden. Taking into account the short time period of the program, my goal for the externship was to immerse myself in the daily functions of a museum library, as well as familiarize myself with the various departments within a museum. Anna was very accommodating and interested in personalizing the program to tailor to our specific career goals and what we ultimately wanted to gain from the experience.
Right away, I was introduced to staff members from every department within the museum. Words can't express how helpful it was for me to hear their stories and learn about the journey that they have taken to get where they are in their careers. I am so thankful for their willingness to take time out of their day and share their experiences and knowledge with Kaylie and me.
In addition to meeting staff members, I was able to explore the Hirshhorn and many of the other Smithsonian museums. I loved attending the gallery talk on the Ai Weiwei exhibit and hearing about the complex installation process. Anna encouraged us to see as much art as we could while in Washington, D.C. Although I explored many museums, I quickly found out that the art isn't just in the museums. Washington, D.C. has so much character and history all across the city. Whether it be the White House or a random building on H Street, I was amazed by the unique personality that these building bring to the city.
Not only have my two weeks here in Washington, D.C. at the Hirshhorn Museum been extremely informational, but they have also opened my eyes to what a career in a museum looks like. I am truly appreciative that Anna was kind enough to take us under her wing.
Kaylie Kwon:
Hi, my name is Kaylie and I'm currently a junior majoring in art history at UC Berkeley. Despite the brief time period, my externship at the Hirshhorn Museum and Sculpture Garden has been a great experience.  Within the first few days, I was introduced to staff members from different departments of the museum. From the inception of curatorial themes to the actual display of artworks, a complex network of transactions seemed to take place simultaneously. Like Michael Asher's work exposing the operations inside a gallery, what goes beyond the white wall was often as exciting, if not more so, than the artworks themselves. Of course, the collection at the Hirshhorn is another story. It was my first time seeing Ai Weiwei's works in person and at such a large scale. During the Friday gallery talk, I was just amazed at the amount of planning, organizing, and handling done to assemble the delicate teahouses and ceiling snake. I also looked through the artist files and catalogues as well as artist books. As primary source materials, they help better understand the artists' interactions in their respective worlds. In one interview, I found Arman only became Arman after a curator accidentally dropped the 'd' from his actual first name Armand.
Aside from interesting factoids, I can see how scholars and curators alike can effectively use the library for research. Because the library focuses on books for artists in the Hirshhorn collection, I find the material in-depth and comprehensive in respect to the artist. Last but not least, I attended Professor Joshua Shannon's lunchbag lecture on the American Desert, discussing works by Vija Celmin and Michael Heizer, to name a few. Not only was the material interesting but the fellows and scholars at the Archives of American Art also provided a fruitful and engaging discussion. I greatly appreciated the intellectual atmosphere and their perceptive critiques. Overall, I am very grateful to have met Anna and all other staff members she kindly introduced. This experience has gained me a valuable insight into the art industry, and I look forward to the future career opportunities in this field.
Note: if you're interested in interning that Hirshhorn Museum and Sculpture Garden Library, be sure to check out our Summer Internships!