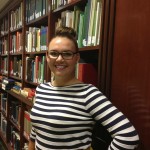 The following post was written by Development intern Tatum Lindsay. Tatum first joined us last summer and explains why she was eager to come back to the Libraries and build on that experience.
A lot of people ask me why I chose to come back to the Smithsonian as an intern. Isn't once enough? Don't I need more diverse experience for my infant college resume? What is the point of doing the same internship over again? The truth is there is no better place to be than the Smithsonian. Well, the Smithsonian Libraries, to be exact.
When I am at school during the year, I am a Peer Career Advisor at the Mount Holyoke College Career Development Center. I counsel dozens of students about their internship and job searches, resumes, cover letters, and I even conduct mock interviews with students to help them prepare for interviews. Mentoring students is very rewarding and I really enjoy my job, but when I was faced with planning my own summer, I became a bit troubled. I knew how to find quality internships that would contribute significantly to my career development – not just give me the "experience of a lifetime" fetching coffee or making copies. I searched for different internships in D.C. and found a lot of opportunities that would allow me to have a great experience, but I didn't find anything that would have truly allowed me to build on my existing skills, challenge me in ways that are productive for my career trajectory, and allow me to learn about my passion, libraries. Nothing seemed to fit just right.
Once I had narrowed down my list of internships, I applied, interviewed, and got offers. I made it a point to inquire about exactly what my duties would be during my time there and what kind of flexibility I would have, and what the expectations were during interviews. The answers I received from potential employers just did not compare to the experience that I had last year – I drafted naming opportunities that were critical to the Libraries' fundraising efforts and also wrote a Kickstarter.com proposal to boost our Adopt-a-Book program, a program that supports our rare book collections. I planned and attended the pilot Adopt-a-Book fundraising event, attended the Annual Board Meeting (and even got to witness our team win an Emmy!), and formed very meaningful relationships with my colleagues and my supervisor, Tina Muracco. I wanted an internship that would be centered on mentoring and guidance – not a position that was haphazardly created to delegate administrative tasks to a college intern. A colleague in my department said "Tatum's return to the Libraries is a testament to the strong relationships we foster with our interns. Her second summer here will allow her to see the value of the work she conducted last year, as she continues to build on her accomplishments!" Another shared, "The work of interns at the Smithsonian Libraries is invaluable."
When I approached Tina after a long time deliberating whether I should come back or not, she was enthusiastic and open to my ideas of what I wanted out of this experience. Tina worked very closely with me to develop a learning contract to ensure that I meet my goals for a substantial educational experience. We established a list of projects for the summer that fulfilled both of our expectations. "Tatum brings a lively energy to the Development Office, eagerly tackling her projects and creatively proposing new ideas to the staff," another colleague of mine said. "We are all glad to have her back.  One of her many gifts is working very well both independently as well as with our staff at several library locations and other interns." My internship at the Smithsonian Libraries truly is offering me the real experience of a lifetime.
So far this summer, I have worked on one main project: the Endowment Project. This project will culminate in a new section of the website dedicated to showcasing our existing endowments and will hopefully inspire others to establish other endowments. This project will also be translated into a brochure that will be designed by another intern, Andrea Castillo. I also coordinate the Libraries participation and representation in the Smithsonian-wide digital philanthropy project, America's Family Album, which just launched this Monday! In addition, I staff two Smithsonian Libraries Advisory Board committees – Education and Marketing and Branding. I also serve on two Smithsonian Libraries working groups, which were created to help draft the 2013-2017 Strategic Plan – Workforce Composition and Strategic Planning.
My first day, another colleague in my department grabbed me from my desk and said "the BBC is here to interview our director, Nancy, about the future of digitization." Here is the video which I was on set for. Not bad for a first day.
Oh, and I haven't fetched any coffee – and don't think that I will. I have made copies, but only for myself.
About Tatum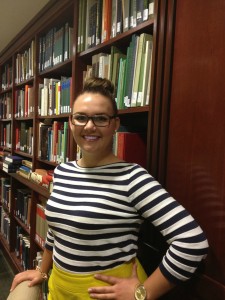 Tatum is originally from Sylva, North Carolina. She graduated from Cottey College in Nevada, MO in 2012 with her Associate of Arts, decorated with the highest honor awarded by the faculty, the Second Lei. Currently, she attends Mount Holyoke College in South Hadley, MA and will be a senior in the fall. There she studies Gender Studies and Philosophy. Tatum was awarded the Barbara Moakler Byrne Fellowship award, a competitive merit fellowship to pursue her internship at the Smithsonian Libraries. She plans to attend library science school soon after graduating from Mount Holyoke College.