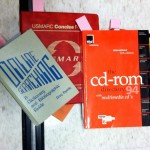 The following post was written by American Art Museum/National Portrait Gallery Library intern Becca Tanen. She is currently in her second year of a dual master's program in Library Science and English at Catholic University.
Two years ago, I was working at the library of a K-12 private school in Maryland when one of the librarians handed me the CREW (Continuous Review, Evaluation, and Weeding) manual for weeding modern libraries, developed by the Texas State Library and Archives Commission.
This library had never weeded the collection before, so I thanked her, excited to begin tackling such an exciting challenge. "I don't think anyone has ever thanked me for giving them a weeding manual before," she said, laughing.
Weeding, or as some prefer to call it, de-accessioning or de-selecting, is a critical function for the health and maintenance of a library collection. Books that are old, outdated, or simply in poor condition can take up valuable shelf space and reflect poorly on the collection as a whole. It is important to review all the books in a collection every few years to make sure they still reflect and uphold the library's scope and mission.
During my internship at the American Art Museum/National Portrait Gallery (AA/PG) Library, I had the opportunity to put my weeding skills to work in the "Z" section, a collection of indexes, catalogs, and library-related books stored alongside rare materials in the frigid, basement-level concourse area. To me, the process of weeding is a lot like curation. Even though the act of getting rid of books is the exact opposite of collecting them, many of the same questions must be asked in both processes:
            What does this book add to our collection?
            Will patrons actually use this book?
            Does this book fit one of the subject areas the library represents?
Many librarians are more reluctant to weed for fear that someone, someday, will need a particular book, and will be devastated to find that it was removed from the collection. It is particularly challenging to judge the relevance of a book in a Smithsonian library collection, which supports such a broad range of research needs.
In the weeks I spent going through the Z's, wrapped in a shawl and covered in dust, I witnessed the evolution of library practices over time. I found early manuals about conducting online searches, obsolete MARC guidelines, and CD-ROM directories. I also got a glimpse into the Smithsonian Institution's history by looking through its annual reports dating as far back as the mid-1800s.
A question emerged out of the cloud of dust: when are old materials actually "historical" and not simply outdated? A physical catalog from a fine arts library could offer valuable insight into its past collections, but a manual for how to maintain microform collections is useless. Some materials serve as historical posterity with research value, while others simply take up space. The line between history and nostalgia is one that shifts on a yearly basis, and so it is necessary to revisit that line from different perspectives over time.
 -Post contributed by AA/PG Library intern Becca Tanen.