This past summer, intern Jennifer Himmelreich arrived at the Vine Deloria, Jr. Library at the National Museum of the American Indian from her home on the Navajo Nation in Beclabito, New Mexico. Her task: to organize the Native American artists' files in the library – exhibition catalogs, postcards, slides, correspondence, CVs, and other ephemera – into an organized, succinct file system.  Jennifer sorted through thousands of pieces of material, developing and editing a collection that will encourage study and research in the library for years to come. The internship, along with her current studies, has inspired Jennifer to think of ways to bring what she is learning back home.
The Navajo Nation, spread across Arizona, New Mexico, and Utah, is roughly the size West Virginia. Yet despite its breadth, the reservation is often lacking in resources compared with many places in the United States. The reservation only has one Navajo Nation Library, located in Window Rock, Arizona – a long distance for many Navajos living on the reservation. Life on the reservation is intricately woven to the family unit: many families still live in clusters where one's neighbors are his relatives. These close familial ties give Navajos an innate sense of who they are and where they came from; traditions and customs are the way of life. However, outside of the reservation, their voices often are not heard. Jennifer envisions a future where Navajos utilize technology and social media to raise awareness in order to elevate their voices beyond the reservation's borders.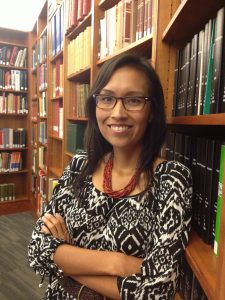 A determined visionary, Jennifer's goal is to build community centers on the reservation with ample space for libraries and archives. She wants to teach the value of preservation and archival work, including recording familial oral histories for future generations. Jennifer imagines buildings full of exhibits where Navajos can cultivate their history and reflect themselves to the larger world.
Jennifer is currently working on her Master of Library and Information Science online from San Jose State University (San Jose, Ca.) from her home on the reservation. She earned her Bachelor of Arts in Art from Fort Lewis College in Durango, Co. She views her internship with the Smithsonian Libraries as a fusion of two of her interests: art and American Indian history. She has enjoyed learning about the history of the artists and working to make information accessible for scholars and information seekers.