The Joseph F. Cullman 3rd Library recently acquired Ippolito Salviani's Aquatilium animalium historiae (Rome, 1554), a classic, foundational work on fishes. The book is one of three 16th-century works that established ichthyology as a modern science. The Libraries holds the other two – Belon's De aquatilibus (1553, a Latin translation of his Histoire de la nature des estranges poissons marins, 1551) and Rondelet's Libri de piscibus marinis (1554) – and has now completed the trio.  The Aquatilium animalium historiae is a tremendous asset for the National Museum of Natural History's curators in the Division of Fishes, who advised on the purchase.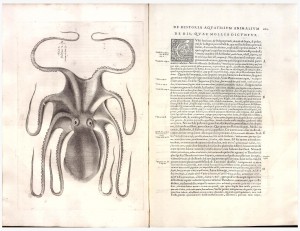 A professor of medicine at the University of Rome and physician to several Popes, Salviani (1514-1572) collected fishes in Roman markets and incorporated anatomical notes to support his systematic studies, correcting and expanding the works of the ancient authors (Aristotle, Pliny, et al.).  The book first presents synoptic tables of fish species – their characteristics, names in multiple languages, and source information in the classical authors; the main text provides in-depth descriptions of the fishes Salviani examined, with illustrations. Ninety-three species of fishes and cephalopods are depicted in the plates, with 18 of them new to the science of the time. Unlike Belon and Rondelet, Salviani was the first to limit the concept of fish to solely aquatic vertebrates, excluding beavers, otters, and sea monsters of various kinds that had previously been included.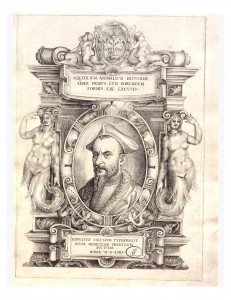 The work is the earliest zoological book illustrated with copper-engraved plates – drawn by Aretinus, engraved by Lafréry and Beatrizet – far more suitable than the woodcuts typical of the period for reproducing in fine, silvery lines the visual effect of fish scales and the delicate fins.  The great ichthyologist Bashford Dean (1867-1928) noted that the plates exceed in accuracy and beauty any others for the next 100 years.