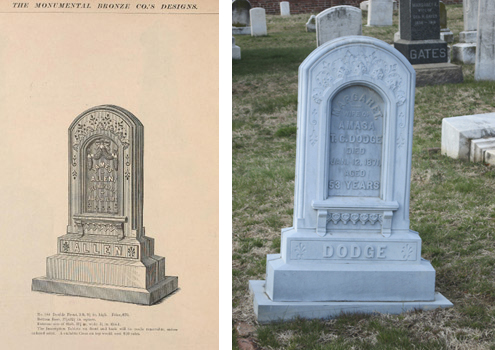 This Catalogue of the Monumental Bronze Co. is one of the many examples of trade literature that the Cooper-Hewitt National Design Library has in its collection; they are among the most valuable research resources for documenting the tastes and trends of culture, and the products being marketed and sold in a given time period. These are Victorian era zinc sculpture and ornaments for cemetery grave markers and "monuments".  "White bronze" was an attractive, elegant trade name for zinc. It actually has a bluish gray color and is easy to spot from quite a distance amongst the more traditional and widely used traditional marble, limestone and granite memorials in cemeteries.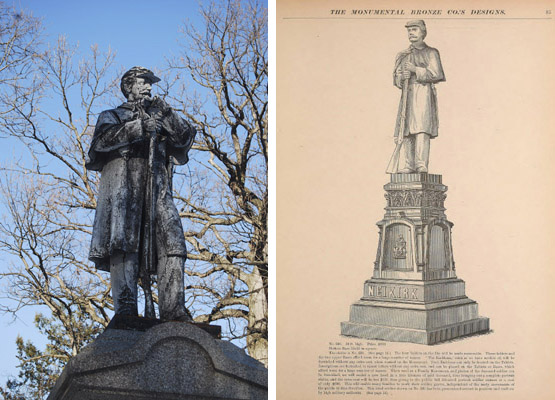 The catalogue provided the consumer an opportunity to create personalized monuments with elements and forms that best represented both their aesthetic tastes and personal attributes. You could select what you wanted in a memorial  and customize the design much the way you furnish a room or build a house. Monumental Bronze offered many iconographical emblems and  statues that could be combined, mixed and matched and added to a large selection of "blank" bases; pedestals, obelisks, columns, to create a memorial. It gave the salesman the printed examples with price lists to offer customers. In the case of this company based in Bridgeport, CT, casting samples of over 2,000 monument designs and ornaments for showrooms across the country would have been wildly impractical- hence the catalog.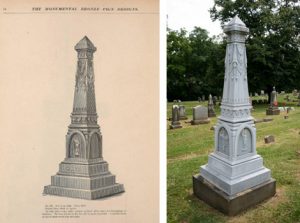 What is most interesting about this catalog is that it was a tool designed for the purpose of selling the company Monumental Bronze to a sales force: attracting and recruiting salesmen and subsidiary branches in cities across the country. If a cemetery has more than a dozen white bronze monuments, we can safely conclude that there was a successful agent living nearby in the nineteenth century. The catalogue lists the many advantages of representing Monumental Bronze. It lists major selling points: they're popular, the best, the cheapest, the most durable, first class artists are employed adding new designs- all increasing the selling power of our goods. On the business side: "No investment of capital is needed for keeping a stock of goods on hand; Any man of ordinary tact can at once understand and successfully manage the business of an Agency, and that "it will give you a business for a life time, if our reasonable terms are complied with". And possibly more reassuring and convincing – "the business is INEXHAUSTABLE, and will LIVE as long as people die and increase with the growth of population and wealth." p.127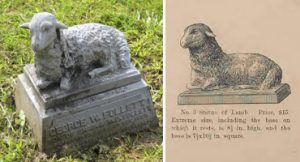 White bronze "stones" were placed in cemeteries all over America from the mid 1870's to World War I. No markers were advertised or erected after 1914 because the Bridgeport, CT plant was taken over by the U.S. government for manufacturing of gun mounts and ammunition. Fashions changed after the war and the demand for white bronze monuments closed. The Monumental Bronze plant closed in 1939. [1]
---
[1] Rotundo, Barbara. Monumental Bronze: A Representative American Company, in Cemeteries and gravemarkers : voices of American culture / / edited by Richard E. Meyer. Publisher:  Ann Arbor, Mich. : UMI Research Press, c1989.