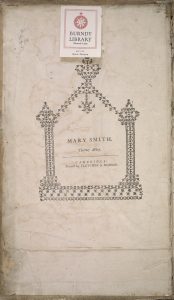 Mary Smith's Commonplace book concerning science and mathematics  is a remarkable manuscript for several reasons. 1) It contains a wide breadth of information on the sciences of the mid to late 18th century 2) Mary Smith collected and compiled the information at a time when women were still not widely educated.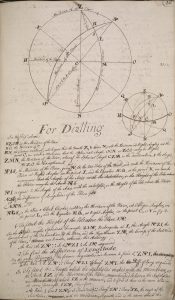 Mary Smith hailed from the small village of Thorney, England in what was considered Cambridgeshire. Considering that her commonplace book was bound in vellum, along with the fact Mary had a personal bookplate, it is likely that she was of means or at least was well connected. Commonplace books have a history dating back to the 15th century and function as a compilation of knowledge, with each reflecting the particular scholarly interests of the writer. While Mary Smith's book covers a wide breadth of topics, she had particular interests in the scientific debates and inventions of the time. She also summarizes articles and lectures which appeared in popular journals. Some of the journals referred to by Smith include: London Magazine, Philosophical Transactions, Gentleman's Magazine, and the Universal Museum.
The manuscript is divided into two parts: 1) An alphabetical index of topics, people, places and titles with the book and 2) Mary Smith's hand-written entries. Of the myriad topics covered in the book, the following are some interesting highlights:
 Atom and Atoms

Bleeding, Violent, how stopped

Candle, Experiments

Drowned, persons apparently, recovered

Hemlock, cures the Kinkcough (Whooping cough)

Magnets, artificial, made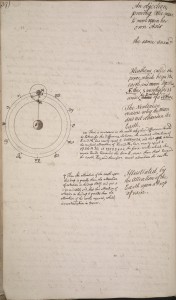 To provide a taste of what the manuscript holds, the recipe to cure the Kinkcough (also referred to as the chincough) is as follows:
2 1/2 ounces spring water
1/2 ounce of syrup of pale roses
1 grain of Hemlock–pill
The manuscript also contains various other gems like: "The Art of holding a secret correspondence by the Means of Sympathetic Ink." "The secret of the ink consists in two waters of different virtues…."
To find out more about Sympathetic Ink (Invisible Ink) and Mary Smith's manuscript visit Smithsonian Libraries at our Transcription Center project page and join the team of digital volunteers to help transcribe the Libraries' and the Smithsonian's historic documents and collection records.
Mary Smith's Commonplace book was purchased by Bern Dibner in the 1950s and later given to the Smithsonian Libraries from the Burndy Library, as part of a larger gift which ultimately became the nucleus of Dibner Library of the History of Science and Technology.