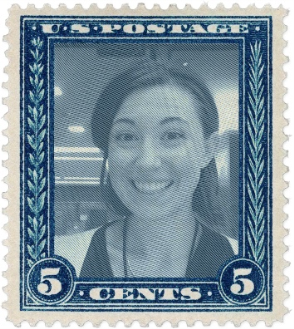 This post was written by Kelly Baxter, Advancement Intern.
Like so many, I have always been very fond of libraries. I've tried to live by the motto that "one should live and work in places where there are books strewn about" and I've fared pretty well on that front so far. Yet despite my lifelong affinity for all things bookish, others are generally surprised to discover that I am currently channeling the knowledge I am picking up in library science graduate school into exploring library fundraising and advancement. The Smithsonian Libraries were not surprised, however, and awarded me a professional development internship with their Advancement Office for six weeks this summer to learn more about their gift-in-kind program.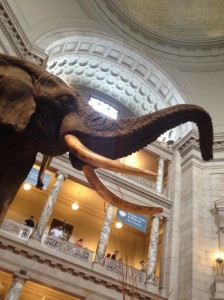 It required that I leave behind my husband and three-year-old in Dallas, but we all agreed that this was an unbelievable opportunity for experience and travel. While I missed my family terribly, I can't express enough how thrilled I was to work with mentors Tina Muracco and Tina Morrison while spending the summer in the nation's capital. As the Smithsonian gears up for a busy new fiscal year, it was really exciting to know that my work was going to help the Libraries achieve their future fundraising goals.
There was no shortage of tours, exhibitions, and sightseeing to keep me busy for my entire D.C. visit, but one of my first experiences with the Smithsonian Libraries has held up over the following weeks as one of my favorites. Early on, I helped to staff a tour of the Book Conservation Lab and Digital Imaging Center that was organized for the libraries' Adopt-a-Book donors. While it definitely tickled me to tiptoe around the imaging center and squint into microscopes in the book conservation lab, the donors themselves made quite an impression. I liked hearing about where they were from, their connection to the Smithsonian Libraries, and their enthusiasm for the Adopt-a-Book Program. Visiting with these guests helped me to quickly come out of my shell and make some new friends. This positive experience foreshadowed the sort of meaningful and exciting experiences to come over the ensuing weeks.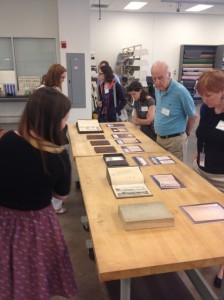 The gift-in-kind project I spent the majority of my time working on provided me with a welcome reason to get out of my chair and have an adventure, always checking off the library visits I completed on my "Meet the Smithsonian Libraries" brochure. In addition to meeting the staff and nosing around their library spaces during my visits, I interviewed the branches to learn more about the current gift-in-kind practices for tasks like acknowledgments, donor relations, and current trends. Many of them shared valuable insight into their work with me. A good number of them showed off some of their amazing collections as well. I was able to later draw from these conversations in the summer school course I was taking concurrently through Texas Woman's University. I greatly enjoyed working closely with Discovery Services' John Dick, who not only kept me informed on local D.C. news and the theatre scene, but taught me about how the donated items are processed and recorded, a system that he manages. By analyzing the records he has kept, I was able to ascertain a clearer picture of this important group of existing Smithsonian Libraries donors and address some potential ways to engage this group as the campaign approaches.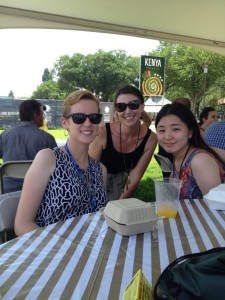 I also assisted fellow intern Liz Lieutenant with the preparations for the Smithsonian Libraries participation in the social media initiative, the Smithsonian Summer Showdown. This was an education in the history of Wonder Woman, digital philanthropy, and social media strategy that was a lot of fun to think about creatively. My research for the Advisory Board on museum and library collectors' circles was also very interesting; in these programs, donors play an active role in the library special collections acquisition process. Many of these groups have rich histories and far-reaching influences, so it was easy to lose myself in the romantics of these book collector's societies while nestled  between two Smithsonian Libraries bookcases in a wing of the National Museum of Natural History. All in a day's work as an intern it would seem!
It goes without saying that this internship will stand out as a very special experience in my life. Now that I am back home, the hot and sleepy Dallas summer contrasts starkly with the busy bustle of downtown D.C. I am back at my full-time position with SMU's Central University Libraries, but taking advantage of every chance I get to make up for some sorely missed playtime with my son Auden and husband Corby.
Auden's knowledge of Washington D.C. has been shaped by the photos and stories I've shared with him – flying whales and roaming dinosaurs, strange and stately statues, hot air balloons and rocket ships. To him, I've been off visiting Narnia or Neverland. In many ways, he isn't too far from the truth! I very thankful for the time I spent with the Smithsonian Libraries – a summer that will always be amazing in my stories!