Thanksgiving is almost here. That means getting together with family and friends and, of course, lots of great food. Here is a catalog from the Trade Literature Collection that might get you in the cooking or baking mood. Or maybe the recipes will just make you hungry.
The catalog, by the Majestic Mfg. Co. of St. Louis, Missouri, is from 1899. The title is Majestic Cook Book, Compiled by…the Best Housekeeper in This or Any Other Country. It begins with descriptions and illustrations of Majestic Ranges and then continues with customer testimonials and recipes for lots of different types of food. It ends with general advice for housekeepers including how to manage the plumbing in a house.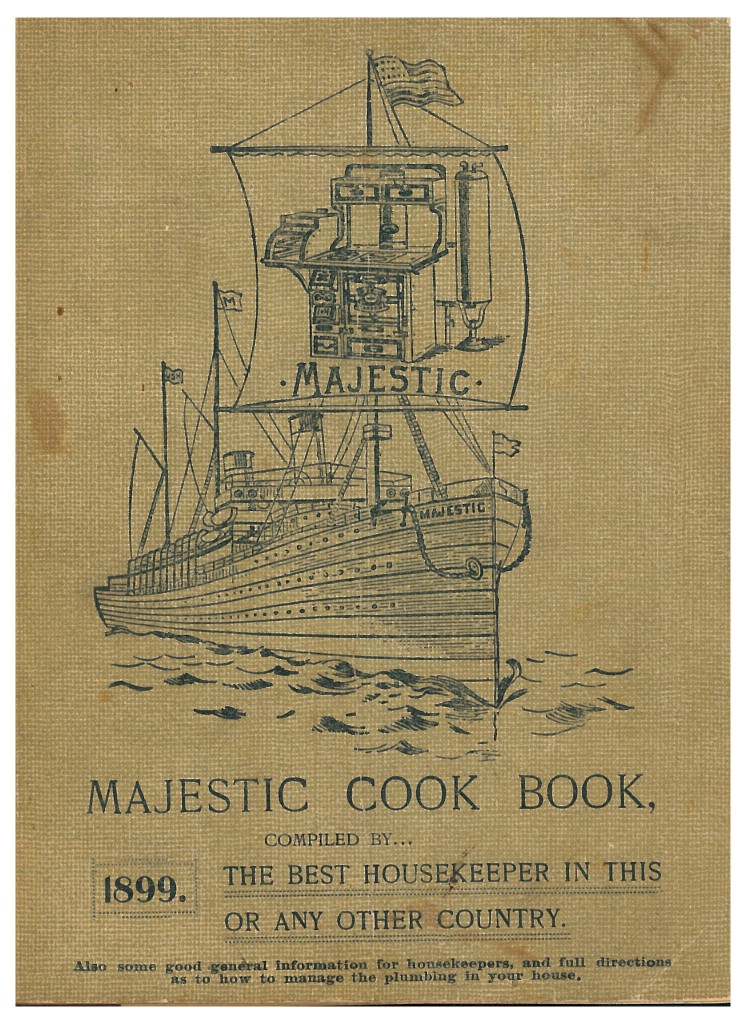 Illustrated below is Majestic Range No. 251. Most of these ranges were constructed of the same type of material. The bodies were "made of cold-rolled, double-stretched, steel plates, Nos. 15 to 18 gauges; ovens two or four gauges heavier." The other parts, except for the fire box and shelf brackets, were made of malleable iron. Features included "uniformity in roasting and baking, abundance of hot water, immense saving in fuel, simplicity in construction, perfect cleanliness and ease in management."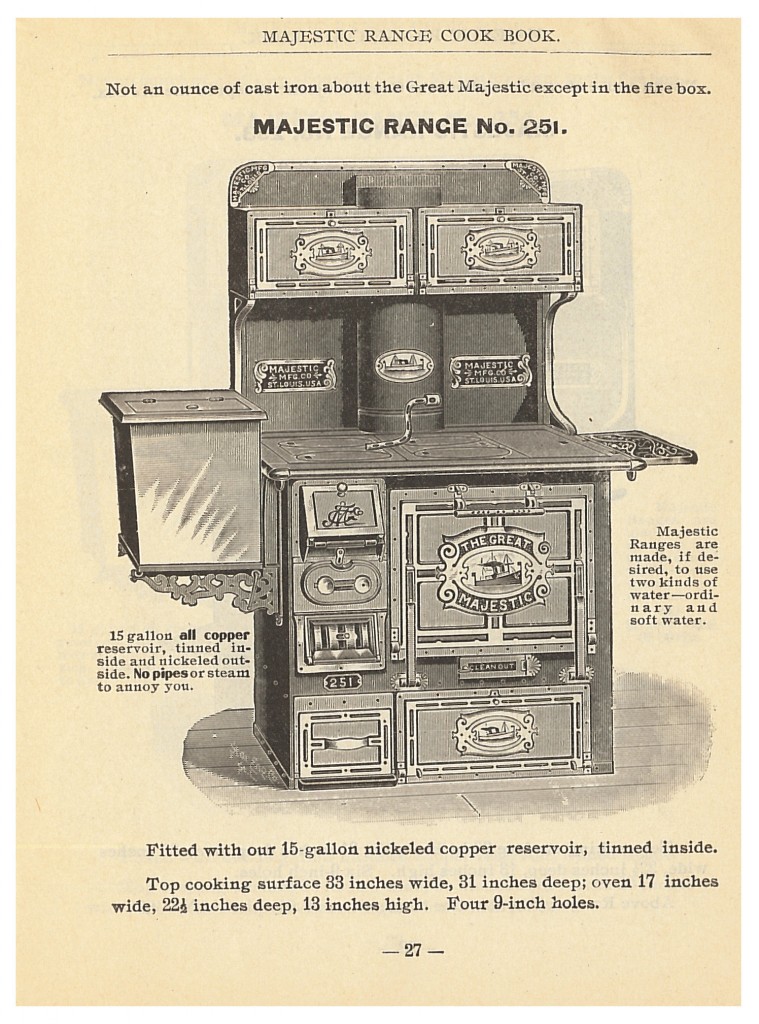 The catalog includes many, many pages of testimonials from customers. On April 28, 1899, W. B. Davies of Mankato, Minnesota called the Majestic Range "the Queen of the Kitchen." Others were pleased that the Majestic used less fuel. In April 1899, J. C. Leum of Portland, North Dakota wrote, "Our Majestic Steel Range, purchased from you, is a money saver when it comes to fuel, as it only takes half as much fuel as our former cast iron cook stove. My wife says it is a pleasure to work over, for in summer we burn wood and it does not drive us out of the house from heat, and when cold weather comes we use hard coal and the kitchen is like summer. We would never want any other kind than a Majestic."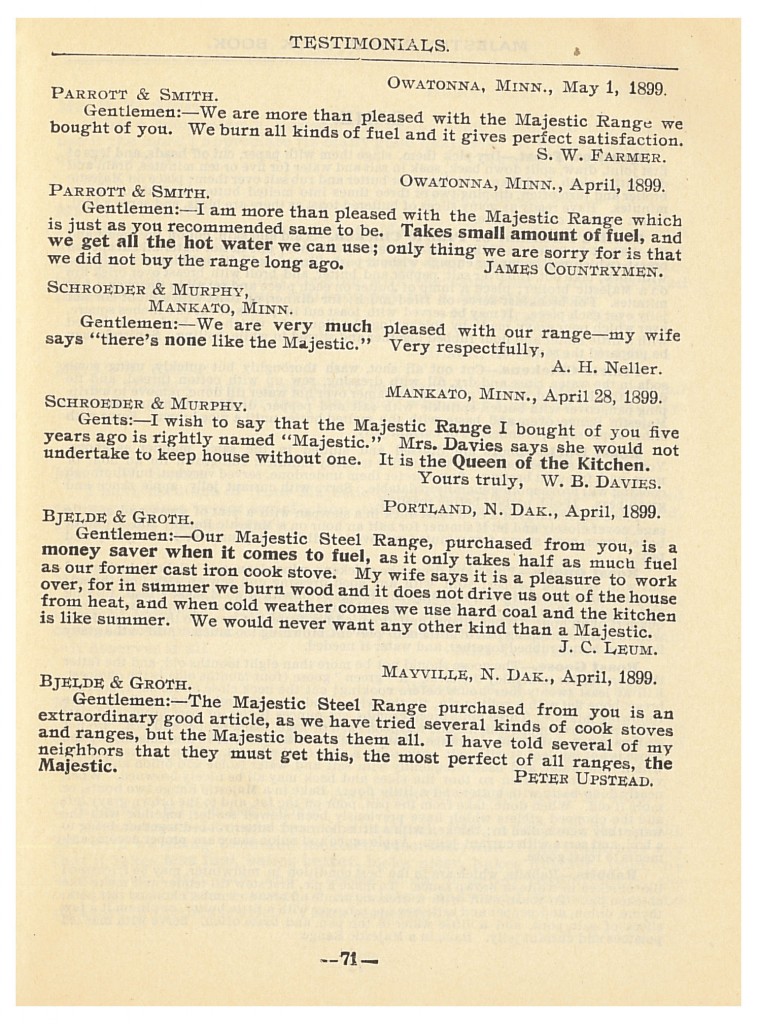 So with Thanksgiving just around the corner, we'll end with some pie recipes from 1899 found in the Majestic Cook Book. The recipe section begins with two pages of directions, tips, and even definitions which also gives us a glimpse into cooking and baking in 1899. Wondering what "butter the size of an egg" means? According to the Majestic Cook Book, that would be two ounces.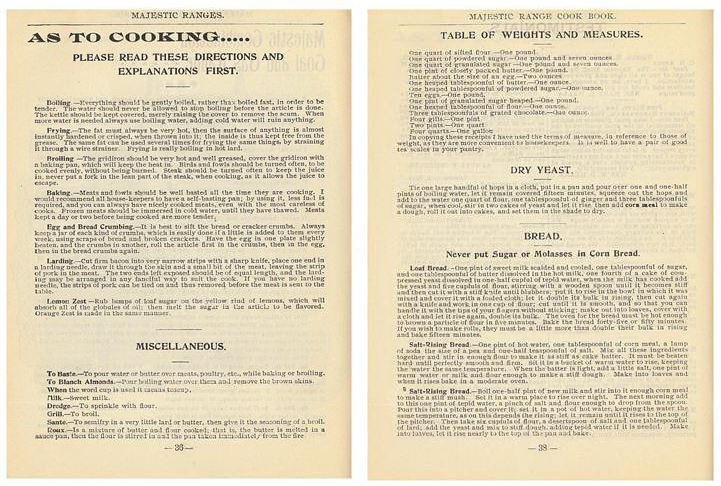 The page below includes recipes for cake fillings, cookies, and pies. Of course, there is a pumpkin pie recipe, but some of the other recipes are Irish Potato Pie and Cream Pie with vanilla flavoring. Or have you heard of Transparent Pie? Ingredients for Transparent Pie include egg yolks, sugar, butter, and apple jelly.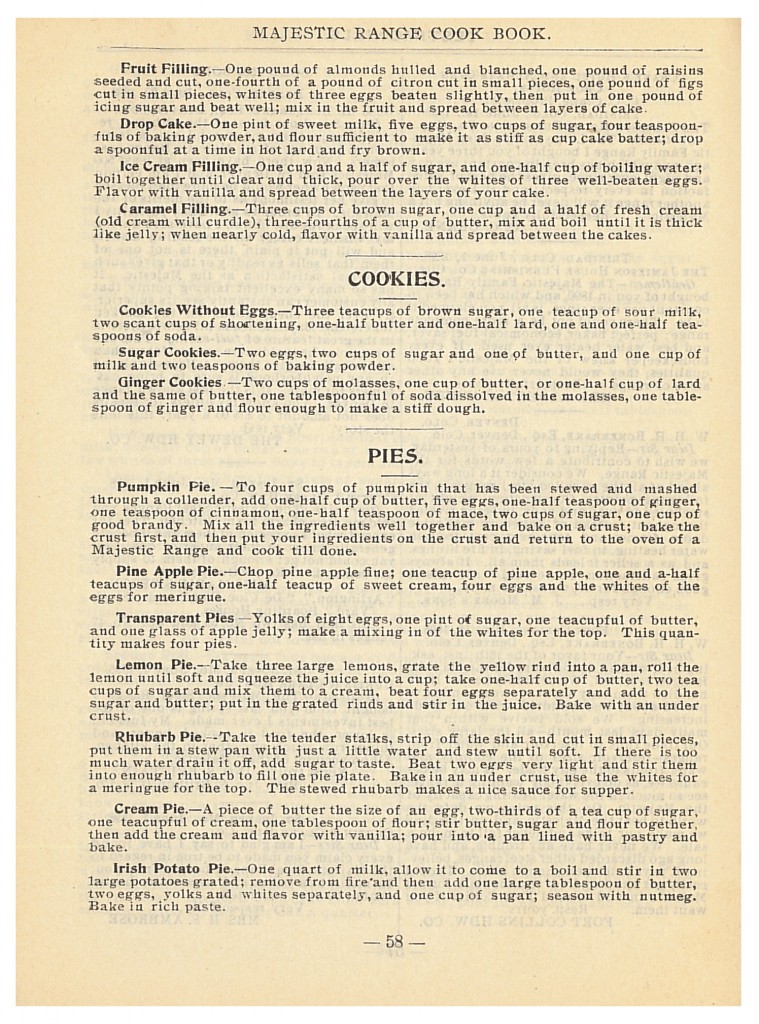 Majestic Cook Book by Majestic Mfg. Co. is located in the Trade Literature Collection at the National Museum of American History Library.