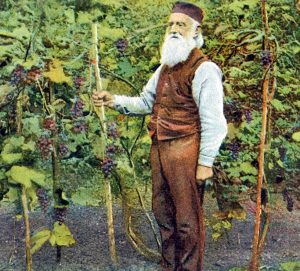 Now that the season for harvesting grapes in New England is here, let's raise a glass to Ephraim Bull, the originator of the all-time popular grape in America, the Concord. Readily associated with juice and jelly and long out of favor in viticulture, Concord grape is having a bit of resurgence with the interest in DIY home brewing and fermenting. If faced with an abundance of the easily grown grape on one's garden fence or arbor, recipes and techniques for bottling your own wine are found in many online guides. For full appreciation, a toast to Bull, his grape and their faded wine history is in order.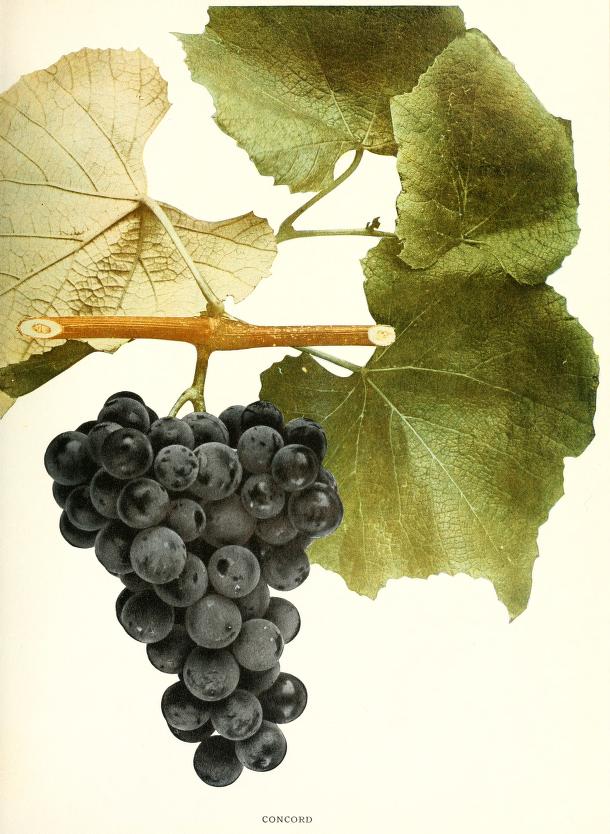 Trained as a goldbeater, making and selling gold leaf to bookbinders and gilders, Ephraim Wales Bull (1806-1895) nurtured from childhood a passion for horticulture. For years he propagated seedlings in his gardens, first in Boston and then in Concord, Massachusetts. It was an extraordinary time in that village of Revolutionary War fame. Bull's friends and neighbors were Ralph Waldo Emerson (who grew grapes in his yard), Bronson Alcott and his family (Orchard House), Nathaniel Hawthorne, Henry David Thoreau, and Louis Agassiz, a Harvard Professor of Zoology and Geology.
After several years, Bull's development of the indigenous Vitis labrusca cultivar produced a superior fruit in 1849. The Hovey nursery in Boston featured it in 1854, and the grape soon became a best-seller throughout the country. Hardy during winters, ripening early before killing frosts, and disease-resistant, the beautiful blue-black grape was quickly adopted by commercial growers. In certain areas of the northern United States and around Ontario in Canada, it was the dominant grape in wine making. Bull wrote in a publication of the Massachusetts Board of Agriculture: "I venture to predict that the man is now born who will see New England supplying herself with native wines, and even exporting them" (Fifth annual report of the Secretary (Boston, 1858), p. 197).
However, even early on, as North American vintners labored to grow and produce wines made from the European Vitis vinifera vines, there were doubts about the Concord. The author of The grape culturist of 1865 reported that: "Geo. Husmann, the well-known vineyardist of Hermann, Missouri, says that the Concord has proved to be an excellent wine grape in that locality; and I have no reason to doubt his testimony, though it is doubtful if it will prove to be a good wine grape here." Typical of a native American grape, "foxy" in its taste and with low sugar content, the Concord grape needed a lot of additional sweetener in the fermenting process. The variety did increase the popularity of table grapes for eating. Then, as now, it was an easy harvest for making wine in small batchs for home consumption. However, Kosher wines made from Concord grapes still appear in American Passover Seders. And Clergyman Thomas Bramwell Welch invented a pasteurization process, preventing fermentation of the juice, to make a nonalcoholic wine for communion.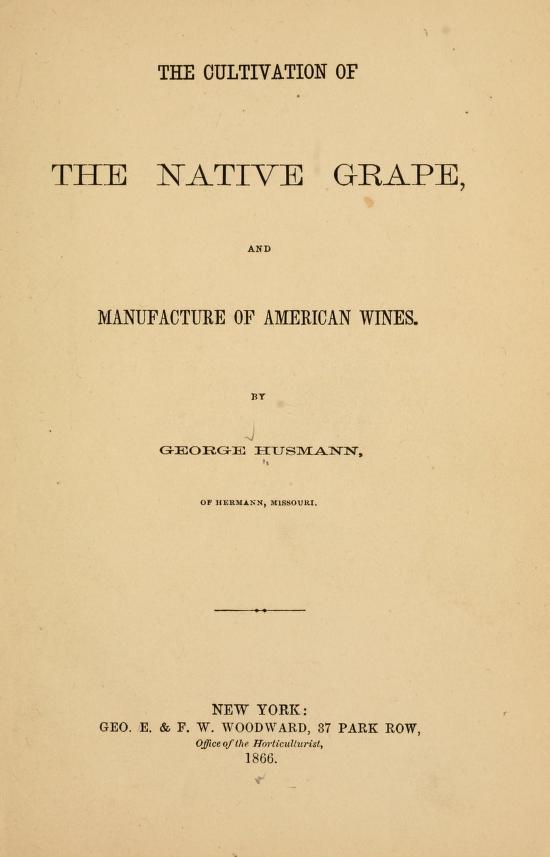 Among the manuscripts dating from the 13th to the 20th century about the history of science and technology collected by Bern Dibner of the Burndy Library and now part of the Smithsonian Libraries, is this oddity: Ephraim Bull's signature, along with a newspaper story and his portrait (MSS202A, pictured above). The article of 1908 is clipped from the Boston Globe, reporting on a lecture by Wilfred Wheeler on "The Concord Grape and Its Originator." Perhaps Dibner, an inventor himself, admired the New Englander's methodical approach to experimenting and planting thousands upon thousands of seedlings in his dogged pursuit of a specimen to suit his taste and be commercially viable.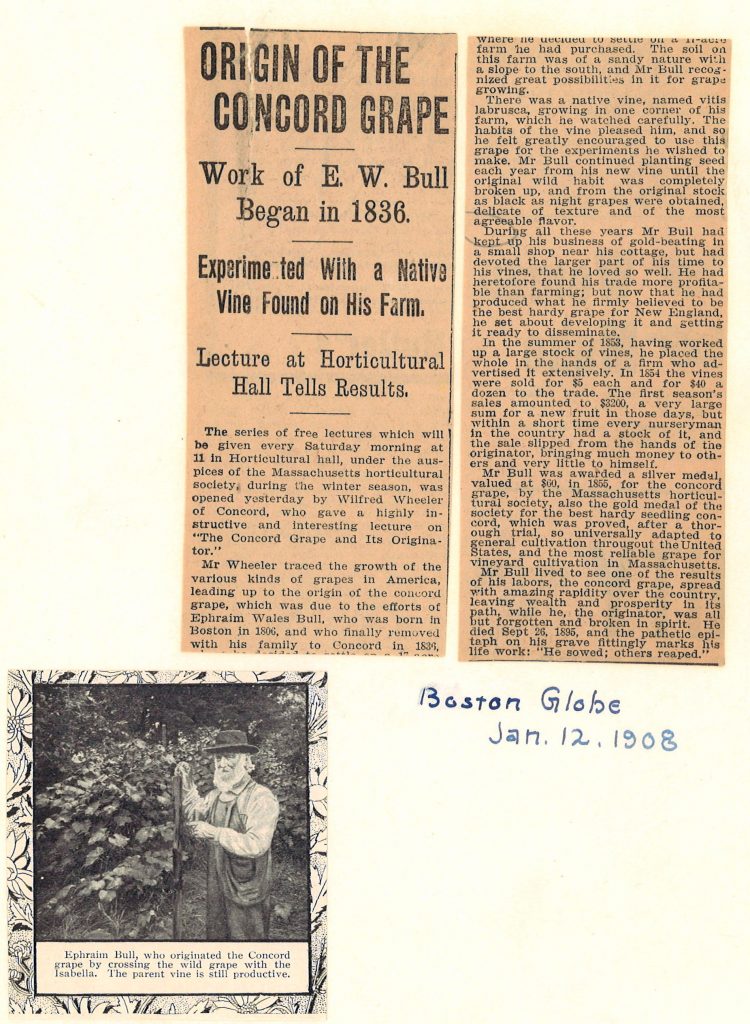 Ephraim Bull, who lived to ninety, passing away on September 26, 1895, did not share in the prosperity of his plants, having failed to control the launch of his Concord into the commercial grape culture world, before patents law protected varieties in horticulture. He died poor and reportedly bitter. At his home, which is now known as Grapevine Cottage, there is today a historical marker commemorating his accomplishment. His gravestone, just down the road in Sleepy Hollow Cemetery, is carved: "He sowed, others reaped." Ephraim Bull did not partake of any of the wine he made at his home in Concord. He was a teetotaler.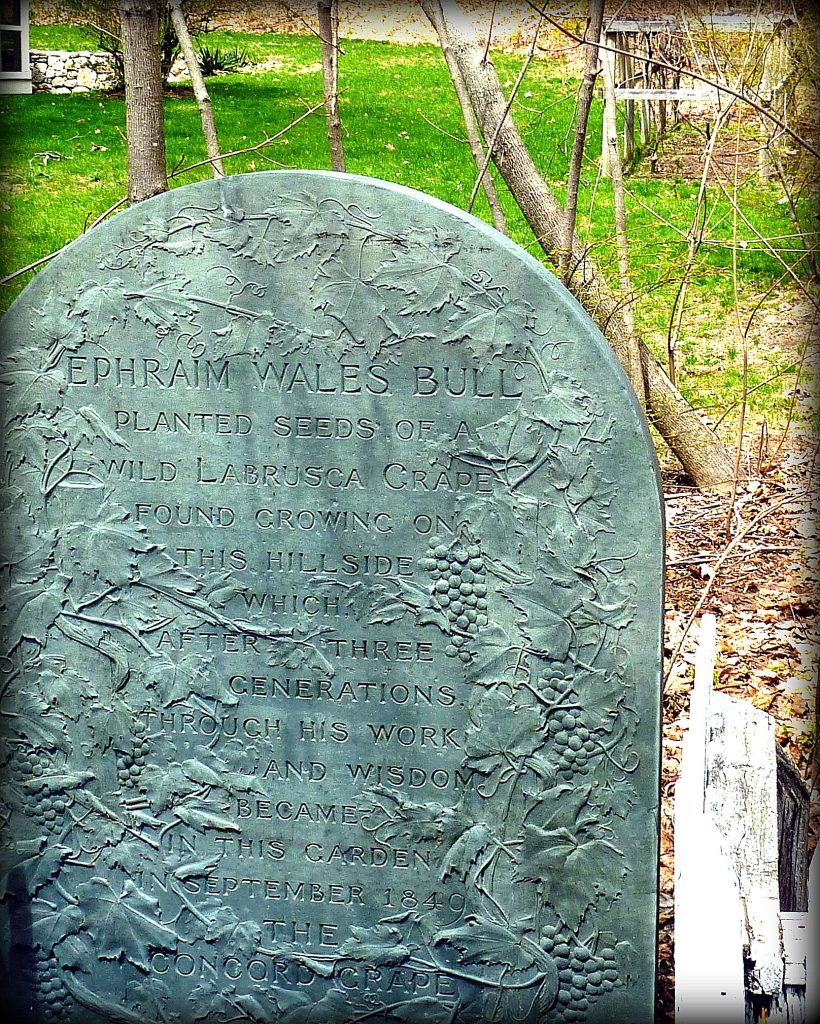 Notes:
Grapevine Cottage is located on the road to Lexington in Concord, Massachusetts. The original grapevine still grows there. The Concord Free Public Library contains Bull's papers. Click here for the Grapevine Cottage Scrapbook finding aid.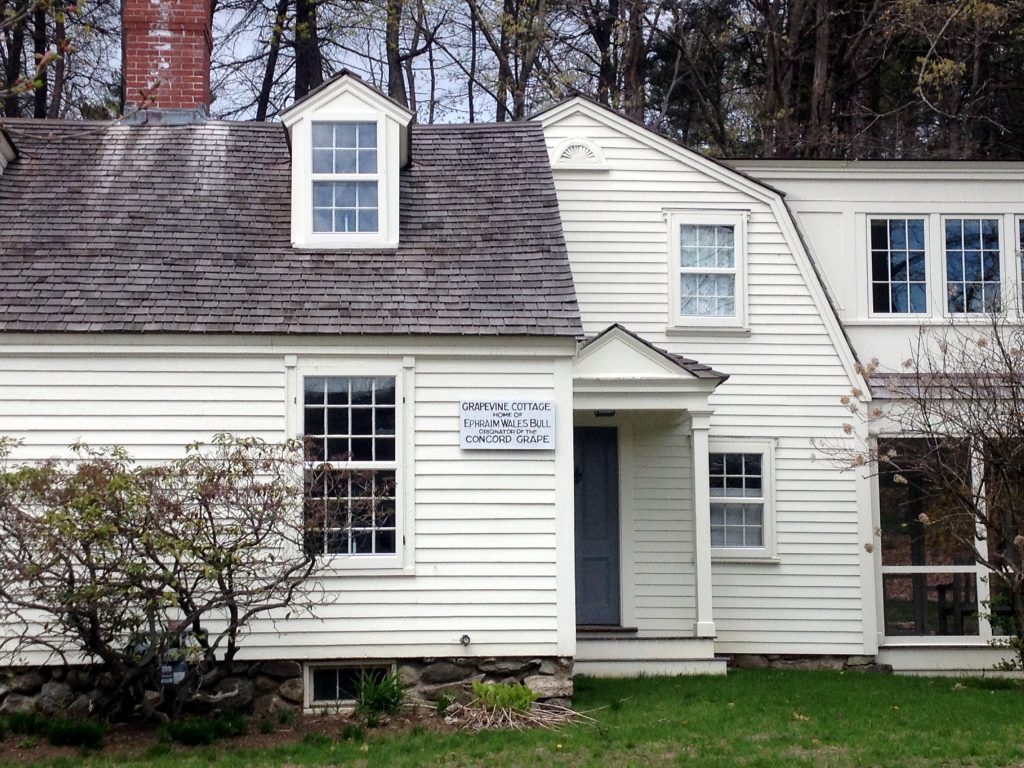 Pinney, Thomas. A history of wine in America: from the beginnings to prohibition. Berkely: University of California Press, 2005.
Schofield, Edmund A. "'He Sowed; Others Reaped': Ephraim Wales Bull and the Origins of the 'Concord' Grape," Arnoldia: the magazine of the Arnold Arboretum, vol. 48, no. 4 (Fall 1988): pages 4-15.