Charles Lindbergh, born on February 4th, 1902, made history in his aviation career as the first man to fly solo across the Atlantic.  "Lucky Lindy" soon became an American icon – flying his Spirit of St. Louis to all fifty states to promote air travel and advising airlines.  The Smithsonian's National Air and Space Museum Library is the proud home to many unique items that represent Lindbergh's legacy, both in aviation and American history.
We: The Famous Flier's Own Story of His Life and His Transatlantic Flight
In his autobiography, We, Lindbergh tells the story of his life, including that fateful day on May 21, 1927 when he completed the first nonstop solo air crossing of the Atlantic, in 33 hours and 39 minutes. Lindbergh signed this copy of the book, one from an edition of a thousand.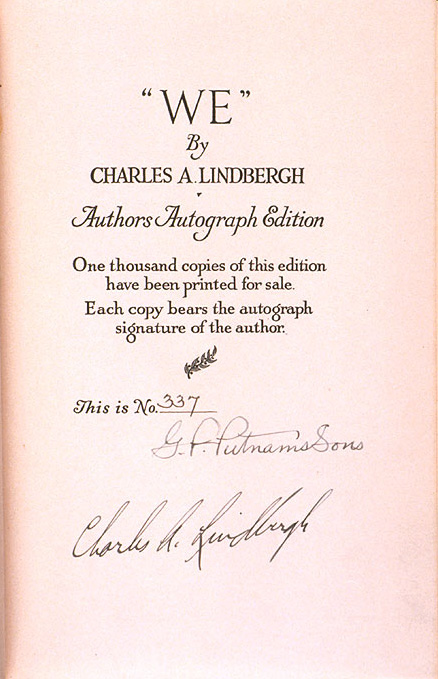 Lindbergh's adventures inspired multiple songs in his honor, including Lucky Lindy, a foxtrot composed by Adele Baer. Other numbers included Lindy: Youth with the Heart of Gold and Lindbergh:The Hero of our Heart. Lindbergh sheet music may be found in the National Air and Space Library's Bella C. Landauer Collection of Aeronautical Sheet Music.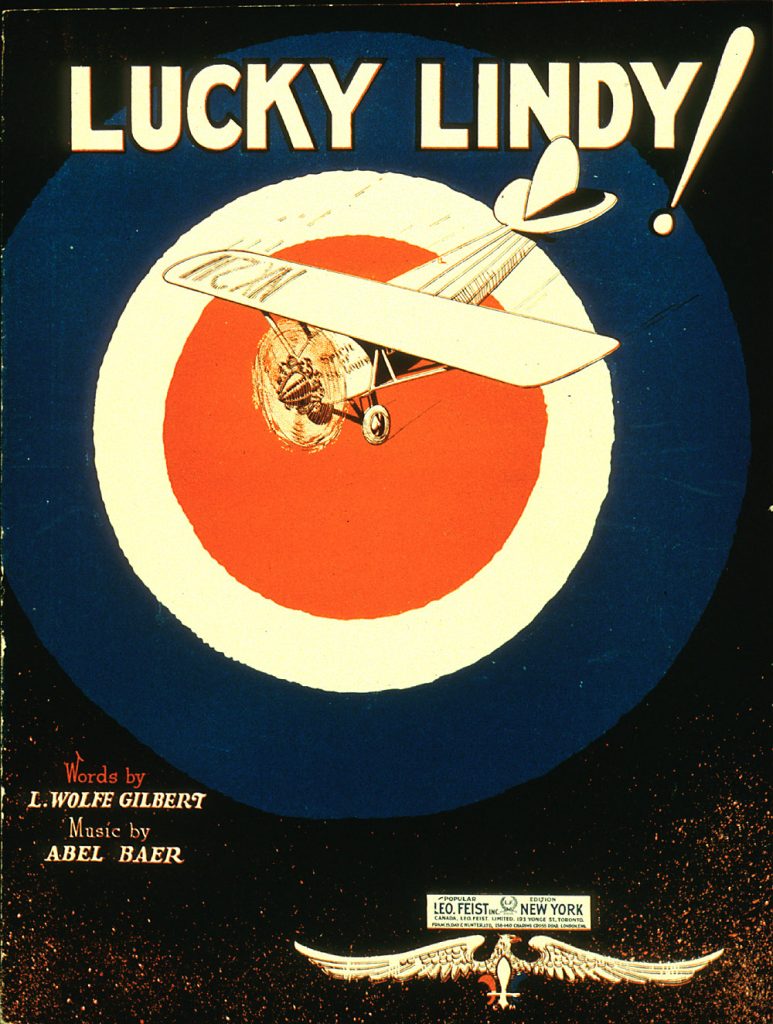 Like her husband Charles, Anne Morrow Lindbergh was an accomplished pilot and accompanied him on many of his flights. In North to the Orient, she describes the trip the couple made from Washington D.C. to Japan and China in 1931. The Libraries' copy is particularly remarkable because it bears the signature of both Charles and Anne and was given as a gift by their daughter, Reeve Lindbergh, to the astronaut Sally Ride. With the gift came with a personal note from Reeve to Sally, which is now part of the Sally Ride papers at the National Air and Space Museum Archives.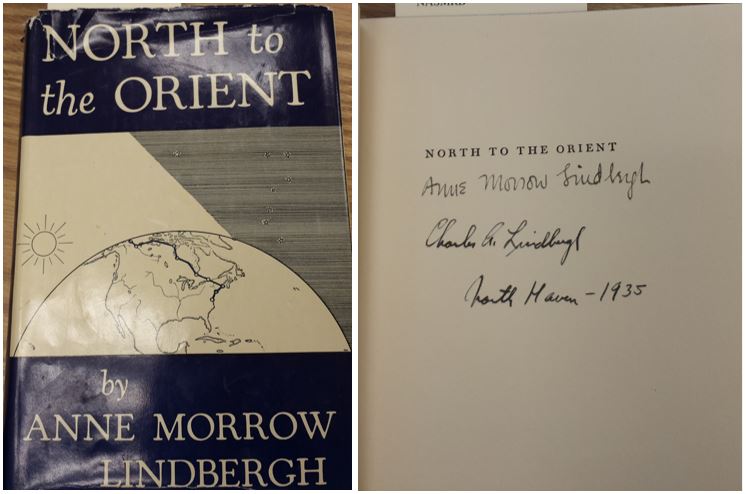 Interested in supporting the Libraries' Lindbergh and flight-related materials? Consider adopting the 1941 title Modern Flight through our Adopt-A-Book program. Written by Cloyd P. Clevenger, who was the embodiment of the early 20th century airplane pilot and adventurous nomad, it describes and illustrates flight training.  It contains numerous autographs of fellow flyers like Charles Lindbergh and memorabilia (notes, letters, photos) of the period and is in dire need of extended care and preservation.