The brilliant sparkle of a diamond, the saturated blood-red of a ruby, and the rich deep blue of a sapphire become the building blocks of one of Salvador Dalí's lesser known artistic enterprises: jewelry design. The renowned Catalonian artist, most famous for his mind-bending Surrealist paintings of dream worlds and for his eccentricity as a self-proclaimed "genius," began to design his jewelry collection in 1941 and continued the artistic project until 1970. In true Dalí fashion, these jewels don't look like traditional earrings, necklaces or brooches, rather they are Surrealist works of art in their own right. The Eye of Time, for example, presents a timepiece inscribed within the pupil of a diamond encrusted eye. The Persistence of Memory piece takes the world famous image of  melting clocks and transforms it into a brooch made of sculpted gold, diamonds and sapphires. The bulk of this collection of jewels was acquired by the Dalí Foundation in 1999 and is currently housed in the Dalí-Theatre Museum in Figueres, Spain, the artist's hometown.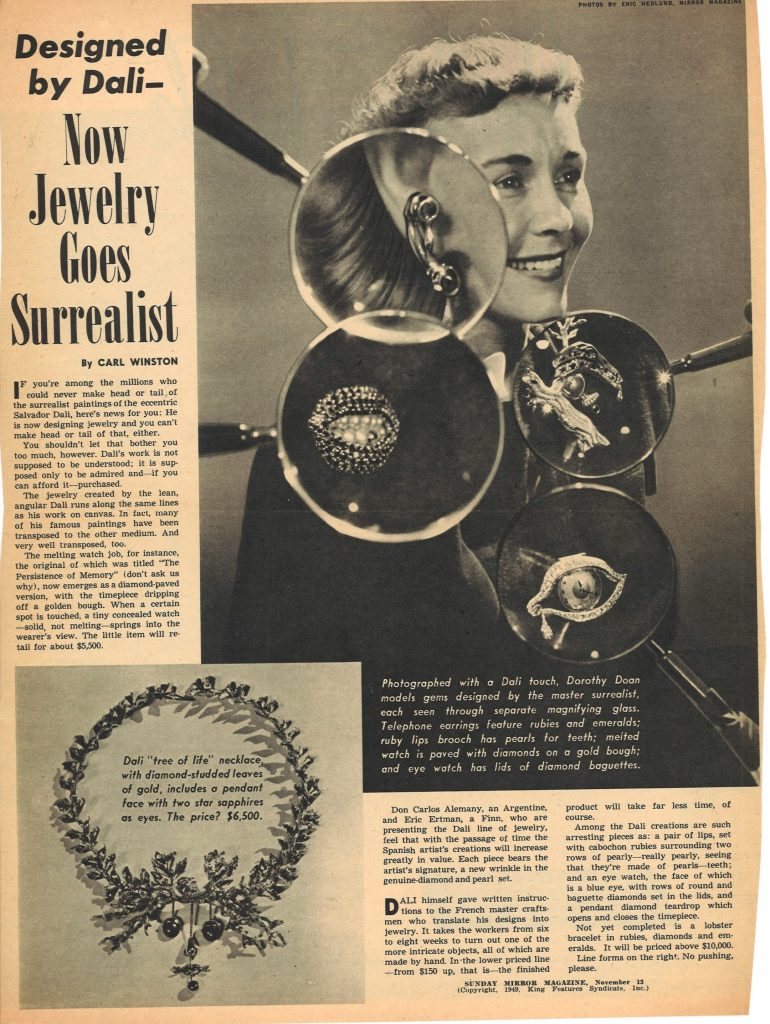 The artist files at the Hirshhorn Museum and Sculpture Garden Library and American Art/Portrait Gallery Library offer a collection of unique materials that shed light on this facet of Dalí's art. Included in these materials are a graphic poster in classic '60s bubble letters announcing a jewelry exhibition in 1969, an article clipping printed  November 13th, 1949 in the Sunday Mirror Magazine and invitations spanning the 1950s-1970s inviting patrons to attend Dalí's jewels exhibitions.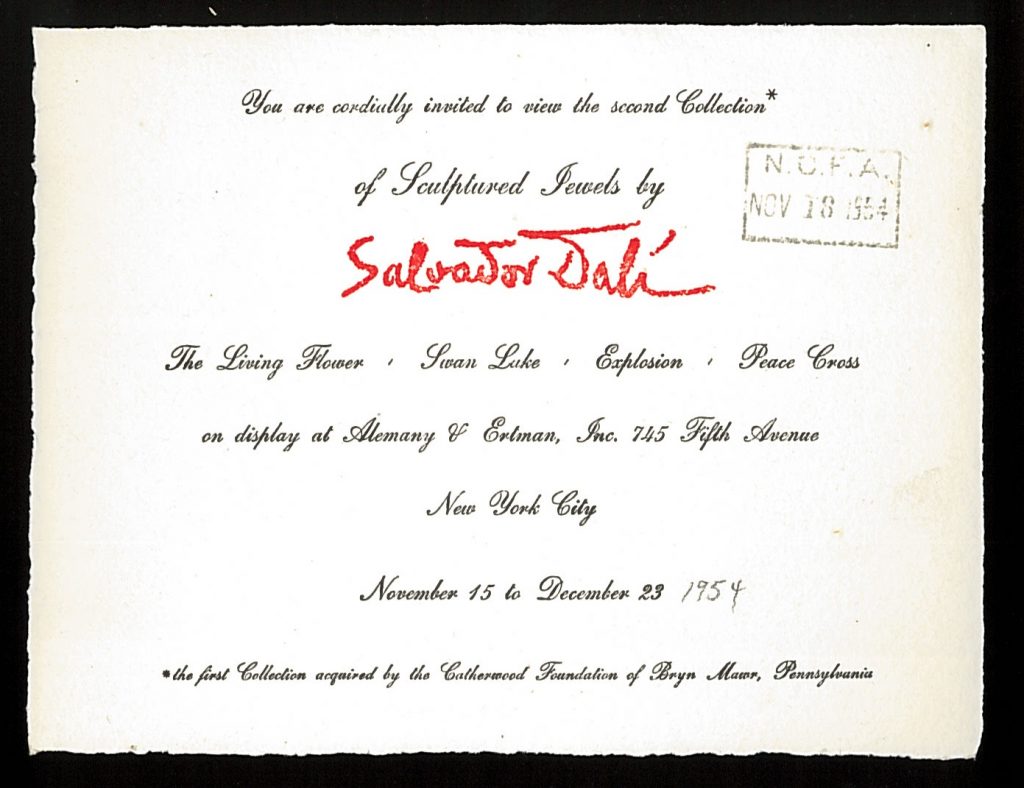 Through these materials it becomes clear that Dalí wanted these works to be considered works of art in their own right. His work in jewels simply represents an expansion of his artistic vision to new media.
Theses pieces also represent collaborations between Dalí and New York jewelry artisans, specifically with the studio of the Argentine-born silver/goldsmith Carlos Alemany. Dalí would draw detailed sketches of his designs and would specify the jewels and precious metals that would be used. These were not only chosen by color but also on their symbolic meanings. The designs would then be executed based on Dalí's instructions in Alemany's studio. Both Dalí and Alemany held a similar philosophy on jewelry production that highlighted the importance of design and construction. The value of the individual precious stones and metals are, in fact, secondary to the meticulous craftsmanship and intricate composition of these jeweled works.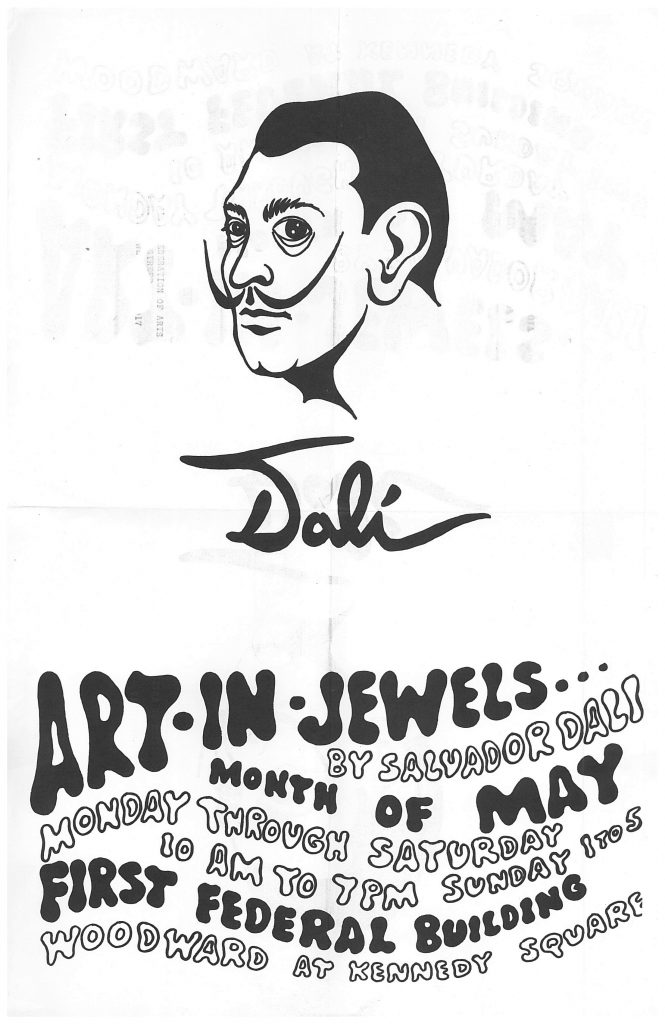 Each jewel encrusted piece from this collection is meant to symbolize a sort of transformation or metamorphosis. Dali states, "My art – in painting, diamonds, rubies, pearls, emeralds, gold, chrysolite – demonstrate how metamorphosis comes about; human beings create and change. When they sleep, they change totally – into flowers, plants, trees. The new metamorphosis takes place in Heaven. The body becomes once again whole and reaches perfection."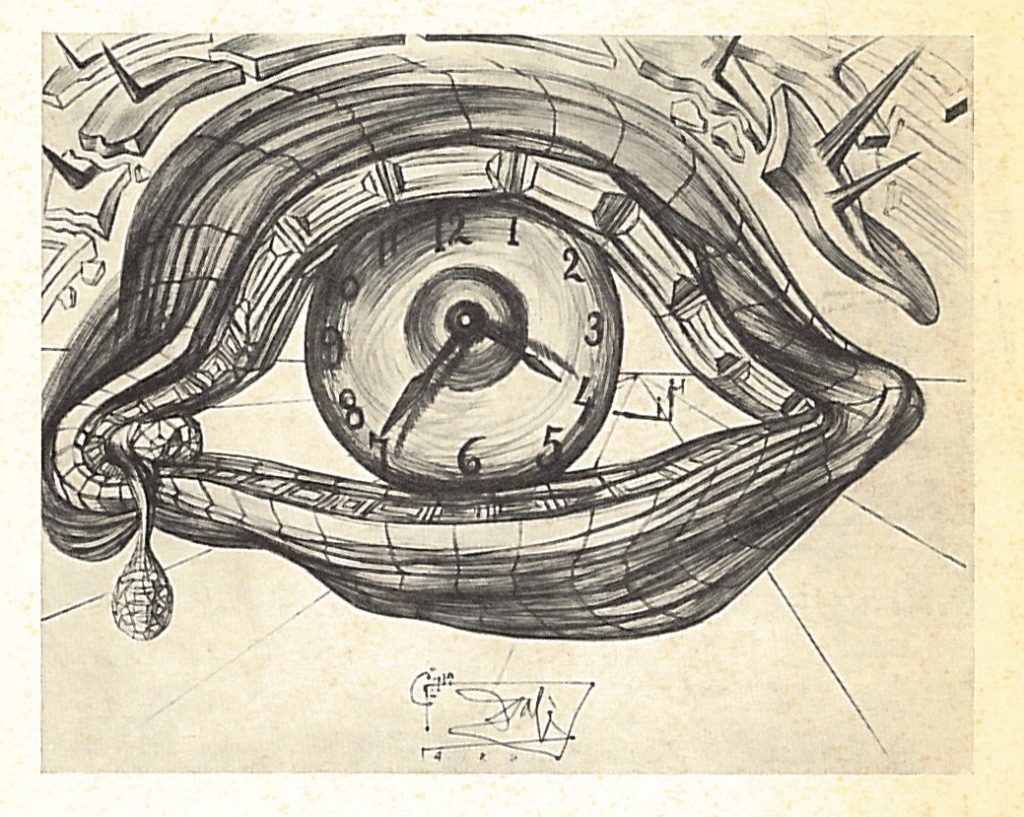 Salvador Dalí's sculptures are featured as part of  the exhibition Marvelous Objects: Surrealist Sculpture from Paris to New York at the Hirshhorn Museum and Sculpture Garden, on view from October 2015- February 2016.
For further reading
Catherwood Foundation, ed., A collection of objets d'art and jewels: designed by Salvador Dali and presented by the Catherwood Foundation of Bryn Mawr, Pa. ca.1950.
Center for Dalinian Studies, Gala-Salvador Dalí Foundation, ed., Dalí, Jewels-Joyas, The
Collection of the Gala-Salvador Dalí Foundation. Torino: U. Allemandi, 2001.
"Dali- Jewels. History." Gala-Salvador Dali Foundation. Web
Linda Livingston, ed., Dalí, A Study of his Art-in-Jewels, The Collection of the Owen Cheatham Foundation. Greenwich, CT: New York Graphic Society, 1959.