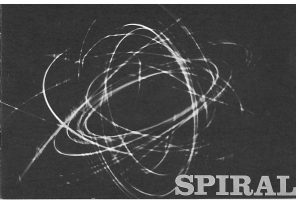 We are always finding great materials in our Art and Artists Files at the American Art and Portrait Gallery Library and we're excited it to share it with the public. In our mission to provide greater access to our ephemera files, we are working on adding our corporate files to the Art and Artist Files database. The corporate files contain ephemera (catalogues, pamphlets, exhibition invitations. etc.) produced for group exhibitions by galleries, museums, and other institutions. This of course is a long process, requiring a lot of review of materials in the folders, but it has been a great way to rediscover items that we didn't know we had!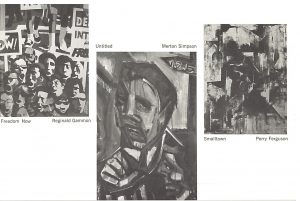 In observance of Black History Month, we wanted to share an item that we found to be particularly special within our collection that we (re)discovered recently through our corporate file project. In 1963 prominent African American artists including Romare Bearden, Hale Woodruff, and Norman Lewis gathered together to determine a way to attend the March on Washington. However, from this meeting they ultimately decided on forming a group of African American artists dedicated to discussing their place in American society and how they were supposed to react to the discrimination that they were subjected to regularly. They all had differing ideas but they all agreed that they "had something definitive and positive to affirm." From this understanding they determined that they would name their group "Spiral," in particular the "Archimedian one" which they believed symbolized their group most appropriately as it "from a starting point, […] moves outward embracing all directions, yet constantly upward."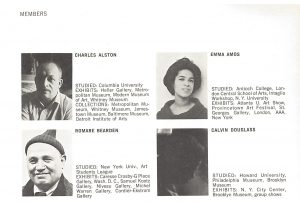 Spiral unfortunately produced only one exhibition in 1965 two years after they were formed, but it was an exhibition that represented the variety within their group both in style and opinion. We were delighted to find that within our vertical files we had the exhibition catalogue that accompanied show. The catalogue includes images of the art that was on display, as well as biographical information and snapshots of the artists that participated in the show. The forward to the catalogue, though brief, discusses their formation and intent while giving an insight into the African American artist community and their desire to use their skills to further the Civil Rights Movement no matter what their opinion was.
It is treasures like these that emphasize just how important ephemera is to constructing timelines of events in an artist's career or the formations of an art movement. For more information about Spiral, take a look at this post on the Tumblr page of the upcoming National Museum of African American History and Culture that delves deeper into the artists of this collective.
All quotations come from the forward of the Spiral exhibition catalogue.