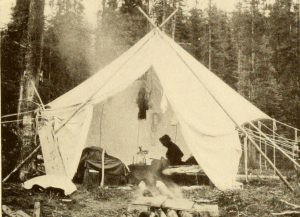 What are your plans for National Camping Month? Thinking of bringing along a sketchbook? You'd be in good company.
Mary Vaux Walcott (1860-1940) was undoubtedly a pro at camping. The naturalist and botanical illustrator spent the summers of her youth in the Canadian Rockies with her well-to-do family, where she became an active mountain climber, outdoorswooman, photographer, and started her first forays into botanical illustration. It was later in life, in her mid fifties, when she married the then current Secretary of the Smithsonian, Charles Doolittle Walcott, against the objections of her father.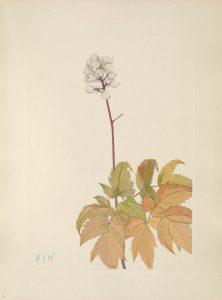 Her marriage to Secretary Walcott, a paleontologist and geologist, meant she would once again spend her summers out West. Walcott was still actively researching in paleontology, so she often joined him on his trips to explore for fossil remains. "Mrs. Walcott sketching a wild flower in water colors on a frosty morning in camp. The camp fire kept the open tent warm and comfortable" is the caption beneath the image of her in her tent, found in the Smithsonian Miscellaneous Collections, v.74 (1925). The image was taken in Vermilion River canyon between the Banff-Windermere motor road and the river, British Columbia, Canada, and is part of the issue dedicated to field-work and explorations by the Smithsonian in 1922.
Her watercolors of baneberry and Rocky Mountain cassiope, also pictured here, might give you an idea of the kinds of wildflowers she encountered while out West. They each have accompanying text that indicate they were collected nearby. She would continue to collect and illustrate specimens of wildflowers, both while on expeditions in the western United States, and back in the Washington, DC area. Her studies of native flowers of North America were published in a five-volume set by the Smithsonian Institution, titled North American Wild Flowers (1925). A decade later, in 1935, she published Illustrations of North American Pitcherplants. Each is full of beautiful plates in her distinct style. Thankfully, all the volumes of North American Wild Flowers and North American Pitcherplants are available in the Biodiversity Heritage Library.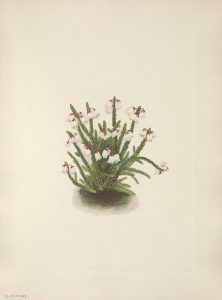 Her life and legacy went well beyond her illustrations, too. Besides having a mountain named in her honor, she served on the Board of Indian Commissioners from 1927 to 1932, and was elected as president of the Society of Woman Geographers in 1933. Perhaps more fascinating to social historians would be her  friendship and correspondence with fellow Quaker and First Lady Lou Henry Hoover, which was explored in the 2015 book The Life and Times of Mary Vaux Walcott by Marjorie G. Jones. We'd also be remiss in mentioning that a couple years ago, we partnered with the Smithsonian Enterprises to reprint a selection of her works in a single volume, Mary Vaux Walcott: A Selection of her Wildflowers of North America.
You can view works of hers at the Smithsonian American Art Museum, see some pictures of her from the Smithsonian Archives, and of course her works in the Biodiversity Heritage Library.
Save