—This post was written by Elsa Miller, Spring 2016 intern at the American Art & Portrait Gallery Library (AA/PG). 
The American Art and Portrait Gallery Library  (AA/PG) has an extensive vertical file collection, consisting of 150,000 files on more than 75,000 artists and institutions. These Art & Artist Files contain ephemera such as newspaper clippings, brochures, exhibition announcements, and magazine articles and are frequently used to answer reference questions.
As an actively-used collection that has grown over many decades, sometimes things get a little out of order. Especially those artists with last names that begin with Da, De, Di, Du, Le, La, Van, and Von. As an intern at the AA/PG Library, I was given the project to research filing rules for proper alphabetizing and select the best fit for the AA/PG Library collection, then update the online records for these artists with the authorized form, and put any stragglers back in order.
Should I ignore the space in van Gogh or file it all as one name? Does the van go after Vincent or Gogh?  Wading into this situation was going to be tricky, but these artists depended on me to put them in the right place so that they could be found later on. A few weeks into the project I felt like there was no end in sight. I was halfway through the last name 'La' and tired of every artist who didn't have a simple name.
My family came to visit me in DC, and we went to the National Portrait Gallery and American Art Museum to explore the museums the library was supporting. I know very little about art. In fact, I haven't taken an art class since eighth grade so working at an art library renewed an interest in a subject I hadn't thought about in years. Instead of zooming through the museum like I usually do with art museums, I slowed down and really looked at the paintings.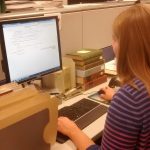 With one painting in particular, I glanced quickly at the plate describing the artwork and the painter.
Something about it made me look twice. The artist's name, Philip Alexius de László, seemed oddly familiar. I knew I had seen it before. Of course! It was one of the names I had worked with in the Art & Artist Files. I hadn't realized it, but going through the names and looking at the contents of the files was helping me learn a little bit about American artists. And the National Portrait Gallery owns seven works by de László, a society portraitist both in Europe and in America during the early twentieth century, so he is an important artist to be able to find later!
In total, I edited records for nearly 200 artists, and while I'm glad it's complete, I do miss learning new names every day and getting caught up looking through a file. I'm glad to say that the next time someone needs a file with the last name Da, De, Di, Du, Le, La, Van, or Von, the AA/PG Library won't have a problem in locating it!
—This post was written by Elsa Miller, Spring 2016 intern at the American Art & Portrait Gallery Library (AA/PG).