This post was written by Brittney Falter, a graduate student at George Mason University and social media intern at the Smithsonian Libraries.
Le Garde-meuble, ancien et moderne (Furniture repository, ancient and modern), was a bimonthly periodical published in Paris between 1839 and 1935. It contained many illustrations of furniture designs and room settings, created by Desire Guilmard. His drawings featured both historical revivals and styles that were modern at the time. The styles vary from those used under the reign of Louis-Philippe in the 1830's and 1840's to the Art Deco movement which ended in 1939. In the 1830's and 40's, France experienced economic growth due to the industrial revolution and the rebuilding of Paris. This led France to reevaluate its architecture and ornament, looking at styles as far back as the sixteenth century. Similarly, during the reign of Napoleon III, his interests in Roman furniture and his wife's interest in Marie Antoinette's furnishings were reflected in styles of his time.
Over 400 images from a nearly complete set of the early folios (1841-1851) of Le Garde-meuble housed at the Cooper Hewitt, Smithsonian Design Library were digitized, categorized and made available in an online exhibition. In addition, the volumes are available in their entirety in the Digital Library for browsing. These colorful and intricate illustrations are still used as resources by a variety of design professionals. Along with this collection are several specialized volumes by Guilmard which also contain illustrations of furniture or interior designs.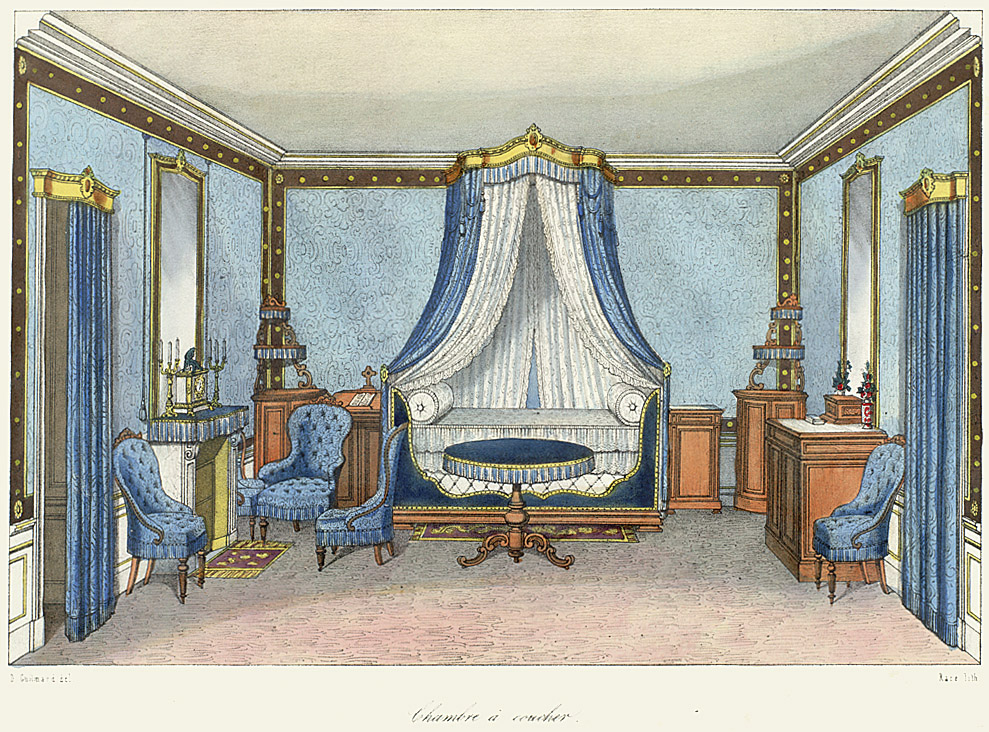 The illustration above (found here) is of a floor plan with furnishings resembling renaissance style. This bedroom uses similar shades of blue throughout the window coverings, chair upholstery, table linen, and bed ornaments. Similarly, the wood furniture compliments the bed and table foundation along with the hints of gold in the room to make it resemble royal furnishings from past periods.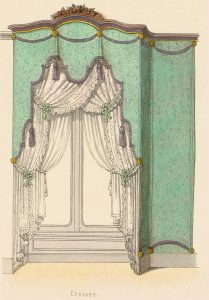 To the left, a detail of window coverings in the Rococo revival style, the style associated with Napoleon III in the Second French Empire. Again, these coverings are very elegant and focus on simple designs and color schemes. This and similar images may be found here.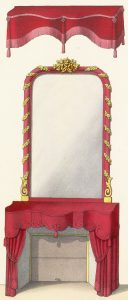 In this last image, to the right (also found here), the fireplace is shown with elegant red and gold ornamentation. This style is from the reign of Louis XVI in the late Eighteenth-century.
If you would like to know more information about this collection, or to view the digitized images, click here.
Save
Save
Save
Save
Save
Save