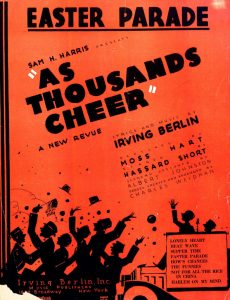 "Easter Parade" is still a popular song- lots of little kids today know this old tune from their musical animal toys. You might know the lyrics and tune to sing along with the first 2 lines of the chorus of  "In your Easter bonnet, with all the frills upon it…"  Written by Irving Berlin in 1933, the song was also the basis of the iconic 1948 movie musical starring Judy Garland and Fred Astaire. The song was introduced by Marilyn Miller and Clifton Webb on Broadway as part of the musical revue As Thousands Cheer (1933), in which musical numbers were strung together on the thematic thread of newspaper headlines and the lives of rich and famous people.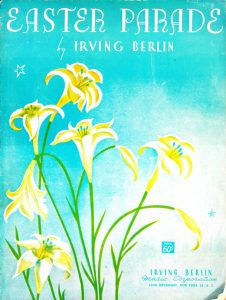 The Cooper Hewitt, Smithsonian Design Library has been collecting sheet music, primarily for exhibition and website content associated with the Cooper Hewitt National Design Museum's new exhibition: The Jazz Age: American Style in the 1920s.  American jazz and popular dance tunes- including the foxtrot and other 1920's and 30's dances, dominated nightlife and entertainment in movies and live performances.
Starting as a spontaneous event in the 1870s, the New York Easter parade became increasingly popular into the mid-20th century—in 1947, it was estimated to draw over a million people. People in an Easter parade traditionally dress in new and fashionable clothing, particularly ladies in hats, and strive to impress others with their finery. The Easter parade is most closely associated with Fifth Avenue in New York City, but Easter parades are held in many other cities.  Happy Easter!!!
Elizabeth Broman, Reference Librarian
Save
Save