Samuel Snodgrass is a Katzenberger Foundation Art History Intern with Jacqueline Protka at the Smithsonian Libraries branch in the Hirshhorn Museum and Sculpture Garden with the project, "Modern and Contemporary Art: A to Z." He is a student at the School of the Art Institute of Chicago, where he is pursuing a Bachelor of Fine Arts with a Visual and Critical Studies Thesis. He studies Arts Administration, Art History, and Fashion Design. In high school, Samuel was Valedictorian and participated in Chocolate University, in which he traveled to Tanzania taking part in an international business venture to engage in profit sharing directly with a cocoa farmer group in Mababu. More recently he worked as a curatorial intern at Gallery 400 in Chicago and currently gives tours at Frank Lloyd Wright's Robie House. His artwork and designs have been chosen for exhibits around Chicago and his home state, Missouri. You will usually find Samuel on a morning jog along Lake Michigan, eating ice cream, or making hats.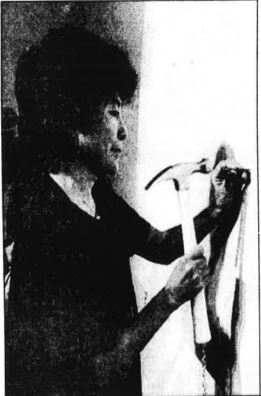 The work of Yoko Ono is currently on display and changing every day at the Smithsonian's Hirshhorn Museum and Sculpture Garden in the exhibition Yoko Ono: Four Works for Washington and the World, June 17-September 17, 2017. Visitors are welcome to make wishes on a tree and share memories of their mothers by following the instructions of Ono's interactive pieces. What the public doesn't often see are the treasures hidden within the artist files of the Hirshhorn's Library. These files contain exhibition announcements, invitations, posters, checklists, press releases, and other ephemeral materials that accumulate throughout the career of an artist. This summer, as an intern, I have been sifting through the Hirshhorn's artist files to reorganize and rehouse them, and I've found some enticing items along the way, including Andy Warhol Art Cash and a Dwan Gallery announcement for a Carl Andre show, both from 1971.
Yoko Ono's file was particularly interesting to me because so much of her work, if it has a physical manifestation at all, is ephemeral. A piece will be displayed or performed for a given amount of time and then taken down, unable to be recreated or seen in that specific way ever again. The same piece can look unrecognizable in each location it's displayed. Similarly, exhibitions are put up and deinstalled, leaving only a paper trail of information. The Hirshhorn Library has collected this trail since its inception in 1969. This summer I have had the job of identifying key items in this special collection and making this resource more usable.
One item that has peaked my interest is a Yoko Ono exhibition announcement from 1988 for Three Events at the University of Missouri-Kansas City Gallery of Art (UMKC). It is a standard announcement card in terms of shape, size, and text. Like most others, it gives the date of the opening and the address of the gallery. However, unlike all the others, a nail has been punctured through this card. The announcement offers a wealth of information, but a greater amount of questions.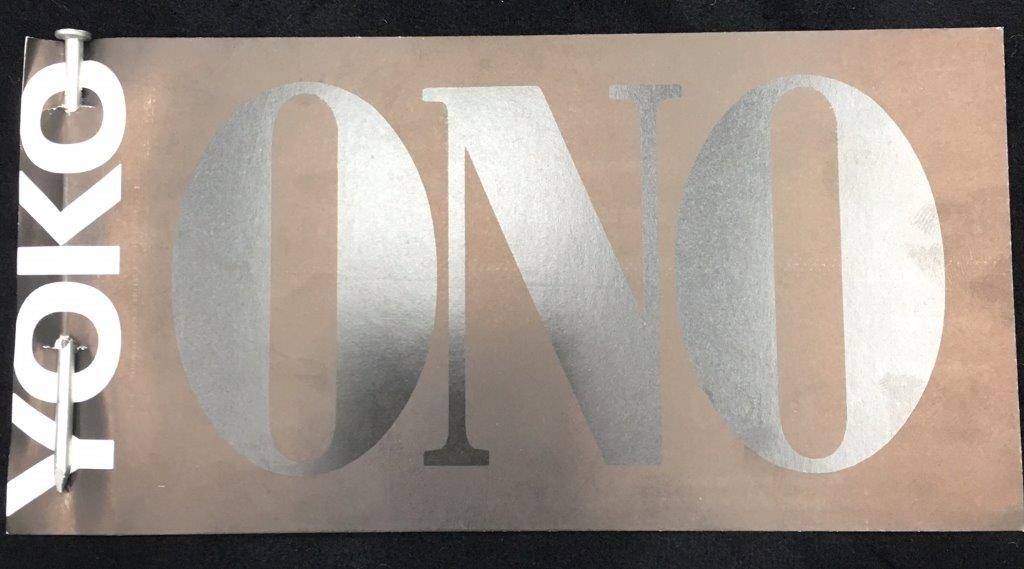 Why a nail? The card advertises three "events" or pieces; the first of which is "Nail It." The gallery hung on the wall "a white painted wooden sheet" into which visitors could hammer, "nails from one of three bucketfuls." Ono, herself, dressed head to toe in black, hammered the first nail. The piece was described by the gallery director as "new and … never been presented to the public before." However, "Nail It" sounds remarkably similar to "Painting to Hammer a Nail," an instruction painting conceived by Ono in 1961. "Painting to Hammer a Nail" was even included in the 1966 Indica Gallery, London exhibition of her work where she met her future husband.
How could this piece be described as "new" when it was displayed more than 20 years prior? In an interview from 2000 for Sculpture, Ono describes her work as if she is a composer and the artwork is her song:
The concept is my work. You can say that it's the score: in music there is a score, and, let's say, Mozart wrote it and maybe played it once and made a notation or two. And now it's played by a group of people centuries later and… it's just viewed as a musical score that [anyone can play]. But that's not done very much in the art world because most people just do the art-work and do not allow other people to participate in it. But, in my case, it's instruction–the instruction is like a score. So, it's all right that it's repeated and repeated by other people…. the environment makes a big difference to the piece. Again, it's the concept that is the work.
"Painting to Hammer a Nail" (Aka "Nail It") is one such instructional piece. It was included in Ono's Grapefruit 1964, a collection of written pieces now revered as a cornerstone of conceptual art. The instructions read:
Hammer a nail into a mirror, a canvas, a piece of glass, wood, or metal every morning. Also, pick up a hair that came off when you combed in the morning and tie it around the hammered nail. The painting ends when the surface is covered with nails.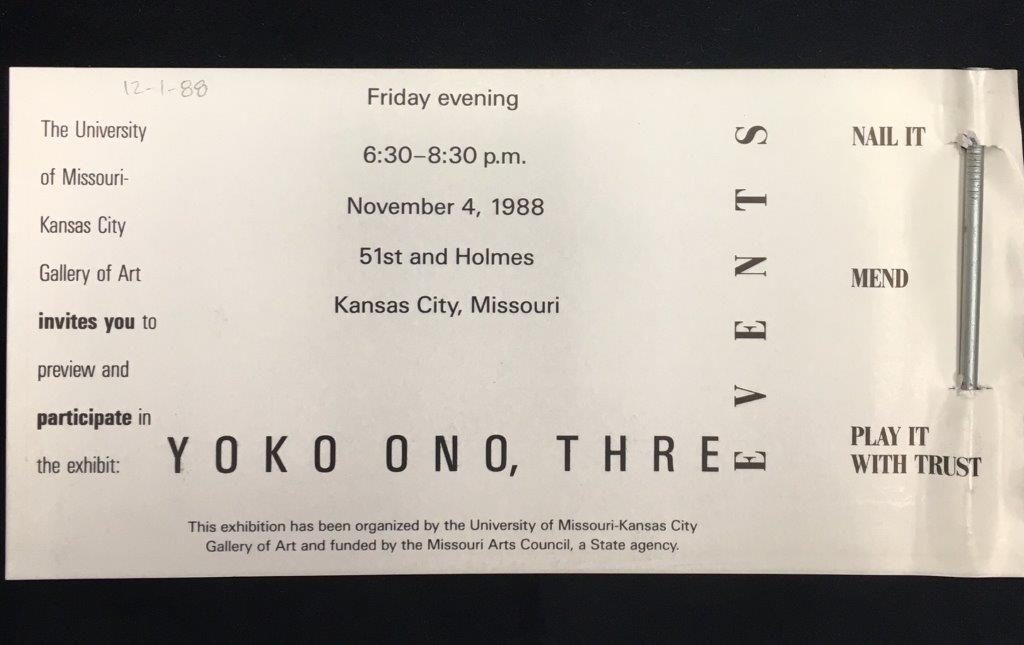 Much like "Wish Tree" and "My Mommy is Beautiful", two of the pieces currently at the Hirshhorn, this work is completed by those who interact with it. Thus a different piece is created with each installation. "Nail It," is a variation of "Painting to Hammer a Nail," but to call it entirely "new" is perhaps a stretch. However, the audience at the UMKC exhibit, like most of the world, was generally unaware of Ono's work. These pieces likely had not been seen before by any of the visitors.
Although she had begun scouting galleries in New York for a "big, splashy re-entry" a year earlier, the UMKC exhibition was her first solo show in 16 years. Looking at Yoko Ono's career overall, the 1988 exhibition seems to be a turning point. It was followed by a retrospective show at the Whitney Museum of American art in 1989, which catapulted her career in a new direction. Ono has subsequently had her work displayed all over the US and internationally. She is now quite the rockstar of the artworld.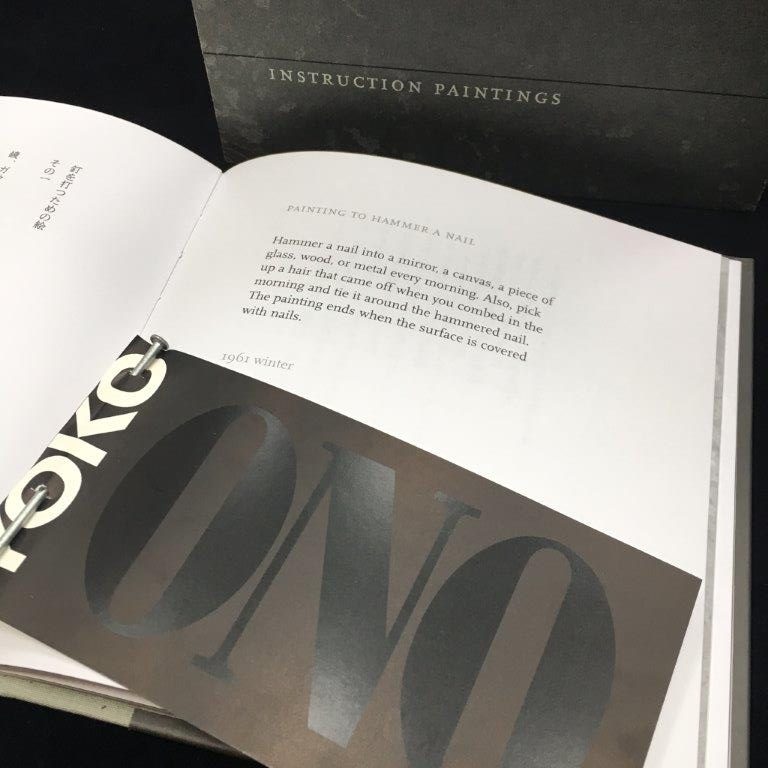 Ono at the University of Missouri Kansas City Gallery of Art hammering the first nail into her piece "Nail It" in 1988.
Sources:
"Ono's opening in K.C. her first in 16 years." The Springfield News-Leader (Springfield, Missouri), November 5, 1988.
"Yoko Ono art performed Sunday." Upi.com, November 5, 1988. http://www.upi.com/Archives/1988/11/05/Yoko-Ono-art-performed-Sunday/5153594709200/.
"Yoko Ono Biography, Art, and Analysis of Works." The Art Story. Accessed August 02, 2017. http://www.theartstory.org/artist-ono-yoko-artworks.htm.
"Painting To Hammer A Message!" IMAGINE PEACE. July 28, 2009. Accessed August 02, 2017. http://imaginepeace.com/archives/7487.
Taylor, Paul. "ART; Yoko Ono's New Bronze Age At the Whitney." New York Times (New York City), February 5, 1989.
Save

Save
Save
Save