Is there a food in North America more intrinsically linked with the landscape of the past and nostalgically intertwined with a holiday feast than the cranberry? From Cranberry Lakes in Nova Scotia, Cranberry River of West Virginia, Cranberry Pond in Sunderland, Massachusetts, the Cranberry Isles of Maine, Cranberry Mountain in New York, Cranberry Meadow in New Jersey, and many a Cranberry Bog dotting coastal areas, the plant deserves the appellation of First or Founding Fruit. It is one of the indigenous foods in North America widely cultivated today. The narratives of the places where the berries once grew wild and of the loss of these habitats can be recovered from historical sources.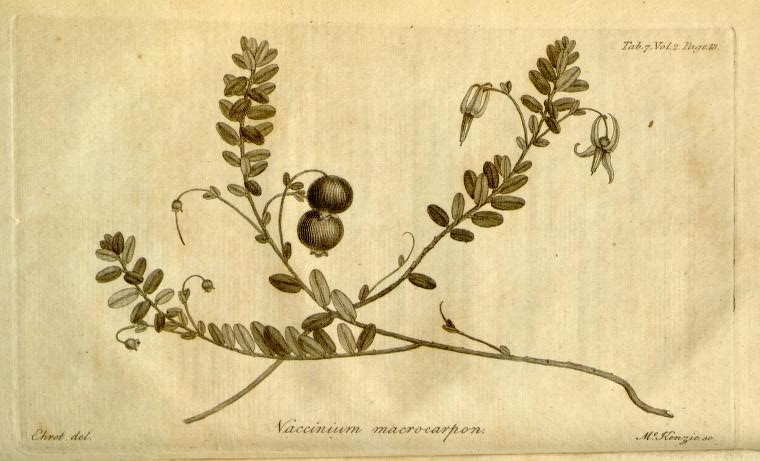 Long before colonists landed on the shores of New England, Native Americans harvested cranberries from peaty bogs and marshes. In the present day, the Aquinnah Wampanoags of Martha's Vineyard celebrate their most important holiday, Cranberry Day, on the second Tuesday of October. Called sasemineash by the Narragansett and sassamenesh by the Algonquin and Wampanoag tribes, the tart berries were an important food source, as early European settlers came to discover. To make pemmican, the fruit (or another berry) was incorporated with pulverized dried fish or meat and melted tallow, and formed into cakes baked by the sun. An endurance athlete of today knows that a proper combination of fat and carbohydrates is necessary to fuel the body. Pemmican was the original power food as this provision provided energy, lasted for months, and was easily portable on long journeys. Following the Pilgrims reliance on the fruit, cranberries became vital for North American fur traders and explorers during the long winter months.
We proceeded to Cranberry Lake, so called from the great quantities of cranberries growing in the swamps … this was one inducement for settling here which was increased by the prospect of a plentiful supply of fish, rice and cranberries … —  John Long in Voyages and Travels of an Indian Interpreter and Trader (London: Printed for the Author, 1791)
Native Americans also made the first cranberry sauce. Poet, lawyer and chronicler of the French exploration of Acadia (Maine and the Maritimes in Canada) Marc Lescarbot (c. 1570-1641) observed natives eating cranberry sauce with meats in the early 17th century. He also came to the conclusion that cranberry jelly was excellent for dessert.
Everywhere there is life, spreading mats of crowberry and the beautiful coast juniper where they are deluged by the ocean spray in winter storms; clothing wind-swept granite heights, wherever there is crack or cranny soil can gather in, with partridge-berry, blueberry, and mountain cranberry; penetrating the forest shade and profiting by the dense northern covering of leafy humus that it finds there; and rich, wherever nature has not been disturbed, in infinite variety—of mosses, fungus growths and ferns as well as flowering plants. Few forests in the world, indeed, outside the rainy tropics, clothe themselves with such abundant life, and there are none that bring one more directly into touch with nature, its wildness and its charm. Histoire de Nouvelle-France, 1609 (Purchase translation link here)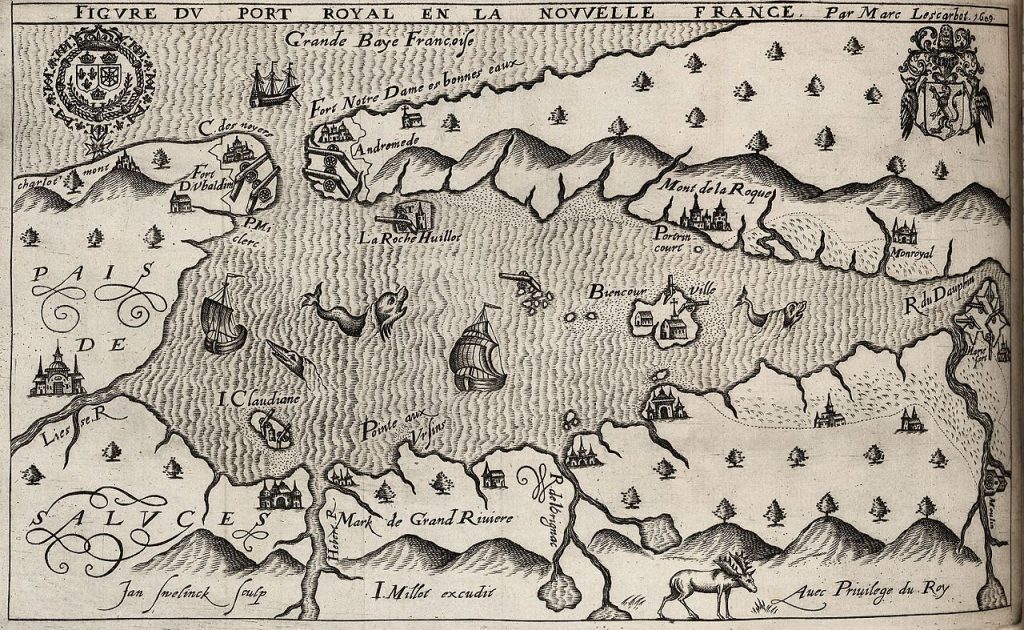 However, cranberry sauce was likely not shared between the Pilgrims of Plymouth Colony and the Wampanoag Nation, who had been harvesting cranberries for 12,000 years.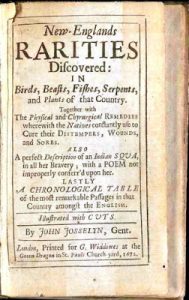 There is a cousin to the red cranberry in England (Vaccinium oxycoccos), and sour fruit sauces or relishes there were traditionally served with meat. Colonists soon adapted the acidic, native cranberry to a familiar cuisine where fruits were often used in both sweet and savory dishes. One of the earliest references of meat being eaten with cranberries is in John Josselyn's New-Englands Rarities Discovered (printed in London in 1672). This is a charming narrative of the author's long stays and a catalog of what he saw and learned in the New World in 1638 and, returning, in 1663.
The Indians and English use them [cranberries] much, boyling them with Sugar for Sauce to eat with their Meate, and it is a delicate sauce, especially for Roast Mutton. Some make tarts with Them as with Goose Berries. — New-Englands Rarities Discovered
By the mid-17th century, with the growth of the slave trade from the West Indies (Barbados, Jamaica and the Leeward Islands), sugar became widely available in New England and cranberries were used more frequently in pies and tarts. In honor of present-day Thanksgiving traditions we will mention that Josselyn also observed "pompions" (pumpkin) pie and for the first time in print fully describes the wild turkey.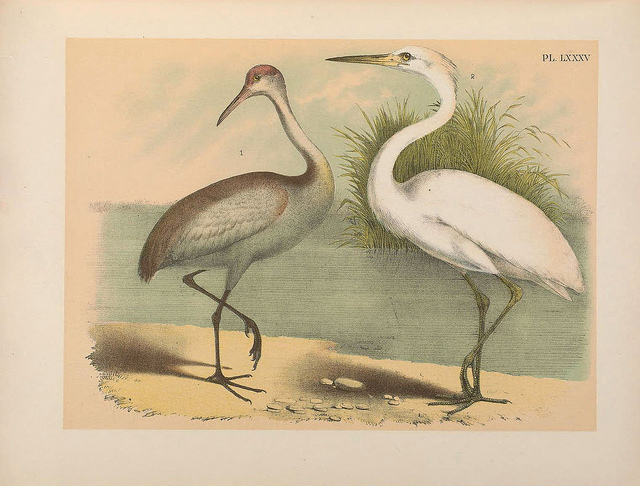 The plant was named "craneberry" by Europeans for the resemblance of the berry flowers in June to the sandhill crane; how the flowers bend to the ground, arcing like the crane; or, perhaps, how the birds favored the berries. Mossberry and fenberries were other names (fen, along with swamps, another spongy place), as was bounce berries (as you can imagine). And, from the reliable, observant Josselyn:
Cran Berry or Bear Berry, because Bears use much to feed upon them, is a small trayling Plant, that grows in Marshes, that are overgrown with moss; the tender Branches (which  are reddish) run out in great length, lying flat on the ground, when at distances they take root, overspreading half a score of acres … — New-Englands Rarities Discovered
The English author was interested in the healing properties of organic materials as applied by Native Americans (whom he admired) and settlers (he was not so fond of the Bay Colony Puritans). So Josselyn relays the information that cranberries "are excellent for the Scurvey. They are also good to allay the furvour of hot Diseases." Apart from fevers, other medicinal uses of cranberries by the indigenous populations included poultice for wounds, and treatment for indigestion, swelling, blood poisoning, and seasickness.
Cranberries have loads of vitamin C and benzoic acid, a natural preservative, so they made a perfect ship's provision stored in barrels. Thus, they became a desired commodity in the Atlantic World.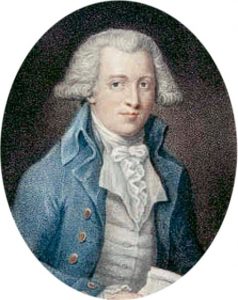 When carefully gathered in the Fall, in dry weather, and as carefully packed in casks with moist sugar, they will keep for years, and are annually sent to England in considerable quantities as presents, where they are much esteemed. When the ships have remained in the Bay so late that the Cranberries are ripe, some of the Captains have carried them home in water with great success. – Samuel Hearne, A Journey from Prince of Wales's Fort in Hudson's Bay, to the Northern Ocean (London: Printed for A. Strahan and T. Cadell, 1795)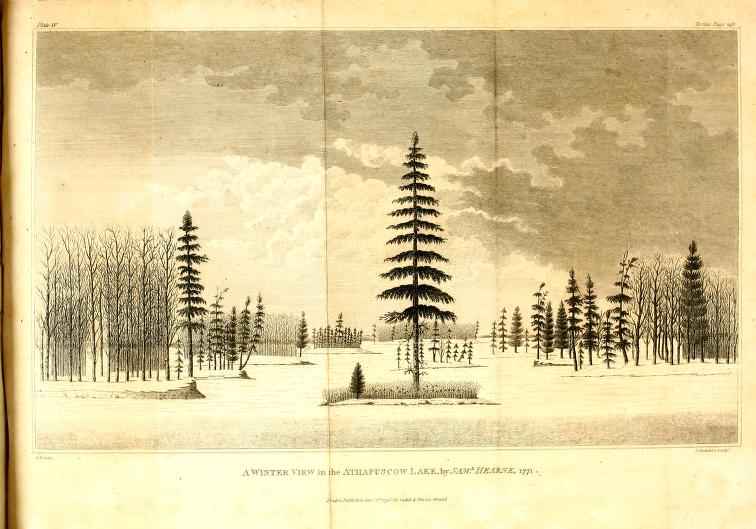 Cranberries (Vaccinium macrocarpon), wild in only certain parts of the Northeast and Pacific Northwest, are not an easy plant to grow commercially. Uncultivated stands of cranberry are now rare but Native Americans once had large ranges to harvest and no need to cultivate the berries as a source for the food. The cranberry plant is particular to its environment, with a short Fall season, needing acidic soil, coarse sand, abundant water, and lack of frost while growing. But beginning in 1816, Revolutionary War veteran Henry Hall, captain of the schooner Viana, began successfully to cultivate vines in Massachusetts. By then, the wild environment was quickly receding in America, along with the naturally growing indigenous fruit and the native inhabitants.
Thus, there are layers to the story before cranberries became a major commercial crop. Early writings found in the Smithsonian Libraries help to recover and inform an early cultural history of the native cranberry—along with the blueberry and Concord grape—the most American of fruits.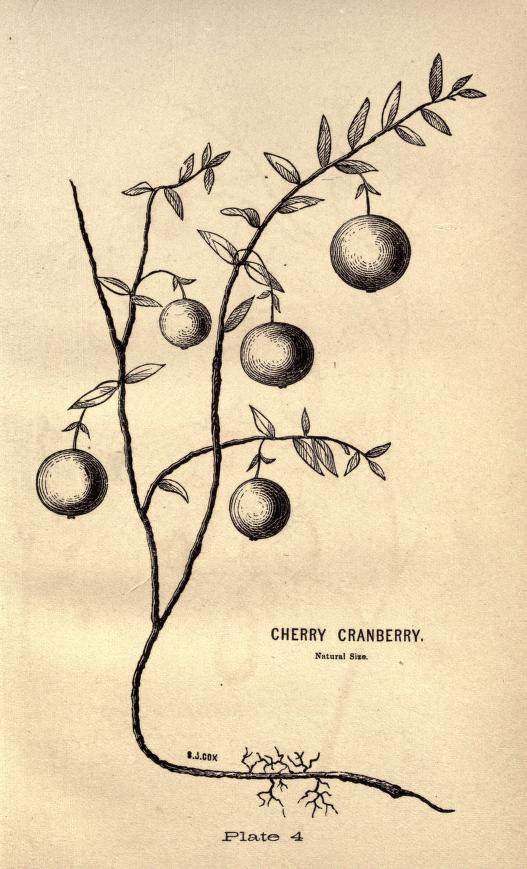 Notes
Sarah Whitman-Salkin, "Cranberries, a Thanksgiving Staple, Were a Native American Superfood," for National Geographic, November 28, 2013 (link here).
"Cranberries: The Most Intriguing North American Fruit," The American Phytopathological Society site.
"A Brief History of Cranberries," Smithsonian.com
"When New England was New" (link)
Stephen A. Cole and Linda S. Gifford. The Cranberry: Hard Work and Holiday Sauce. Gardiner, Maine: Tilbury House Publishers, 2009.

Save
Save
Save
Save
Save
Save