This is the fourth in a series of posts about the Art Deco resources at the Cooper Hewitt, Smithsonian Design Museum library. Each post will highlight primary resources which contain the styles and designs of the Art Deco era. These resources are divided into seven categories- world's fair publications, interior and architecture books, trade catalogs, graphic design, pattern books, and picture files. This guide is not an exhaustive summary and these featured resources are just a portion of what awaits Art Deco enthusiasts and researchers in the Cooper Hewitt library collection. We are grateful to Jacqueline Vossler and Joseph Loundy for their generous support of this project.
Trade catalogs offer a period snapshot into business, technology, marketing, consumption, and design over the decades. In the collection at the Cooper Hewitt, Smithsonian Design Museum library, there is a diverse view into the Art Deco era through materials, like industrial glass, to design components, like furniture frames. The Library's trade literature covers all parts of the design process and all levels of consumer. Much like in the World's Fair materials, through trade catalogs it is easy to trace the wide-spread influence of Art Deco style.These trade publications span across the United States and Europe, offering individual objects, sets, full suites, and architectural components.
On a large scale, companies like Atlantic Terra Cotta Company quickly picked up on the Art Deco style elements coming out of Paris. They emphasized the customers' ability to customize building facades with their various components, which featured popular geometric patterns, lettering, and friezes. They even advertise their impact on the newly emerging New York City skyline.

Bathrooms were even Art Deco'd out. The American Radiator Company's trade catalog circa 1936 shows the evolution of the Art Deco movement into all rooms of the house and its expansion into more consumer price points. This specific ad shows an all-in-one sink, mirror, cabinet, and hamper. The streamlined product comes with little to no ornamentation or luxury materials compared to traditional Art Deco.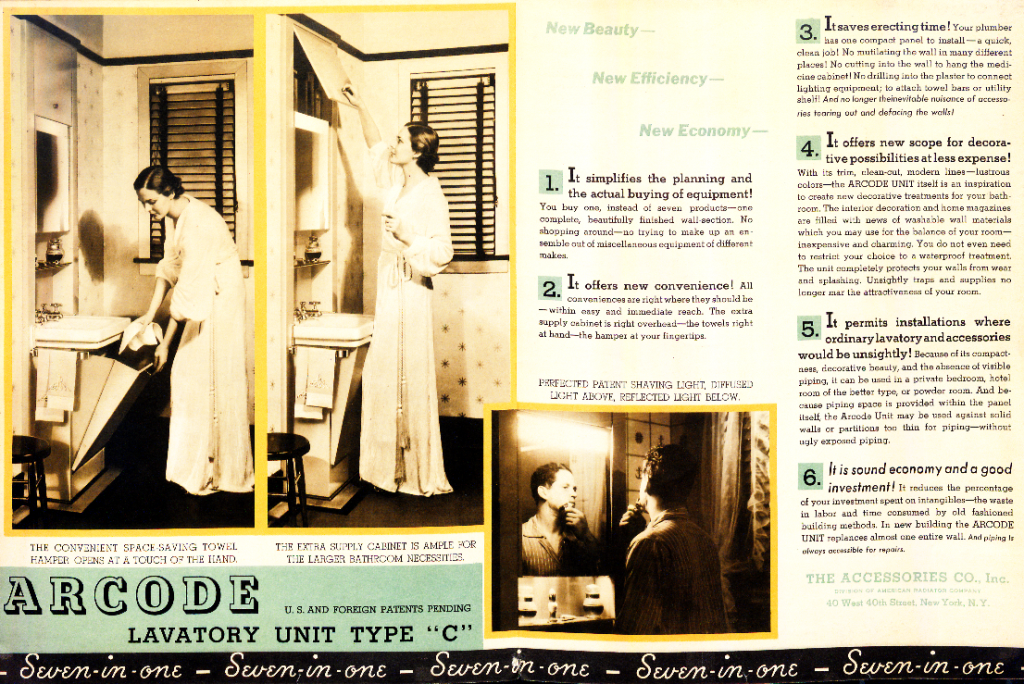 Still aware of the luxury market, the American Radiator Company offers a streamline-evolved version of Art Deco luxury and style. Another model bathroom features a marble facade to match the toilet while concealing the cabinets and a toilet tank.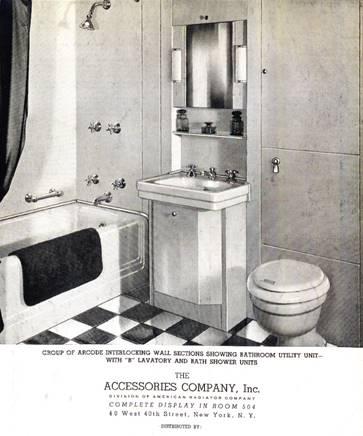 On a smaller scale, individual consumers could mail-order decorative objects to accentuate the modernity around them. One company that offered these luxuries and had many notable designs embodying the Art Deco movement was Revere Copper and Brass Incorporated (Rome, NY). Their gift catalog from 1936 has the Normandie pitcher, designed by Peter Muller-Munk, a classic, streamlined design, alongside the Manhattan Cocktail Set, designed by Norman Bel Geddes, with a centerpiece to match.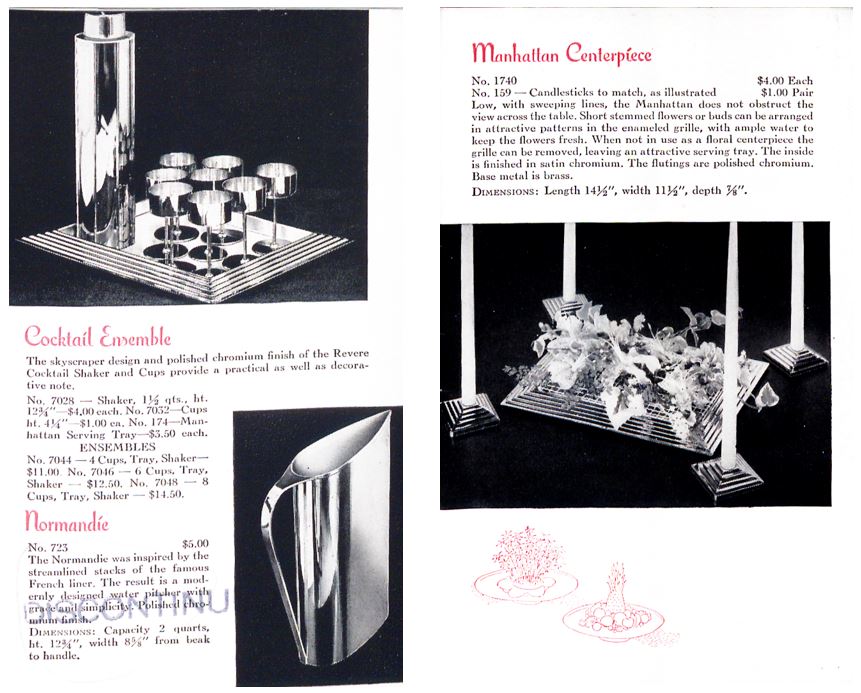 Other designs sold by Revere Copper and Brass played with other interests of the moment. One lamp, in the shape of a fashionable woman, is advertised for "discreetness" in aiding the user with its light without overwhelming them. To highlight another popular activity a whole section is dedicated to smoking accessories. The ashtrays play with movement, astrology, and geometric shapes while also indicating an increased interest in socializing.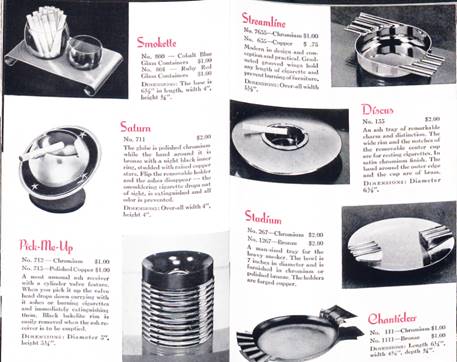 Abroad the same rang true, the totalizing effect of the Art Deco style was applied to everything. Danish designer Georg Jensen's catalogs show elements of the style throughout the products of the workshop, ranging from jewelry to flatware and other table settings.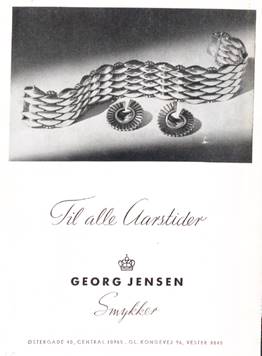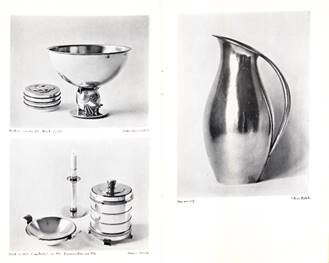 The Art Deco influence continued around the world; for example, lighting company Morel from the Czech Republic played with geometric shapes and arrangements in their lighting products.

From the British Aluminum Company in 1931, there are examples of how architects were integrating aluminum into their buildings. Featuring interior and exterior space, this catalog shows the influence of Art Deco design around the globe, including countries such as the United Kingdom and South Africa. The cover also features a symmetrical geometric formation with two antelope, an Art Deco favorite, leaping towards the edges.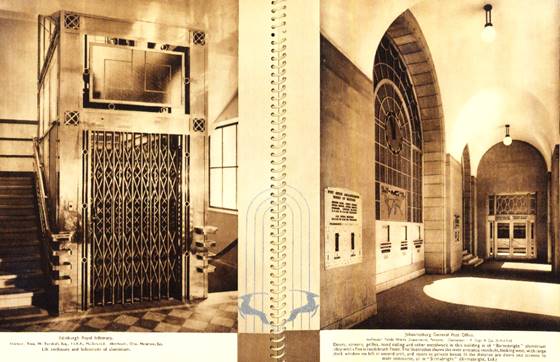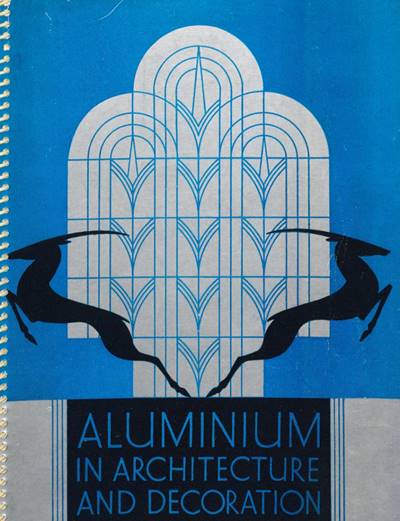 Selected Bibliography
Atlantic Terra Cotta Stock Designs
Call Number: 052415
Published by/created: Atlantic Terra Cotta Company, New York, N.Y., c1925
Stock designs for the Atlantic Terra Cotta Company in New York City. The catalog offers information on where to see their products in use and offers all imaginable terra cotta needs. Available in English.
American Radiator Company
Call Number: 050222
Published by/created: American Radiator Company, New York, N.Y., 1936?
A trade catalog for the American Radiator Company featuring bathroom utility units, lavatory units, bath-shower unit, steel kitchen units, and more. Available in English.
Gifts : 1937 // Revere Copper and Brass Inc
Call Number: 047045
Published by/created: Revere Copper and Brass Incorporated, Rome, N.Y., c1936
Gifts for the upcoming holiday season from the Revere Copper and Brass Incorporated, a part of Rome Manufacturing Company Division in Rome, New York. Dense with images and descriptions of stylish home décor in the latest Art Deco fashion. Available in English.
Georg Jensen smykker
Call Number: 046102
Published by/created: George Jensen sølvsmedie, København, 1938
Catalog for the Georg Jensen workshop in 1938 featuring jewelry, tableware, and more. Available in Danish.
Morel a spol., Praha. M35
Call Number: NK2115.5.L5M674 1935
Published by/created: Morel a spol., Prague, Czechia, 1935?
A trade catalog for the Czech lighting company, Moral a spol., with lighting fixtures, lamp shades and light bulbs. Many but, not all, of the products have an Art Deco influence. Available in Czech.
Aluminum in Architecture and decoration
Call Number: 044837
Published by/created: British Aluminum Co., Ltd., London, 1931
British Aluminum Company's catalog of aluminum products and how these products have been used across the globe.