–This blog post was contributed by Sara Donovan, summer 2019 intern at the Smithsonian AA/PG Library. Sara is finishing her undergraduate degree in history at the College of William and Mary in Williamsburg, Virginia, and hopes to one day gain a degree in library science.
I recently read a comment that deeply resonated with me: libraries are not monuments to books or past knowledge, but rather living, breathing institutions that shift in purpose in order to best accommodate the needs of the community which they service. Unable to give the author their proper dues, I will say that their sentiment has greatly altered how I have come to view my project as an intern at the Smithsonian American Art and Portrait Gallery Library.
At my university, I work in a Special Collections library. There, every book is rare or antique, possessing a story that makes it unique and therefore invaluable and necessary to our collection.  We acquire new material periodically, but we rarely if ever dispose of the old. That, I have found, is not the case for all research libraries. Scholarship and commonly accepted ideas about the world evolve, mutate, and develop, and just as the knowledge of things alters and expands, so too does the mission of those institutions founded in the pursuit and preservation of knowledge.
The National Portrait Gallery and Smithsonian American Art Museum are two such testaments to how institutions can change with the times: neither museum possesses the same identity that it did when it was established. What once was a small and internationally-focused National Gallery of Art has become two separate and highly specialized museums dedicated to American art and portraiture. The library that services both museums reflects that change perhaps more thoroughly than the museums themselves. Scattered among the collections, numerous books' call number labels still record the many names that the art museums have possessed throughout their conjoined and respective histories. While the museums themselves have altered their exhibits and collections to more clearly display their focuses in American art, the library still houses the research materials relevant to a gallery studying international art throughout all of human history.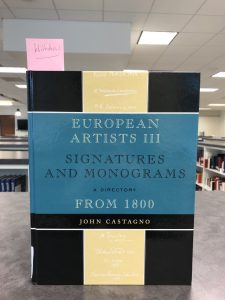 The American Art and Portrait Gallery Library as an institution and its staff as its representatives are determined to provide all of the materials and services necessary to better allow curators and public patrons to study, and present American art scholarship to Smithsonian visitors. As such, the library must make room for new research, and relies on the process of honing the collection to remove irrelevant or outdated materials and make room for future acquisitions more in line with the scope of the library and the museums it serves. Deaccessioning, or "weeding," requires a degree of subtlety in every occasion, but can prove particularly difficult when done in the context of a reference collection. Since no one can check out reference materials, librarians have no statistics on how often any particular volume is used. Instead, staff must look at the subject matter itself and its date of publication to know whether or not a title on art, history, or biography carries enough weight to remain either in the reference collection or in the library as a whole.
The mission as a library is to provide researchers with materials on American art, history, and biography, but the material we have collected over the years outside of that scope has also attracted the attention of those conducting research.  A Smithsonian American Art Museum curator, for example, may not have the occasion to utilize a volume concerning European artists' signatures and monograms from the nineteenth century, but an outside researcher might come to the library with the express purpose of viewing that book. While the library serves as a resource for the Smithsonian, the Smithsonian itself is a resource for the American people. That fine line between priorities of those we serve is where finesse works its way into the process of weeding.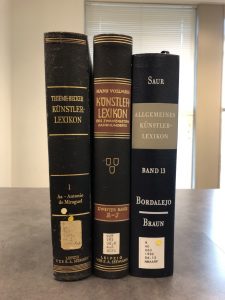 Another particularly poignant example of the subtlety of art history scholarship lies in how several sets of German language biographical encyclopedias published throughout the twentieth century became standard reference sources in art scholarship. The first collection was compiled by German art historians Thieme and Becker, after whom their anthology was named. Following the First World War and the deaths of the founding editors, Vollmer took the mantle of editing this behemoth, as well as publishing a condensed version of his own. After the completion of these two works, a new biographical undertaking began in the 1960s with the publication of the Allemagne Kunstlerlexikon, or the AKL for short, which took what Thieme, Becker, and Vollmer created and adapted it with new perspectives and interests born out of the culture of the mid-20th century. All of these publications were exclusively available in German until very recently, and yet all three collections will remain in pride of place in our library's reference collection. Despite not being exclusively about American artists, Americans are featured in each of the three publications, and these innumerable volumes helped to contribute to a shift in how artists were discussed and studied in the twentieth century. Thieme-Becker, Vollmer, and the AKL are requirements in any art library, regardless of their more general scope.
Despite my background in history, I can at times find it hard to accept that some change is necessary. I have always viewed libraries as a reliable source of knowledge and a stable community center. These romantic ideals, however, can potentially prevent the library as an institution from being useful as times change and values shift. Deaccessioned books have served their purpose in the library well, but there comes a times when room must be made for the new. The survival of libraries, then, must be founded in change, and characterized by growth. Just as I have come to accept this necessary growth, I have grown as well, becoming more respectful of and capable of facilitating the changing nature of libraries in order to ensure that they remain reliable sources of information and community in the years going forward. And it all started by weeding.
–Contributed by Sara Donovan.