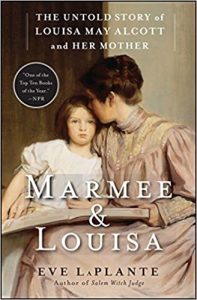 With Mother's Day in our recent memory, it's the perfect to remember one of the most familiar and loved matriarchs in American literature: Marmee, from Little Women. The American Art and Portrait Gallery Library has some of the most recent scholarship on Abigail May Alcott, mother of Louisa and the inspiration for Marmee. It comes courtesy of historical biographer Eve LaPlante.
LaPlante is a descendant of Louisa May Alcott and discovered the letters that were the basis of much of her scholarship for both books in a family trunk. Her books Marmee & Louisa (2012) and My Heart is Boundless (2012) use Abigail May Alcott to provide insight into the life and heart of this remarkable matriarch. She also makes the argument that Abigail's childhood was an inspiration for the lives of the March sisters, as well as the lives of Louisa and her siblings. With that in mind, let's take a closer look at the "Little Woman-hood" of Abigail May Alcott, as described in Marmee & Louisa.

A Childhood Touched By Tragedy
Abigail May was born in Boston on October 8, 1800, the youngest of eight children, to Joseph and Dorothy Sewall May. The family was close-knit, loving, but had also endured several hardships that shaped the family's character before Abigail was born. In 1798 Abigail's father, Joseph May, lost the family fortune. His business partner invested heavily in a fraudulent scheme known as the Yazoo land scandal. After the bankruptcy and "mental suffering" that followed, Joseph May resolved to never again pursue material wealth, refusing other investment opportunities that came later and keeping the family in modest circumstances. (LaPlante, 15). This change of fortune is something the fictional March sisters also experienced:
"Abigail knew her father only after his business failure. But her oldest siblings, like the elder sisters in Little Women 'could remember better times.' In the novel one sister asks another 'Don't you wish we had the money papa lost when we were little.'" (LaPlante, 15).
Her father coped with the change with a new emphasis on duty and scorn toward materialism. These ideals were helped along by the support of his wife's wealthy family.  Abigail's mother, Dorothy Sewall May was from a prominent New England family–one of the era's "Boston Brahmins." She was a cousin to Abigail Adams and counted revolutionary John Hancock as brother-in-law. (LaPlante, 15).
Financial troubles weren't the family's only worry; Abigail's parents also endured the loss of five babies before she was born. Additionally, when she was a toddler, Abigail's 6-year-old brother died in an accident. This incident had a great impact on the entire family and led to Abigail growing up with four sisters and one brother, Sam Jo. According to LaPlante this "fundamental May quintet" was Louisa's inspiration for the March sisters and Laurie. (LaPlante, 10)
Wanting More
As she grew, Abigail's great desire was to be educated. While her mother's desire for some education for her daughters was mildly progressive for the day, Abigail had academic ambitions that went beyond the domestic sphere. According to LaPlante (19):
"She did not relish a marriage like her aunt's and mother's…she longed for the experiences of her brother Sam Jo. She wished to read history and literature, learn Latin and Greek, and use her mind to improve the world one as he was encouraged to do." 
Despite her ambitions, Abigail was a sickly child and found her education often interrupted by illness. Yet even through this difficulty her parents "indulged" her with a private tutor in her teen years. Dorothy Sewall May wanted daughters who were "educated as fit companions to a man," a somewhat progressive attitude in a time when women were widely believed to be intellectually inferior to men.
Her educational ambitions had stronger support from her brother Sam Jo. The pair remained close as they grew up and When the time came for him to attend the prestigious boys' schools of his day, Sam Jo encouraged Abigail to read his books and think for herself. This continued when he was in college, the pair discussed John Locke and the humanities in their correspondence. Another sibling, Louisa, also taught Abigail by mail: coaching her in grammar and writing. (LaPlante, 22-3)
A Small Rebellion 
By the time Abigail was seventeen, she was looking for ways to become a teacher while her parents were trying to find her a husband. Much of that year was spent with the family's reaction to the rejection of her cousin's marriage proposal. When tensions grew too great at home, Abigail went away to study with family friends. She returned only after her cousin had died and her father agreed not to try and match her with eligible young men. (LaPlante, 29)
Not long after her return home, Abigail and her eldest sister, Louisa pursued the idea of running a school in their family home. This was derailed when, in 1821, Louisa accepted a marriage proposal. Then, tragedy shaped Abigail's life again: her youngest sister died, leaving behind a toddler nephew and infant niece, that fell into Abigail's care, effectively putting an end to her dreams of being an educator. Perhaps that's the reason that Louisa May Alcott ends her novel with the celebration of Marmee's birthday at the school Jo founded. It could have been her way of honoring her mother's youthful ambitions.
Abigail's young life shows us just how it was difficult for women in the early 19th century to pursue anything other than the path of domesticity; how bright and creative little women often became good wives. Yet even as society struggled to value the contributions of wife and mother, Abigail May Alcott was a woman of principle: as a supporter of education of girls and an early supporter of abolition and emancipation for enslaved people (LaPlante, 52). She used her power where she could, even in marrying Bronson Alcott a penniless teacher with matching ideals—over the disapproval of her parents.
Through a loving marriage marked by frustration, financial hardship, and tragedy, Abigail maintained her beliefs, passing them on to her daughters. Her legacy lives on, not just through the goodness of Marmee but through the principle and ambition of all the March sisters—and their real-life equivalents. They got it from their mama.