For the past few months, many Americans have relied on delivery vehicles to transport essential goods, like food and other household products. And okay, maybe a non-essential pair of shoes, a game or a book or two. But delivery vehicles are nothing new. Let's take a look at delivery cars through the lens of this early 20th Century trade catalog.
The catalog is titled Lippard-Stewart: The Delivery Car (circa 1914) by Lippard-Stewart Motor Car Co. People always seem in search of faster and more efficient ways of doing things. This catalog begins by describing benefits of using a motor vehicle for deliveries rather than a horse and wagon.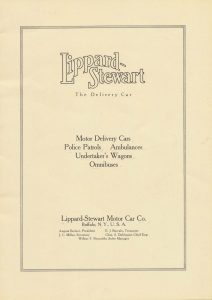 Imagine some thoughts that might have crossed the mind of a business owner transforming his business from horse and wagon to motor vehicle deliveries. How much of an impact would this have on the business? Would a motor vehicle provide more efficiency? Would it be cost-saving?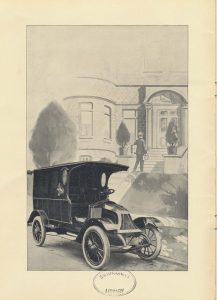 According to this catalog, the Lippard-Stewart Delivery Car had the ability to travel 60 or more miles per day and do more work than three horses and wagons. A motor vehicle brought more dependability by being able to work in all types of weather and all hours of the day. This also resulted in wider territories to serve.
The horse and wagon delivery method required a stable to house horses near the place of business. That way the horses were nearby and did not have a long journey before the delivery day even began. On the other hand, if a motor car was used for deliveries, there were more options of rental space for storage of the car in various locations at various distances from the business, possibly resulting in lower costs.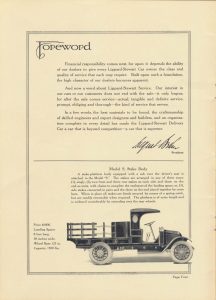 Lippard-Stewart Motor Car Co. offered several bodies for delivery cars. One type was the Model S, Stake Body, shown above. The Stake Body had an open platform for storage with removable stakes, cross bars, or chains enclosing the platform. This style provided extra storage space for material goods because the platform extended beyond the rear wheels.
The Model P, Panel Body, shown below, was enclosed with rear doors or a drop tail gate and grille. It was possible to reach the storage area from either the front or rear. Being fully enclosed, the storage area was protected from unfavorable weather conditions. Its "easy riding qualities" was described as a benefit when transporting breakable goods.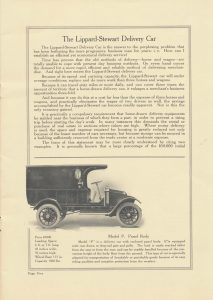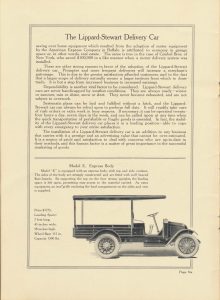 Another body was the Model E, Express Body. As shown above, this model included an open loading space with a roof and iron grille on the sides and rear. This allowed easy access to the goods stored in the loading area. The Express Body as well as the Stake Body and Panel Body all had a capacity of 1500 pounds.
Besides delivery cars, this company also offered specialty vehicles. The Ambulance is shown below. It was equipped with a cot and chairs for both a physician and nurse. The sides were either solid panels or included windows with roller shades. Its ability for speed and "easy riding qualities" made it especially useful as an ambulance.
The Omnibus, also shown below, had the capacity to transport a group of people. The front driver's seat allowed enough space for two people to sit while 10 additional people were seated lengthwise in the enclosed passenger compartment. A rear door provided entry and exit from the passenger compartment.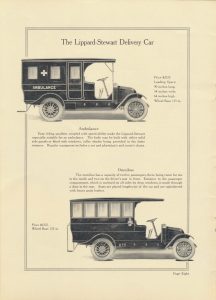 Other specialty vehicles included the Casket Wagon and Police Patrol, both illustrated below. The Casket Wagon included a removable rack to divide the back compartment into an upper and lower section. It came with rollers, pin-stops, and sockets to assist with loading and securely holding caskets. Side windows were equipped with black broad-cloth.
The Police Patrol, below, had the capacity to seat eight people inside. It was available as a panel style vehicle with or without a rear door or as an enclosed style vehicle with wire grille sides.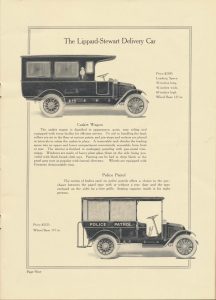 The catalog continues with details about construction, parts, and specifications of the motor vehicles. Depending on the model, delivery vehicles were available in shades of blue, red, or green. For a specialized vehicle, such as the Ambulance, Omnibus, or Police Patrol, it was available in any color desired. The Casket Wagon was available in either black or pearl gray.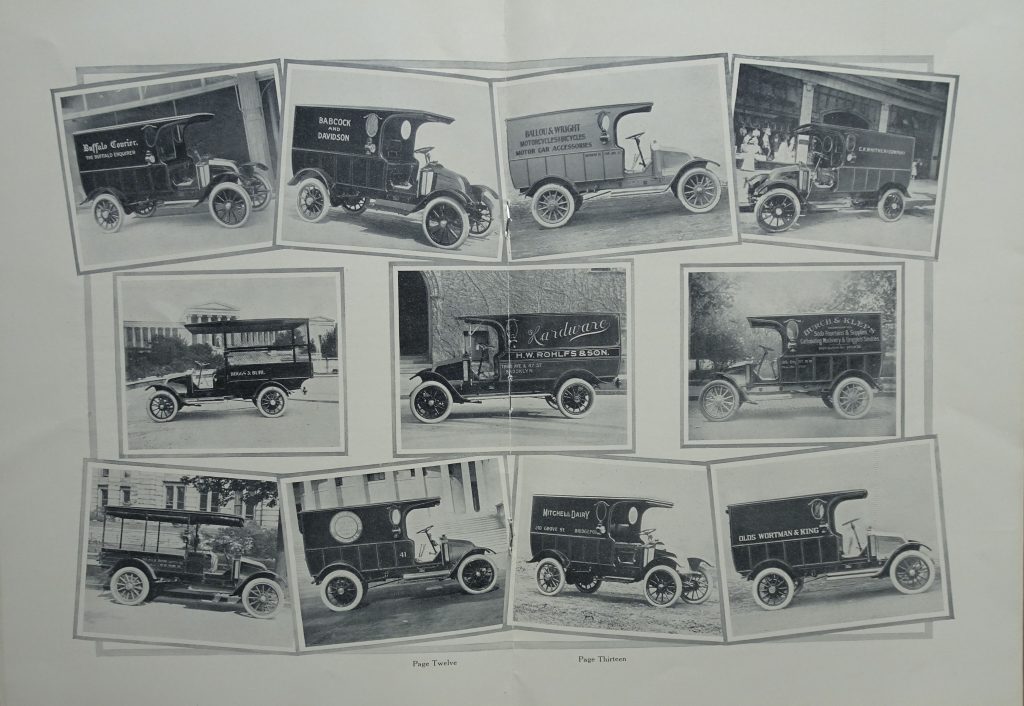 As shown in the illustrations above, various businesses used the motor delivery car. This included dairy, ice cream, newspaper, hardware, and other businesses supplying goods and materials. The catalog ends with testimonials from some of the companies. Letters mention satisfaction with the delivery car's abilities to carry heavy loads, cover many miles, navigate difficult road conditions due to weather, and its overall operation even for inexperienced users.
Howard & Barber Co. of Derby, Connecticut wrote on July 26, 1912: "…This spring after the heavy April rains the country roads were never in such bad condition and certainly the car had a thorough test along this line but in spite of these conditions it did the work perfectly."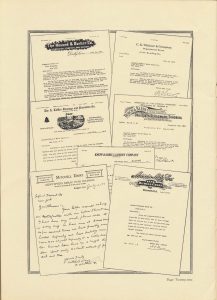 Lippard-Stewart: The Delivery Car (circa 1914) and other trade catalogs by Lippard-Stewart Motor Car Co. are located in the Trade Literature Collection at the National Museum of American History Library.