This is the sixth in a series of posts about the Art Deco resources at the Cooper Hewitt, Smithsonian Design Museum library. Each post will highlight primary resources which contain the styles and designs of the Art Deco era. These resources are divided into seven categories- world's fair publications, interior and architecture books, trade catalogs, graphic design, pattern books, and picture files. This guide is not an exhaustive summary and these featured resources are just a portion of what awaits Art Deco enthusiasts and researchers in the Cooper Hewitt library collection. We are grateful to Jacqueline Vossler and Joseph Lundy for their generous support of this project.
Beyond the books and Art Deco catalogs the Cooper Hewitt, Smithsonian Design Museum Library, the library also has a collection of works by Art Deco designers in the form of illustrations and pattern books.
As Art Deco took over, many artists adopted it or wanted to try the style for themselves. An example of this is Russian born illustrator Boris Artzybasheff (1899-1965). After he moved to the United States in 1919, right as Art Deco was emerging, he gained employment as an illustrator for magazines like Life, Fortune, and Time. In a realistic style, he presented futuristic images that set anthropomorphized machines and cyborg humans to explore industry, technology, and war. In the Cooper Hewitt's collection, there is a unique example of his exploits in the Art Deco style. In the book Creatures, a volume of Irish folk-lore poetry by Padraic Column, Artzybasheff simplifies his style into black and white images with ornate but flat detailing. A far cry from the colorful and detail-oriented images he will later be known for in the 1940s and 50s. This exercise in simplicity was used in one of his few projects directly related to nature, not industry and technology.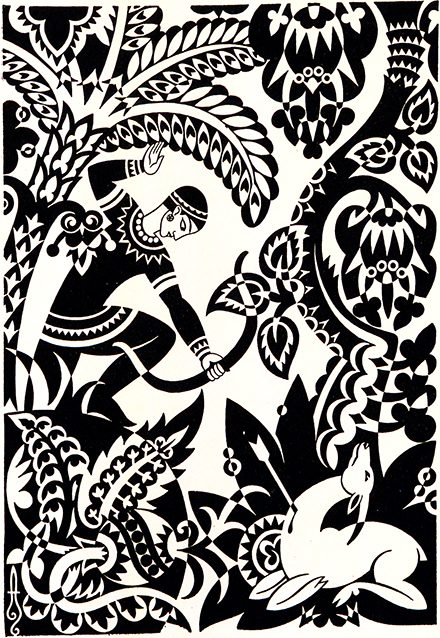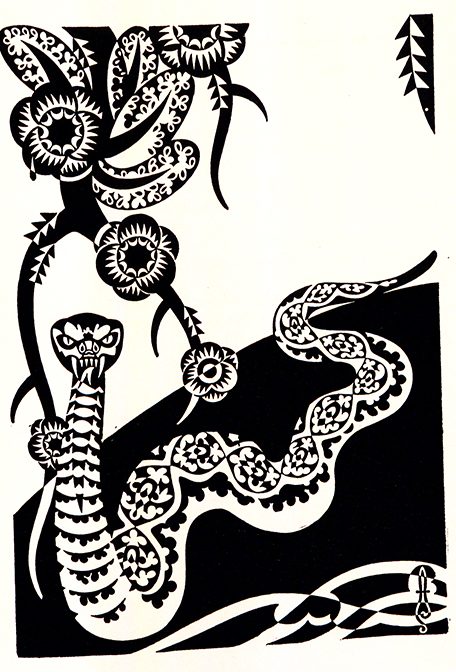 Another compelling way for artists, particularly illustrators to dip their toe into this exciting new style and have perhaps reach a wider audience was through the creation of a pattern book. Pattern books were intended to inspire wallpapers, fabric, and other interior design elements. Many utilized the stencil-based technique of pochoir. The Cooper Hewitt Library has a rich collection of French fashion periodicals and pattern books in the pochoir style which can be explored here in the post Vibrant Visions.
A vibrant and nearly psychedelic example of this is from the French born illustrator André Durenceau (1904-1985), who had 128 compositions published circa 1928 by H.C. Perleberg in Woodstock New York. The volume was printed in Philadelphia by the Birnbaum-Jackson Company assumedly because of the labor intensive pochoir process. The volume is exuberantly colored and explores geometric patterning, animals, and people. A few panels seem to serve as a sequel to the Owen Jones volume, The Grammar of Ornament.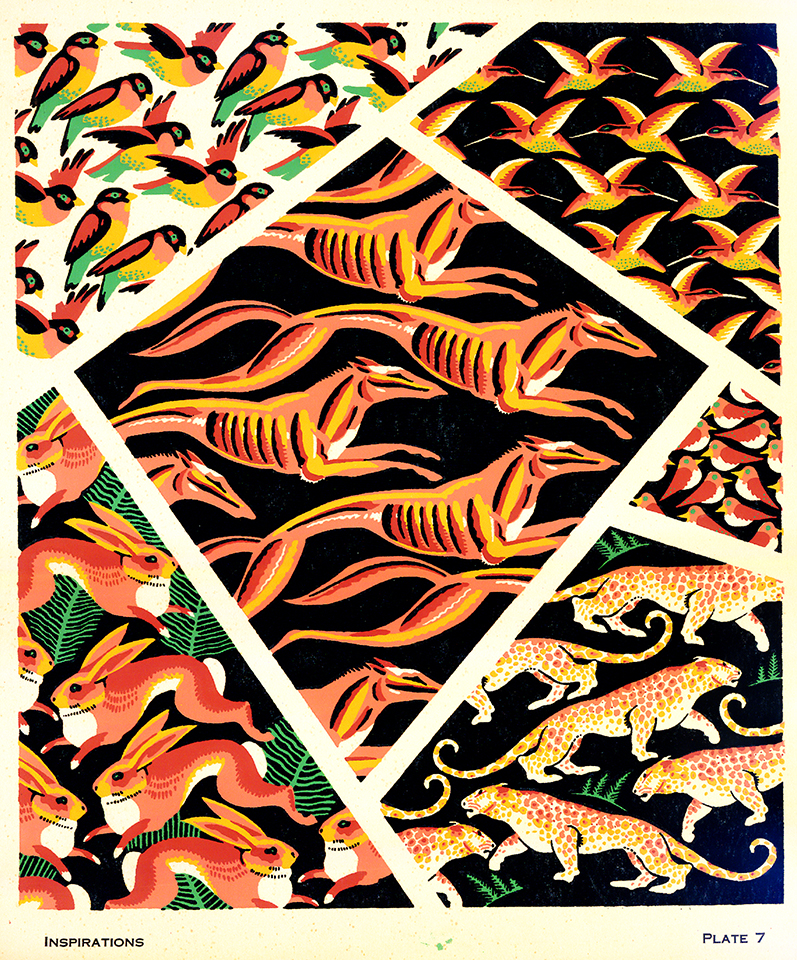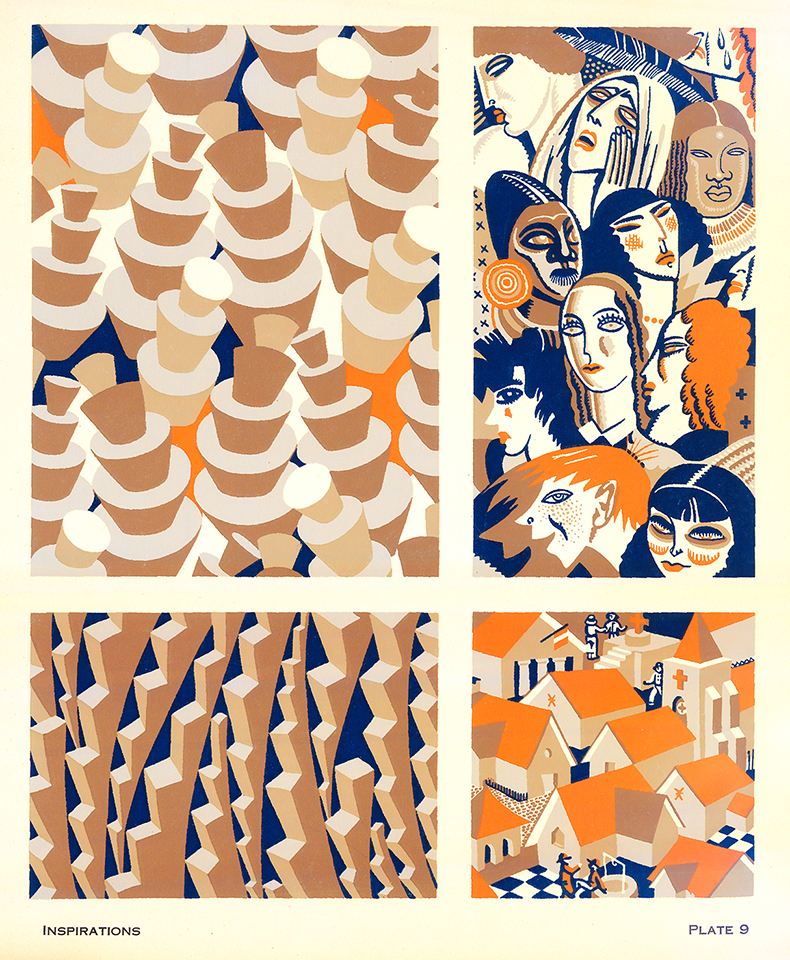 Another designer, Édouard Bénédictus (1878-1930), is best known for his discovery of laminated safety glass in 1903. Still, as a renaissance man, he also created works on paper for elegant silks, stains, and rugs. He contributed to the dialogue about decorative arts through his submissions to periodicals like L'Art Décoratif. The Cooper Hewitt's collection has two of Bénédictus' volumes both in the pochoir technique – Nouvelles variations and Relais.
Nouvelles Variations is a collection of designs for textiles and wallpapers containing 20 plates with 75 motifs. Many of these compositions adhered to Art Deco's favorite themes, like nature, geometry, and the exotic.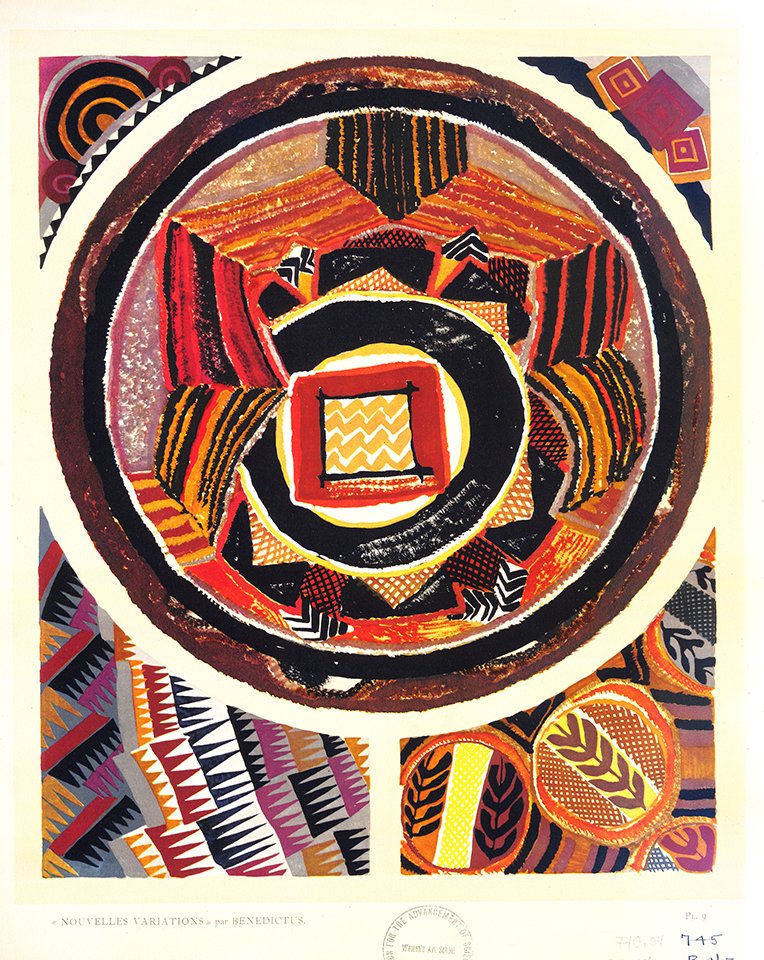 Relais was published the year of Bénédictus' death and contains another 15 plates with 42 new decorative motifs, similarly themed to Nouvelles Variations with floral, animal, and geometric components. A departure from the purely decorative, there is also a plate that depicts an arched window looking out over a row of rooftops towards a harbor with an incoming streamliner. The plates were printed by Jean Saudé, known for his mastery of the pochoir technique.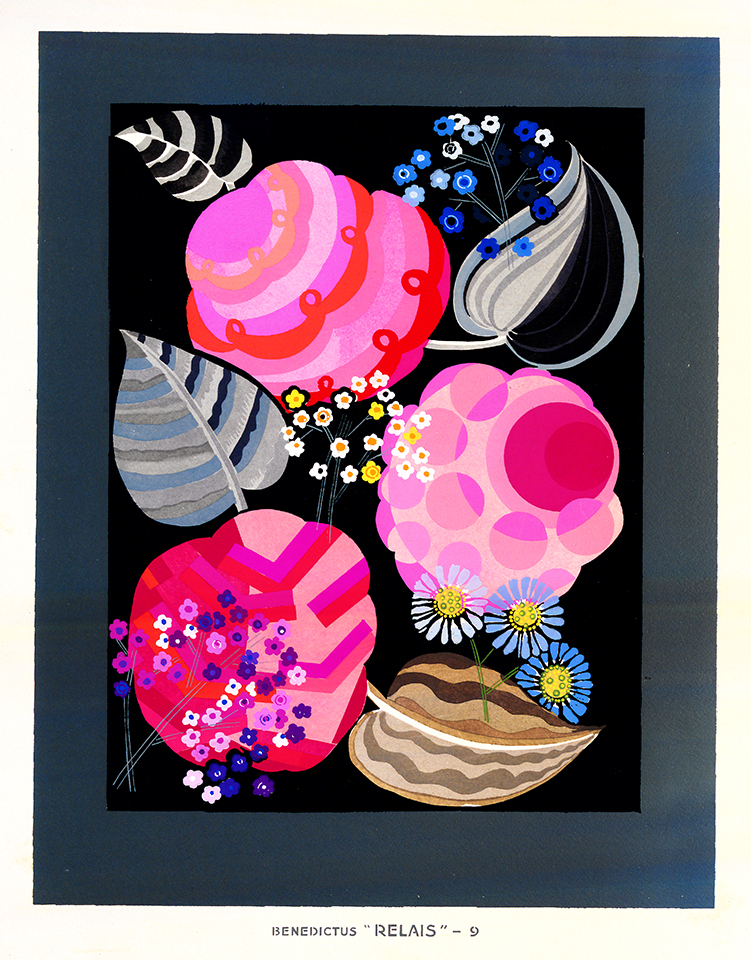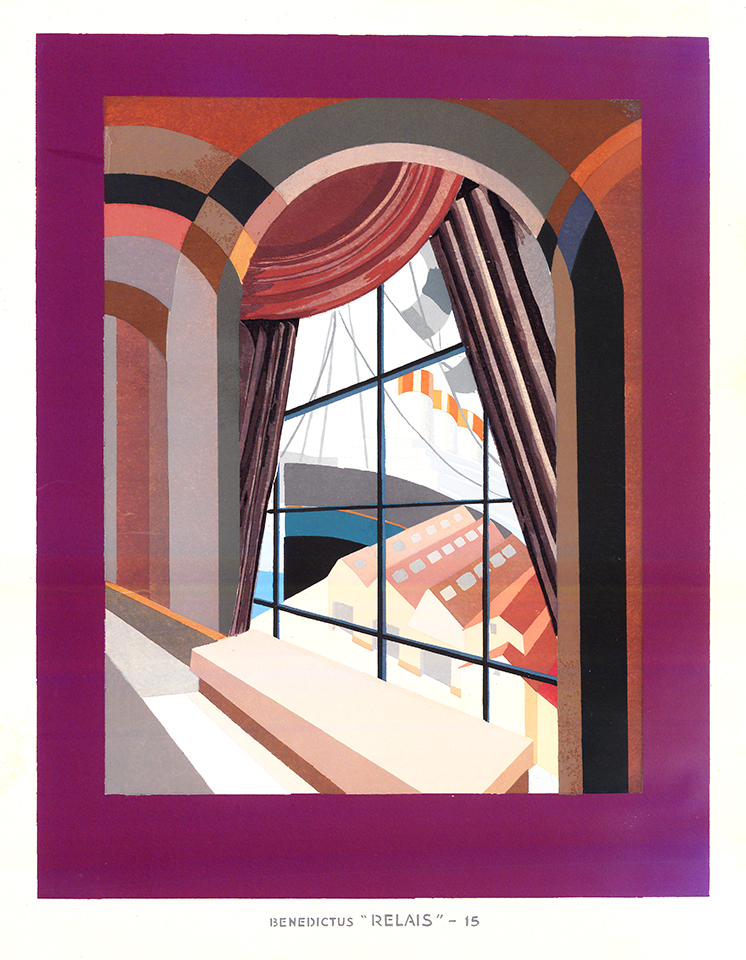 Selected Bibliography: 
Creatures
Call Number: PR6005.O38C7 1927X
Published/created: 1927, New York City, New York
Poetry written by Padraic Column accompanied by illustrations by Boris Artzybasheff.
Inspirations
Call Number: NK1535.D87 A4 928 folio
Published/created: c. 1928, Woodstock, New York
Twenty-four plates containing 128 compositions by André Durenceau.
Nouvelles variations
Call Number: NK1535.B47X 1924 folio
Published/created: 1924, Paris, France
Twenty-five plates containing 75 compositions by Édouard Bénédictus.
Relais
Call Number: NK1535.B46 R16 folio
Published/created: 1930, Paris, France
Fifteen plates containing 42 compositions designed by Édouard Bénédictus and released the year of his death. Printed by Jean Saudé.