Sometimes, planning a trip is as much fun as the trip itself. The Trade Literature Collection at the National Museum of American History Library includes catalogs that might have been used to plan vacations. Some are about summer and winter resorts while others describe railway and steamship travel. Let's take a look at a late 19th Century trip along the Great Lakes.
This trade catalog, or small brochure, is titled In All the World No Trip Like This (1898) by Northern Steamship Co. The passengers boarded steamships named "North West" or "North Land" to travel between Buffalo, New York and Duluth, Minnesota. Other destinations in between included Cleveland, Ohio and Detroit, Mackinac Island, and Sault Ste. Marie in Michigan. Railway and steamboat connections were also available in specific cities.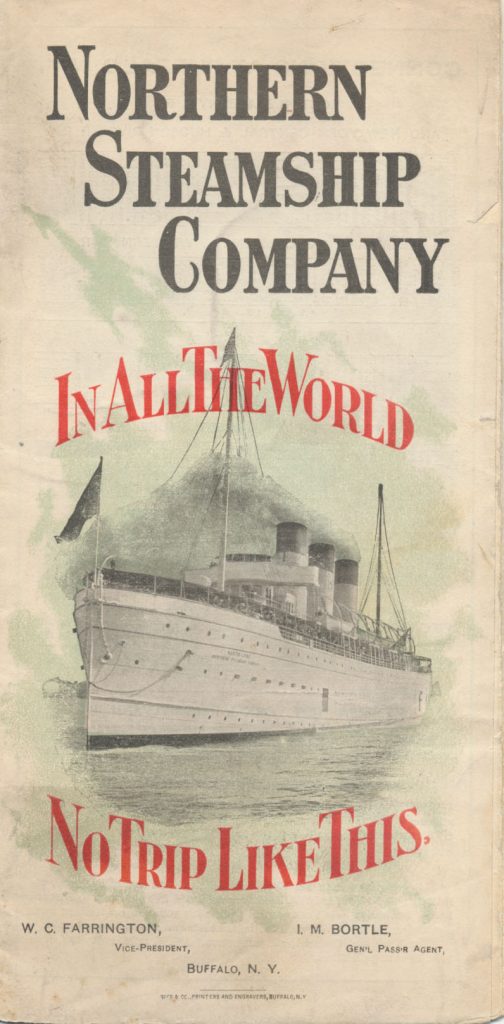 As I opened this brochure, a few handwritten notes caught my eye. Perhaps a travel agent or someone planning a trip in 1898 might have used this brochure. A handwritten note of "13.50" is located by the "Tariff of Berth Rates" for the route between Duluth and Buffalo. The notation, shown below, points to the prices listed for outside rooms: $6.00 for an upper berth and $7.50 for a lower berth.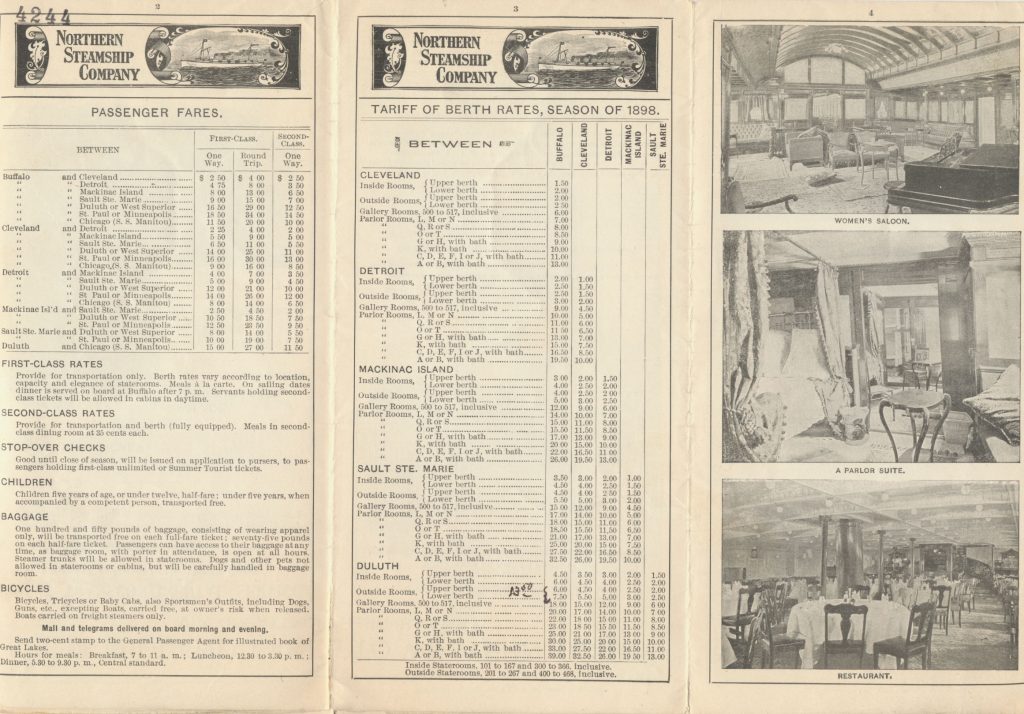 The brochure also includes a detailed diagram of the steamships showing plans for the Main Deck, Saloon Deck, and Upper Deck. A few more handwritten markings, shown below, are found near the plan for the Saloon Deck. In particular, Room 446 on the Saloon Deck is marked. This appears to correspond with the markings above referring to rates for berths. Room 446 was an outside stateroom on the starboard side. It included sleeping accommodations of one double lower berth and one single upper berth.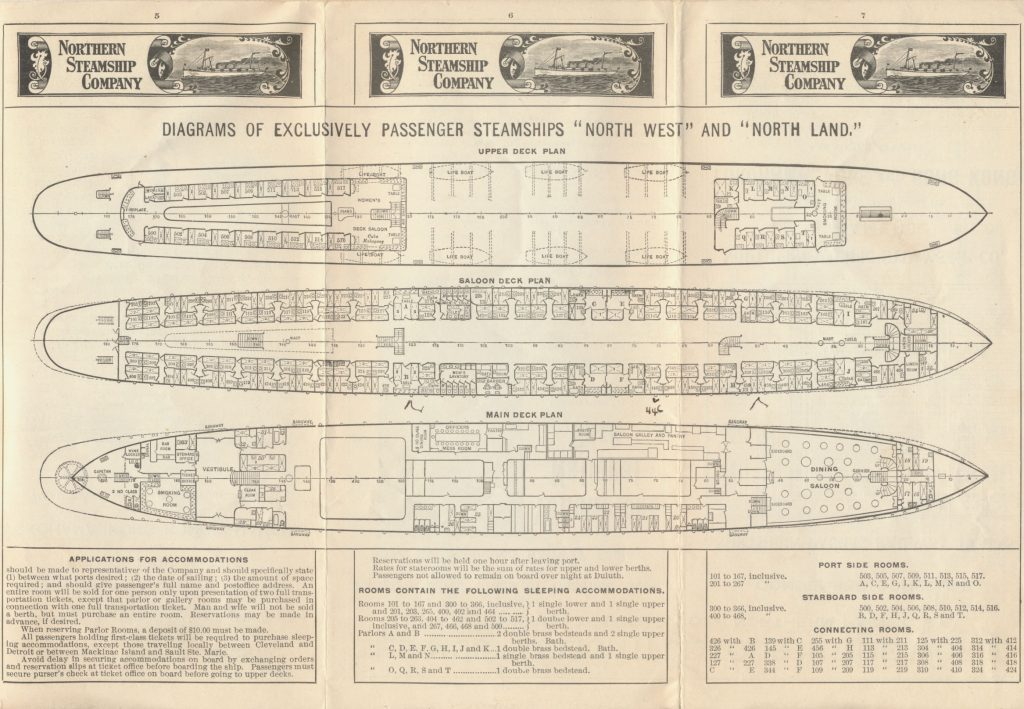 The schedule for the Season of 1898 began on June 14th and ended in mid-September. The journey took approximately three days. According to the "Semi-Weekly Service," passengers who boarded the "S. S. North Land" in Buffalo, New York on a Tuesday night arrived in Duluth, Minnesota on a Friday evening. A second option was to travel over the weekend, departing Buffalo aboard the "S. S. North West" on Friday night and arriving in Duluth on Monday evening. Stops at cities in between ranged from 30 to 90 minutes while passengers disembarked or boarded. Eastbound steamship journeys were also roughly three days.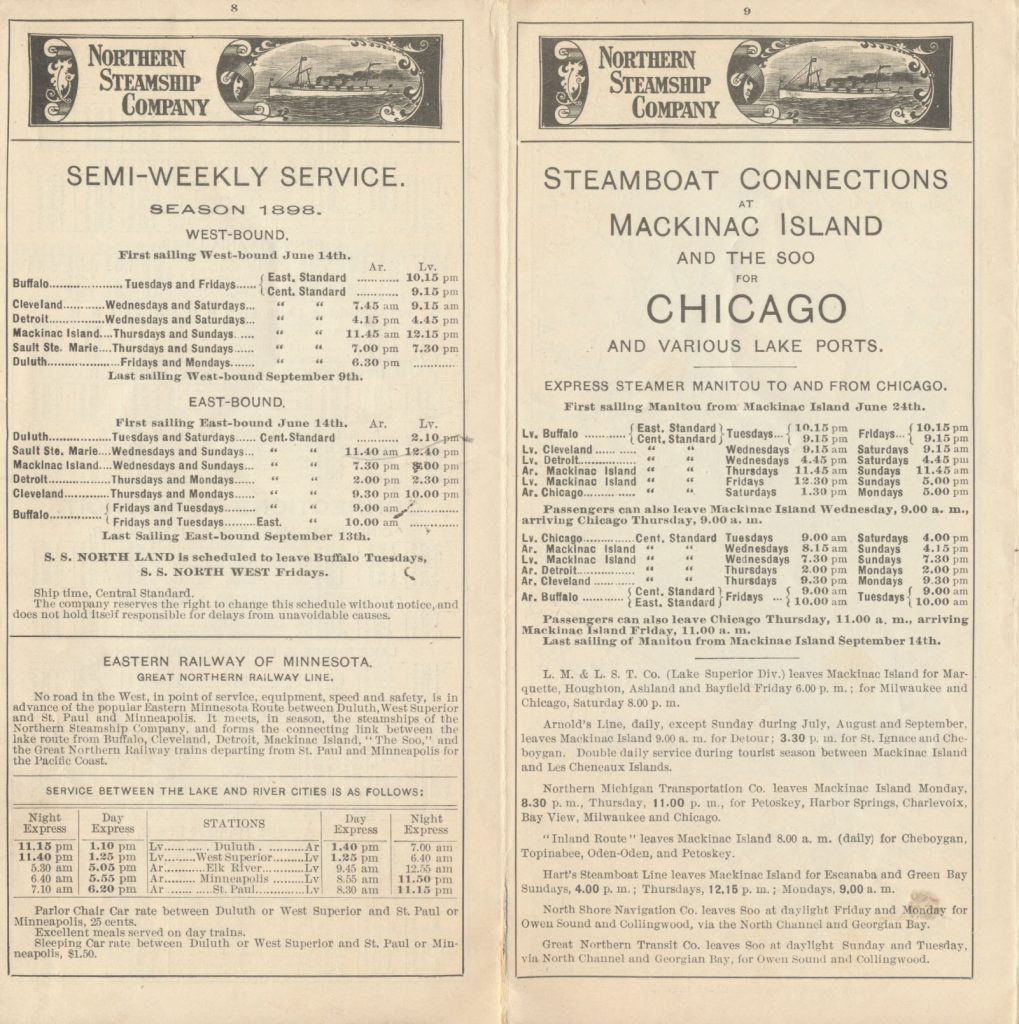 The first-class rates provided only transportation. Passengers were required to purchase sleeping accommodations at an additional cost. Second-class rates included both transportation and berth. Those who were local, or day, travelers were not required to purchase sleeping accommodations.
A full-fare ticket allowed 150 pounds of baggage consisting of clothing to be carried aboard for free while half-fare ticket holders were allowed 75 pounds. Baggage was stored in the Baggage Room and accessible at any time. However, steamer trunks were permitted in staterooms and cabins. Pets were not allowed in staterooms or cabins and were cared for in the Baggage Room.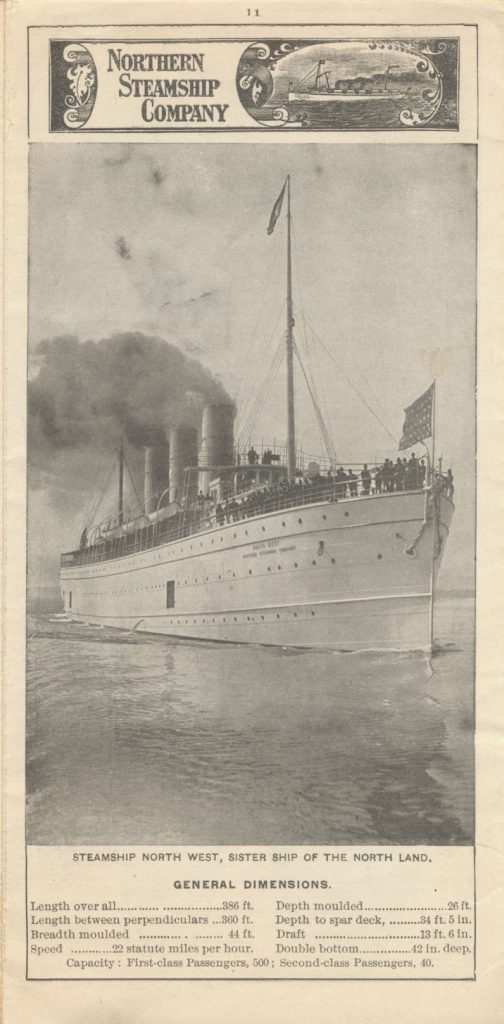 The journey did not necessarily need to end at the dock. Passengers also had the option of connecting to a railroad. For those who extended their trip farther west, they had the possibility of connecting to the Great Northern Railway which serviced points in Minnesota, the Dakotas, Manitoba, Montana, Idaho, Washington, British Columbia, and Oregon. Passengers enjoyed dining and sleeping cars as well as library observation cars. They might have read a book, written a letter, or played cards while watching the scenery go by in one of the library observation cars.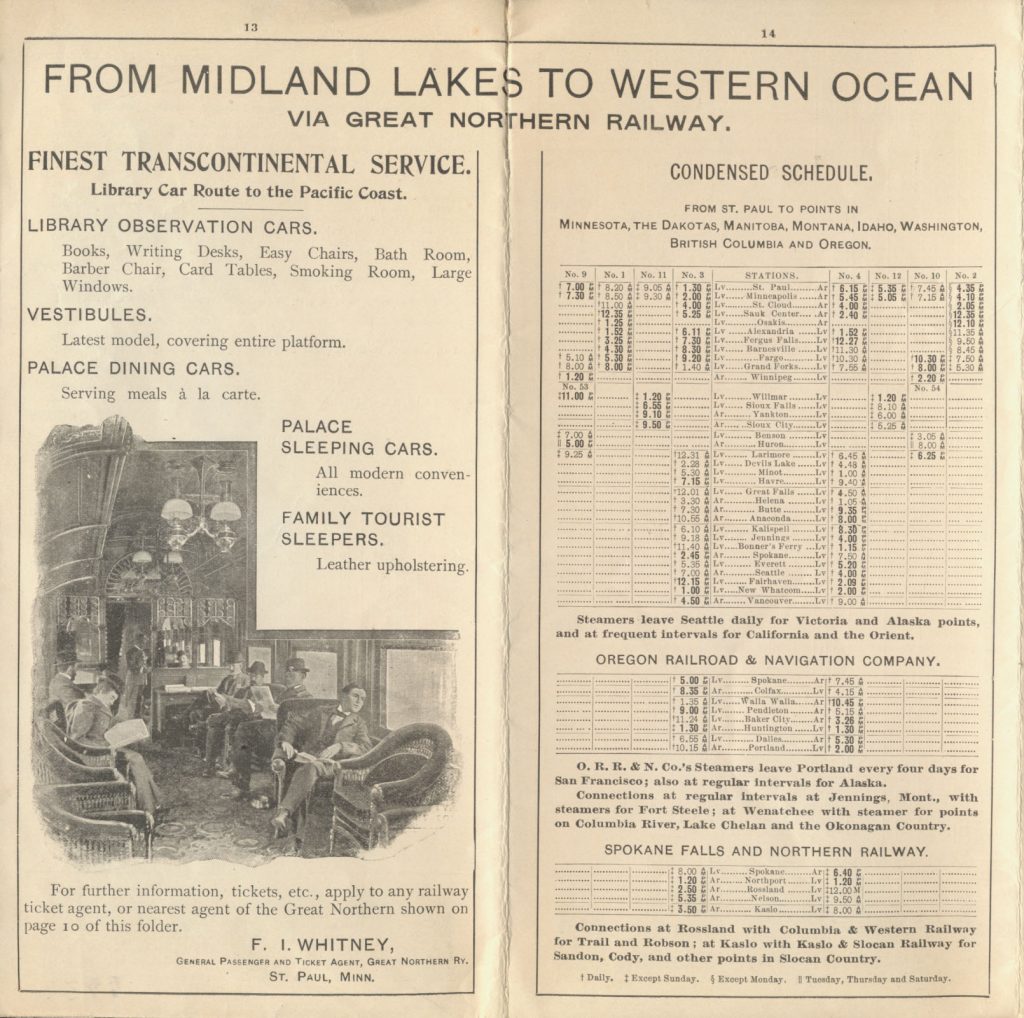 Another Northern Steamship Co. catalog in the Trade Literature Collection is an illustrated catalog from 1897, one year prior to the brochure described above. This catalog is titled Itinerary: Great Lake Tours (1897). As described on its title page, it is "a compilation of rates and general information of interest to all tourists."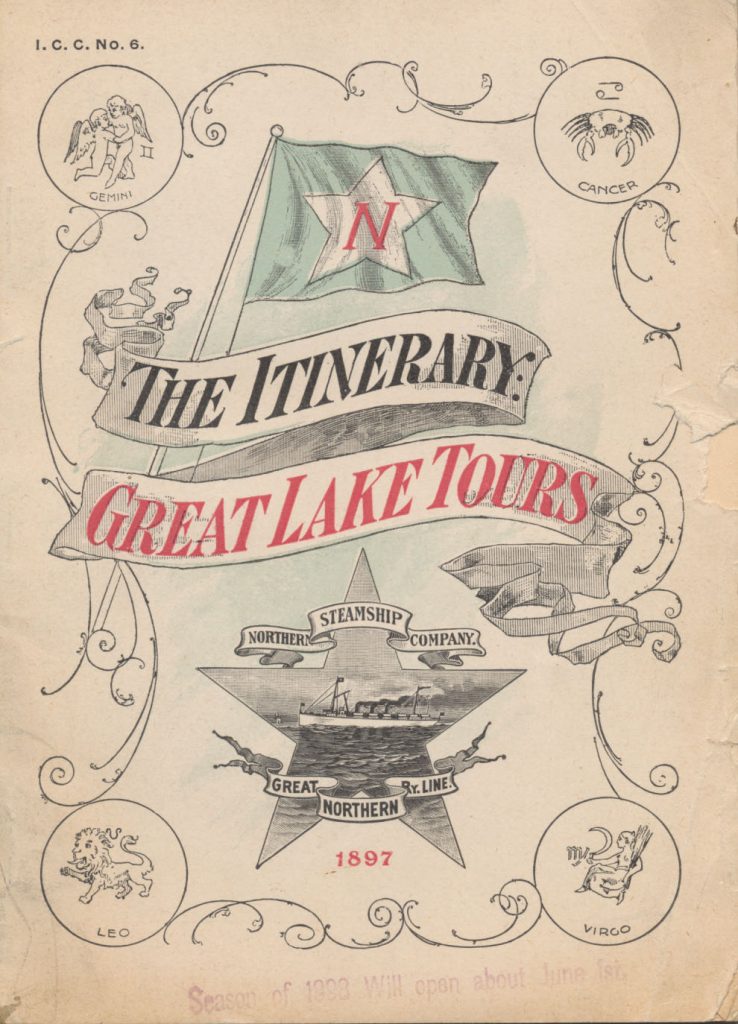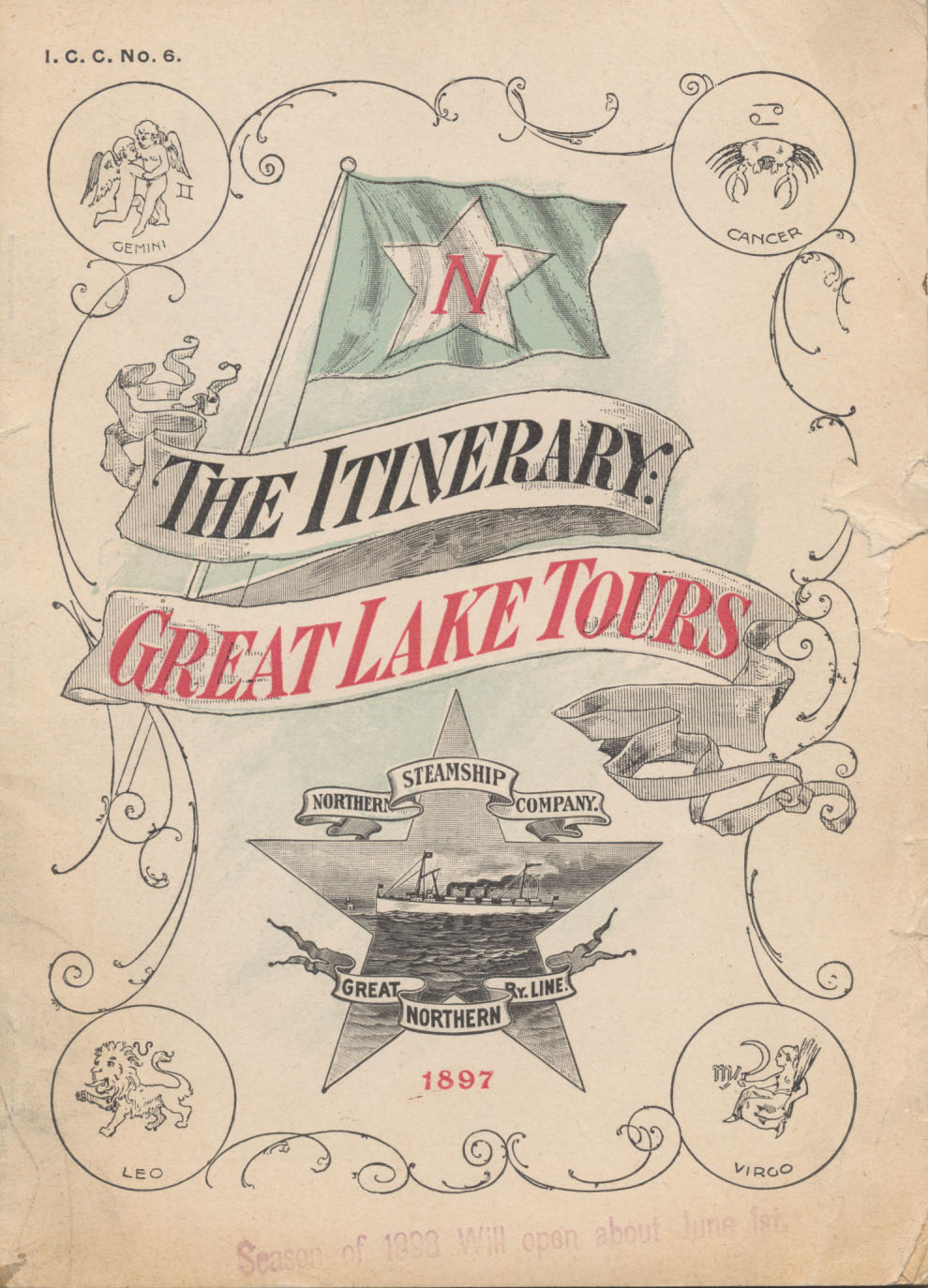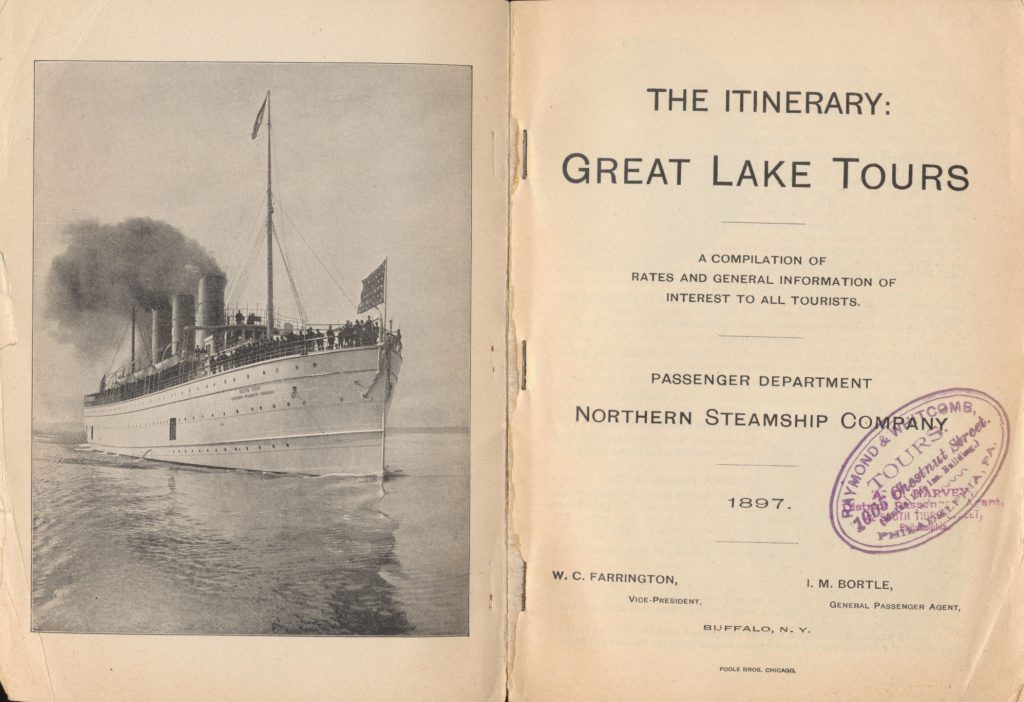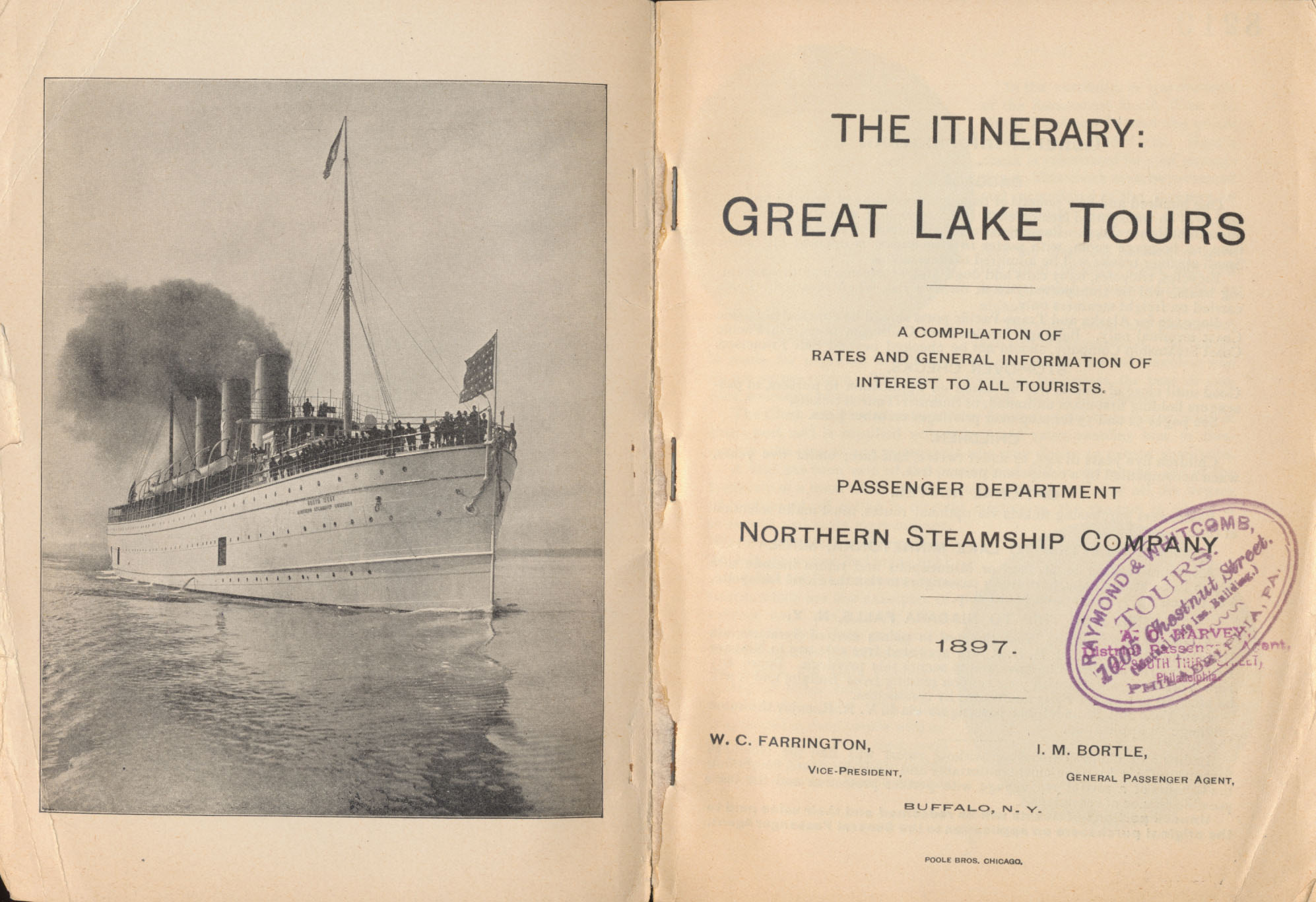 It includes more detail about the procedure to board the steamship. Once on board, passengers proceeded to the Purser and Clerk Offices in the Vestibule. There, they exchanged their passage ticket for a passage check and overnight passengers received their room key. The passage check was later collected as passengers disembarked. Day travelers had the option of checking their items free of charge in the Checkroom. Those interested in a railway connection inquired about the details at the Office of the Clerk. The news stand, also located in the Vestibule, provided souvenirs, reading material, and candy.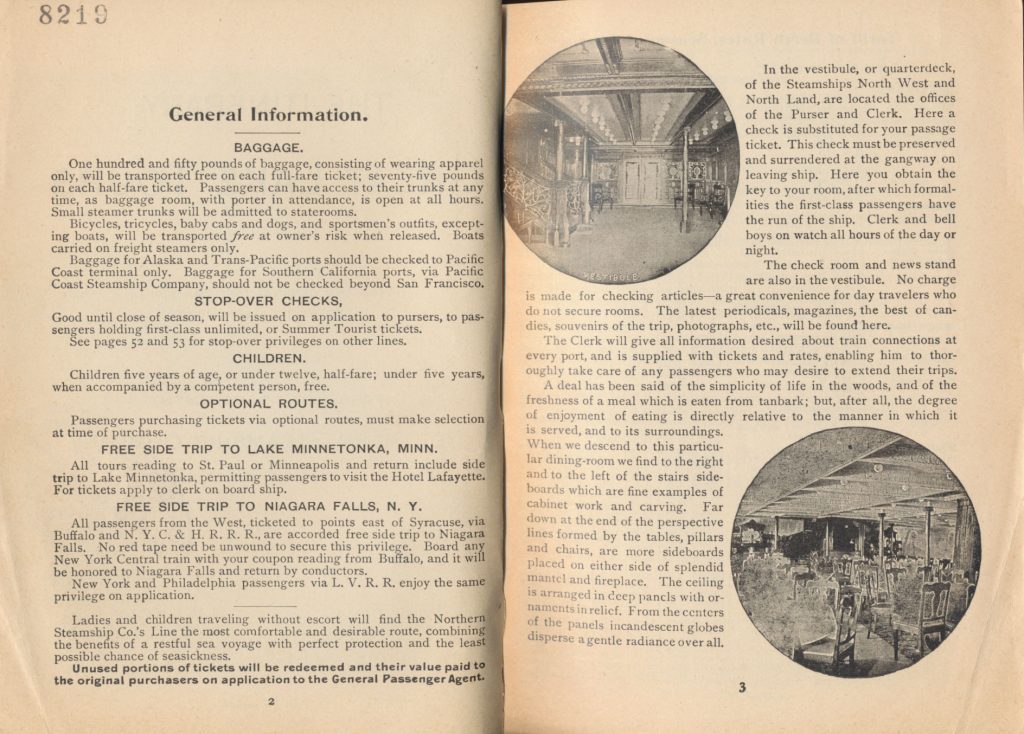 The catalog continues with descriptions of tourist attractions in port cities and nearby excursions. One excursion, described below, took travelers to Niagara Falls, New York. It mentions a few railroads which offered regular service from Buffalo to Niagara Falls.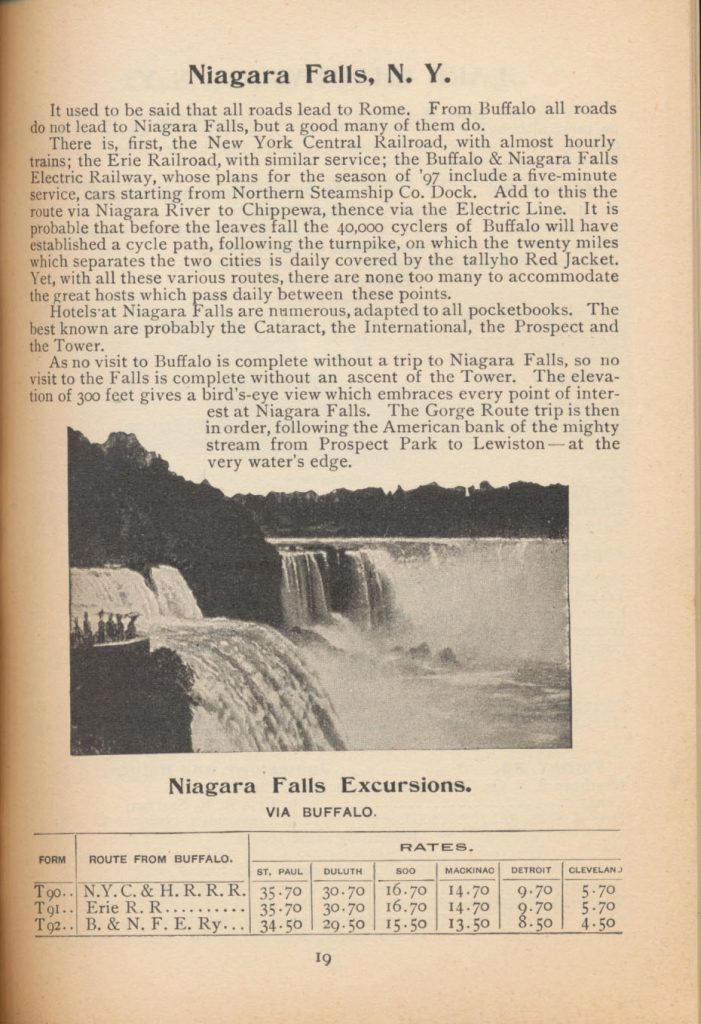 Looking back at the 1898 brochure, In All the World No Trip Like This (1898), it announced an excursion to Yellowstone National Park. Passengers arrived in Duluth, Minnesota via the Northern Steamship Co. and then connected to the Northern Pacific Railway. One travel package was round-trip from Livingston, Montana with rail, stagecoach, and hotel fees for a five and a half day trip to enjoy the sites in Yellowstone National Park.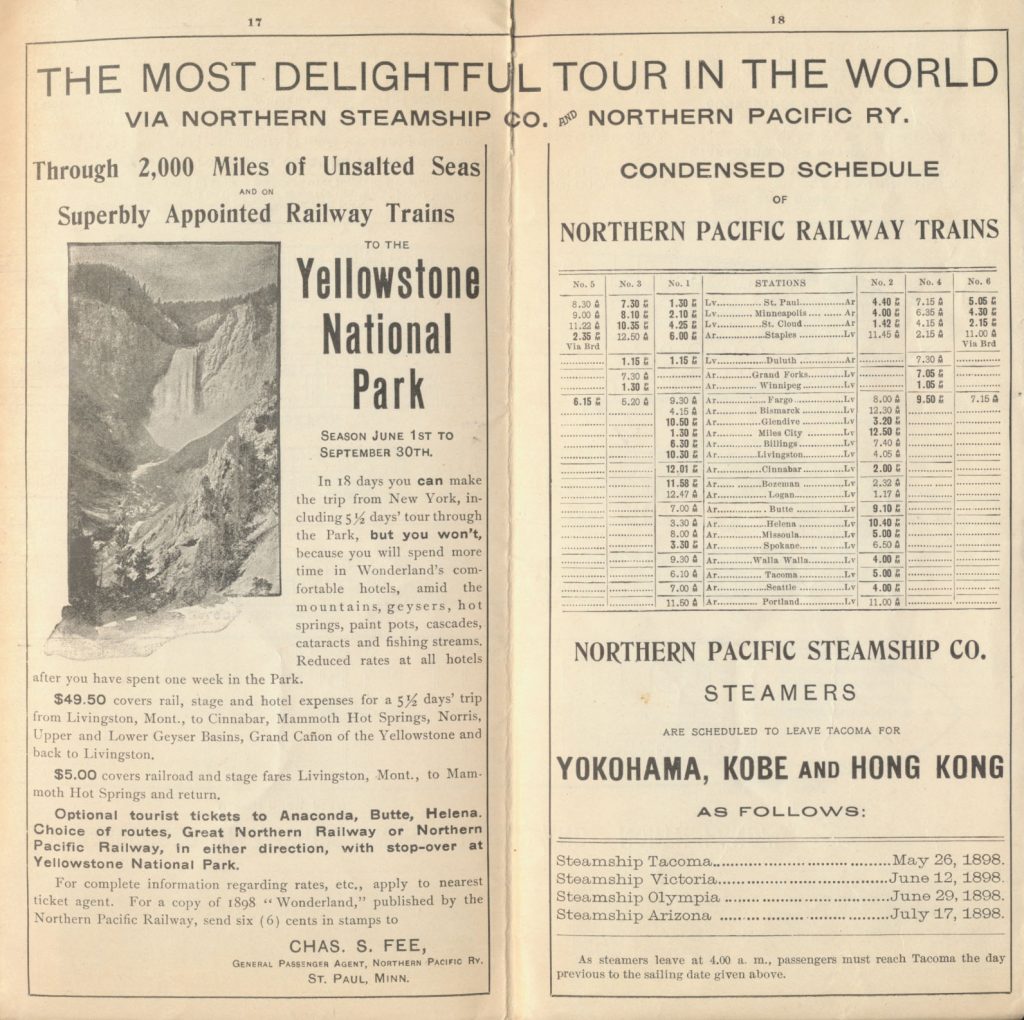 Northern Steamship Co. trade catalogs, including In All the World No Trip Like This (1898) and Itinerary: Great Lake Tours (1897), are located in the Trade Literature Collection at the National Museum of American History Library.