I wrote what I did because as a woman, as a mother, I was oppressed and broken-hearted with the sorrows and injustice I saw, because as a Christian I felt the dishonor to Christianity – because as a lover of my country, I trembled at the coming day of wrath. 
Harriet Beecher Stowe, 1853
in a letter to Lord Thomas Denman of London, England. 
There are varying opinions about the novel Uncle Tom's Cabin, yet it is inarguably one of the most influential books in American history.  Written by Harriet Beecher Stowe (1811 – 1896) to inform readers of the appalling realities of American slavery, it was first published in March 1852. The novel quickly became an international bestseller, second only in sales at that time to the Bible.   
So goes the beginning of the introductory text for the current National Museum of African American History and Culture (NMAAHC) Library exhibition, Uncle Tom's Cabin: Early and Notable Editions. The exhibition – which features editions not only from the NMAAHC Library collection, but also from other Smithsonian Libraries' collections at the National Museum of American History Library, the Dibner Library of the History of Science and Technology, and the Cooper Hewitt, Smithsonian Design Library – was created to highlight the early and notable editions of the novel in our library collections, and to reveal its fascinating publishing history.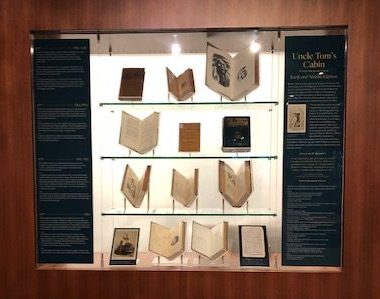 In regards to this exhibition, I have termed "notable" as having distinguishable characteristics, such as particular illustrations, a foreword written by an important or historical figure, or simply the number of sales an edition might have garnered when first published. Becoming a collector's item in recent years could also make an edition notable.      
The idea for this exhibit came about in 2016, at a time when the NMAAHC Library was receiving world-wide attention immediately before and after the grand opening of the museum. As a result, the library was also receiving numerous unsolicited donations of books. At some point I realized the book we received more than any other was Uncle Tom's Cabin, and that each time it was a different edition. Matter of fact, after receiving at least six donated copies, none were duplicate editions! A day or so later I was talking to one of the NMAAHC curators about it, and she said, "well, why not create an exhibit?" 
A while later I began the research for the exhibition and I was amazed at not only the number of various editions published in a short period of time, but also at aspects of the book I didn't truly know (but thought I did), such as the publishing history, the public response, the international attention, Harriet Beecher Stowe's ongoing efforts to promote and defend the book, and the great cultural impact of it on American history – there's even an unsubstantiated but often repeated story that Lincoln once referred to Harriet Beecher Stowe as the "little lady who wrote the book that started this great war."    
First published by the John P. Jewett & Company, the novel changed ownership among U.S. publishers at least four times before the copyright expired in 1893.  Each publisher also attempted to capitalize on its popularity by publishing new and "special" editions, where new elements, illustrations, and commentary were added.  As a result, the novel was a bestseller for well over 30 years after it was first published and since then has continued to inspire numerous other publications and works of art. 
Some of the notable editions included in the exhibition: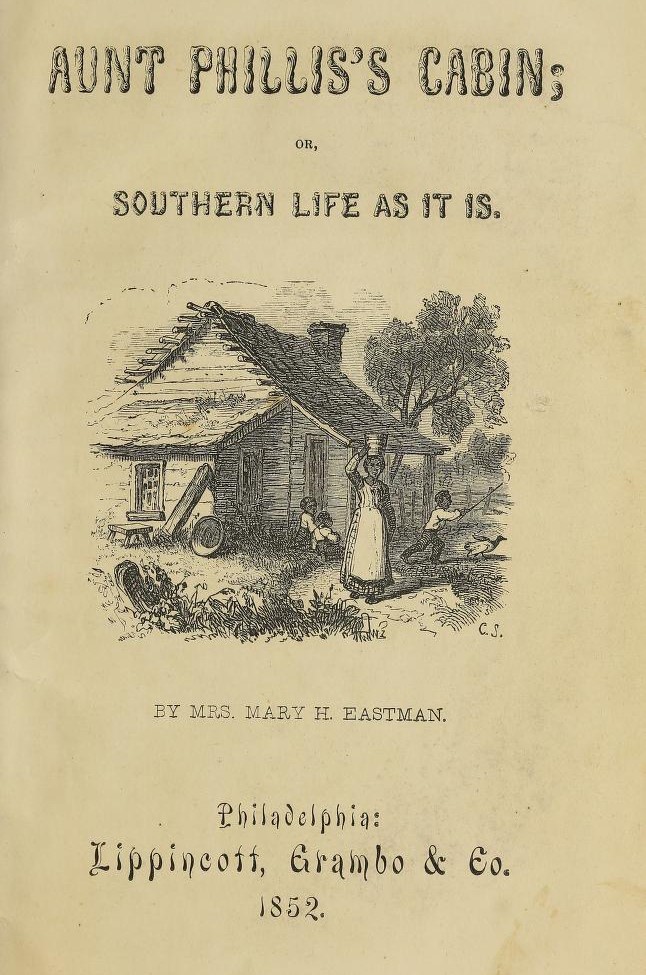 Aunt Phillis's Cabin, or, Southern Life As It Is, by Mary H. Eastman
Lippincott, Grambo, 1852 
In response to the initial publishing of Uncle Tom's Cabin, a multitude of other novels were published to defend slavery and the southern image. These novels, which often painted a picture of slavery in opposition to Stowe's (such as happy slaves who were well-taken care of), became known as the "anti-Uncle Tom's Cabin," or often shortened to the "anti-Toms."  Aunt Phillis's Cabin, published just four months after Uncle Tom's Cabin, was one of the first such novels. 
Arno Press, 1968 [Reprint of the 1854 edition published by John P. Jewett & Co., and Jewett, Proctor & Worthington] 
Stowe's critics harshly characterized her novel as propaganda with an inaccurate and unfair portrayal of slavery, and with characters who were not based on research or firsthand accounts.  Stowe's response to those critics, The Key to Uncle Tom's Cabin, presents the facts and research behind the novel.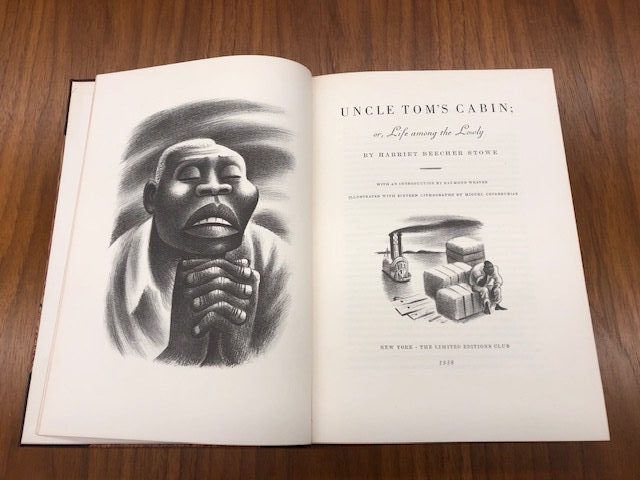 Uncle Tom's Cabin, or, Life Among the Lowly / Introduction by Raymond Weaver; illustrated with 16 lithographs by Miguel Covarrubias  
The Limited Editions Club, 1938 
In its great publishing history, numerous versions of Uncle Tom's Cabin have included new illustrations, which is one of the things that might make a particular edition "notable."  Such is the case with this 20th century edition, richly illustrated with lithographs by Mexican American artist Miguel Covarrubias. 
The museum is currently closed and expected to re-open on September 18th.  Uncle Tom's Cabin: Early and Notable Editions will not be on view during the museum's initial re-opening, but we invite you to learn more through the NMAAHC Library webpage.The page includes a link to several editions of the novel featured in Smithsonian Libraries Digital Library Collections and to the exhibit bibliography. When we open our doors again, we hope you have an opportunity to see these notable editions in person.