Over the course of 175 years, the Smithsonian has grown to encompass 21 museums and nearly a dozen research centers—becoming a global organization working across history, culture, and science. How a stranger's legacy became the world's largest museum and research complex is a story full of surprising twists and turns of fate. What do we know about the Smithsonian's mysterious founder, a man who left his fortune to the United States, a country he never visited?
To celebrate the launch of our 175th-anniversary online exhibition, Smithson to Smithsonian, we'll explore the life and legacy of founder James Smithson with a panel of experts.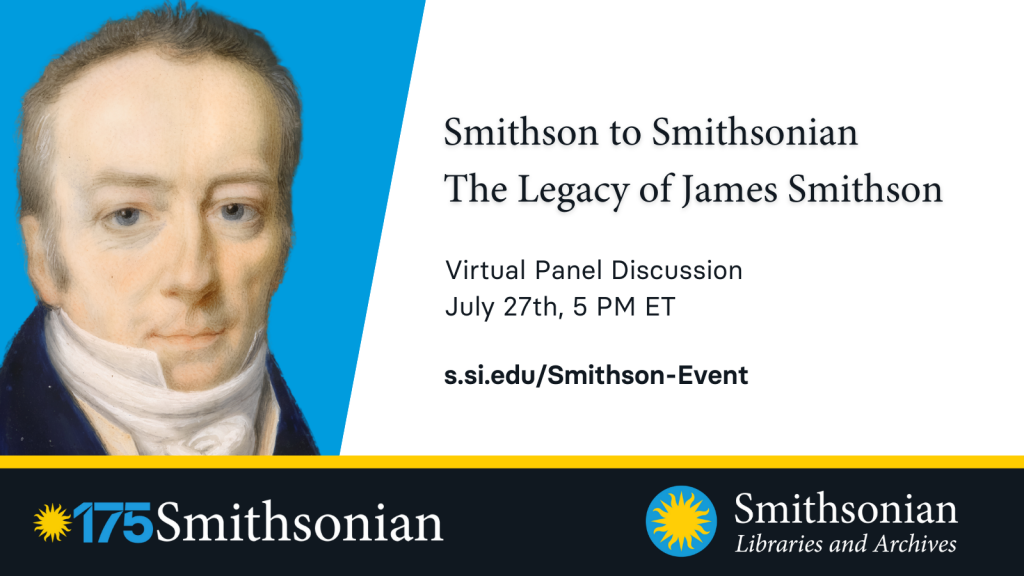 Smithson to Smithsonian: The Legacy of James Smithson
Wednesday, July 27, 2022, 5:00 pm
Zoom Webinar
Featuring:
Heather Ewing, Author of The Lost World of James Smithson: Science, Revolution, and the Birth of the Smithsonian and Associate Dean, New York Studio School
Leslie Overstreet, Curator of Natural-History Rare Books, Smithsonian Libraries and Archives
Richard Stamm, Curator of Smithsonian Castle Collection, Smithsonian Institution
Steven Turner, Author of The Science of James Smithson and Curator Emeritus, National Museum of American History
We are committed to providing access services so all participants can fully engage in these events. Optional real-time captioning will be provided. If you need other access services, please email SLA-RSVP@si.edu.  Advanced notice is appreciated. This program will also be recorded and made available following the event.
This program is part of the Smithsonian Libraries and Archives' commemoration of the 175th anniversary of the Institution's founding.