The Trade Literature Collection covers a multitude of subjects. As might be expected, many of the catalogs advertise products. These might be items such as clothing, furniture, bicycles, or even chocolate machinery. Other catalogs offer a service, such as architectural designs for a home or travel services for a trip. Recently, a catalog announcing a sale of horses caught my attention.
The trade catalog is titled MacFarland's Special Sale (1896) by Wm. MacFarland Co. It announced a sale of horses to take place in Philadelphia, PA on Wednesday, April 8, 1896. It was held at Philadelphia Tattersalls located at 21st and Market Streets.
The front cover announces that horses for sale included high-class, trotters, pacers, gentlemen's roadsters, gentlemen's horses for all purposes, and coach teams. It points out that some of these horses have records while others do not. It further explains that the horses with records "can beat them" and the horses without records "can beat 2.20."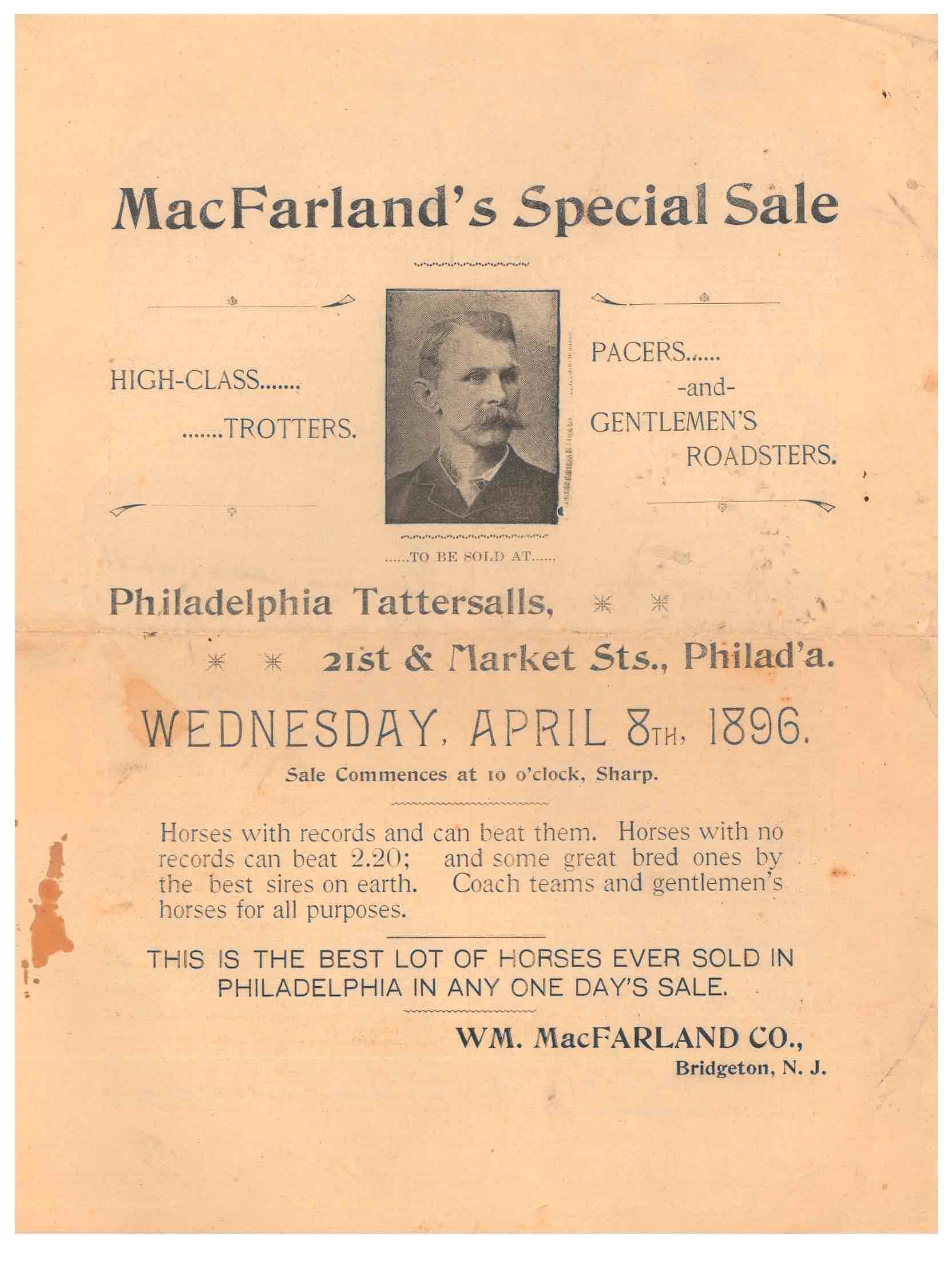 There are no images of the horses. However, the catalog provides written descriptions of each horse including details such as its name, color, height, age or year it was foaled or born, etc. Other information includes lineage or family history of the horse, such as names of parents or previous generations.
Each entry includes a separate "Note" with extra information that a prospective owner might consider such as the horse's disposition or details related to races. For example, in the "Note" for Anjou (below, No. 7), it mentions he was "nominated in the $16,000 Kentucky Guaranteed Stake and no starter has a better right to win it." Anjou was a bay colt foaled in 1894.
It appears that each horse in this catalog was assigned a number based on the order in which it was to be introduced in the sale. Manerva, a bay mare, is listed as horse No. 1 (below). She was foaled several years earlier in 1890 and at the time of this sale was 16 hands tall.
The "Note" at the end of her entry provides a few more details regarding her disposition which is described as perfect and states, "Manerva is the kind of road horse that everybody wants, but so difficult to find." It further emphasizes that "She needs to be seen and used to be appreciated and will please the most fastidious on day of sale."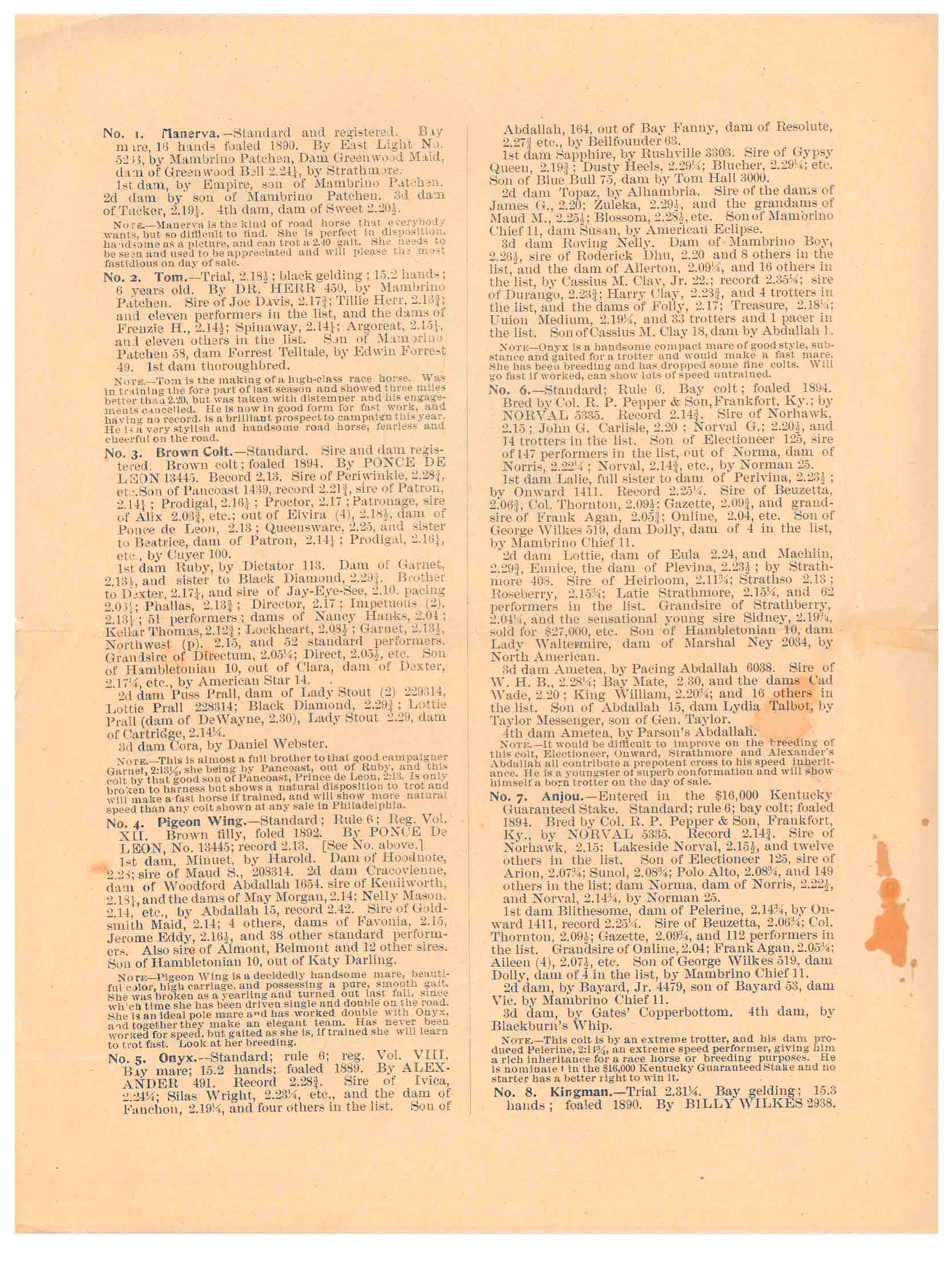 Another horse in this sale was a black gelding named Rarus (below, No. 14). He stood at 16 hands tall and had a cheerful disposition. Rarus was described as a gentleman's road horse that "does not know how fast he can trot."
The catalog continues with more descriptions of horses. It includes a dam named Lady Emma (below, No. 15). She was a chestnut mare at 15.3 hands tall. Lady Emma was "an ideal road mare" and described as the "best prospect ever sold in Philadelphia for a race mare if given a chance." Foaled, or born, in 1889, she trotted very fast as a three-year-old. However, soon after that, she was bred. One of her foals was described as promising and had already been sold as a yearling.
Lady Emma's other foal was a brown filly named Jane Pepper, also in this sale (below, No. 16). Foaled in 1894, she was a trotter. According to her entry, both Jane Pepper and her dam (or mother), Lady Emma, were ones to watch. It remarks that they were both "second to none of them in breeding or individuality."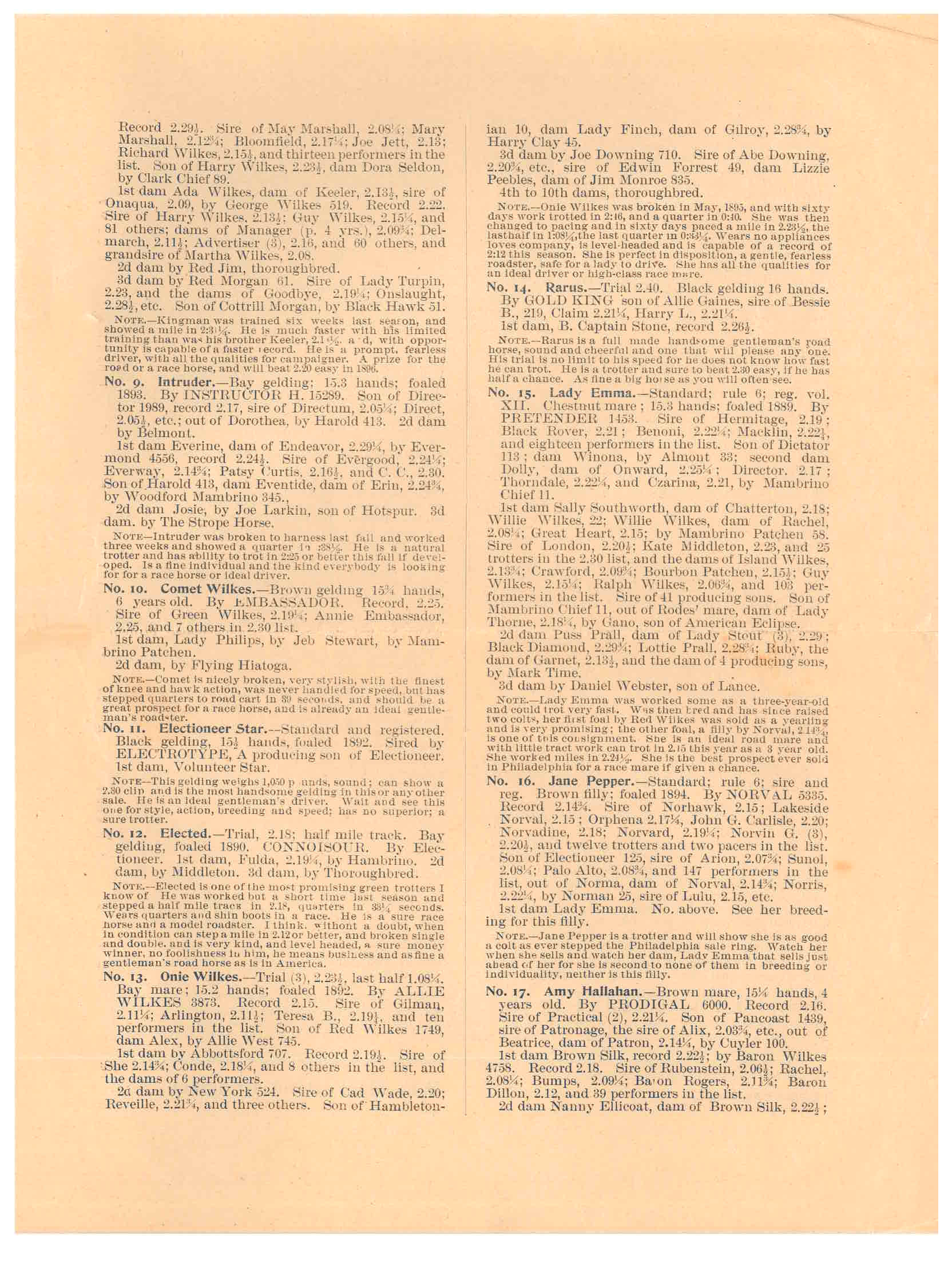 Tom and Jerry (below, Nos. 25 and 26) were a pair of horses, a brown coach team at 16 hands tall. These were six-year-old horses. It remarks that they were a cheerful pair and could "step along pretty well."
No. 28 (below) was simply described as a bay mare, 15 ½ hands tall, and foaled in 1891. No name is given. There are several paragraphs regarding her lineage along with an "Owner's Statement." The statement explains that she had only been handled since December 16. However, this mare showed promise with a 2.30 gait. It mentions she was "a great road mare, and will make a great race mare." The statement ends with the comment, "Trainers do not miss this mare for here is a rare blood."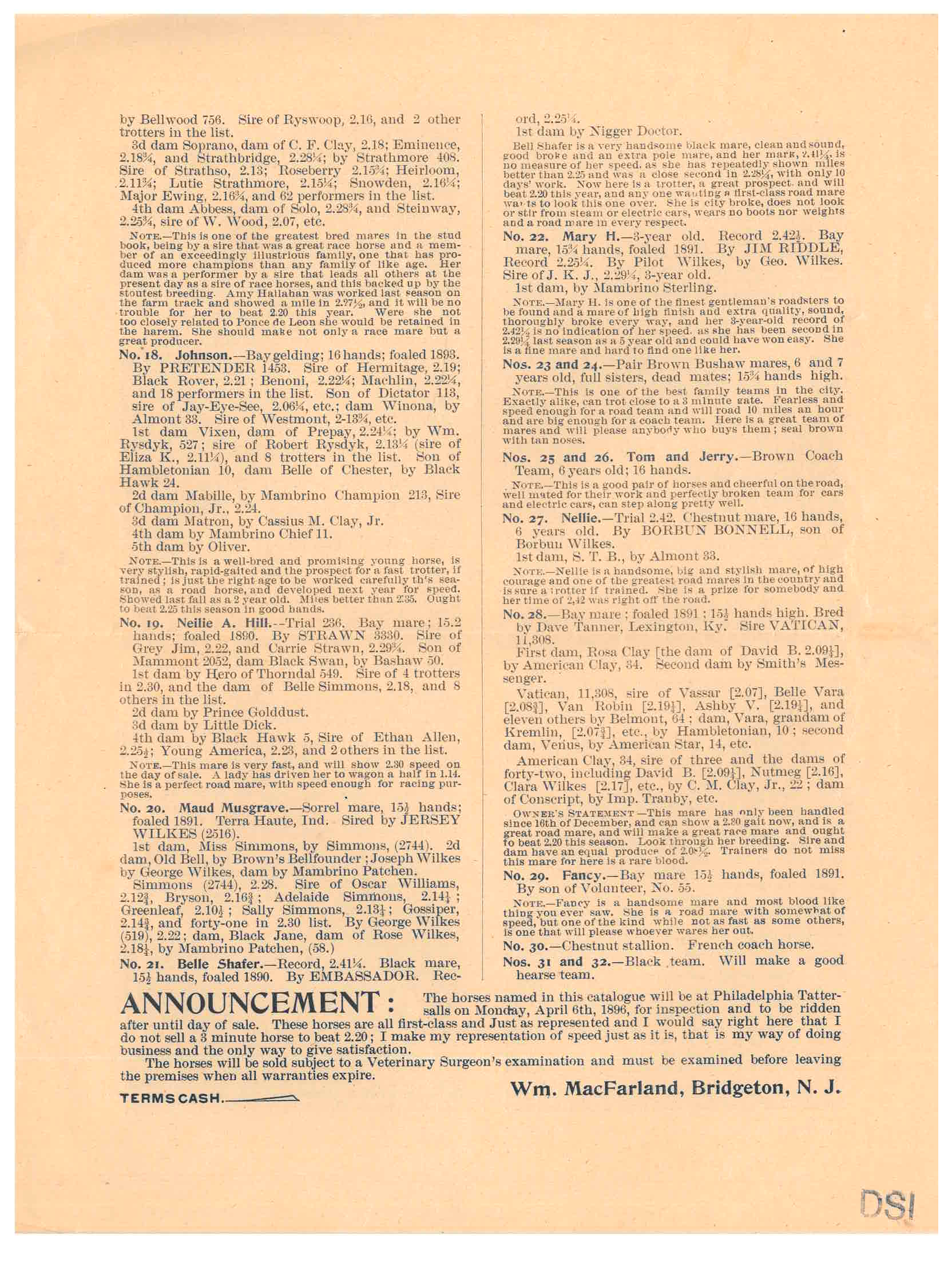 The final page of the catalog announces that these horses would be at Philadelphia Tattersalls beginning on Monday, April 6, 1896. That was two days prior to the sale, allowing these horses to be available for inspection or riding ahead of the sale. After the sale and before a horse left the premises, it was required that each horse be examined by a veterinary surgeon.
MacFarland's Special Sale (1896) by Wm. MacFarland Co. is located in the Trade Literature Collection at the National Museum of American History Library.