Camping, hiking, and enjoying the outdoors are common summer pastimes. This trade catalog from 1919 shows how visitors in the early 20th Century might have explored the wonders of Yellowstone National Park.
The trade catalog is titled Yellowstone National Park in Your Own Automobile (1919) by Yellowstone Park Camping Co. Referring to the national park as a "motorist's paradise," this brochure encourages tourists to visit in their own vehicle and camp, or lodge, at designated sites. The focus of the brochure is the summer season of 1919 which ran from June 20 to September 15.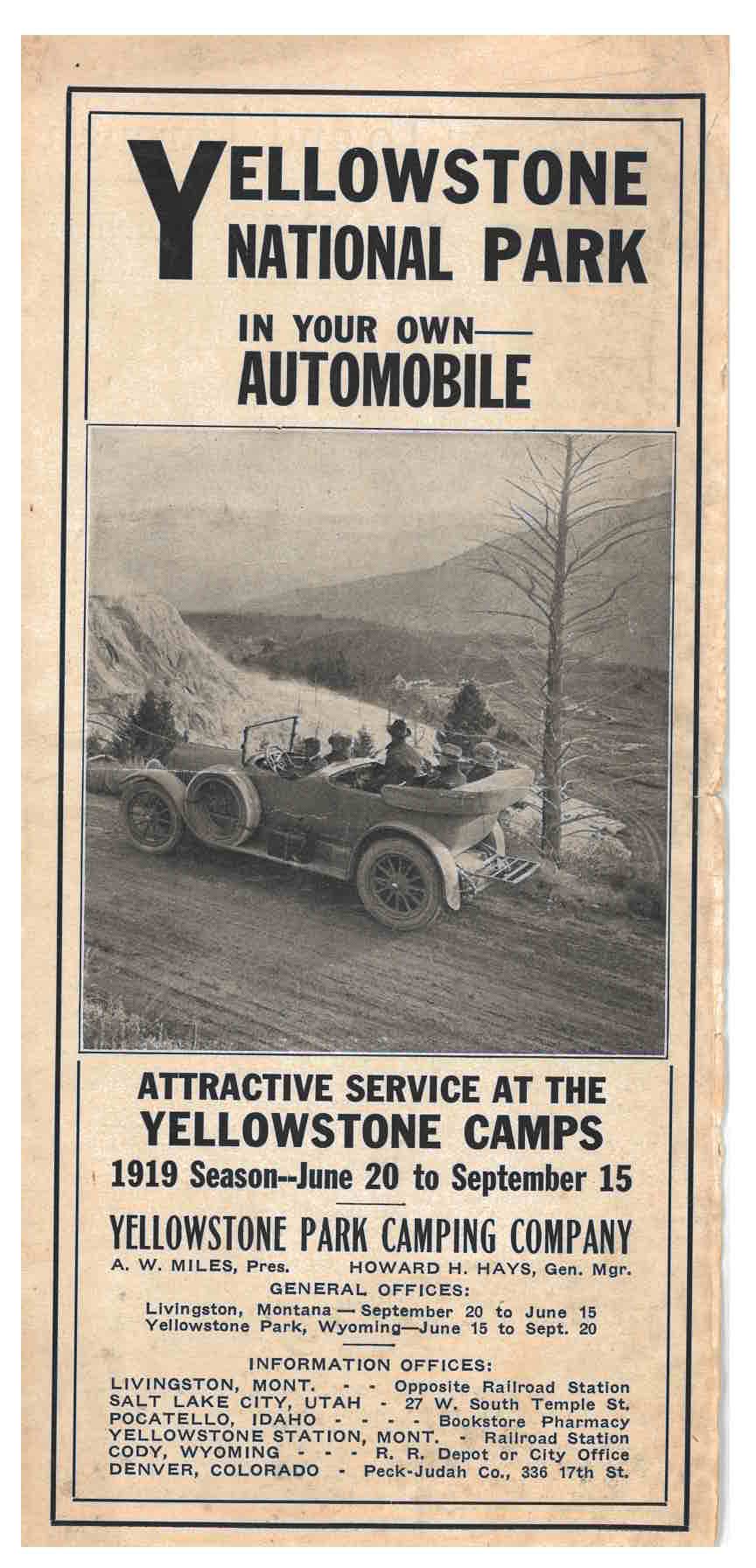 According to this brochure, Yellowstone Park Camping Co. began providing accommodations for visitors beginning in 1915. However, it notes that these permanent summer camps located within Yellowstone National Park were "operated under government control."
Old Faithful Camp, Mammoth Camp, and Canyon Camp (also sometimes referred to as Grand Canyon Camp) were the three main camps mentioned in this brochure. However, the map below appears to indicate two additional camps named Camp Roosevelt and Lake Camp.
As shown on the map, each camp was situated along a park roadway and nearby areas of interest, such as Old Faithful Geyser, Grand Canyon of the Yellowstone, and Mammoth Hot Springs. The camps provided lodging, food, and entertainment for guests with an atmosphere described as "clean, informal and pleasurable."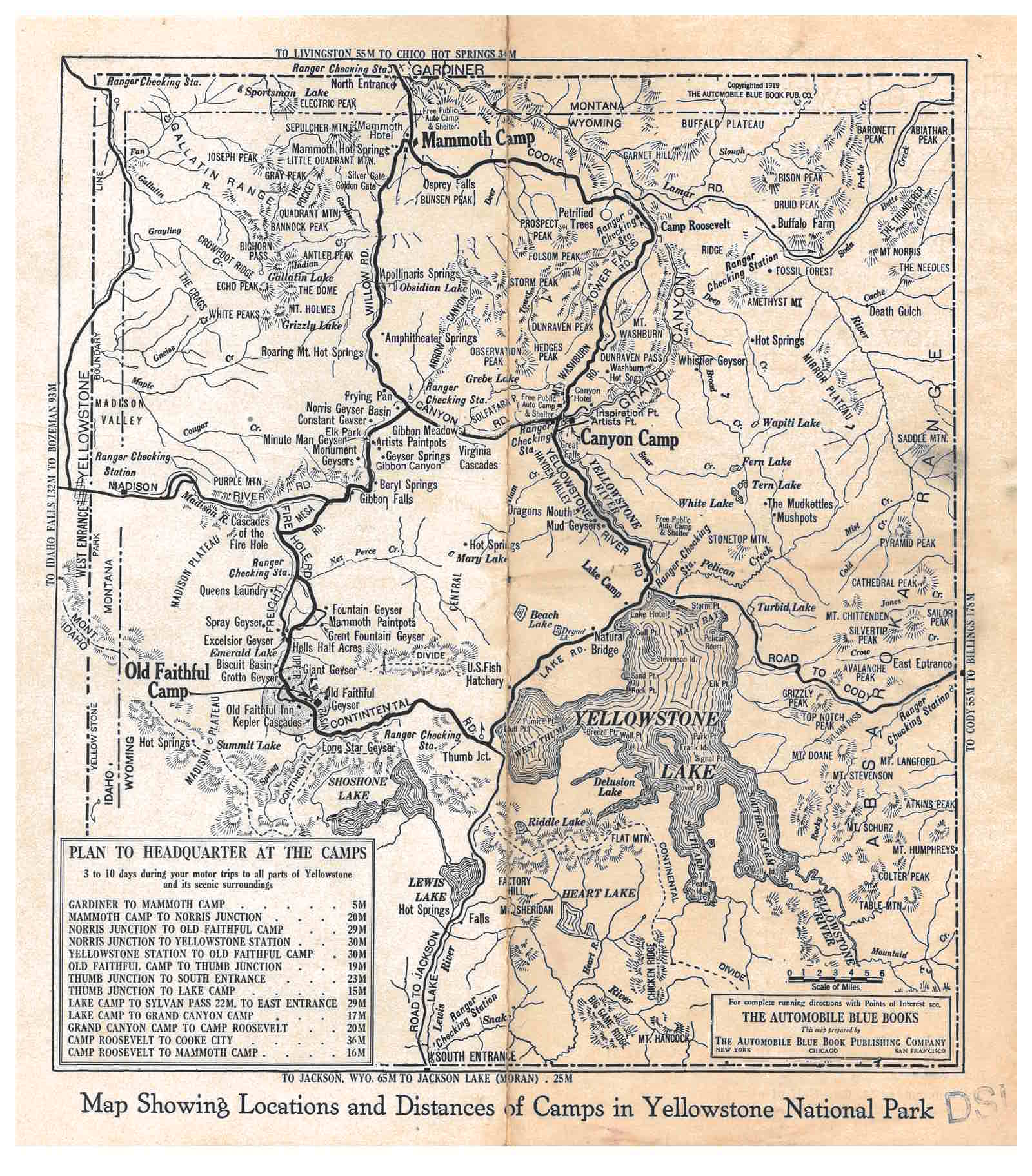 Visitors had the option of purchasing tickets at a Park Entrance or from "outside agencies." As noted on the front cover, information offices were found in various cities: Livingston, MT, Salt Lake City, UT, Pocatello, ID, Yellowstone Station, MT, Cody, WY, and Denver, CO.
The park offered three-, four-, or seven-day tickets and half-price tickets for children under age 12. Tickets included both lodging and meals, though it appears to have been possible to pay separately for these amenities as well. There was even a separate cost for a bath. If visitors did not use a portion of their tickets, they had the option of redeeming that portion upon exiting the park.
The summer camps provided dining halls and social assembly halls for guests to use during their stay. These buildings were situated in the center of the camp along with the camp's business headquarters. Surrounding the central buildings were the sleeping accommodations. These were nestled beneath fir and pine trees to create "a 'tent city,' or village of cozy, electric-lighted canvas bungalows or private sleeping rooms." Guest accommodations included one, two, or four sleeping rooms.
Camp buildings were laid out in an avenue style design. The avenue grid is visible in an aerial view of one of the camps shown below (center). The collage of images below also shows various buildings at Old Faithful Camp (center, top) and Canyon Camp (center, bottom).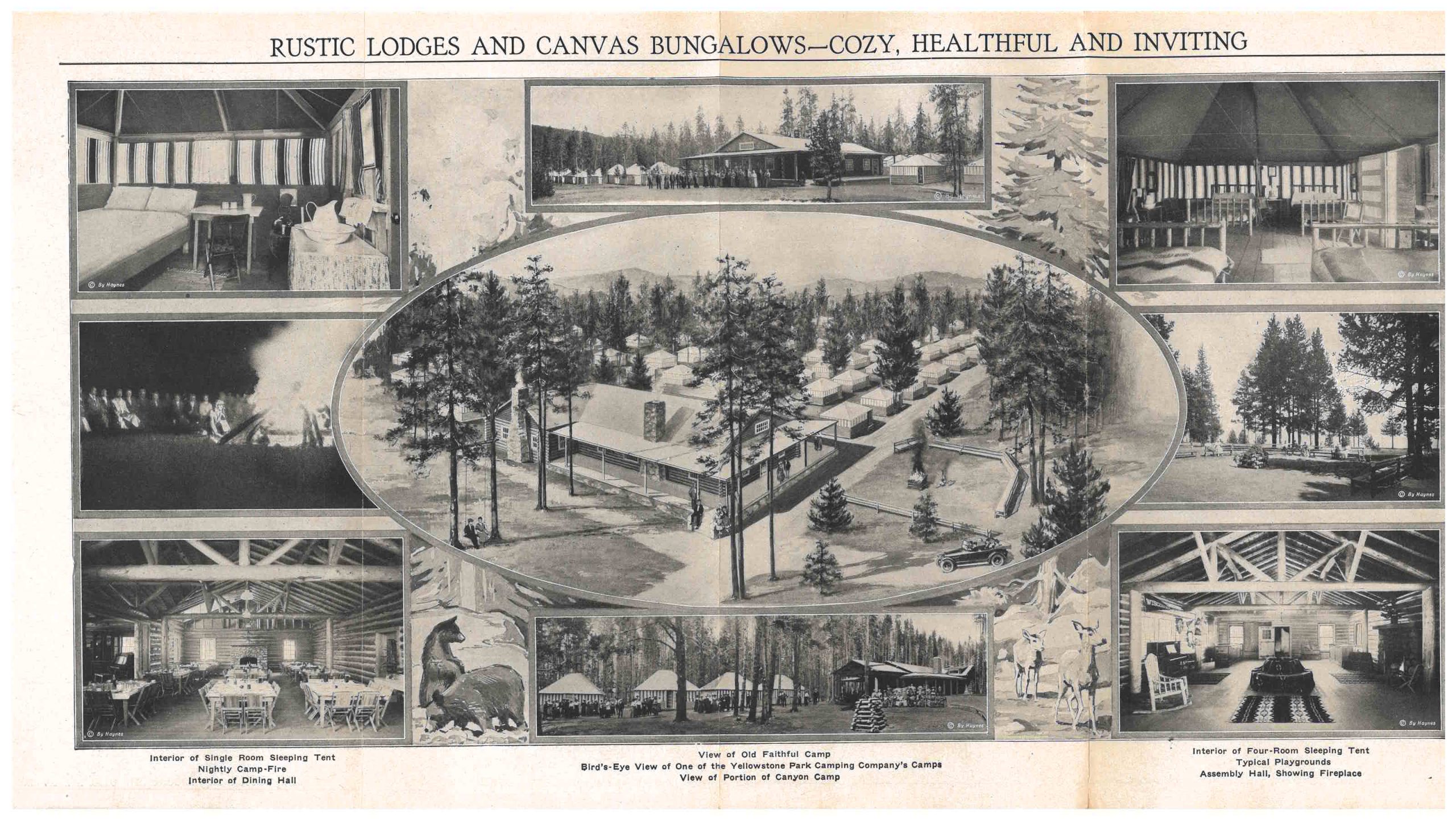 The sleeping tents were framed, floored, and wainscoted. Images of the furnishings appear simple, such as a table, chair, washstand with pitcher and bowl, and a full-size bed. No cots were used. A wood burning stove provided heat for each tent.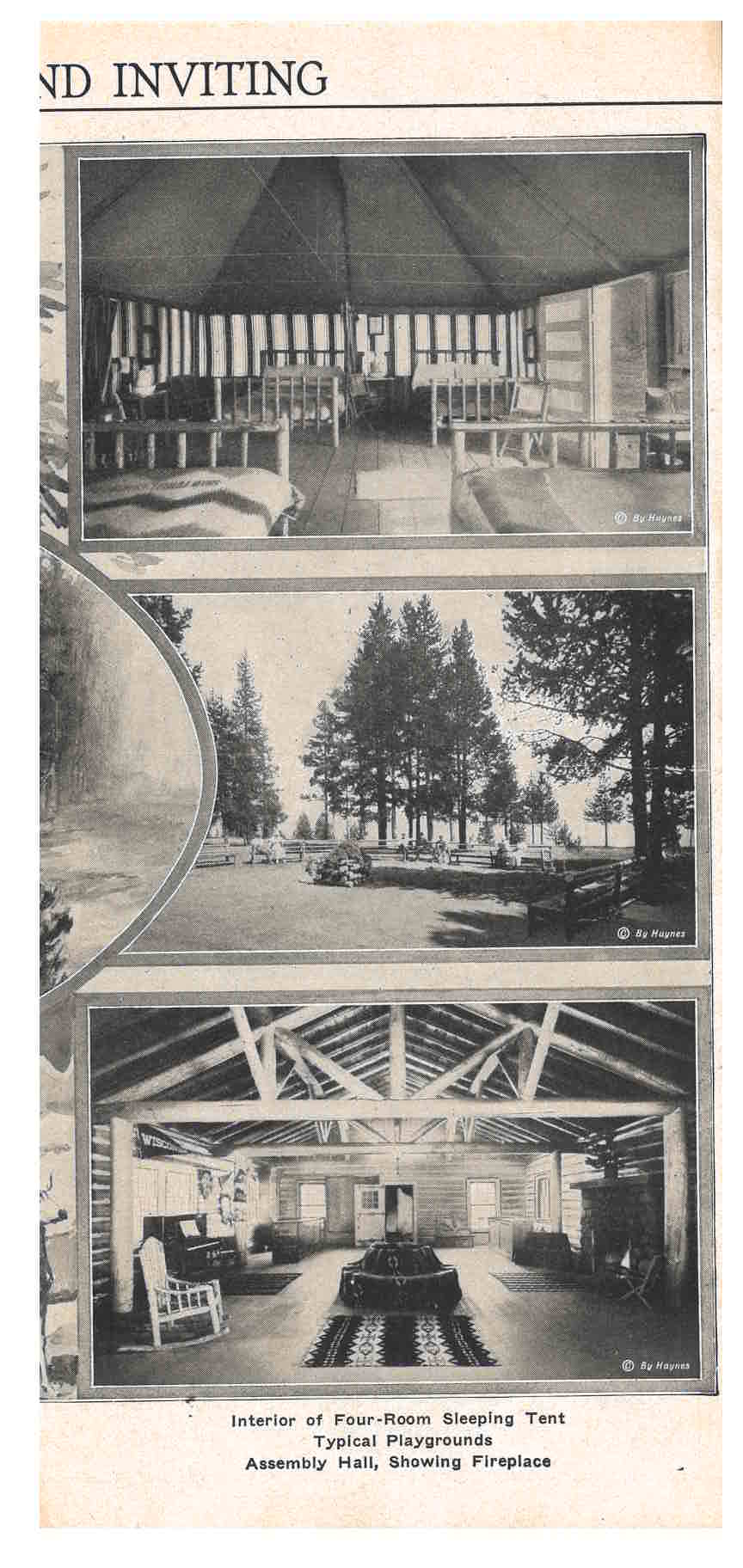 Meals were served in the dining hall located at each camp. The dining hall in the image below (bottom) shows several tables with a fireplace. Daily evening entertainment was also available. This included such activities as campfires (below, middle), music, dancing, and popcorn feasts.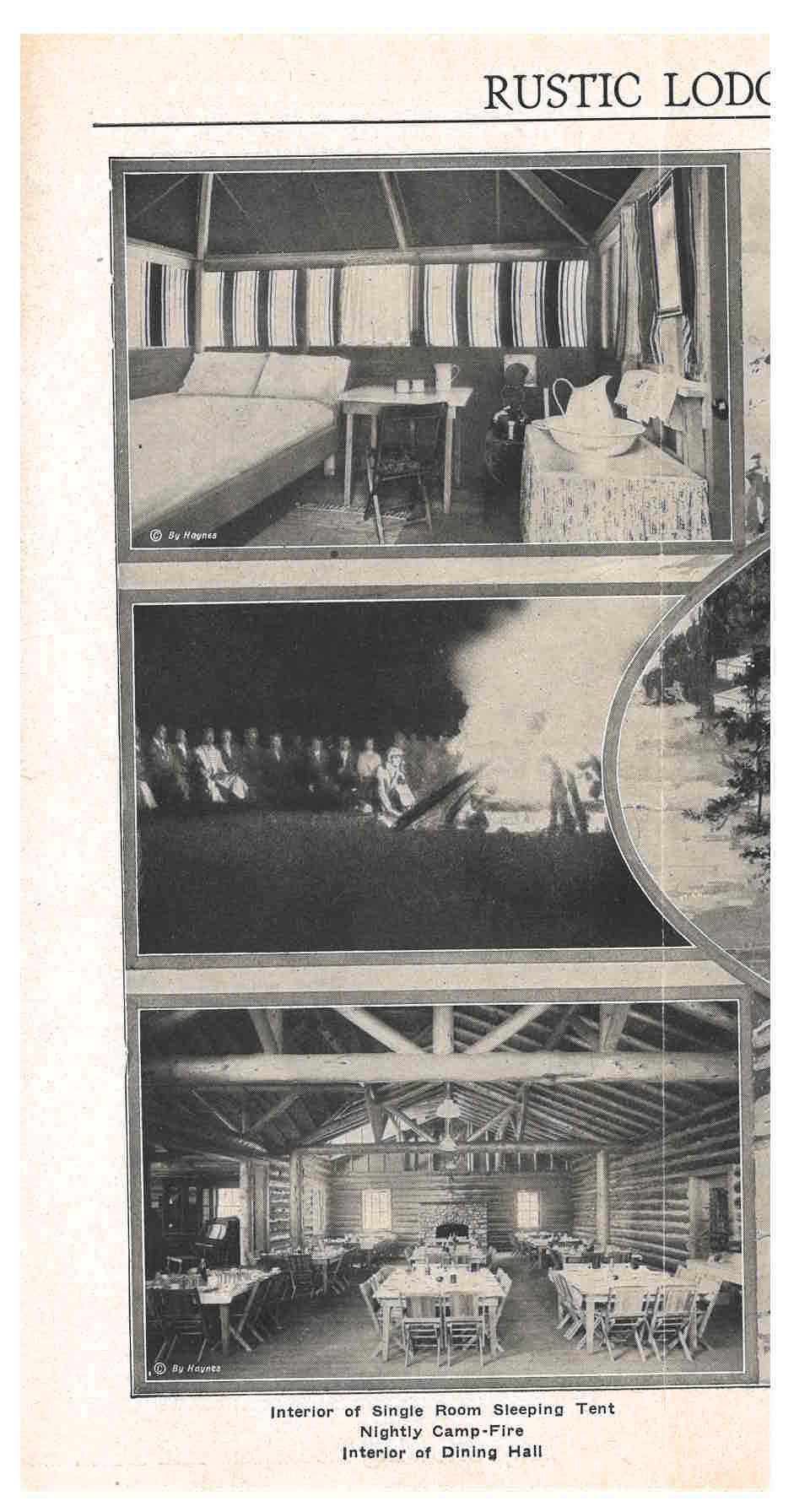 Visitors had the option of remaining at one camp for their entire vacation or lodging at multiple camps, especially if they wanted to see a wider portion of the park. The title of this catalog encourages visitors to bring their own automobile, and according to this brochure, each park provided guest parking areas with gasoline and oil available.
Camp staff were young people, mainly college students and teachers. As a free service, guides were available to lead a sightseeing day trip. Of course, visitors also had the option to venture out on their own. Perhaps they marveled at the natural beauty of the scenery as they drove along the hundreds of miles of roads or took a detour to enjoy one of the scenic approaches to the park. A map of the main routes to Yellowstone National Park is included in this brochure.
Some visitors might have been lucky enough to snap photos of the wildlife, such as bear, elk, deer, antelope, or buffalo. Hopefully any pictures were taken from afar!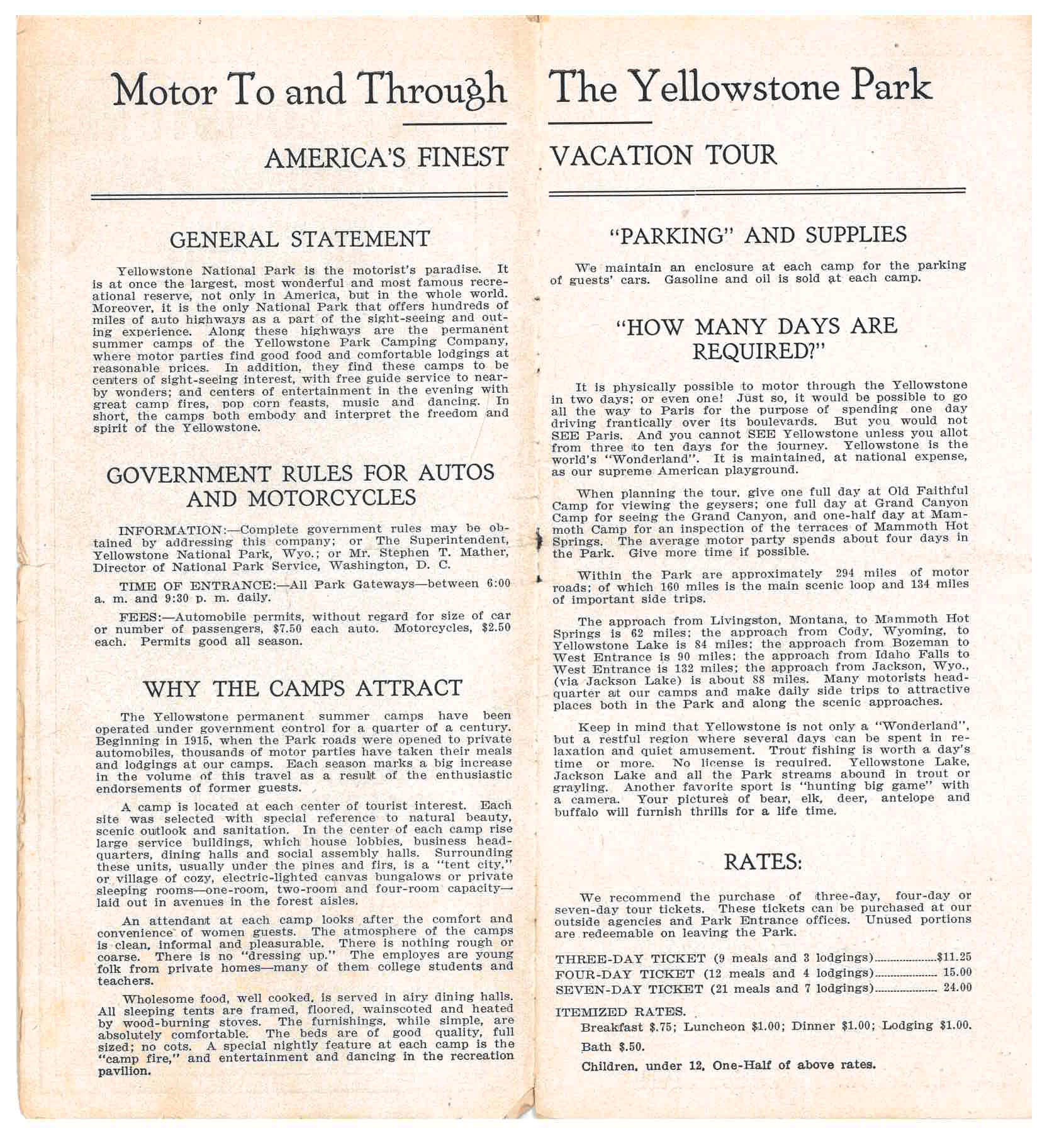 Yellowstone National Park in Your Own Automobile (1919) by Yellowstone Park Camping Co. is located in the Trade Literature Collection at the National Museum of American History Library.