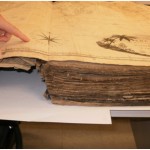 This post was written by Alyssa Penick, Intern at The Dibner Library of the History of Science and Technology.
The Dibner Library for the History of Science and Technology recently acquired a nineteenth-century navigation atlas, The Marine Atlas, or a Seaman's Complete Pilot for all the Principal Places in the Known World, which was published in London in 1826 by John William Norie. Currently under restoration, this large folio contains forty copperplate engravings of marine charts and depicts every ocean, sea, and coastline then known. The Dibner's copy of The Marine Atlas is the seventh edition of the atlas and was bound in New York by Henry Spear in 1856. No other copies of Norie's Marine Atlas are held by public collections, making this addition to the library particularly exciting.
The publisher, John William Norie (1772-1843), headed a successful printing house in London that specialized in maritime publications. In addition to printing navigational charts and atlases, Norie published numerous reference books that ranged in subject from ship construction to astronomy. Many of Norie's publications continued to be revised and reprinted throughout the nineteenth century. The Marine Atlas is not the first of Norie's works to join the Dibner's collection. The library also holds an 1822 edition of Norie's The Shipwright's Vade-mecum, a technical manual for shipwrights.
To understand the contemporary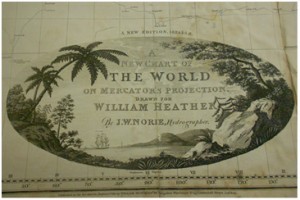 importance of Norie's Marine Atlas for nineteenth-century mariners, one can turn to an essay by celebrated Russian admiral Ivan Fyodorovich Kruzenshtern, who discussed his reliance on Norie's Atlas during his voyage to the South Pacific in 1835. Kruzenshtern brought the Marine Atlas with him to sea and depended on it to safely explore the Cook Islands. Upon his return to Russia the in 1836, Kruzenshtern wrote an account of his recent voyage in which he praised Norie's Marine Atlas for its "superior" charts of the Pacific Ocean and commented that Norie's work was "used by the majority of English and American mariners."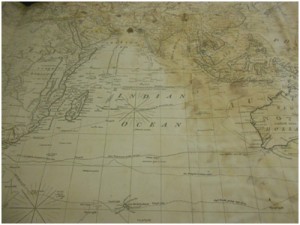 Though Kruzenshtern later published a revised set of charts of the region that corrected "errors" in Norie's charts, The Marine Atlas still remained the basis for his own charts. Kruzenshtern's discussion of Norie's Marine Atlas is a testament to the collaborative nature of exploration and navigation. Despite the bitter naval rivalries among nineteenth-century European powers, mariners and explorers actively relied on one another to share and correct each other's works. Through their dynamic exchange of information through print, seaman quickly improved their collective understanding of the maritime world.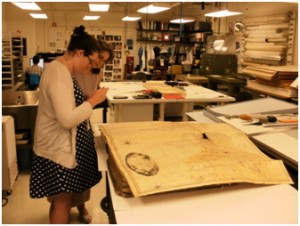 Kruzenshtern's words also help us to better imagine how Norie's Marine Atlas was used within its original context, namely abroad a ship helping a captain navigate unfamiliar waters. From his account we learn that his particular copy of The Marine Atlas was published in London, brought to St. Petersburg, and then taken to the South Pacific, probably just one of the book's many voyages. Its charts guided sailors to new parts of the world and then helped them to return home safely afterwards. Norie's Atlas was not merely a reference book, but a practical guide and an important resource that traveled across the very waters that it illustrated.
Check back for another blog post soon about the provenance of the Dibner's edition of Norie's  Marine Atlas and to read more about the restoration process the volume is undergoing.