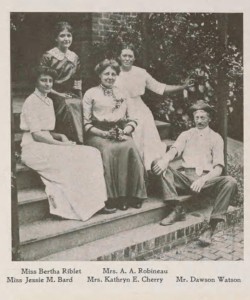 Around March, I'll be forgiven if I start to pay a little more attention to the genders of the people I come across in our digital book and journal collection. After all, it is Women's History Month. But one journal I keep coming back to is Keramic Studio, a monthly ceramics magazine produced around the turn of the 20th century that we digitized a couple years ago as part of our Books Online collection. Adelaide Alsop-Robineau began the journal in 1899, and it continued to be published into the 1920s. The work featured in the early years of the journal was primarily contributed by women, including Alsop-Robineau herself, along with her co-editor Anna B. Leonard. Both women were well known ceramics painters and designers. I find myself returning to the journal and perusing the many images and illustrations, especially when I need a dose of design inspiration.
Born in Connecticut in 1865, Alsop-Robineau taught herself to paint ceramics, and would later study art under American Impressionist artist William Merritt Chase. In the same year that she wed Samuel E. Robineau, 1899, she founded Keramic Studio with her new husband. Soon after, unsatisfied with limiting herself to merely painting the ceramics made by others, Alsop-Robineau began to study the process to create her own distinct pieces of porcelain and ceramics in 1901. Mind you this was during a time when she was already editing and publishing a leading journal, was already nationally known as a ceramics painter, and also starting a family. Her career led her to teach at Syracuse University and the People's University, while also maintaining a studio, Robineau Pottery. After her death in 1929, she received the remarkable feat of becoming the first artist-potter given a retrospective at The Metropolitan Museum of Art.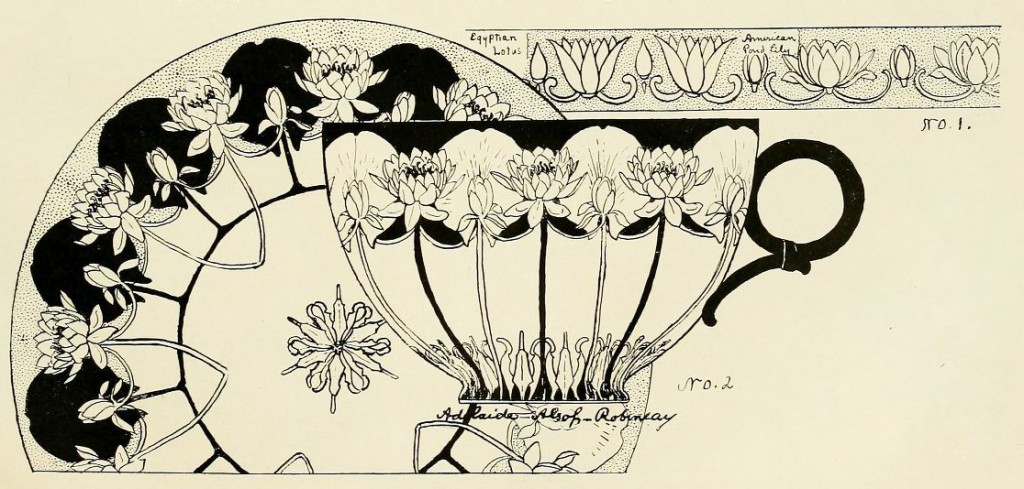 I'm a sucker for the Arts & Crafts Movement, and although I'm not an art historian, I can tell you that it was a movement in decorative and fine arts that started in the mid-1800s as a reaction to industrialization and the start of mass production of decorative goods. William Morris is a great exemplar of the movement. It emphasized traditional craftsmanship, and was imbued with moral sentiments about the value and ethics of hand-made goods over the alienation of mass produced goods.  In looking around for more information on the reason why women were able to become so publicly successful in this area at a time when other opportunities for women were limited, I came across some ideas about why that could be. The book Professional Pursuits: Women and the American Arts and Crafts Movement (2007) includes Alsop-Robineau as one example to further explore this idea. In essence, because the Arts and Crafts Movement emphasized craftsmanship as opposed to industrialization, it reemphasized the traditional handicrafts practiced in the home that were the few realms of production associated with women. So it was a unique area where women could attain public recognition while still working within the strictures of society's expectations. Alsop-Robineau's case may be rather exceptional, but there was a general need for many women to begin to economically support themselves, and Arts and Crafts were  felt to be an appropriately feminine area for pursuit.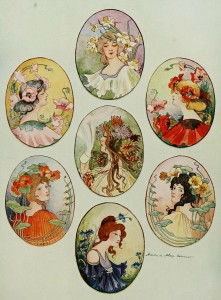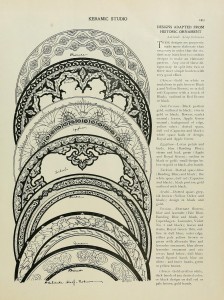 I think one of the major occupational hazards of working in a library is that we are surrounded by so many fascinating stories that one can easily fall down the proverbial rabbit hole. Learning more about Adelaide Alsop-Robineau has been one of those joyous accidents. I never would have learned that the March 2000 issue of Arts & Antiques Magazine designated her Scarab Vase as the most important piece of American ceramics of the last 100 years. Or that her work would be sold by the Tiffany Company, about which we have another digitized book, Porcelains from Robineau Pottery. Looking beyond the library, I've also found her letters in the Archives of American Art, and some of her objects in The National Museum of American History and the Cooper Hewitt Smithsonian Design Museum. (On a related note, there's an exhibition, Women, Art, and Social Change that is traveling for the next year or so.) I've also found other resources on Alsop-Robineau in our collection, including Adelaide Alsop Robineau: Glory in Porcelain (1981) and Only an Artist: Adelaide Alsop Robineau, American Studio Potter (2006), although I'm sure you can find more at your local public library, too.