On January 24, 1944, 19 year-old Joye Kelly sat down to take a psychology exam final at the Katharine Gibbs School in New York, NY. As she pondered the test's questions, she had no idea her answers would forever change her life.
Kelly's professor, Dr. William Moulton Marston, was a psychologist, inventor, and the comic book writer who created Wonder Woman. Marston was stunned by Kelly's exam responses, awarding her with the highest grade. He believed that she had the writing ability to portray his heroine, Wonder Woman, and incorporate his theories into stories. Kelly was invited to interview to become his co-writer for Wonder Woman, and, after graduating in March of 1944, accepted the position.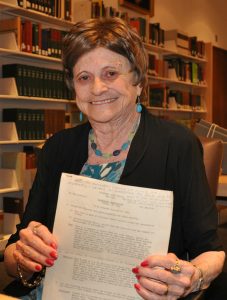 Marston's ideal for Wonder Woman was an alluring woman – never masculine – loving, wise, and strong who fought evil and promoted goodness. "It was great fun as our imaginations knew no boundaries," says Kelly, now 91 years old. "Our scripts had to be very comprehensive, written like a play. The characters, setting, action, background, and size of panels had to be described in great detail to make sure our chief artist, Harry G. Peter, understood what we wanted depicted."
While writing the Wonder Woman comic, Kelly and Marston were faced with a strict Editorial Advisory Board with precise instructions to only expose positive stories to young people rather than promote violence. About the process, Kelly says, "When both of our scripts were finished, Marston and I met at the New York office. He checked my script to be sure Wonder Woman was depicted as an admirable heroine and that my story was exciting and incorporated a positive influence. After typing both of our scripts, I delivered them to our editor, Sheldon Mayer. When Sheldon returned the scripts, they were given to Peter and his assistants to do the art work and to Jimmy and Skippy Wroten to do the lettering. All proof reading was done by me before they were delivered to the publisher."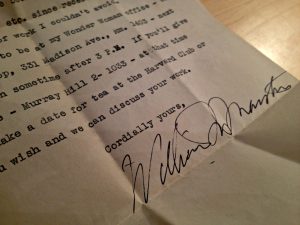 On August 25, 1944, six months after Kelly began working for Marston, she was with him when he boarded a train to Boston. Marston never walked back off that train; he had to be carried, as he had been stricken by polio at only 55 years old. Kelly cancelled a planned trip to Bermuda with her mother, with the excuse that Marston was hospitalized with a severe arthritis attack (she feared her mother would have forced her to stay away from him if she knew the truth). At that time, many people were falling ill from polio and the cause was unknown.
A "tall, well-built man," coping with polio was exceedingly difficult for Marston. Kelly recalls, "At first he did not accept being crippled and pulled the rings over his bed in the hospital room, using so much strength that he almost yanked them out of the ceiling in an attempt to raise himself. It took time for him to adjust to the fact that he was unable to walk."
Marston began exercising regularly to regain his strength, and just when he was starting to take a few steps, tragedy struck again. A cancerous lump was found on his back, with a doctor's report that Marston only had six months to live. Marston's wife, Elizabeth, did not tell him of the diagnosis for fear of his further depression; Marston believed he was suffering from a viral stomach flu infecting many people at the time. He never knew he was dying of cancer.
Marston lived for nine more months. "Although Marston's death was expected, and merciful, the realization that I could never again communicate with this brilliant man was devastating to me," says Kelly. She continued her relationship with the Marston family for years, with Marston's daughter, Olive Ann, serving as a flower girl in her wedding, and resigned from Wonder Woman shortly after she was married.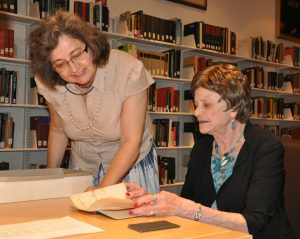 Joye Kelly donated in person her Wonder Woman memorabilia to the Dibner Library of the History of Science and Technology at the National Museum of American History. Items include her psychology exam from Marston's class, the typewritten letter inviting her to interview for the Wonder Woman writing position, two diaries containing expenses, two bound volumes of comic books written by Kelly, typed scripts by both Kelly and Marston, and two of Marston's books: The Emotions of Normal People (1928) and The Lie Detector Test (1938). Thanks to Joye Kelly for providing information for this article.