At first glance, the front cover of this trade catalog shows an opera chair. But take a closer look and you might see something you didn't expect to see. A hat appears to be attached to the bottom of the seat. That is just one of several special features built into these chairs.
A. H. Andrews & Co. manufactured chairs for the opera, theater, courthouse, and church. This 1886 catalog titled Catalogue of Improved Opera Chairs shows a variety of these styles. Some chairs were upholstered while others had wood seats or perforated veneer backs. But the chairs also had several very convenient and comfortable special features.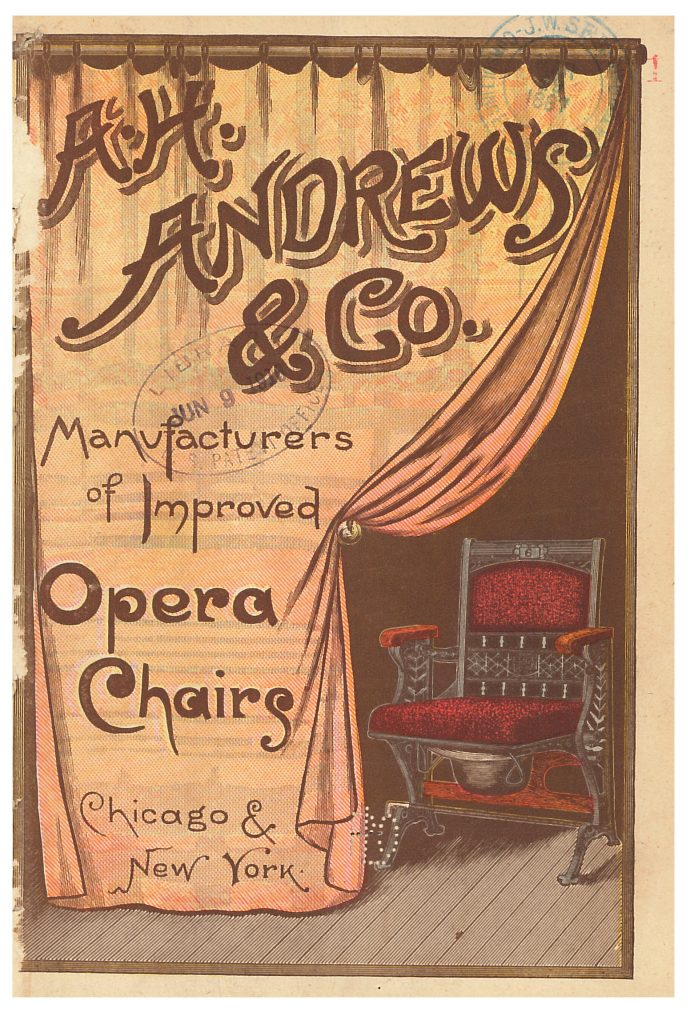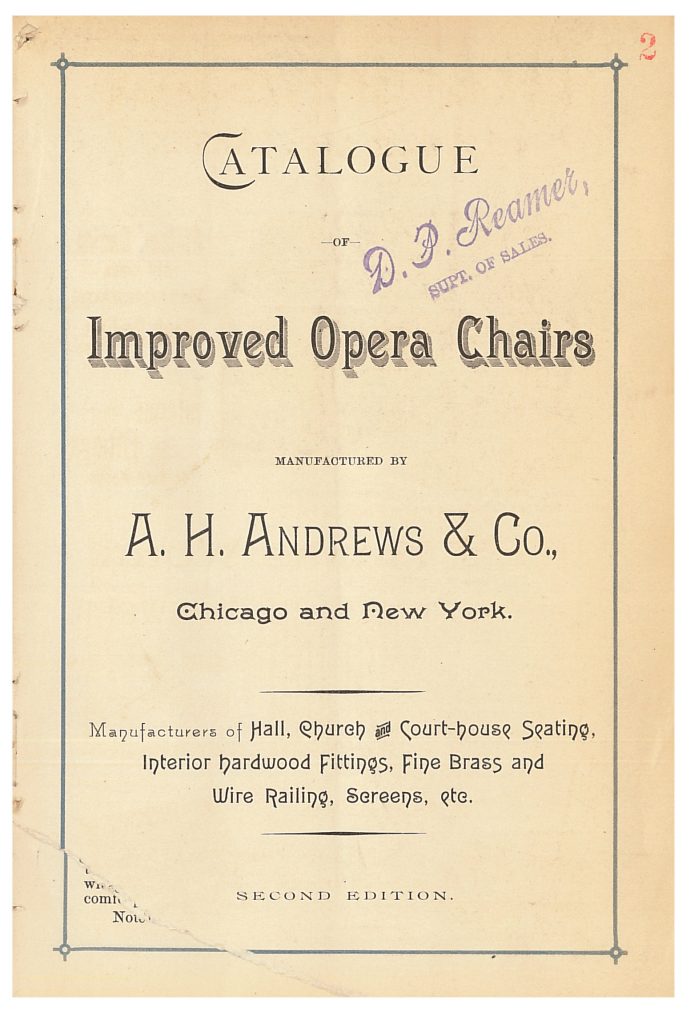 One feature was the hat rack. Where did men in 1886 attending the opera store their top hats during the performance? Under the seat. The hat was held in place by the brim of the hat, as shown in the images below. The chair also had a cane or umbrella rack allowing the cane or umbrella to stay safely out of the way and lie horizontal on the rack beneath the seat.
Style No. 6, shown below on the right, had a "tilting-back, rocking-chair movement." The back of the chair changed positions when the occupant moved. If the person sitting in the chair leaned forward, the back of the chair became vertical "allowing six inches additional room to a person passing in and out behind the chairs."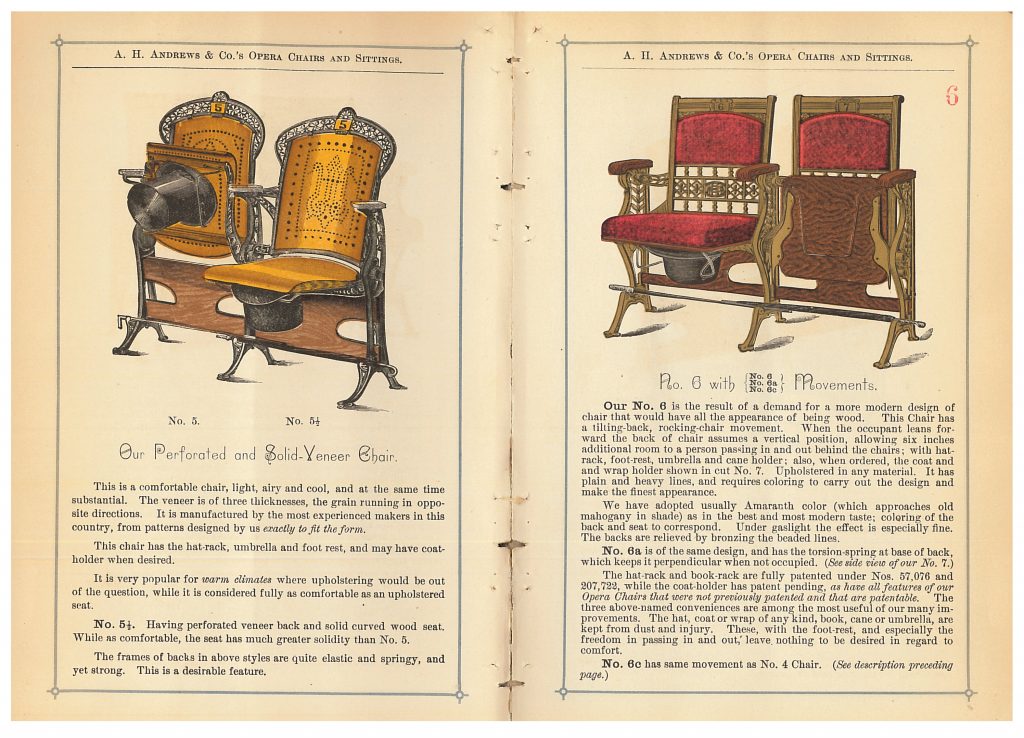 These chairs also had the option of the book rack or book box which was attached to the back of the chair in front of you. Another added comfort, illustrated by the man sitting in the chair below, was the foot rest.
And what about your coat? Where did you put that so it stayed clean and did not fall on the floor or get in the way? A coat rack was attached to the back of the chair in front of you, as illustrated below. The coat rack also held a shawl, wrap, or other outer garment.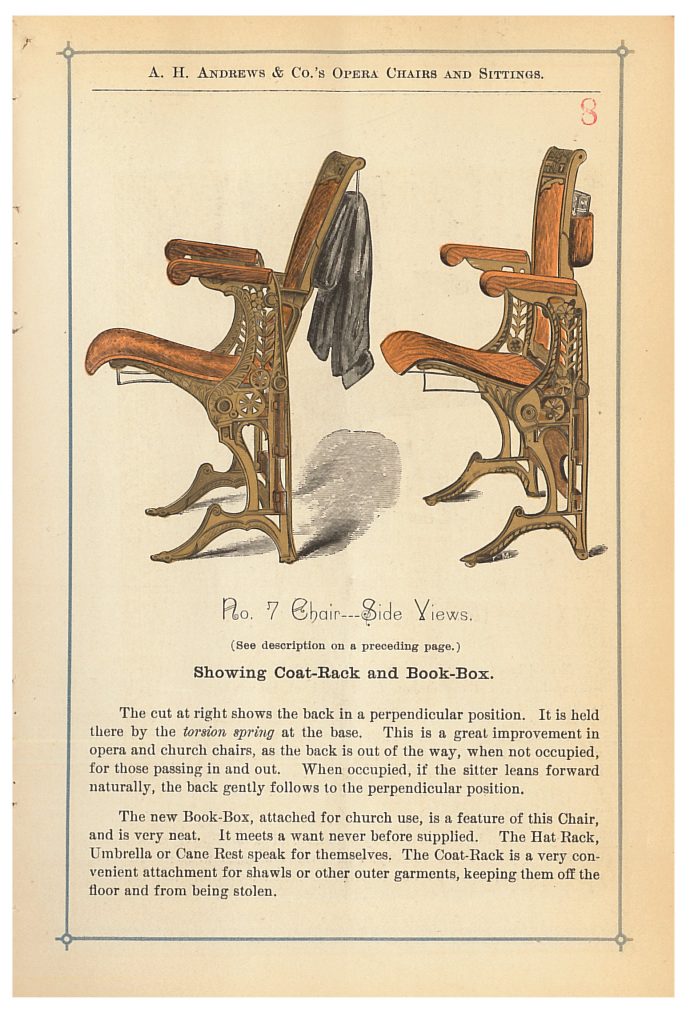 Catalogue of Improved Opera Chairs by A. H. Andrews & Co. is located in the Trade Literature Collection at the National Museum of American History Library.