This is a two-part series on the Hewitt sisters.
Deep in the Cooper Hewitt, Smithsonian Design Library's collection of rare books, one might be surprised to come across children's illustrated books by Walter Crane and Beatrix Potter. Even more fascinating might be the origin of these tomes, for in this collection are the very books read by the founding sisters of the Cooper Hewitt, Smithsonian Design Museum: Sarah (Sallie) and Eleanor (Nellie) Hewitt. These sisters—born of the Gilded Age, granddaughters of industrialist Peter Cooper—would create the first and only museum dedicated to decorative arts in the United States, originally named the Museum for the Arts of Decoration. They were the first women to establish a museum in America.
Who were these sisters? And more importantly—how did they become such independent pioneers and philanthropists in the field of design education?  Both Sarah and Eleanor were athletic, inquisitive, self-assured, and intelligent. The elder sister, Sarah, was a noted equestrian in her youth. Her wit and decisiveness would be compared to her father, businessman Abram Hewitt. Eleanor, also a talented athlete and a lover of dance, was warm and sociable. Their family's enthusiasm for education meant the girls had every opportunity to cultivate themselves through athletics, the arts, science, literature, history—subjects considered essential to a well-rounded citizen. Through their education they learned to speak fluent French, understand the intricacies of good design, and recognize the importance of hard work and dedication.
The sisters were born into a life of wealth and influence in New York City society. Their father, Abram Hewitt, was a prominent figure in the iron industry, later mayor of the city, and even served in Congress. Abram did not come from privilege; he worked his way through Columbia University (then King's College) where he met and befriended Edward Cooper, son of Peter Cooper. His friendship with Edward grew into a business partnership with the creation of the Cooper Hewitt & Company, which became the fifth largest corporation in America. Edward's sister, Sarah, captured the heart of Abram. They wed in 1855 and had six children: Amelia (Amy) in 1856, Sarah in 1859, Peter in 1861, Eleanor in 1864, Edward in 1866, and Erskine in 1871.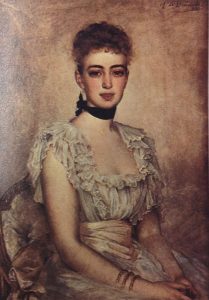 Like Andrew Carnegie, a man he knew and would later influence, Peter Cooper's story is that of the modern myth of the self-made man, using his own ingenuity and gumption to pull himself up by his bootstraps. Starting life as the child of a Dutch hat-maker in New York, Peter's mechanical inclination and business acuity led him to eventually owning a glue and gelatin factory (and if you're a fan of Jell-O, you have Peter to thank—he invented the first widely-used packaged gelatin). He later moved on to the iron industry, amassing a fortune by the time the Civil War broke out.
Dedicated to philanthropy, one of Peter Cooper's most lasting legacies was the creation of The Cooper Union for the Advancement of Science and Art in New York. Founded in 1859, Peter intended his school to be open and free of charge regardless of race, religion, sex, or social status. His expectation for women to freely enroll in design courses in Cooper Union surely must have reflected in the legacy he left for his granddaughters Sarah and Eleanor. And it was no doubt because of this progressive notion that these sisters would see fit to honor him by creating a museum component of the Cooper Union, which Peter envisioned but ultimately never lived to see made real.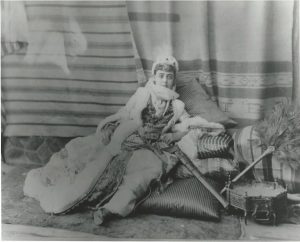 Why take up the mantle? For one, the Hewitt sisters held vast intellectual opportunities—their father gave them full access to his extensive library, as Eleanor recounts in The Making of a Modern Museum (New York: 1919). Their mother took a keen interest in the girls' education, too. Culturally, the Hewitt girls were exposed to a great deal. Abram Hewitt frequently took his family to Europe, where they would visit museums, explore the latest fashions, visit art dealers, and begin to collect the decorative arts that would later help seed the museum's collection.
He also passed on his own fondness for exhibitions, sparked by his own visit to the Crystal Palace at the Great Exhibition of 1851. Especially influential was the family's affection for the Musée des Arts Décoratifs in Paris, where the sisters would become acquainted with the museum's founders. Inspired to bring such an institution to America, they were motivated to incorporate a library as a central feature, imitating the French museum.
What ultimately sparked these young independent-minded women was their immense love of the decorative arts and commitment to philanthropy. Before age sixteen Sarah and Eleanor were already studying wood engravings in magazines and later recollected spending their own pocket money to buy rare textiles at auction. On their travels to Europe, they regularly acquired rare and unique decorative objects. They judged an item not only for its beauty, but for the quality of workmanship and level of innovation it represented, choosing the best-designed wallpapers, textiles, birdcages, and buttons to add to their private collection.
Stay tuned for part two of Designing Women: The Hewitt Sisters and The Remaking of a Modern Museum.