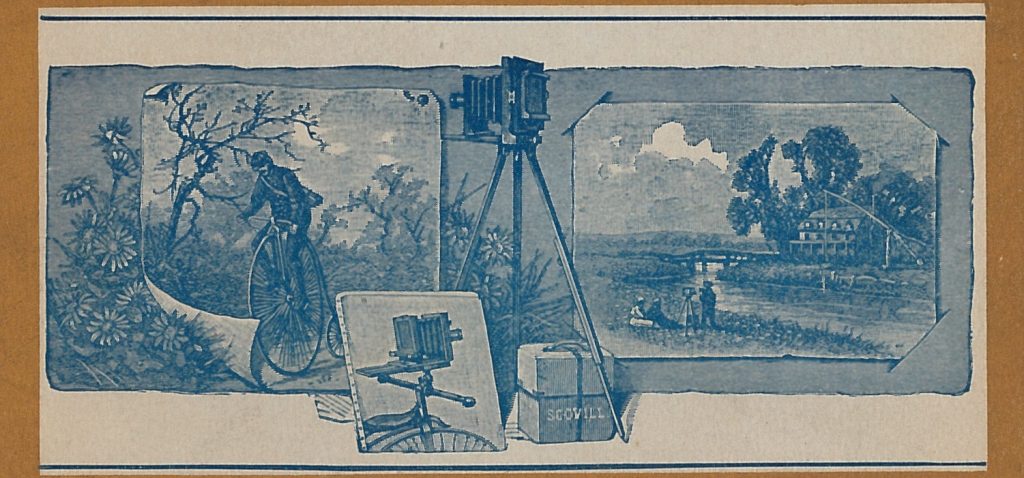 This post was written by Adrian Vaagenes, volunteer in the National Museum of American History library.
In the last five years, the Go-Pro, the durable HD camera of daredevils the world over, has become ubiquitous. Whether out on the trails or on the streets, it's not uncommon to see a bicyclist documenting his or her latest excursions. Photography and bicycles have a long history, literally growing up together, with both  the first velocipede constructed and the first daguerreotype patented  in 1839. Our trade catalog collection here at the National Museum of American History Library preserves this history, showing how camera companies and suppliers sought to tap the burgeoning market of "wheelmen" looking to take home souvenirs from their cycling expeditions.

This Scovill and Adams Co. Catalog from 1890 offers the amateur cyclist "unbounded opportunities […] to gather choice landscape views" and "secure mementos of pleasant excursions".  The photograph would not have been taken while riding, but the bike would serve as a tripod of sorts when the photo-cyclist wanted to demount and capture a particular vista.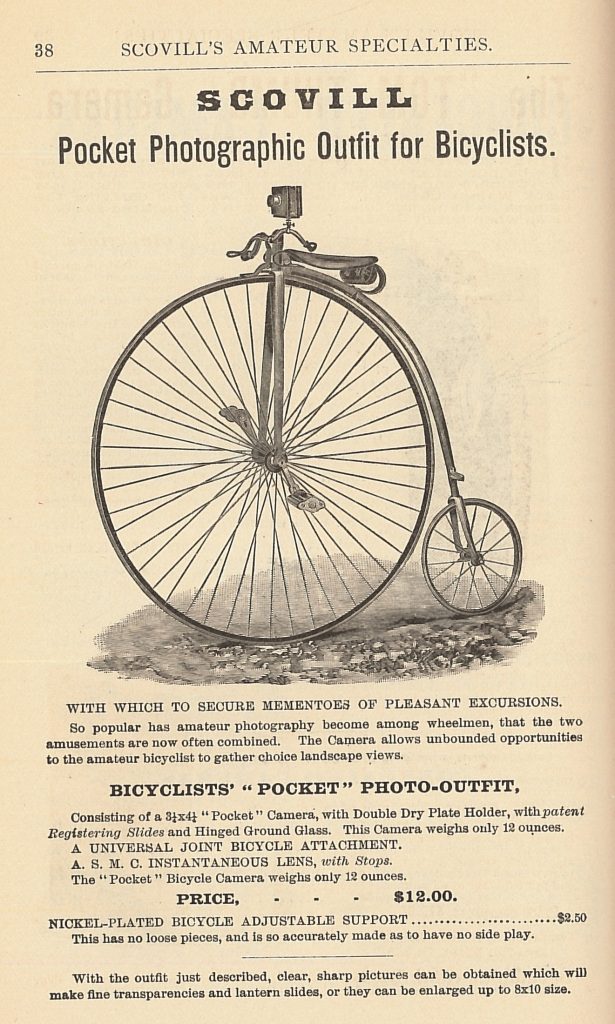 If you wanted to document your adventures but were reluctant to place your camera on the precarious perch of the penny farthing's handlebars, Kodak and Rochester Camera & Supply Co. offered a number of other options. This Kodak catalog from 1900 advertised camera cases that could be placed in front of the handlebars, behind the seat, and under the crossbar.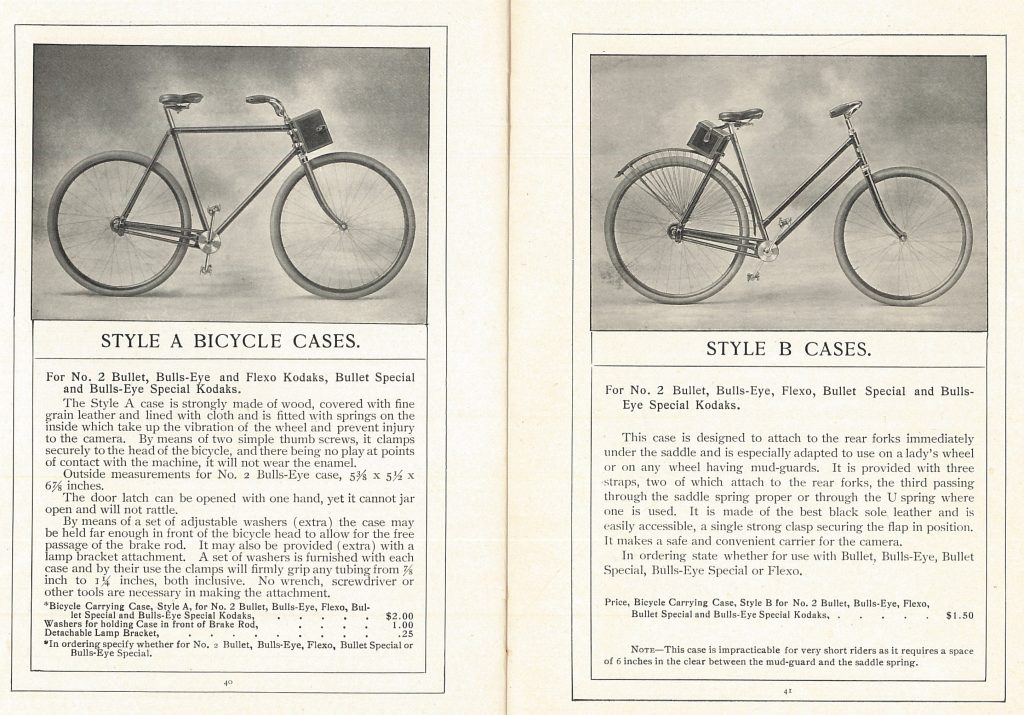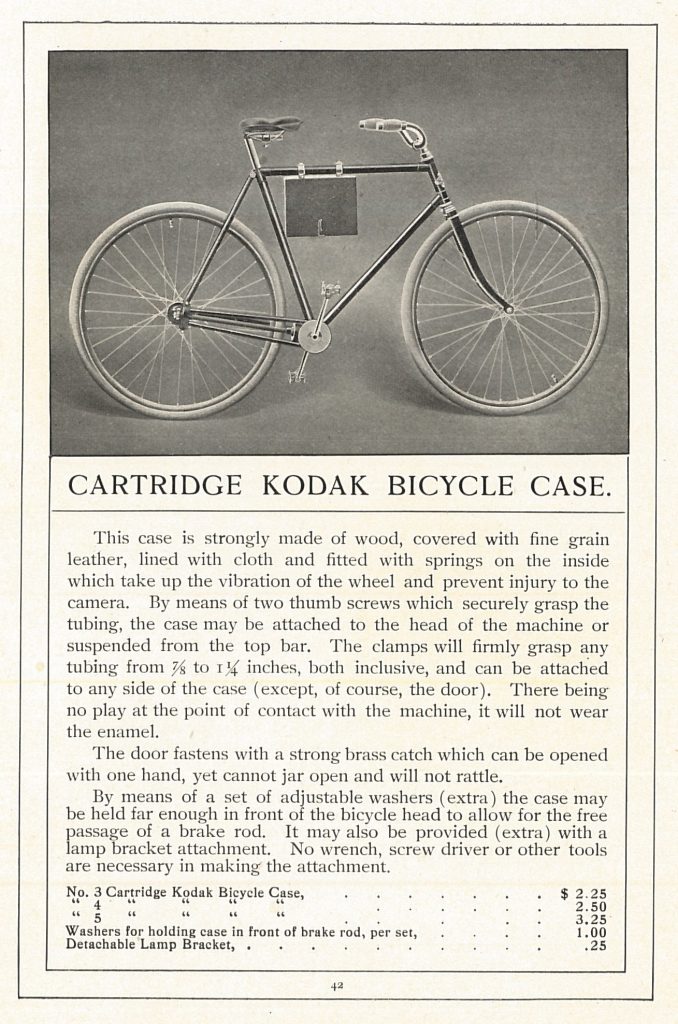 If your cycling craze was so acute that taking photos of your own adventures wasn't enough, than this Rochester Camera and Supply Company catalog advertises a solution: you could take a picture of other people cycling using their "Poco Folding Camera."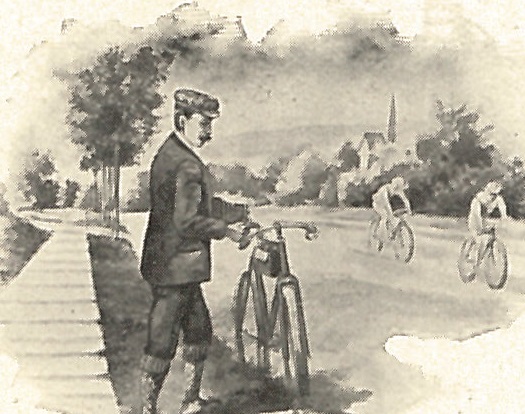 If you want to see more trade catalogs covering turn of the century bicycles and photography, you can find them at the trade literature collection of the National Museum of American History Library.