This post was written by Rebecca Durgin and Shayla Wheat, graduate students in the Smithsonian-Mason History of Decorative Arts Masters Program. Rebecca and Shayla were also Graduate Research Assistants in 2015-2016 at the National Museum of American History Library.
Play ball! With baseball season underway across the United States, let's take a look at early baseball equipment featured in a catalog from the Trade Literature Collection at the National Museum of American History Library. The spring and summer 1916 A. G. Spalding & Bros. catalog, Spalding, A Safe Decision Catalogue No. 1610, features a wide variety of baseball equipment that includes balls, bats, gloves and mitts, and bases for marking the diamond. Uniforms for players as well as team captains and managers were produced in multiple colors to match the different teams' logos and colors.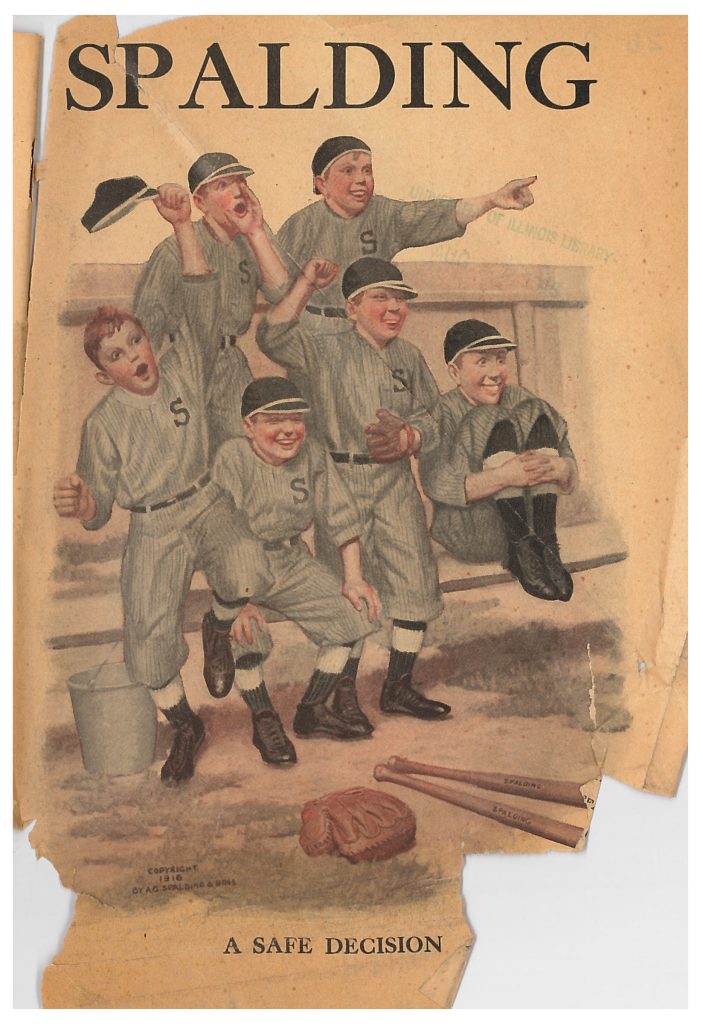 The beginnings of the sport of baseball can be traced back to Massachusetts in the late eighteenth century, but more regulated practices started in the mid-nineteenth century. With the development of official rules for the game and the founding of teams and leagues, baseball began to take off as a spectator sport, becoming a popular pastime for many Americans. Since Albert Spalding was a baseball executive, his company, A. G. Spalding & Bros., geared baseball equipment mostly to American consumers starting in 1876.
At the time this catalog was printed in 1916, the Spalding National League Ball was the only ball used in championship games. The manufacturing process used a cork core, which was patented in 1909.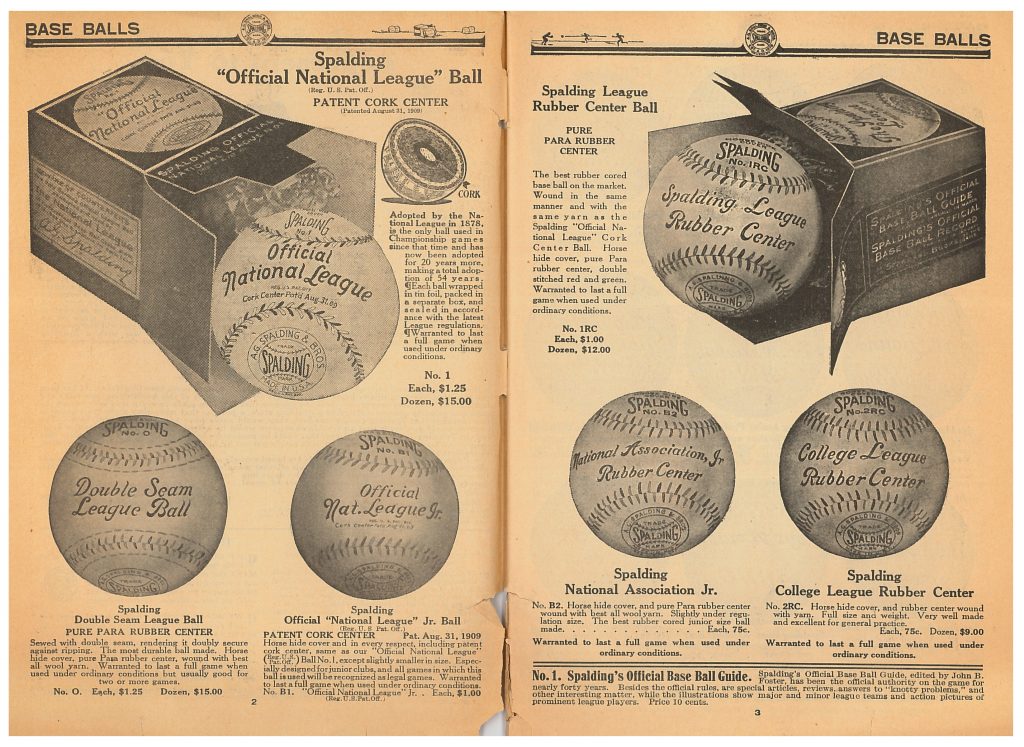 Spalding offered an assortment of trademark bats that were priced from 10 cents to $1.00, making it affordable to get one or more bats for aspiring players. Autograph bats from a select few players on the National and American League teams were available for sale at $1.00 each in 1916. Today, baseball memorabilia is its own industry and typically is a lot more expensive.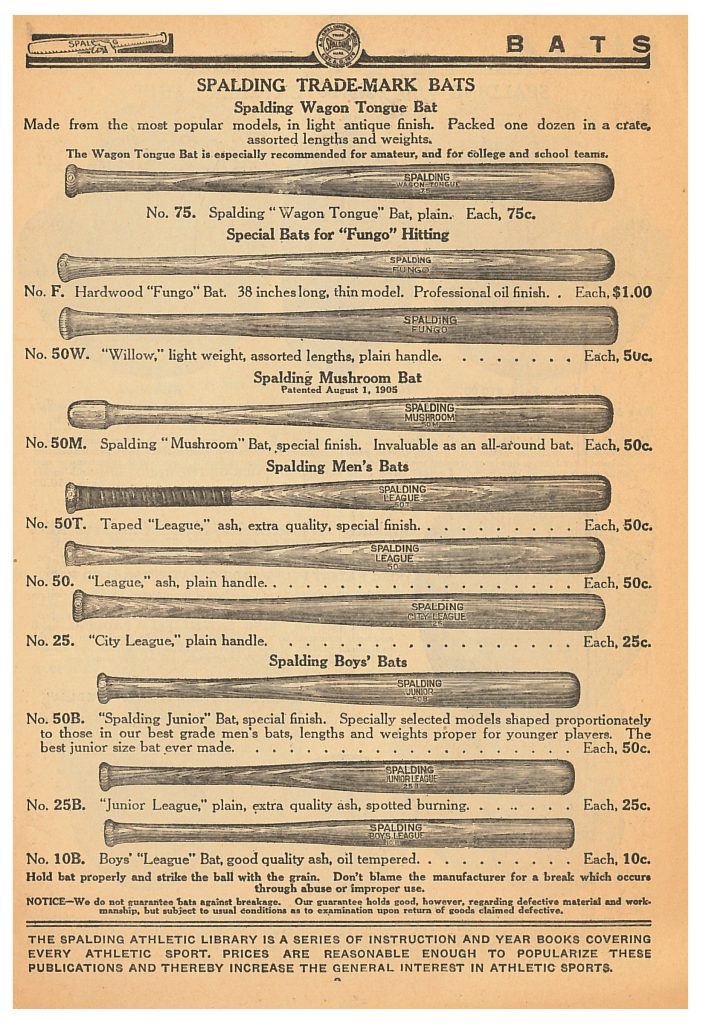 Gloves and mitts for left and right handed players were also offered in a variety of styles and sizes. These provide protection when players are catching flying balls to get the other team out. You can keep your own glove "handy" in case any fly balls head into the stands.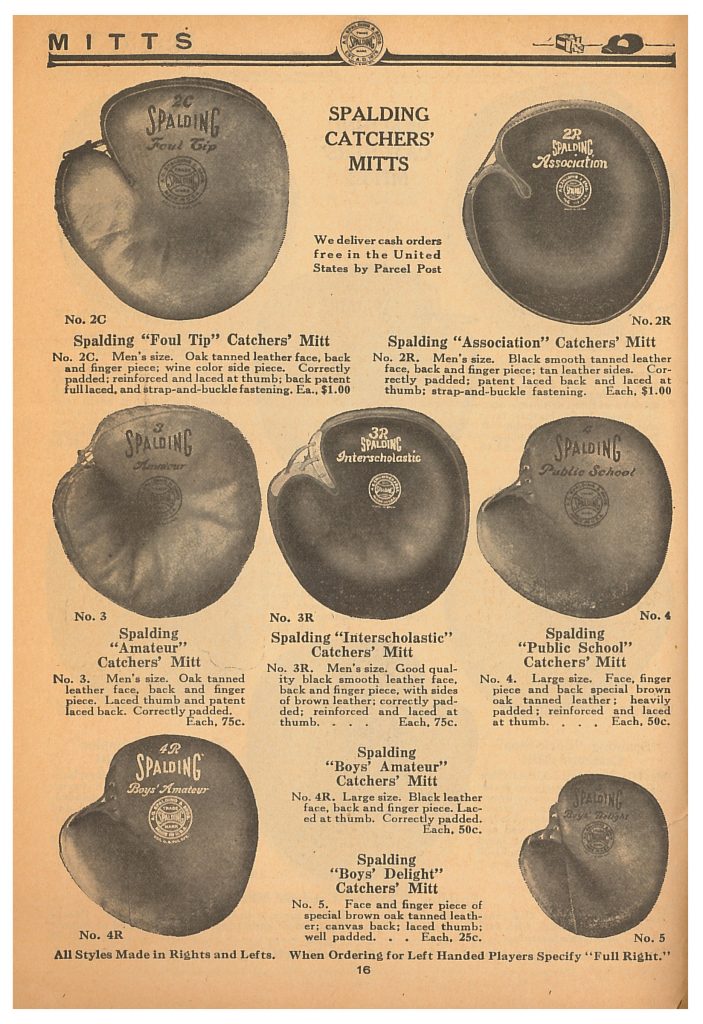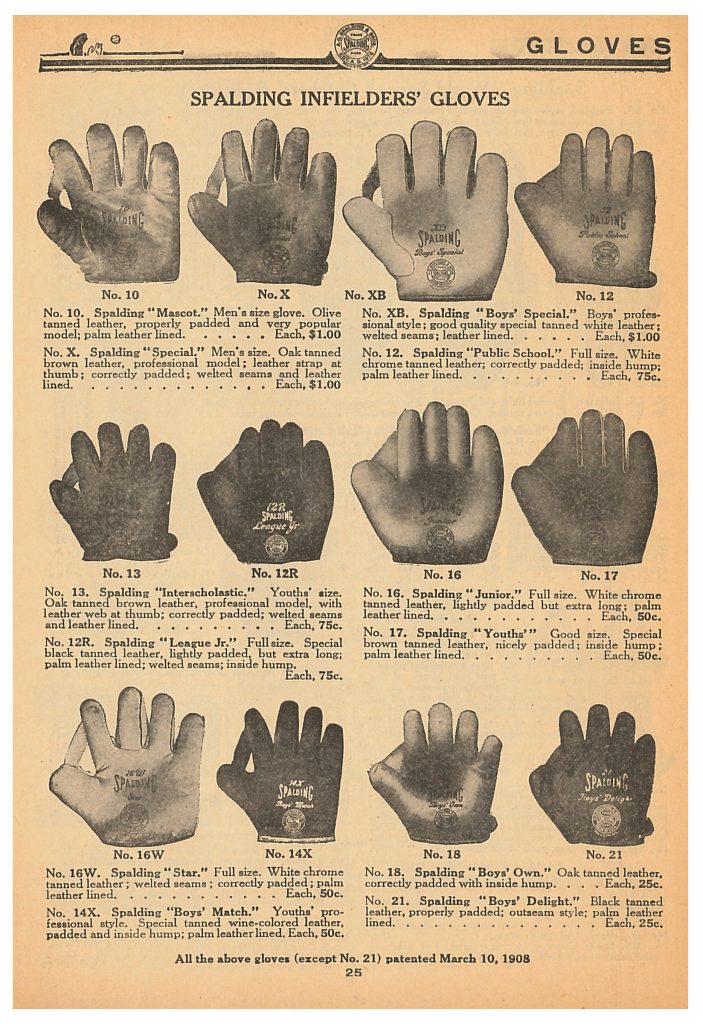 In 1916, Spalding offered players of various ages several different styles of uniforms. Each uniform was custom made based on the buyer's sizing specifications which would be mailed into the company. For some styles, there was no extra charge for the name of the team to be lettered on the shirt, but there was an extra fee for lettering on the caps. Spalding offered several different styles of caps based on national teams including Philadelphia, Brooklyn, New York, Chicago, and Boston styles.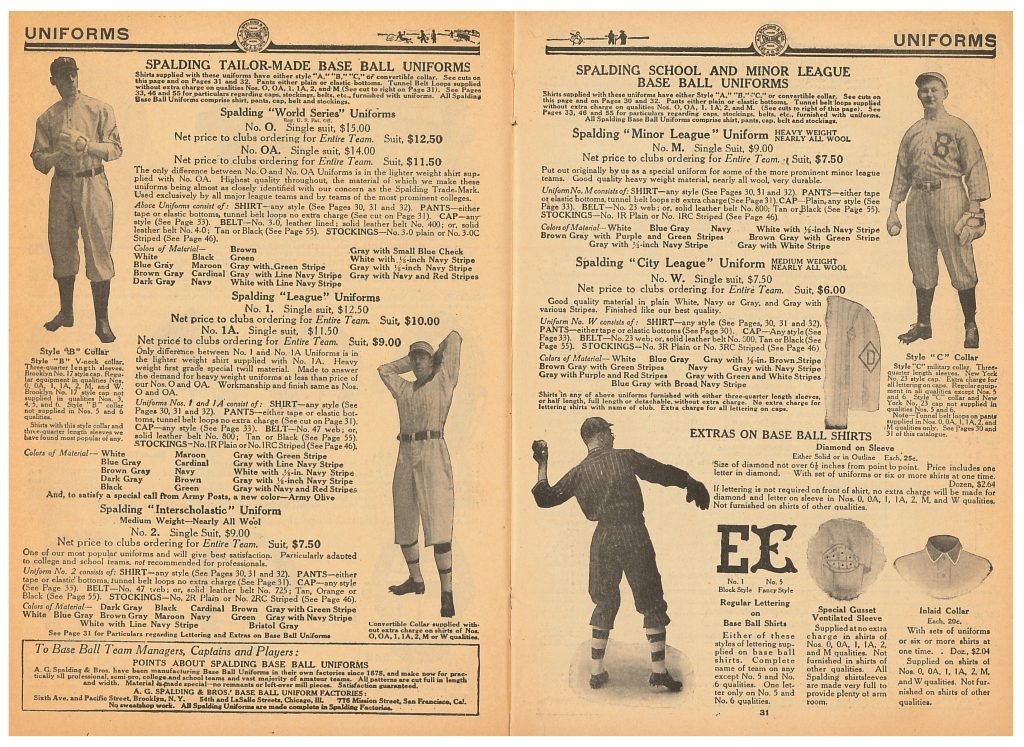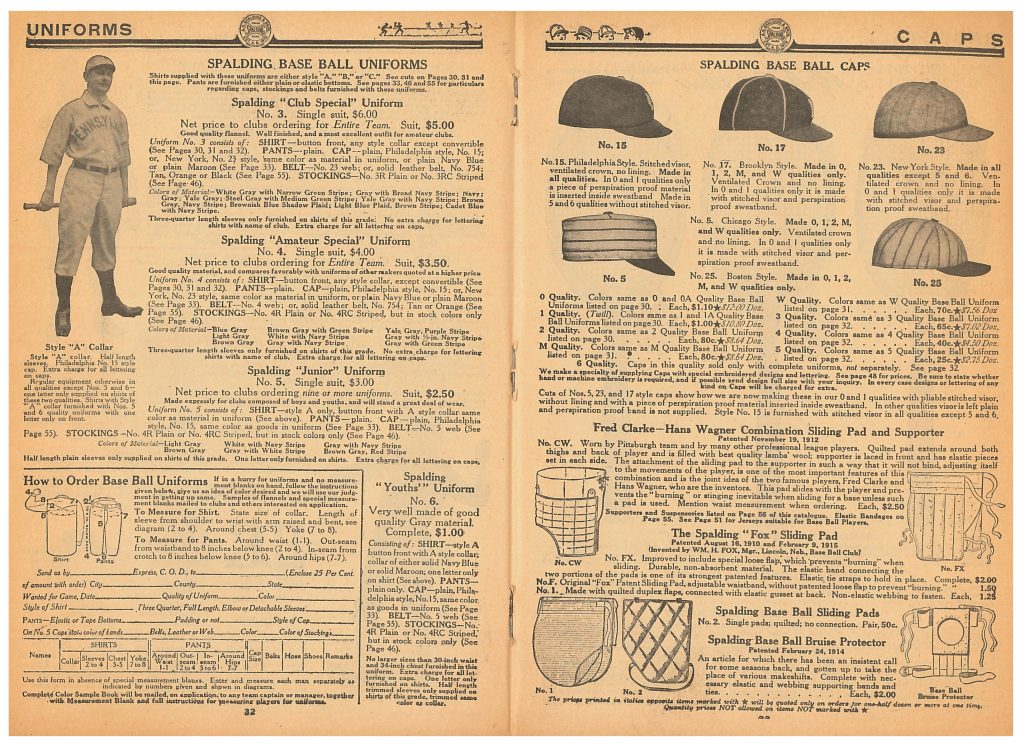 Since the game of the early twentieth century was considered pretty rough, players wore pads, like those shown above, for sliding and bruise protection to remain free from injury. Catchers and umpires had to be more protected, wearing face masks and front body protectors, as shown below, to prevent any stray balls from hurting them.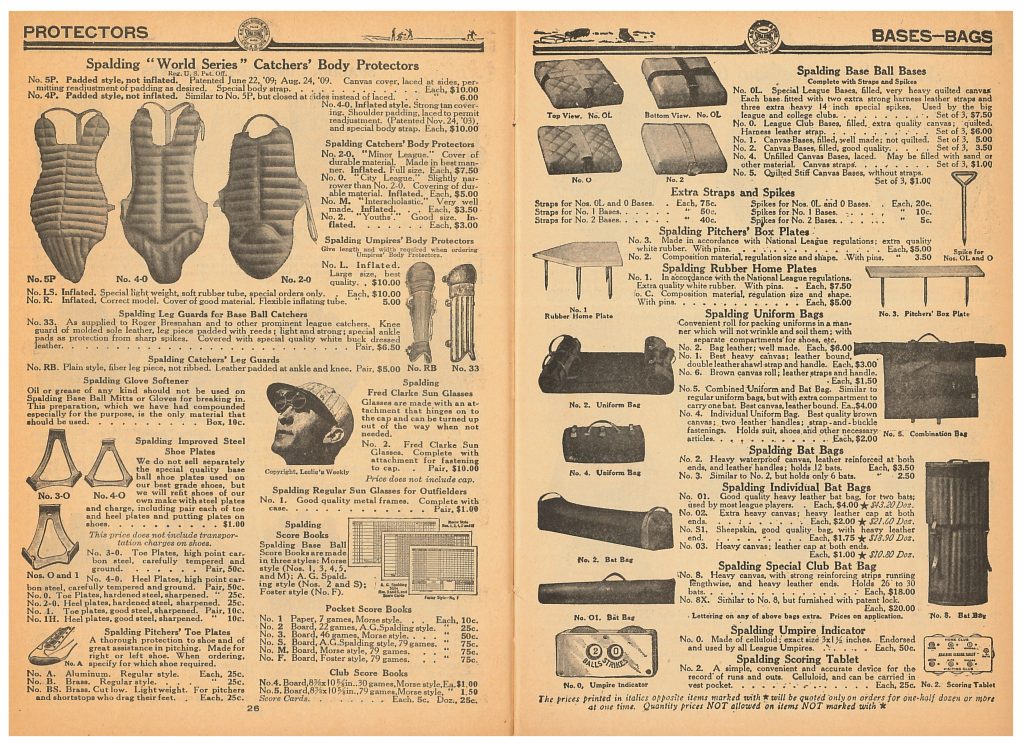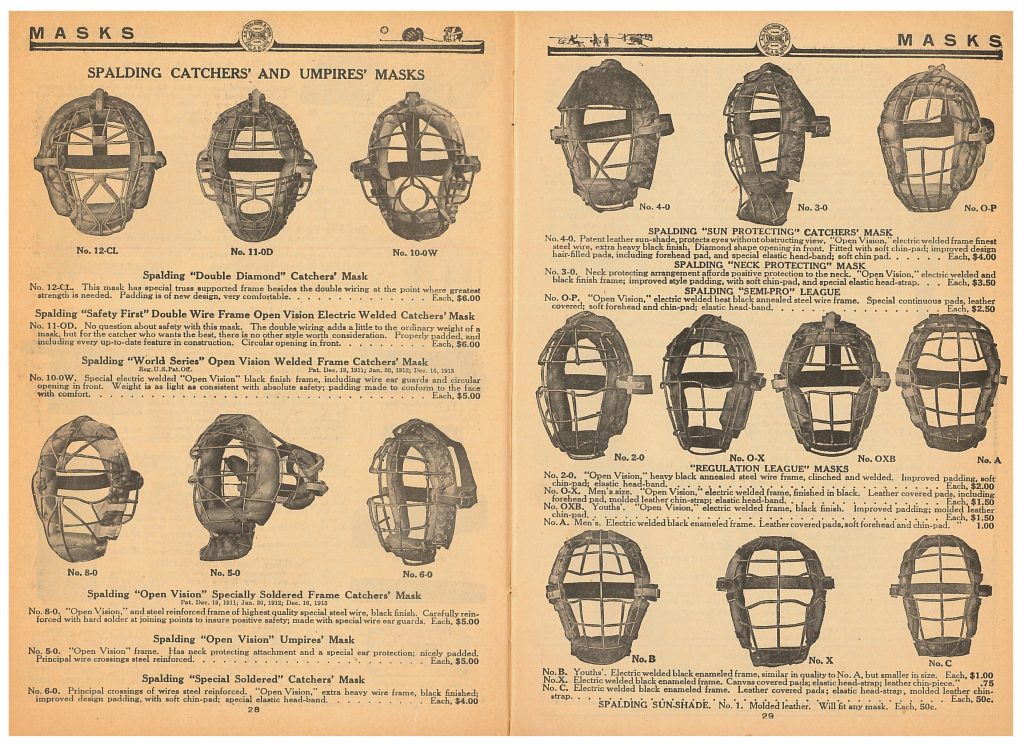 Since the sport's beginnings in the late eighteenth century, baseball has gone on to become an important aspect of American culture. Hopefully seeing this early twentieth century baseball equipment will inspire Americans to catch a local game this season to root on their home team.
Thanks to Emily Daniel (a Smithsonian-Mason History of Decorative Arts graduate student and 2015-2016 Graduate Research Assistant at the National Museum of American History Library) for her contributions to this post!
Sources Consulted:
Baseball-reference.com. History of baseball in the United States.
Wikipedia. History of Baseball in the United States.
Science Channel. How It's Made-Baseballs.
Save
Save
Save