On Wednesday, November 16th, the Smithsonian Libraries will once again hold its annual Adopt-a-Book Evening and you're invited! Join us for food and merriment, all while supporting the Libraries' collections. Visit the event page for additional details and to purchase your tickets.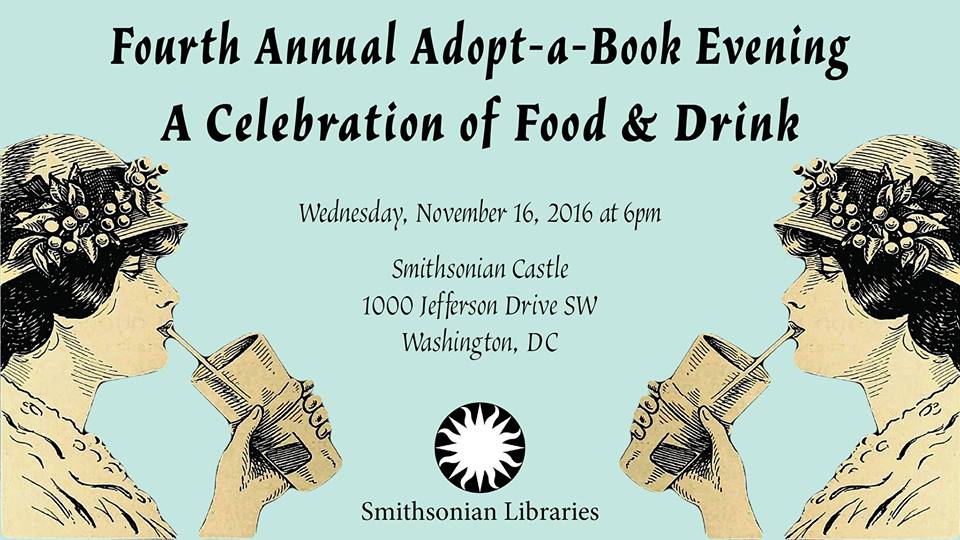 Can't make it to DC next week or just want a preview of the evening's menu of books? Enjoy this "appetizer", a mere sample of the 80+ items that will be on display during the event. Each has a unique place in culinary history and all will be available for adoption on November 16th. Learn more about our Adopt-a-Book program here.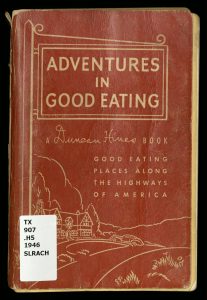 Adventures in good eating
Bowling Green, KY: Adventures in Good Eating, c1946.
Smithsonian Libraries Research Annex
Duncan Hines was neither a baker nor a cook. He was a traveling salesman who ate out a lot. One year with their Christmas card, he and his wife Florence sent out a list of over 100 of their favorite eating establishments. The list was later formally published in 1935 and grew into one of the most respected and used travel guides in the United States. This edition, published in 1946, includes a section recommending domestic wines as alternatives to the post-war European wine shortage in America. Californian wine-greats Paul Masson and Inglenook Vineyards are recommended. DC restaurants within include The Occidental ("a favorite with congressmen and diplomats") and Hogate's Sea Food ("…marvelous view of the Virginia hills, Lincoln Memorial, Washington Monument and Capitol…). Of special interest is the entry for Sanders Court and Cafe in Corbin, KY where fried chicken, county ham, and hot biscuits are served. Hines's celebrity was so great that his name was later branded onto the cake mixes that are still being sold.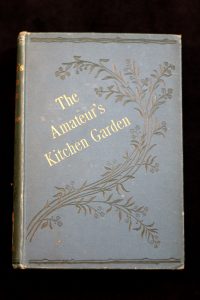 The amateur's kitchen garden
Shirley Hibberd. London, England: Groombridge and sons, 1877.
Botany and Horticulture Library
Shirley Hibberd, born in 1825, was one of the most popular and successful English gardening writers of the Victorian Era. The Smithsonian Libraries holds 12 books he published and a few issues of the garden magazines he edited. These types of books were written before modern agriculture and gave instruction to a middle-class household on growing their own food on their land. The book is illustrated with six colored plates of mouthwatering fruits, such as plums, melons, and tomatoes (botanically a fruit), plus several wood engraved illustrations placed throughout the book.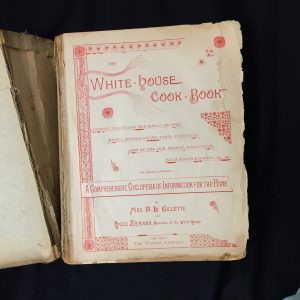 The White House cook book
L. Gillette and Hugo Ziemann. Chicago, IL: The Werner Company, c1891.
Dibner Library of the History of Science and Technology
First published in 1887, this book proved enormously popular and stayed in print for decades (each new edition featuring a frontispiece portrait of the current First Lady). Co-author Hugo Ziemann served as steward in the White House, providing the book its title, but Mrs. Gillette provided the bulk of the text, adapted to the practical needs of average American homes. As the lengthy sub-title tells us, it's more than just a cookbook – it is an encyclopedic compendium of recipes for foods, salves and medicaments, lotions and personal products, cleaning and polishing compounds, etc. from the days when every household usually had to make its own such materials. In addition it provides information and advice on giving dinners, table etiquette, basic health care, and many other aspects of household management.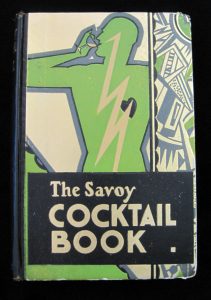 The Savoy cocktail book
London, England: Harry Craddock Constable & Company, Ltd., 1930.
Cooper Hewitt, Smithsonian Design Library
First edition of this iconic Art Deco-publication. The Savoy cocktail book is perhaps the most important cocktail book ever published. This foundational work of modern culture is made up of recipes created and "compiled" by Harry Craddock of The Savoy Hotel, the often considered the greatest barman to have ever lived. It completely revolutionized the drinking scene and is still in print today. This classic of cocktail drinking remains unsurpassed, both in its contents and in its artistic form. For this first edition printed in 1930, the cover and interior decoration artwork were by Gilbert Rumbold.
Save
Save
Save
Save
Save
Save
Save
Save
Save
Save
Save
Save