This post was written by Brittney Falter, a graduate student at George Mason University and social media intern at the Smithsonian Libraries.
Walter Crane was born on the 15th August, 1845 in Liverpool, England. His father, Thomas, was a portrait painter, which allowed Walter to take an interest in art as a child. He would often work in his father's studio and gained knowledge and experience of the artistic world. After his father's death, Walter was offered an apprenticeship with William James Linton at his engraving shop.[1]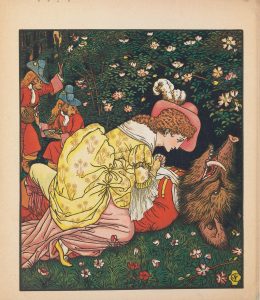 Linton's socialism and desire for political reform was an influence for Crane. Linton introduced Crane to many new people and Crane began providing illustrations for a book by John R. Wise. In addition to meeting new people that could influence his career, he learned, under Linton, many printing processes and a better understanding of craftsmanship. Eventually, Edmund Evans, leading woodblock color printer, asked Crane to illustrate children's nursery rhymes and fairy tales for Routledge Publishing. Crane illustrated thirty-seven books in total over the next ten years.[2]
The illustrations in these children's books, also called Toy Books, demonstrate his influence by Japanese prints. According to his biographer, Alan Crawford, this Japanese style was represented with "decorative compositions in flat, or very deep, perspective…furnished his pictures with the fashions and domestic bric-à-brac of the aesthetic movement." Even though he went on to do many other projects, he was better known as 'the academician of the nursery', which was difficult for him since he wanted to be seen as a distinguished allegorical painter.[3]
Toy books really became popular in the Victorian era and were originally only a few pages. As time went on, they could become a bit larger and illustrations became the focus of the book rather than a supplement to the text.[4] This would have started around the mid-19th century, right when Crane would have begun working on these books.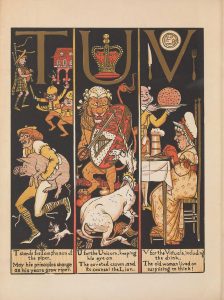 Edmond Evans, who established a contract with Routledge in 1865, commissioned Walter Crane for these illustrations. Two other major toy book illustrators of the time were Randolph Caldecott and Kate Greenaway.[5]
Figures 1 and 2 are just two illustrations from toy books that Walter Crane provided illustrations for. There are thirteen of these toy books digitized on the Smithsonian Libraries digital library webpage, all from the collections of the Cooper Hewitt, Smithsonian Design Museum Library. Figure 1 is taken from Beauty and the Beast after Beauty has a dream and returns to the Beast and finds him on the ground in very serious condition. She confesses her love for him which then breaks the curse so that he can turn into a handsome man again. Figure 2 is taken from The Absurd A.B.C. which has multiple illustrations for each letter of the alphabet and a short description or story related to the pictures. These toy books provide an interesting look at some of the more well-known fairy tales and nursery rhymes that many of us grew up reading.
You can look through any of the thirteen books we have digitized, or other works by Walter Crane, by searching through "Digital Collections" from the Smithsonian Libraries homepage, or by directly following the link listed above for these Walter Crane toy books.
References:
[1] John Simkin, "Walter Crane," Spartacus Educational, last modified October 2016, accessed December 18, 2016, http://spartacus-educational.com/Jcrane.htm.
[2] Simkin, "Walter Crane."
[3] Simkin, "Walter Crane."
[4] Wikipedia, "Toy Books," https://en.wikipedia.org/wiki/Toy_book. Last modified May 28, 2016.
[5] Wikipedia. "Toy Books."
Save
Save
Save
Save
Save
Save
Save