In conjunction with the recent exhibition "Hard-edged, Bright Color: The Washington Color School" produced by Angelique Roy at the American Art and Portrait Gallery (AA/PG) Library, the blog has been exploring the group of color artists featured in the exhibition.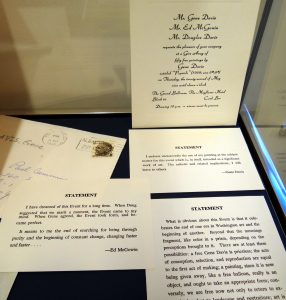 In 1969, artist Ed McGowin, art critic Douglas Davis, and the Washington Color School painter Gene Davis organized a black-tie affair at the Mayflower Hotel ballroom in Washington, D.C. entitled Give Away. The occasion was meant as a celebration, with fifty lucky attendees leaving with a free 6-foot Gene Davis painting, Popsicle, completed in McGowin's studio by a team of Corcoran students under the supervision of Davis himself. The AA/PG Library Gene Davis Art and Artist File contains the invitation to the event with a statement explaining its intentions, most notably that "it celebrates the end of one era in Washington art and the beginning of another." This marked the end of the Washington Color School era in the art scene.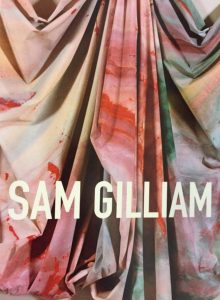 But the earliest generation of DC-based artists working in pure color in the 1950s gave way to numerous other artists working in similar styles and bold hues throughout the 1960s and 70s.
Between 1965 and 1968, Thomas Downing taught at the Corcoran School of Art and Design and it was here that his influence reached one of his students, Sam Gilliam. Around 1968, Gilliam was inspired by laundry hanging outside his Washington, D.C. studio and conceptualized the unsupported canvas. The artist removed the frame to create three dimensional, almost sculptural paintings suspended from ceilings that became known as drape paintings. The now defunct Corcoran Gallery of Art displayed many of Gilliam's drape paintings in a retrospective exhibition, of which the AA/PG Library has the preview invitation.
Alma Thomas' artistic career only began after her retirement from teaching art at a Washington, D.C. high school at the age of 69. The artistic community during the mid-20th century had been largely dominated by white, male artists, but Thomas shaped her own legacy as an African-American woman who became identified with color field artists of the "first generation." She used a lighter and looser palette during this time with works filled with abstract shapes of exuberant color inspired by the flowers, trees, and plants around her. One such example is White Roses Sing and Sing from 1976 belonging to the Smithsonian American Art Museum.
Much like Alma Thomas, Hilda Thorpe did not begin working professionally as a sculptor and painter until she was in her 40s and had raised her 3 children. Her works demonstrate her affiliation to the Washington Color School through her interest in abstract expressionism and use of bold fields of color. Thorpe created sculptures using materials such as balsa wood, piping, sheet metal and gauze and also made handmade paper works such as Edged Blue of 1963, featured in an Addison/Ripley Gallery Ltd. exhibition invitation in the AA/PG Library's Art & Artist Files.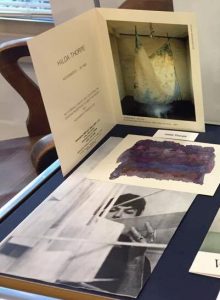 Anne Truitt, though primarily considered a major figure of the Minimalist movement, also emphasized bright color in her large-scale sculptures as well as the relationship between form and its meaning. As was common for the New York arts scene during the 1960s, Truitt was often recognized more for being "the gentle wife of James Truitt" and was even encouraged to drop her first name for a solo show at André Emmerich's Gallery in order garner more appeal. V.V. Rankine, known for her plexiglass paintings which fuse color, hard-edges and transparency, received similar discrimination being told that her career would be more fruitful if she was a man. However, each of these women artists found success and acclaim in their own right from the 1960s through the present day and are considered principal figures of the Washington Color School.
The American Art and Portrait Gallery (AA/PG) Library's exhibit on the artists of the Washington Color School has closed, but the Library has a wealth of information—books, exhibition catalogues, artist files—about Washington, D.C.'s Color Painters of the 1950s and 1960s (and beyond) which can be consulted within the Library any time between 10:00am-5:00pm, Monday to Friday.
For more on Washington Color School and this exhibition, see blog posts:
HARD-EDGED, BRIGHT COLOR: THE WASHINGTON COLOR SCHOOL.
HARD-EDGED, BRIGHT COLOR: PURE COLOR.
HARD-EDGED, BRIGHT COLOR: GENERATIONS OF COLOR.
—"Hard-Edged, Bright Color" was produced by Angelique Roy, with assistance from Anne Evenhaugen. Roy was the 2016 ARLIS/NA Wolfgang Freitag Internship Award recipient, and completed her internship at the Smithsonian American Art and Portrait Gallery Library.
Save
Save
Save
Save
Save
Save
Save