With such cold temperatures, this might be a good time to stay indoors for an arts and crafts project. In the past, we highlighted a trade catalog related to knitting and crocheting, but this time let's look at a catalog for artists.
The trade catalog is entitled Fountain Air Brush (circa end of 19th Century) by Thayer and Chandler. It features the Fountain Air Brush, which had several artistic uses.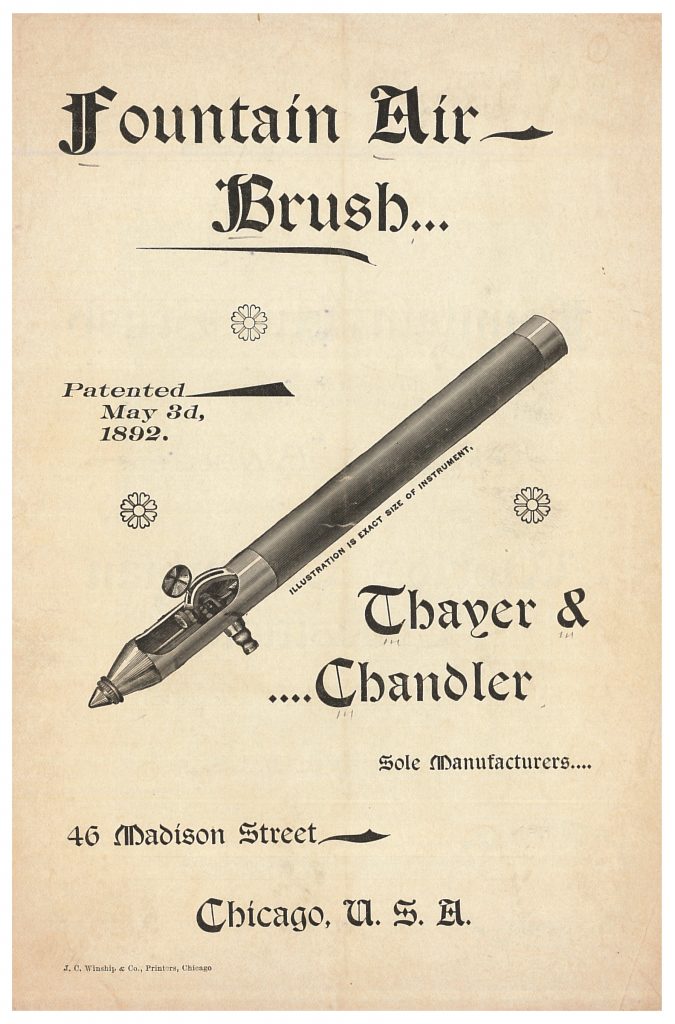 Artists, photographers, lithographers, or architects might have used this tool. Photographers could have used it to color photographs or retouch large negatives. Architects could have used it to complete designs and plans. Artists could have used it for portrait work.
Depending on the type of texture the artist wanted to create, the air brush made either fine or coarse lines. It had the ability to distribute a small amount of color, such as a hairline, but then quickly adjust to larger amounts, such as one solid half-inch wide band.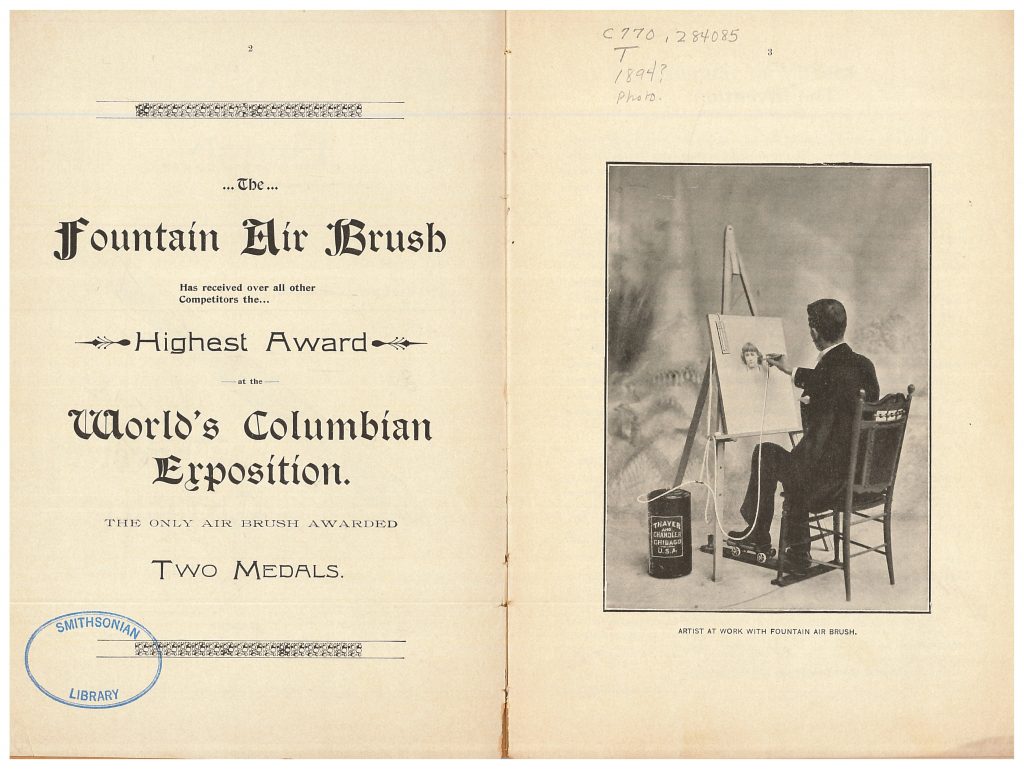 The Fountain Air Brush consisted of several parts, including the hand piece, case, holder, pump, air tank, air gauge, and rubber tubing. The air brush was shaped like a pencil but a bit larger. The artist worked the pump by foot forcing air into the air tank, and then the rubber tubing moved air from the air tank to the brush.
The diagram marked with letters, below left, illustrates the different parts of the brush. The rubber tubing connected to the brush at a valve where the air entered. There was a small hole in the point of the cap for air to escape which produced a strong suction to draw out and spray the color. The page accompanying the diagram includes detailed information on operating the air brush. In particular, it explains how it produced varying amounts of color.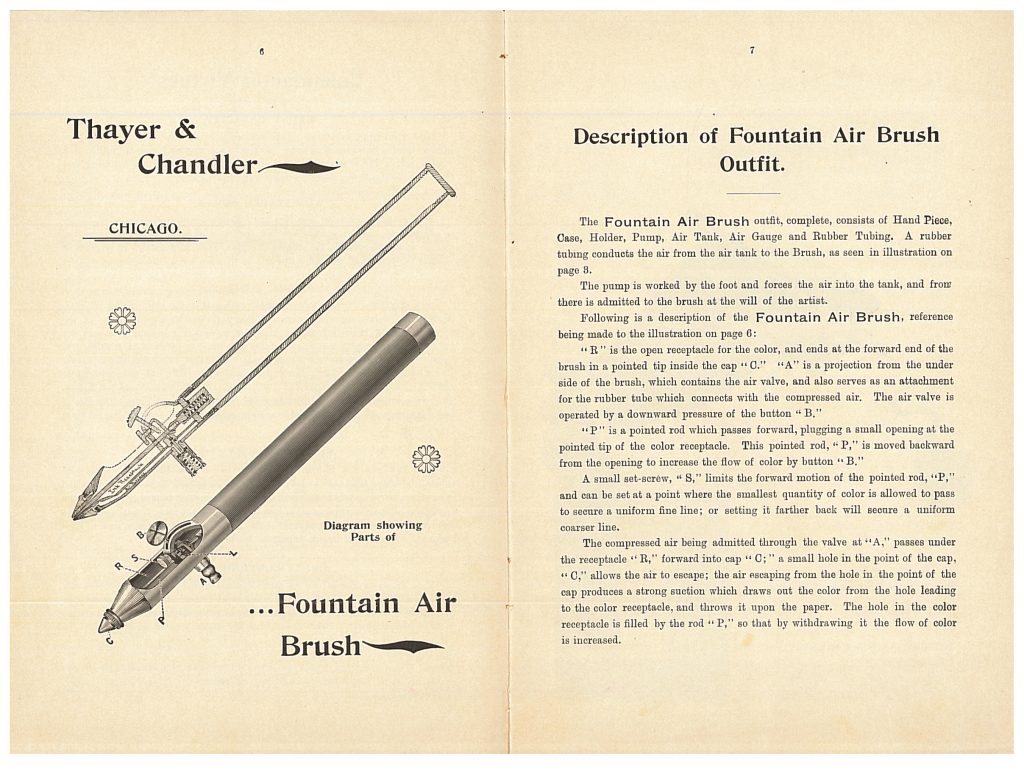 The artist held the fountain air brush in the hand just like a pen or pencil. It was adaptable for either a right-handed or a left-handed person. The fingers controlled all the necessary movements of the brush while the foot worked the pump. Illustrated below is the Fountain Roller Pump along with the Fountain Air Gauge for measuring the air pressure.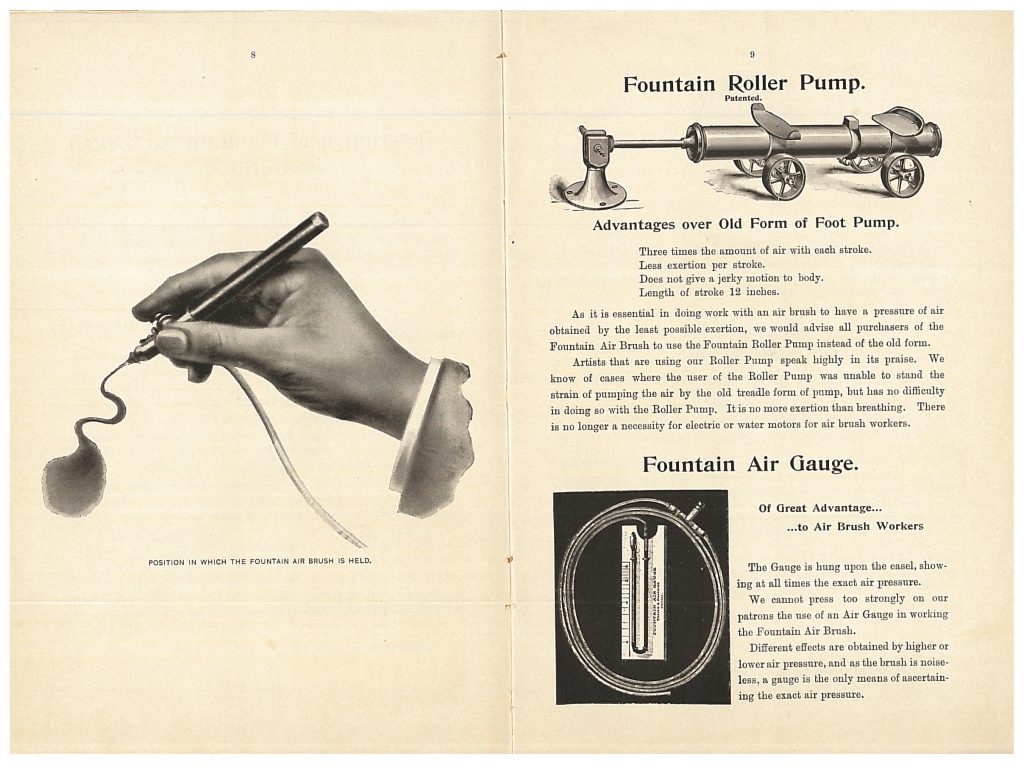 This trade catalog, Fountain Air Brush (circa end of 19th Century), and other trade catalogs about artists' materials by Thayer & Chandler are located in the Trade Literature Collection at the National Museum of American History Library.