This post was written by Angela Brooks, Fall 2019 intern in the Smithsonian Libraries Research Annex.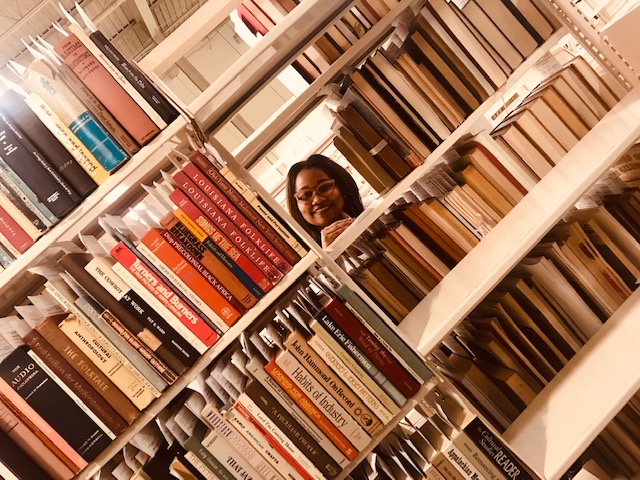 What an honor and privilege to have been granted an Internship with the Smithsonian Libraries during the Fall 2019 semester. My placement at the Smithsonian Libraries Research Annex (SLRA) in Landover, MD offered irreplaceable exposure and insight as it relates to cultural heritage institutions. As I write, I am preparing to complete my Master's in Library and Information Science at the Catholic University of America and am thankful to have enriched my studies by interning at SLRA.
During my time at SLRA, I processed items for accession from the Smithsonian Center for Folklife and Cultural Heritage (CFCH) Research Collection and the John Hasse Collection. I witnessed how two research collections were interconnected by an array of cultural subjects, genres, and geographic locations. "We are more alike than different" is a common theme that resonated for me across the monographs held within the collections. There sits a collective voice of music, folklife, and American history that inspires, entertains, enlightens, and challenges readers to do something– to sing, to dance, to remember, and/or to become something that will in turn serve our great nation.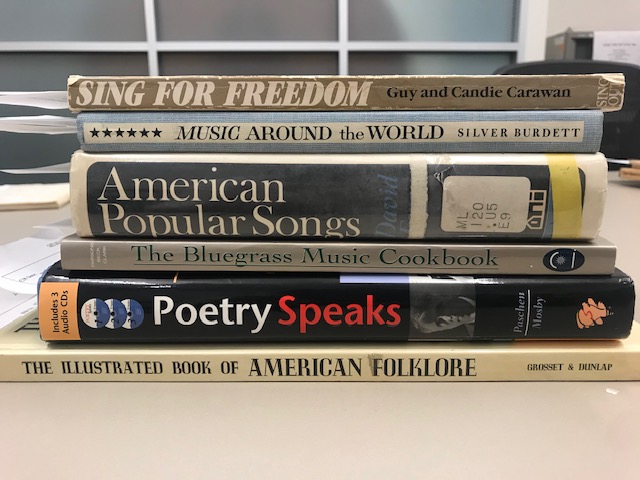 Each day I would take a journey beyond space and time by way of the diverse resources held within the CFCH and John Hasse Collections. I was granted the great experience to touch the ephemeral, and witness inscriptions left behind by notable creators. Notes and ephemera that leave the reader to wonder what life was like in America during the early- to mid-20th Century.  Thanks to the Smithsonian Libraries, pieces of our great history are preserved and continue to live on.
In particular, the works by and about Woody Guthrie within the CFCH collection indicate that there was work to be done during the Great Depression and Dust Bowl era, with regards to the sociocultural, economic, and political landscape of America. Likewise, today, work still needs to be done as citizens attempt to make sense of the American Dream.
I came across a colorful and beautifully illustrated children's book that laid out the lyrics to the song This Land Is Your Land arranged by Woody Guthrie. This historically controversial song continues to spark conversation and serve as a 'call to action'. Our history is complex, beautiful, and sorrowful; yet, it illustrates a story of resilience and transformation. My takeaway: if citizens far and wide hold onto Guthrie's call, the American Dream might be realized on an individual level which will in turn inevitably impact the larger society.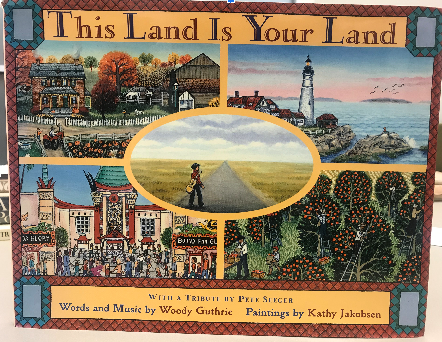 In addition to standing in awe of the CFCH and John Hasse collections, I was also able to gain exposure by attending staff meetings including a Wikidata workshop and participating in tours at several Smithsonian Library Branches. I was able to make connections between the classroom and the field. For instance, the Wikidata workshop exposed me to principles I later applied during a final presentation in one of my courses this semester. Many thanks to the amazing staff members who took time to enlighten me, to answer questions, and to show me around; you all are appreciated!
I am extremely grateful to have worked alongside Mrs. Daria Wingreen-Mason and Mr. Alan Katz; their enthusiasm for the collections they steward truly inspired me. As a mentor/site-supervisor, Mrs. Wingreen-Mason was supportive, responsive, and a huge cheerleader of my professional interests and aspirations. I am thankful for the time she took to 'pay it forward' to an aspiring Librarian, like me!
Last but certainly not least, I am thankful to the Smithsonian Libraries Fellowships and Internships Program for selecting me to embark on an unforgettable journey as a Fall 2019 Intern!
In the words of the late Woody Guthrie, "Take it easy, but take it"