As winter winds down and spring approaches, outdoor activities start to look more appealing. How did people a 100 years ago spend their free time outside? The National Museum of American History Library's Trade Literature Collection offers a few clues to some very recognizable pastimes.
Let's take a look at two trade catalogs from the early 20th Century. One is from 1907 and the other is from 1915. The first trade catalog is titled Catalogue No. 101 (1907) by Herr, Thomas & Co. As highlighted in previous posts, this particular catalog advertises a variety of products such as furniture and writing supplies as well as toys, musical instruments, and jewelry. But there is so much more. It also includes a few pages focused on recreation and outdoor activities appropriate for all four seasons.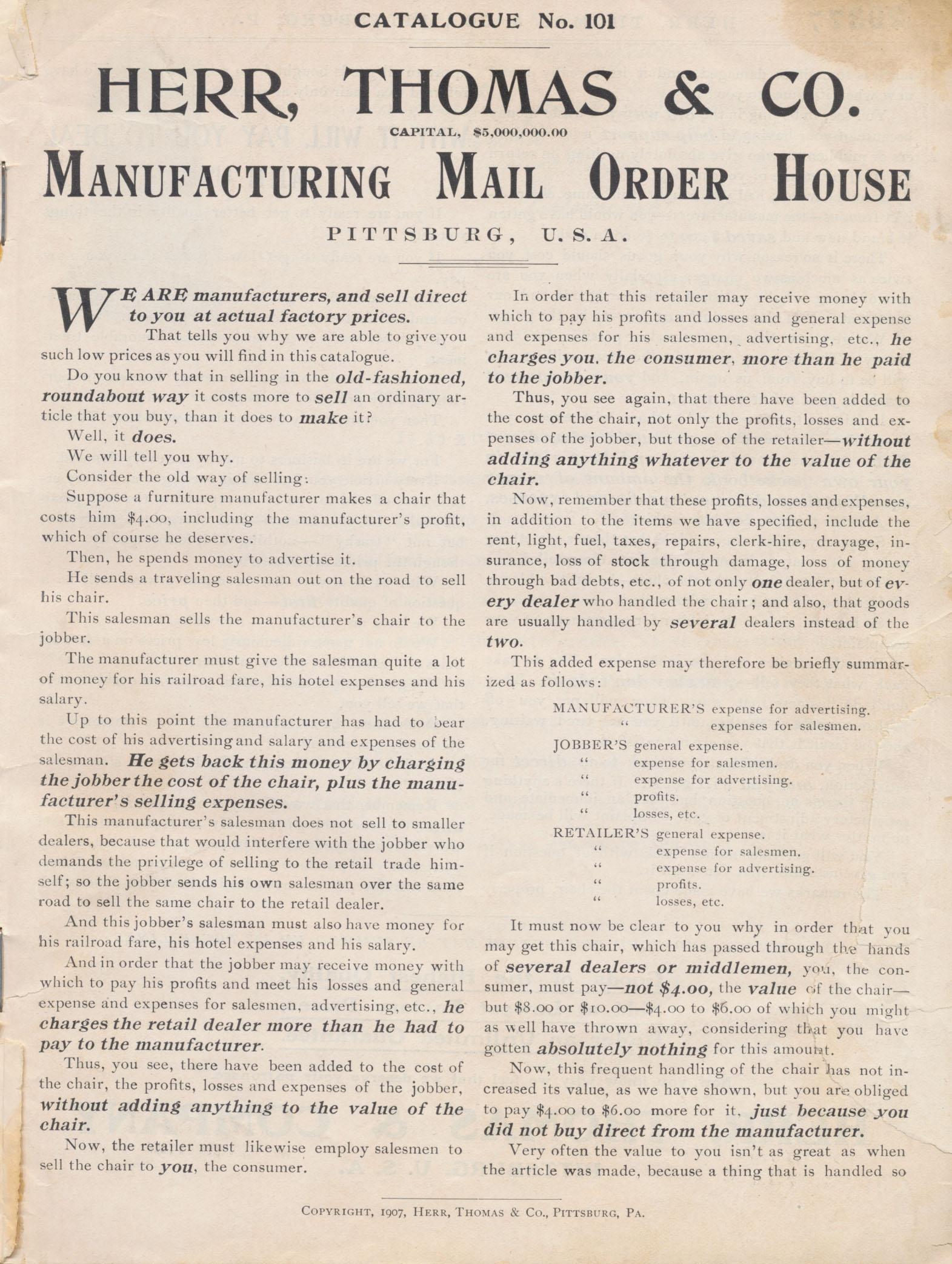 A winter activity some enjoy today is sledding. Judging from the fact that Catalogue No. 101 (1907) advertises sleds, children in the early 20th Century probably also enjoyed that activity. From this catalog, we gain a glimpse into the types of sleds they might have used. A page from the toy section, shown below, illustrates three sleds.
One sled was called the Flexible Flyer. It featured the ability to steer without decreasing speed. This was accomplished by applying just a slight pressure on the cross bar. Another sled, the Clipper Sled, was made of hardwood with steel runners. It included four hand grips to hold onto while coasting down hills. Two hand grips were positioned on each side of the runners. The seat of the sled was decorated with a design incorporating a ship. The third sled, simply labeled a "Sled" in the catalog, featured full-length hand rails on each side. It also conveniently came with a foot rest. The foot rest was positioned between the curved front pieces. Iron swan heads adorned the top of the curved front pieces which also held the guiding rope. According to this catalog, the seat of the sled was decorated in five colors but does not mention specific colors.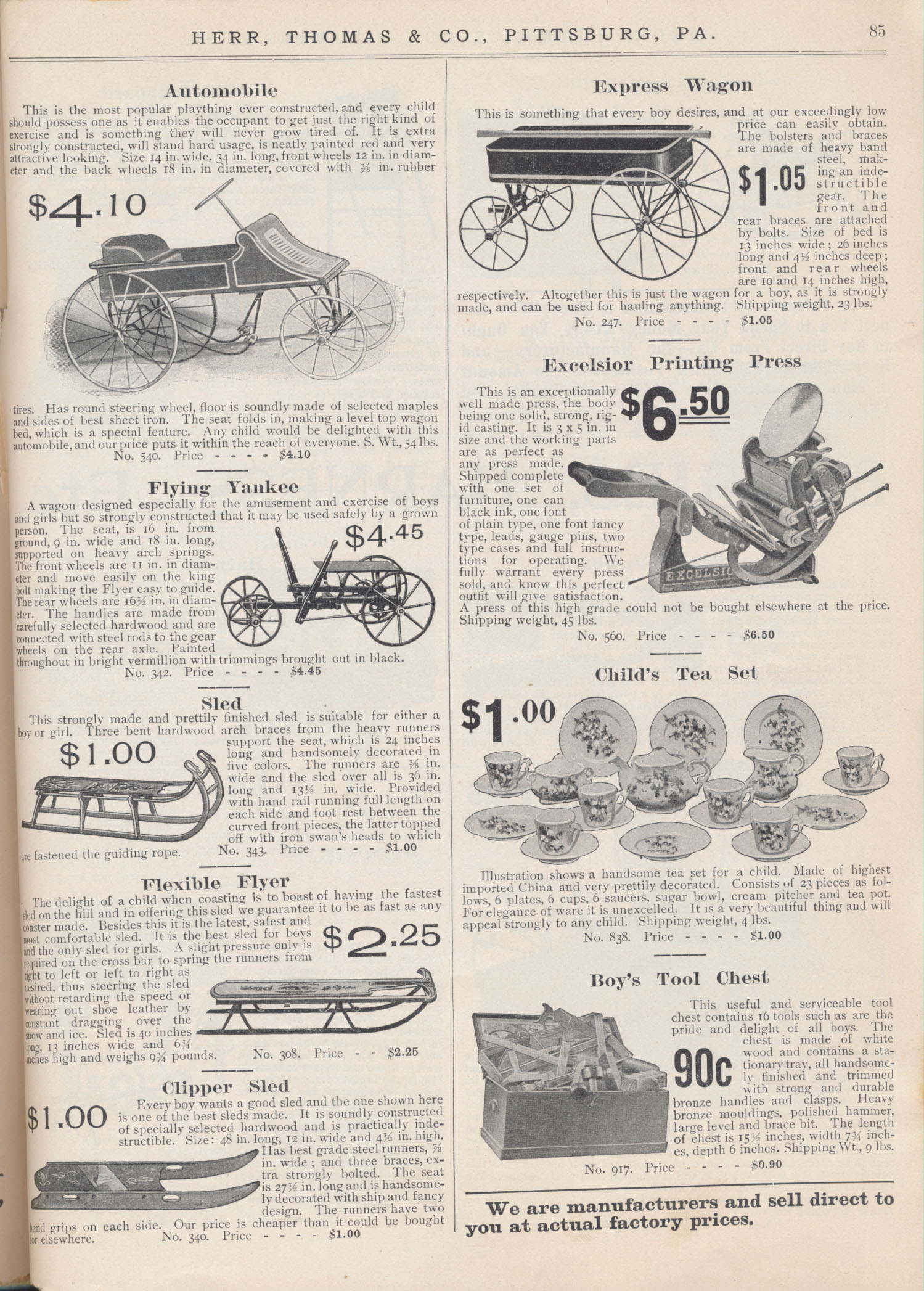 After an afternoon spent outdoors sledding, cocoa might have been a pleasant surprise. Herr, Thomas & Co. also sold food and grocery products. This included cocoa and "sweet eating chocolate." Bitter chocolate for cooking purposes, tea, coffee, pickles, and preserves are also described in this catalog.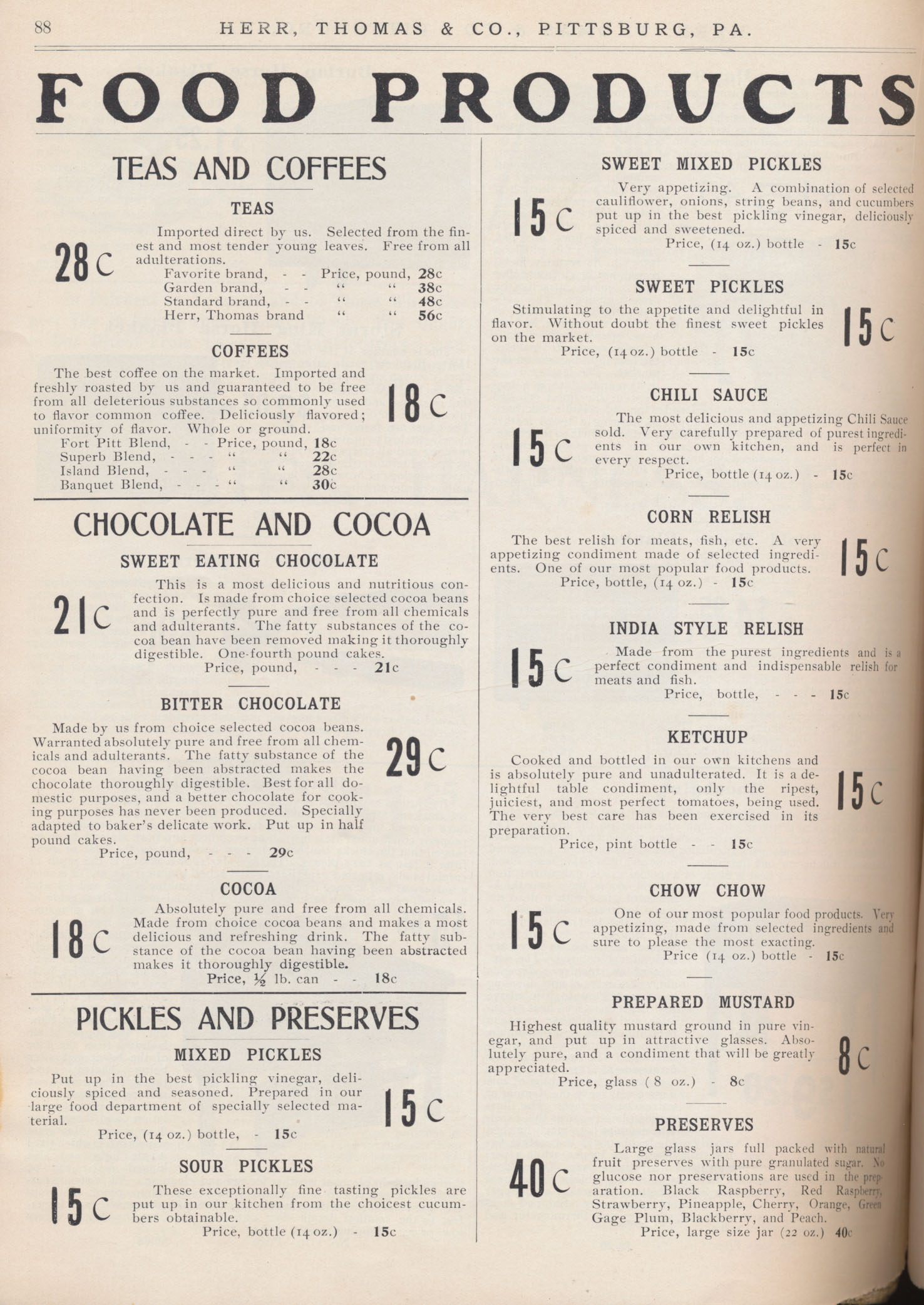 What about outdoor activities during spring, summer, and fall? Herr, Thomas & Co. trade literature also provides clues as to what people in 1907 possibly enjoyed during the warmer months. These activities might sound familiar to us today as well. The page below shows two hammocks. Perhaps someone enjoyed an afternoon reading a book or simply resting on a hammock. The hammocks shown below were woven with cotton yarn and available in green, yellow, or red. An added bonus for comfort was the roll pillow. The hammock shown below, middle left, was a bit more decorative due to the 15 inch deep valance.
Consumers in 1907 also had the option of buying a simple lawn chair for their backyard. The striped Lawn Chair (below, top right) was foldable. Its frame was made of hardwood. The Lawn Chair was also adjustable to either a sitting or reclining position. Other possibilities for relaxing outside in the garden included the Reed Tete and Lawn Settee, both shown below.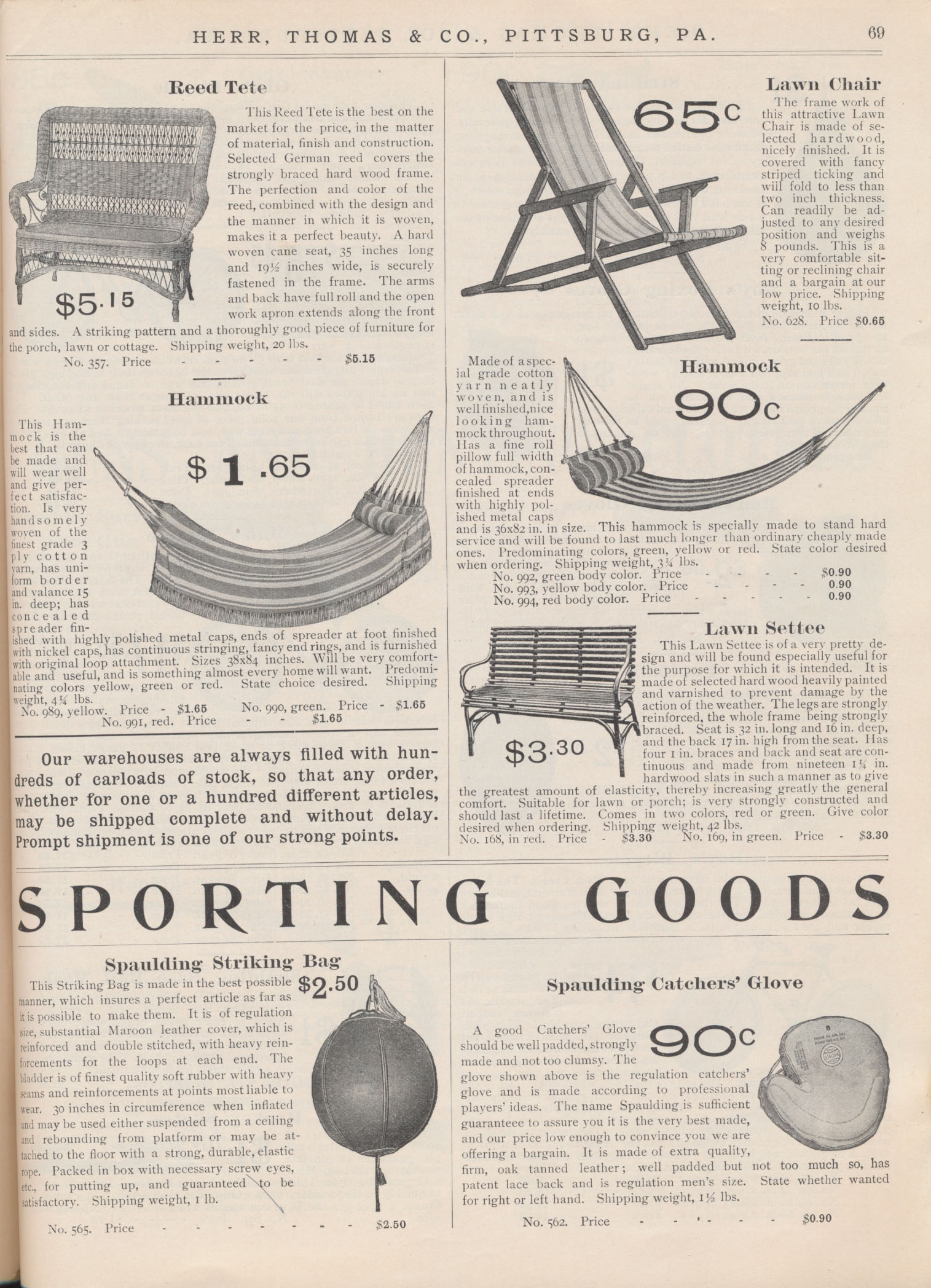 Another idea for a relaxing afternoon is resting on a Porch Swing. The Porch Swing, shown below (bottom right), featured a slightly curved seat with the convenience of both a foot rest and leg rest. The leg rest extended 17 inches below the seat connecting to a solid foot rest which was covered in linoleum. While adults rested on the porch, perhaps children played in the Lawn Tent (below, bottom left). Maybe the Lawn Tent was a setting for their own tea party using the Child's Tea Set, also sold by Herr, Thomas & Co. The Lawn Tent was made of cotton duck and measured 8 feet wide, 8 feet long, and 8 feet high.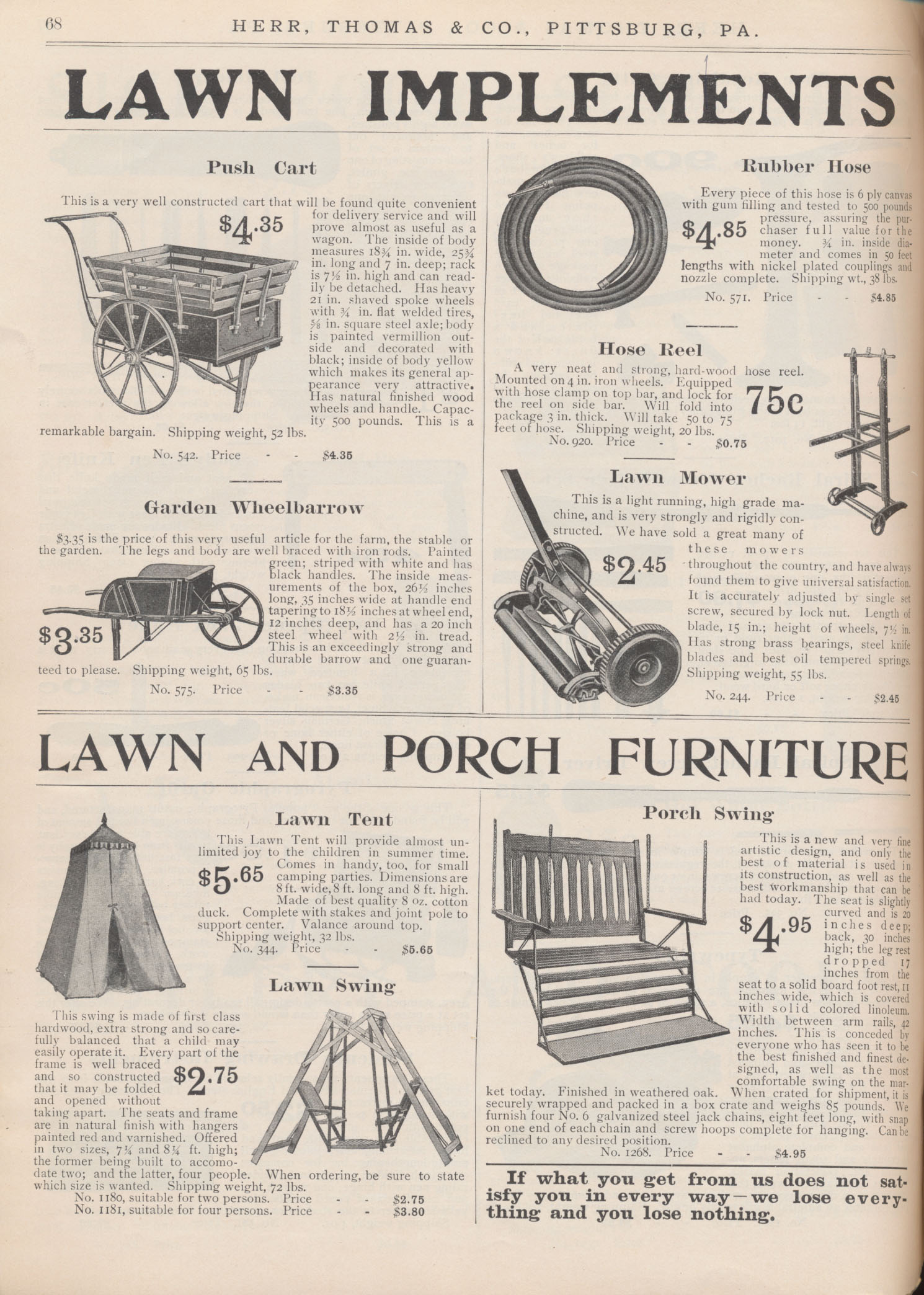 Moving along, a little over a decade later, let's take a look at Spring & Summer Catalog (1915) by John Wanamaker. As described in a previous post, this particular catalog illustrates clothing. This includes riding habits and other accessories for horseback riding.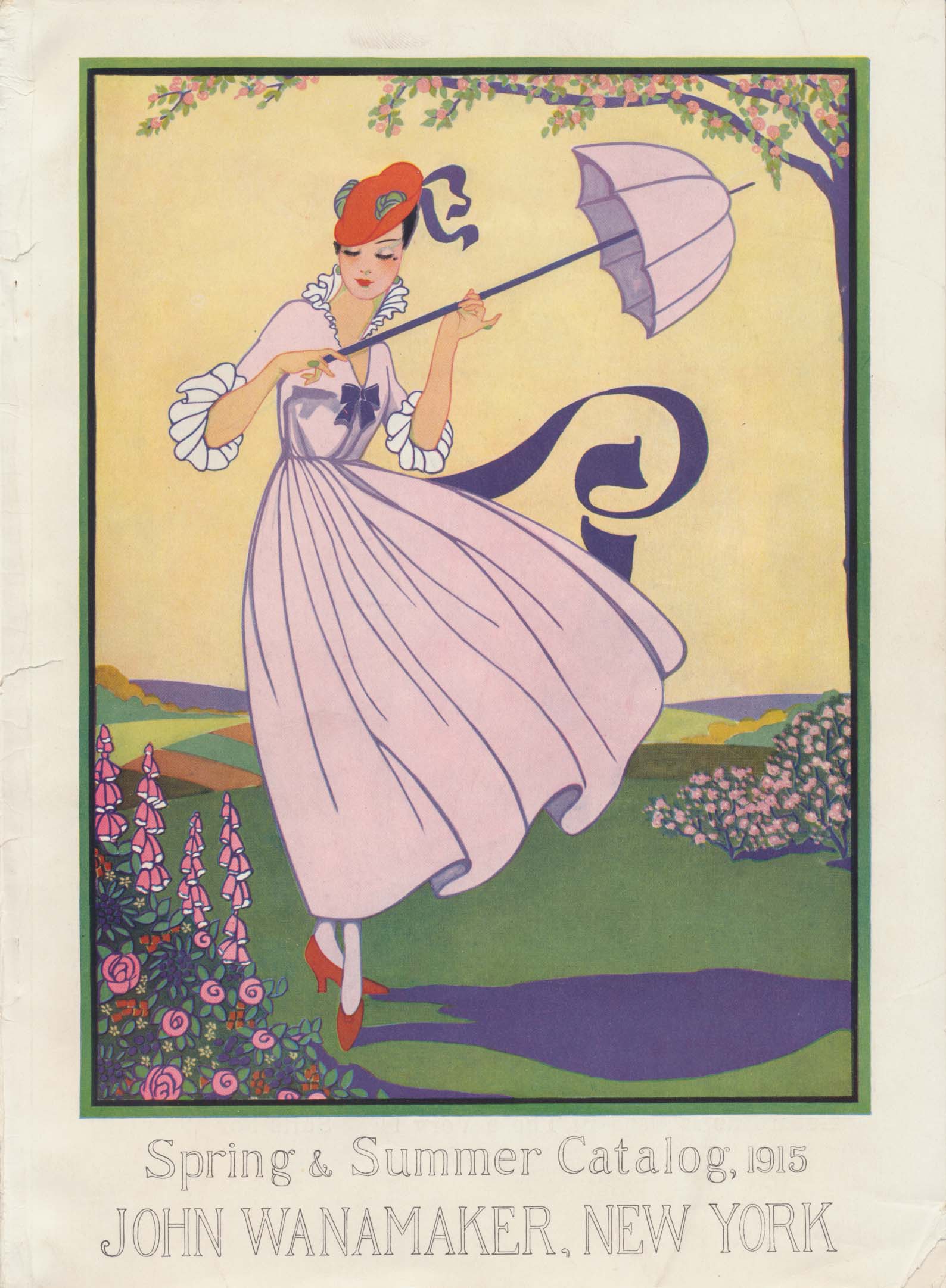 Both side-saddle and cross-saddle riding habits were available. "Cross-saddle", or astride, refers to the more common type of saddle used today. The side-saddle habit (below, top right) was a three-piece set made of tan linen. It consisted of a safety skirt, three-quarter coat, and reinforced breeches. As might be expected, the cross-saddle habit pictured below (bottom left) consisted of two pieces, the long coat and reinforced breeches.
However, it was also possible to buy a different cross-saddle habit which came with a skirt. As a two-piece set, it included only a coat and breeches, but with the addition of a shell skirt, it was also available as a three-piece set. The shell skirt opened in the front and back making it a split skirt and providing the ability to ride cross-saddle. This particular riding habit with a black and white checkered pattern is shown below (bottom right). Other riding equipment and accessories illustrated in this catalog include riding boots, shirts, collars, bowties, and hats.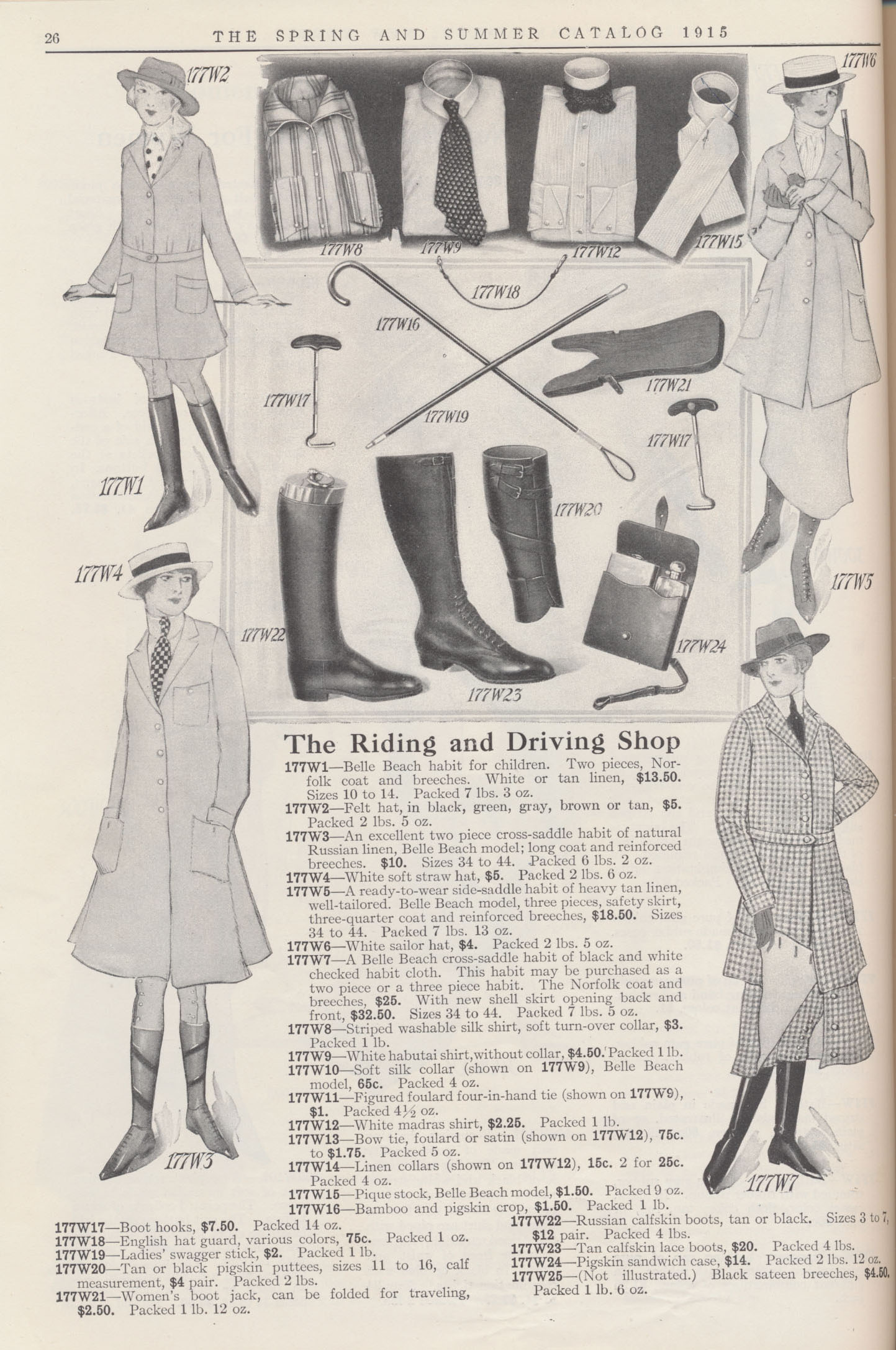 Besides providing clues as to the types of products bought by consumers in the early 20th Century, these trade catalogs also show the types of activities they might have participated in and enjoyed. Catalogue No. 101 (1907) by Herr, Thomas & Co. and Spring & Summer Catalog (1915) by John Wanamaker are both located in the Trade Literature Collection at the National Museum of American History Library.