Do you remember summer camp as a child? Perhaps you went on a camping trip with your family or maybe you camped out in your own backyard. The Trade Literature Collection located at the Smithsonian Libraries and Archives holds a variety of catalogs. Some illustrate camping equipment. Have you ever wondered what it was like to camp over a century ago? This trade catalog might give us an idea.
The trade catalog is titled Awnings and Tents, Signs and Banners (1882) by Murray & Baker. Just as the title suggests, it includes tents, and as we will learn later, one style even had an awning. It also illustrates camping stoves and camp furniture as well as hammocks for that late afternoon nap.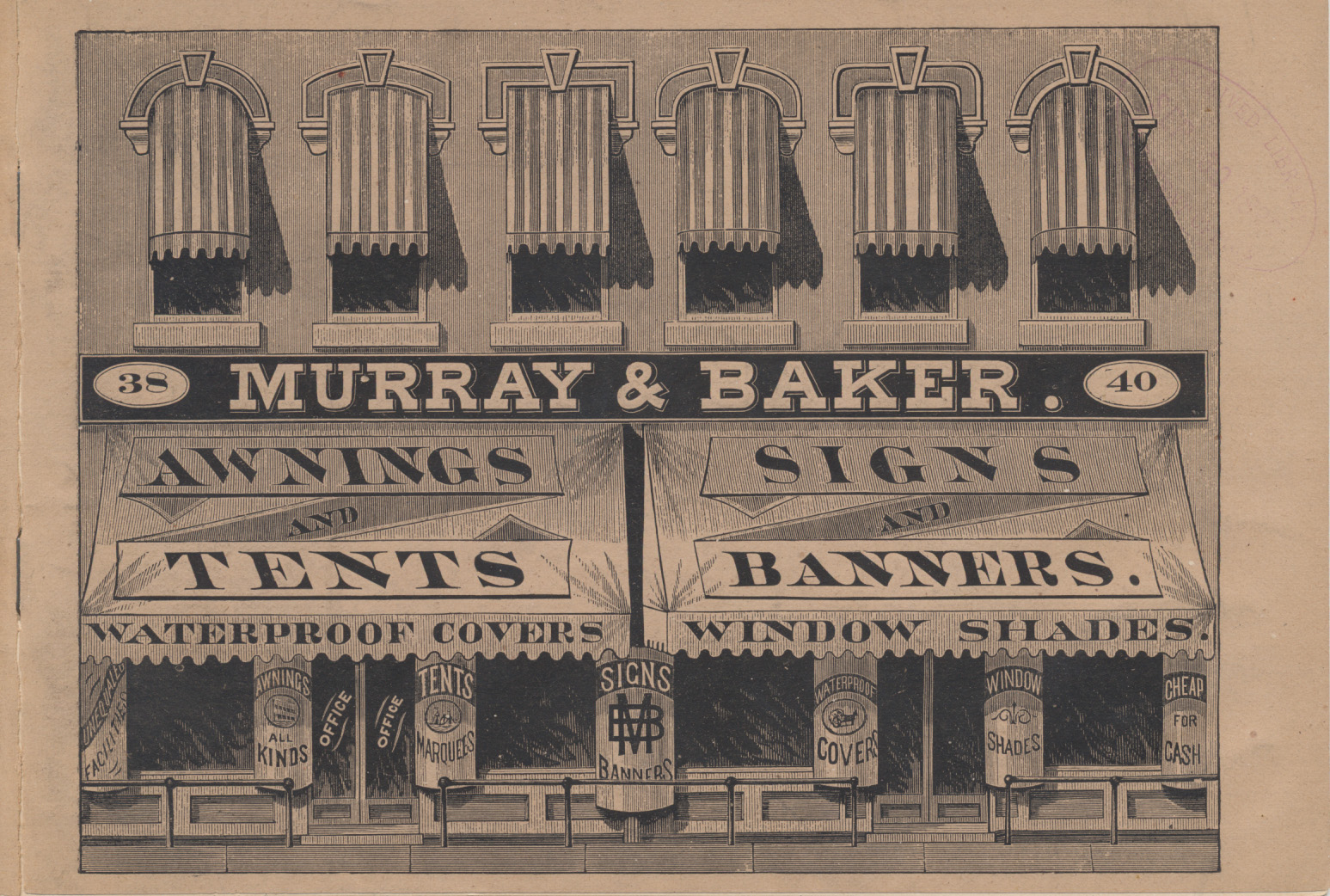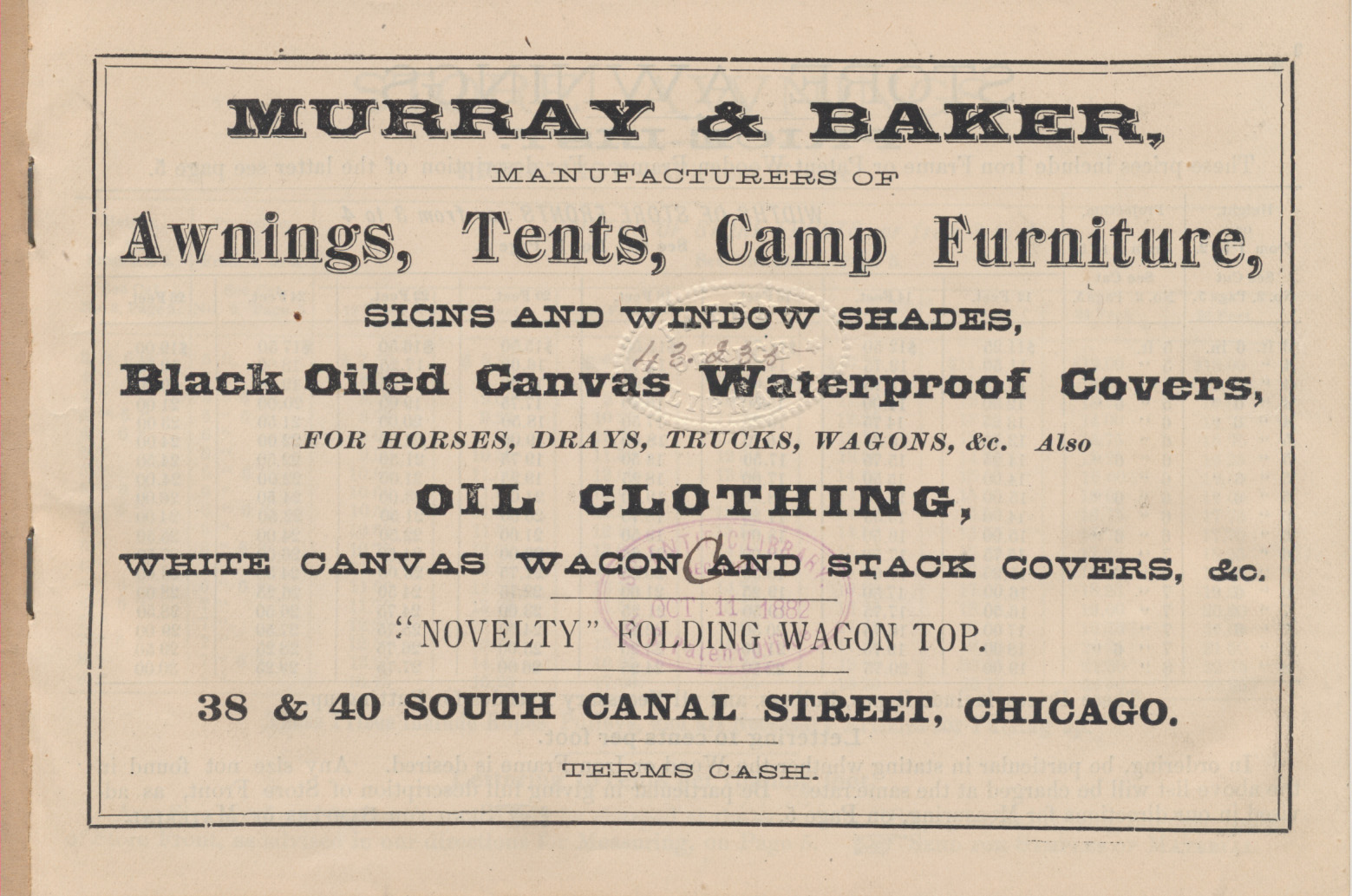 The Round Tent, illustrated below, varied between 8 to 11 feet in height and 10 to 16 feet in diameter. It was available in two designs. One design included a wall measuring two feet three inches in height before sloping inward to create a point at the very top. The other design did not include the wall. As shown below, ventilators were located near the point of these tents. This was likely a convenient and welcome feature as it provided air circulation. The Round Tent with a wall is pictured below, bottom right, while the Round Tent without a wall is pictured to its left.
The portable nature of this tent made it easy to pack for a camping trip. The center pole of the tent conveniently folded into two pieces and then all the poles and stakes were rolled inside the folded tent.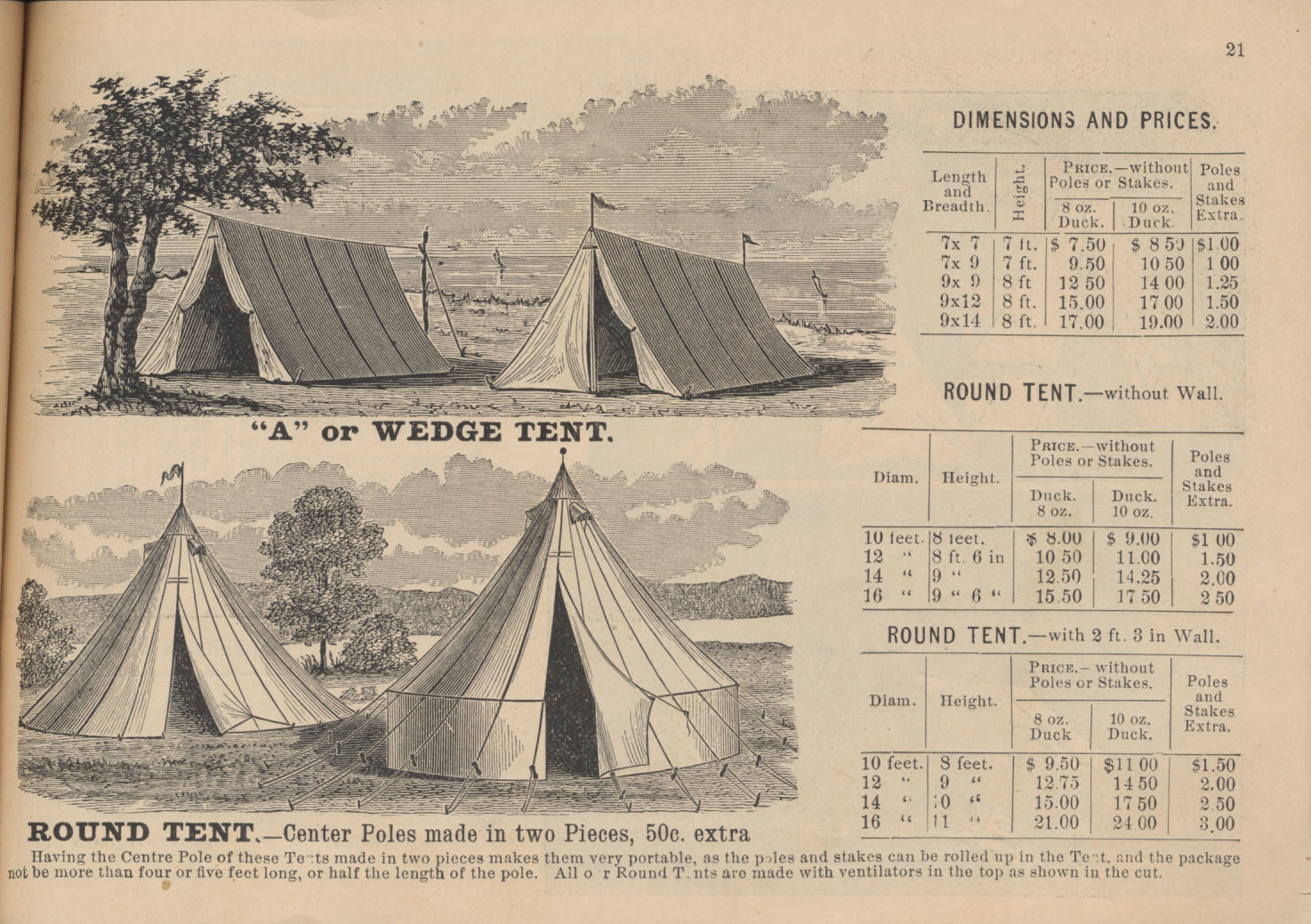 Those who wanted their own space might have preferred the Family Tent, illustrated below (bottom left). The common room was described as a Dining Room and located in the center of the tent. Two or four bedrooms surrounded the dining room. The bedrooms were separated by sheeting, six feet in height, attached by rings onto cords that stretched from the center poles to the sides of the tent. This tent also had a wall measuring 6 feet in height before sloping inward to create a peak at the top.
The Family Tent provided a handy built-in feature for the comfort of its occupants. It had an awning that was created by simply lifting one wall of the tent and supporting it with poles. As illustrated below, the addition of the awning created both air circulation and shade.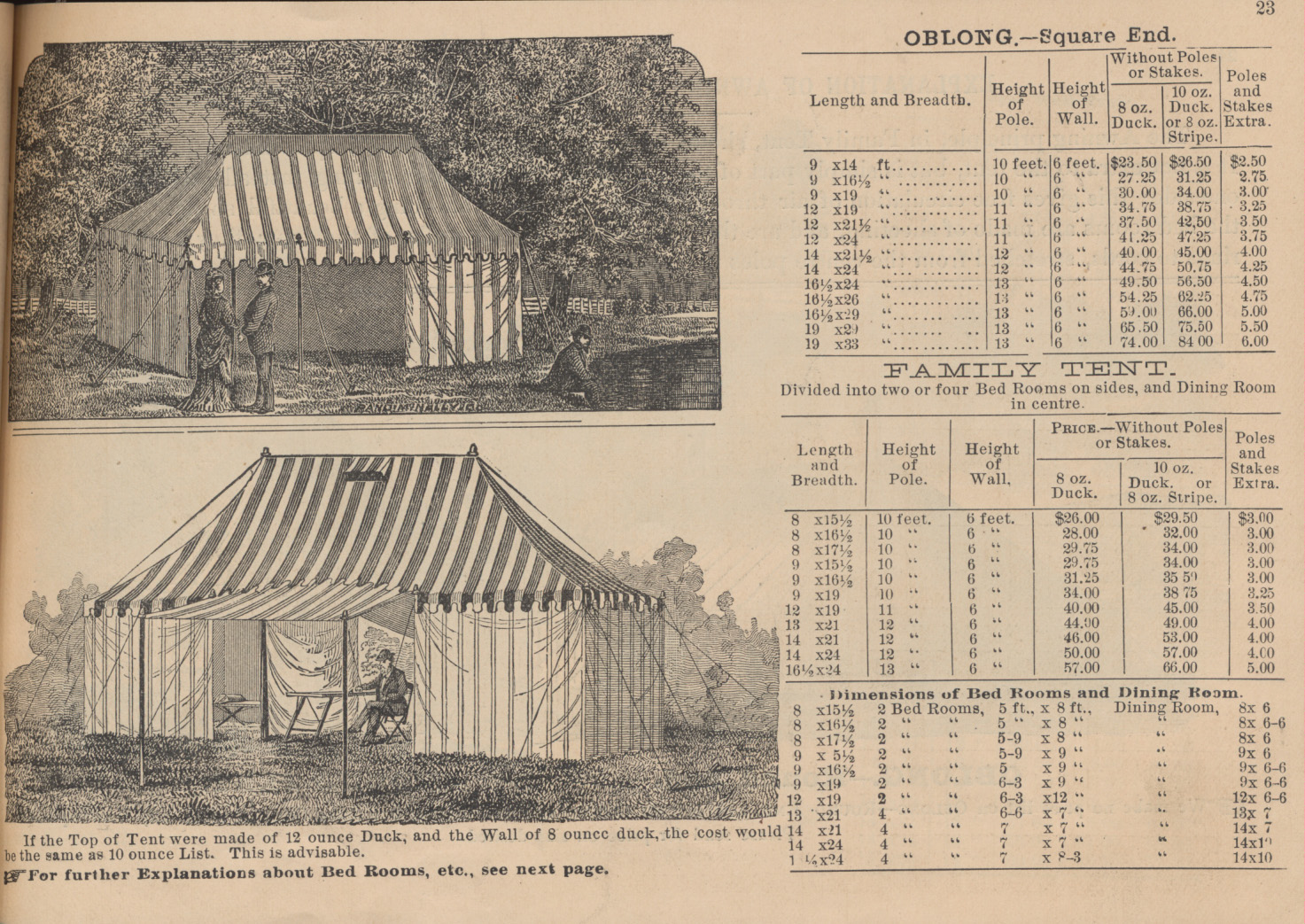 In a previous blog post, we highlighted camp furniture such as folding tables, chairs, beds, and the combination trunk/cupboard/table. Now let's take a look at camp stoves. The "Adams & Westlake Oil Stove" is pictured below and included several options. It was available with one, two, or three burners, as a double stove, or even an oven for baking. Besides cooking, it also provided warmth on chilly nights by using "Armour's Improved Flue Heater Attachment."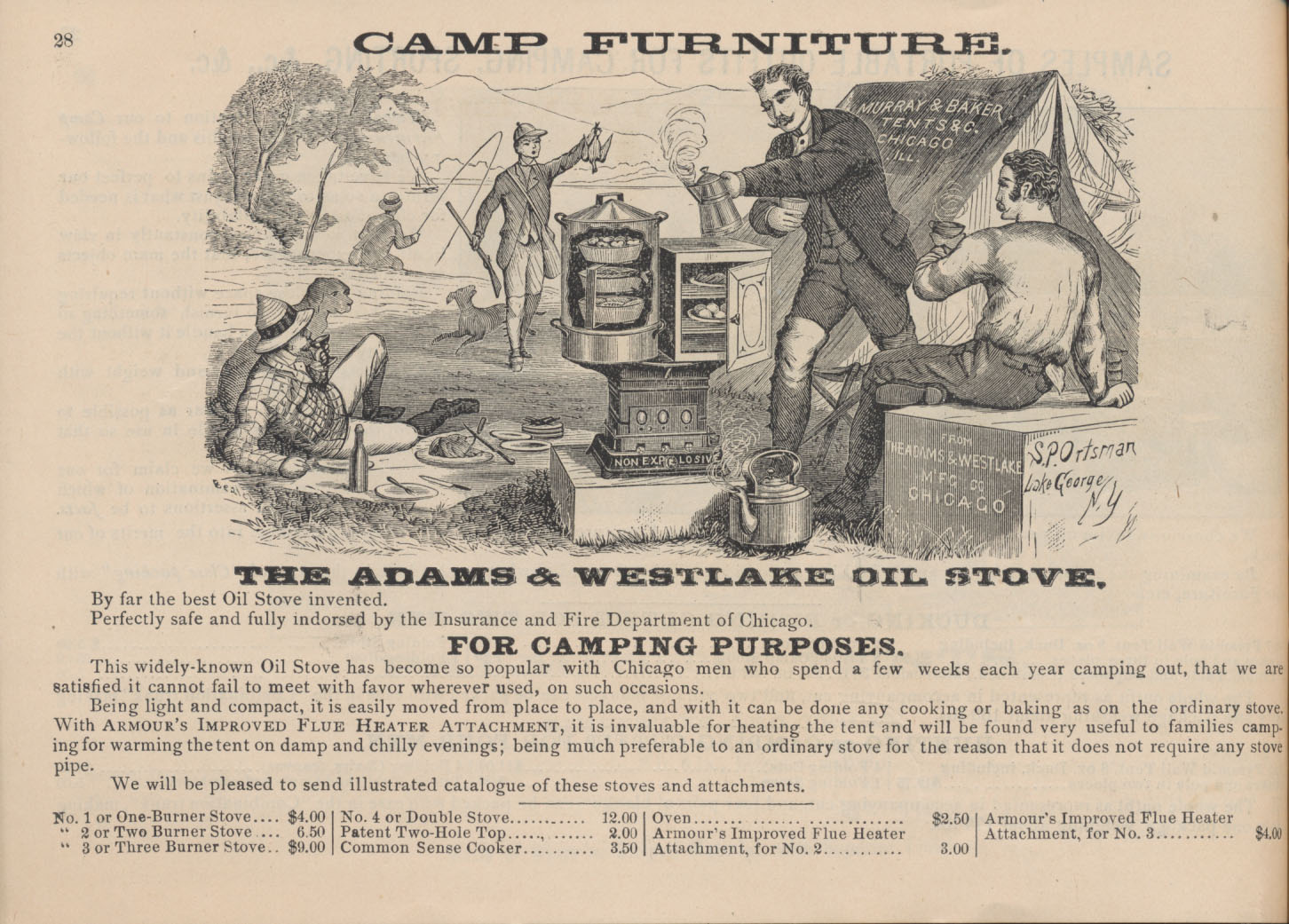 Though the "Adams & Westlake Oil Stove" was described as "light and compact" and "easily moved from place to place," another camp stove might have appealed to some campers due to its ability to be used as a packing crate. The camp stove, pictured below (top), doubled both as a stove and a packing crate. This stove was constructed without a bottom and relied on the ground to form its bottom. With no actual bottom, the stove was easily converted into a packing crate by simply turning it upside down. Then the stove pipe and cooking utensils were safely stored inside.
When it came time for an afternoon nap, these hammocks, shown below, might have looked inviting. Imagine a peaceful afternoon spent resting or reading a book outdoors in the fresh air. The Rubber Air Pillows and Waterproof Camp Blankets mentioned on the same page might have been useful as well.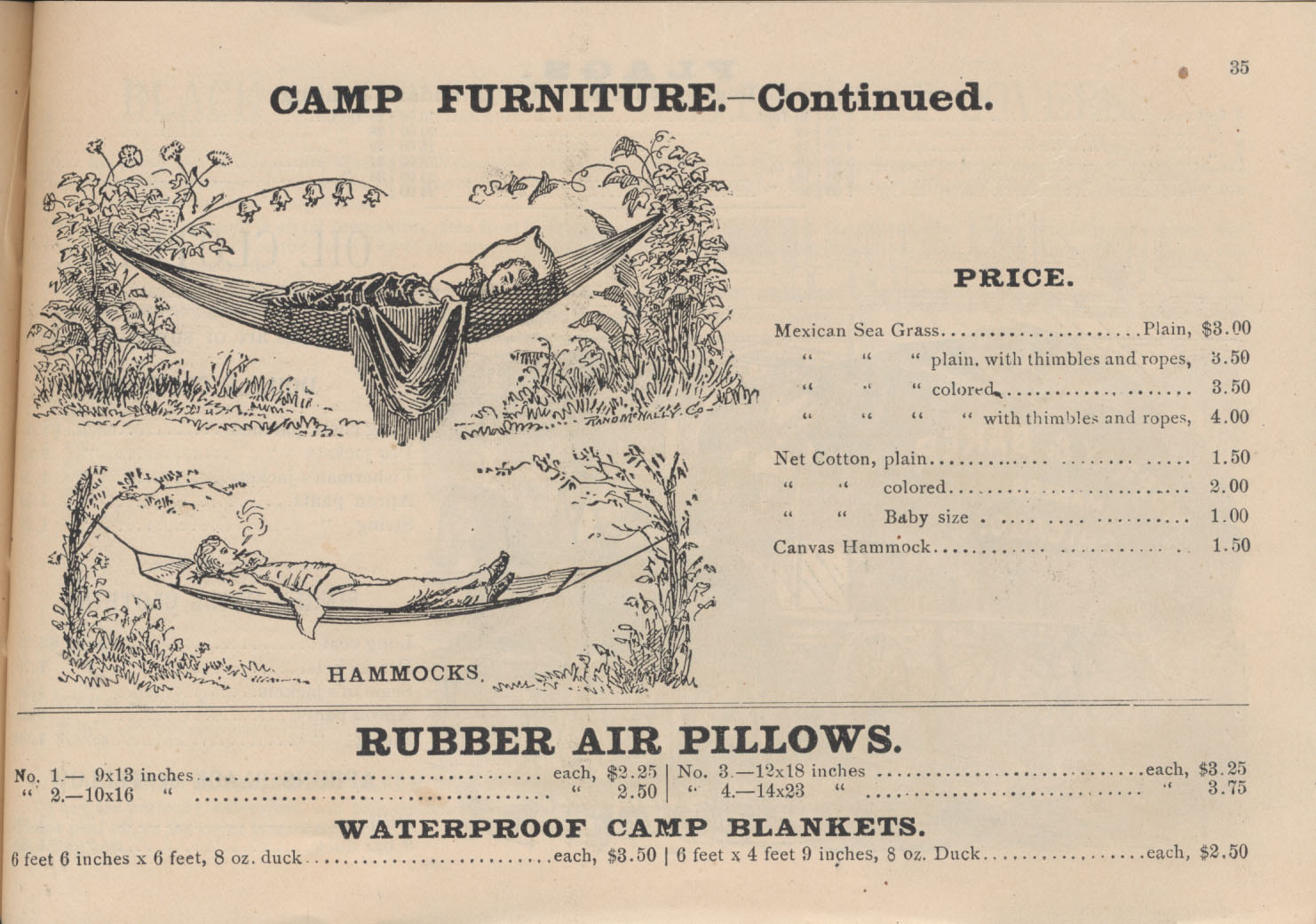 Awnings and Tents, Signs and Banners (1882) by Murray & Baker is located in the Trade Literature Collection at the National Museum of American History Library. Murray & Baker sold more than just camping equipment. Among other items, they also provided awnings, buggy tops, wagon umbrellas, and waterproof wagon and horse covers as described in a previous blog post.