The beginning of a school year brings many new things. New classes, new supplies, and perhaps new clothing. What did school outfits look like over one hundred years ago? Let's take a trip back in time to the year 1915 to find out.
Trade catalogs provide a window into the past, sharing clues of what was available to consumers at a specific time. This particular trade catalog is titled Spring & Summer Catalog (1915) by John Wanamaker. At first glance it appears to primarily focus on women's clothing, but with a closer look you will find a few pages illustrating children's clothing.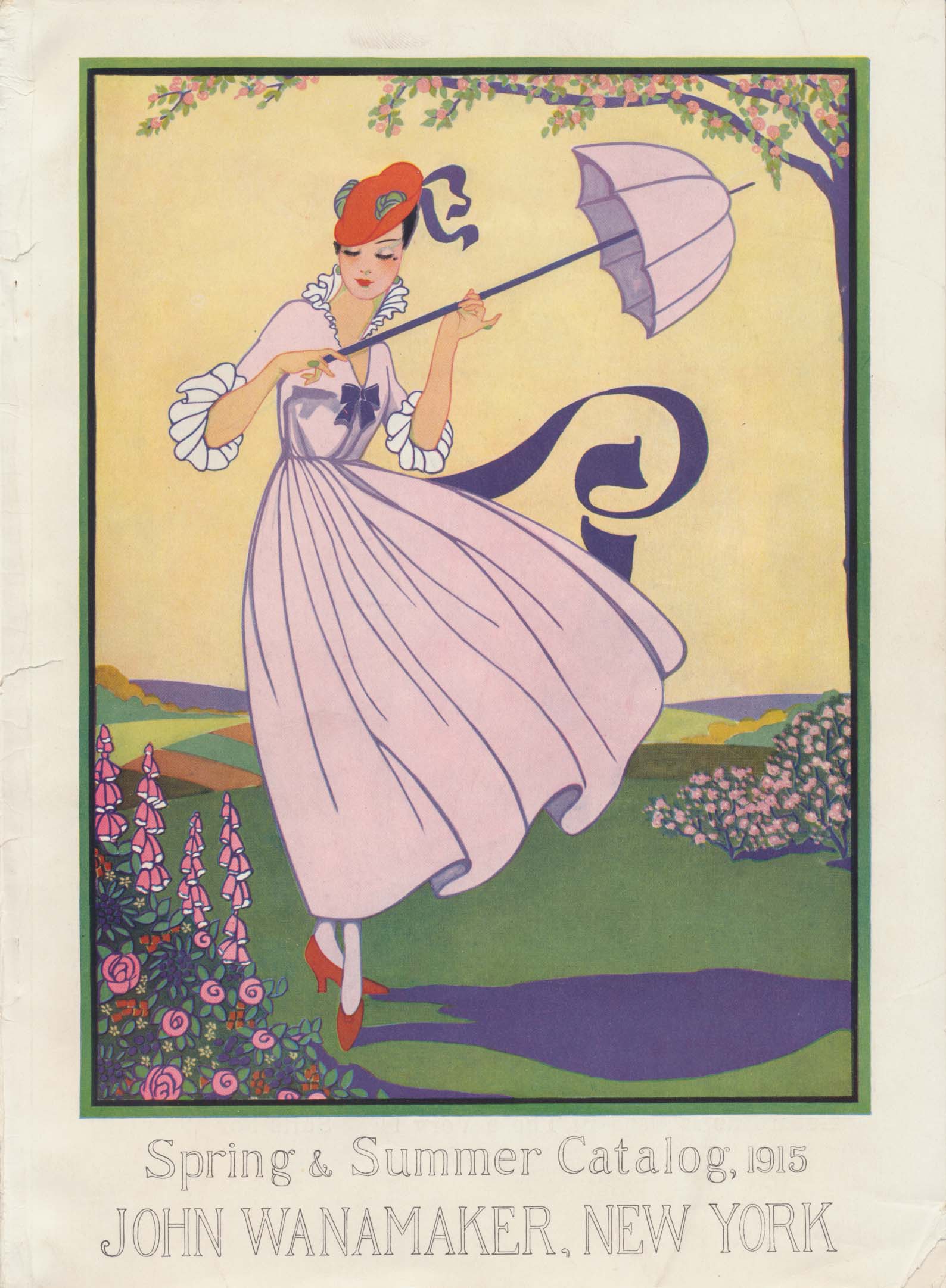 One page illustrates girls' dresses. Several gingham dresses along with a party dress are pictured, but one dress is described as a "practical school dress." It is worn by the girl carrying a doll (below, upper left). The dress was plaid with a pleated skirt and wide belt. Its front panel was trimmed with white braid and crochet buttons. Other decorative elements included a velvet bow at the neck and dotted Swiss collar and cuffs, both with scalloped edges. Sizes ranged from 6 to 14 years.
For a fancy occasion, the "party dress of white voile" might have appealed to a young girl. Shown below (to the right of the school dress), the party dress included lace trimmings along the collar, sleeves, and skirt which was pleated. To complete the outfit, a decorative pastel bow was attached to the side at the waist. It was available in sizes 6 to 14.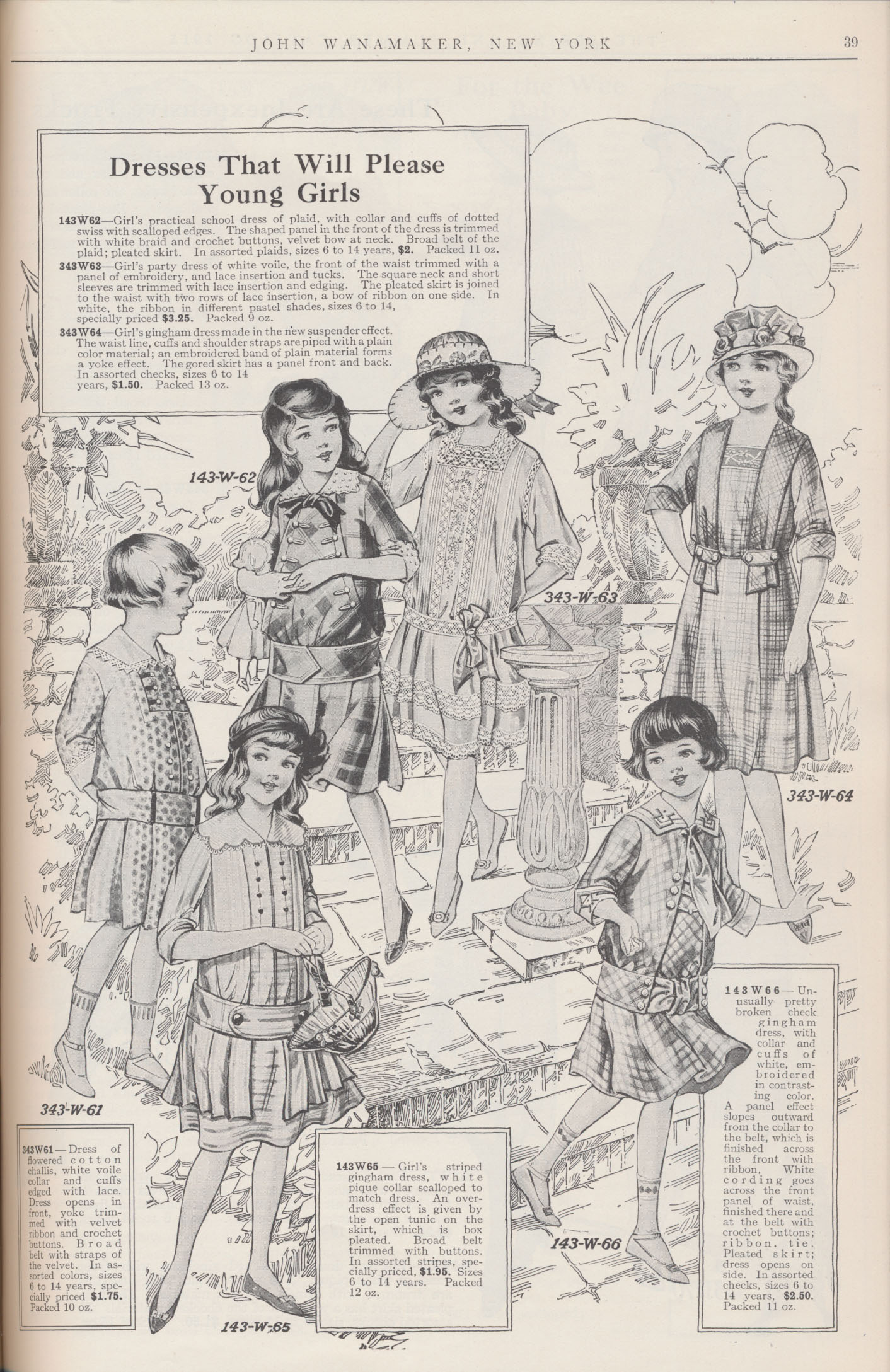 Now let's take a look at girls' school and "best" coats. Shown below (upper left), the "practical coat for school wear" was available in black and white check, navy blue, or Copenhagen blue serge for sizes 6 to 14 years. Decorative details included slashed pockets and turned back cuffs with a wide belt buttoning on the side.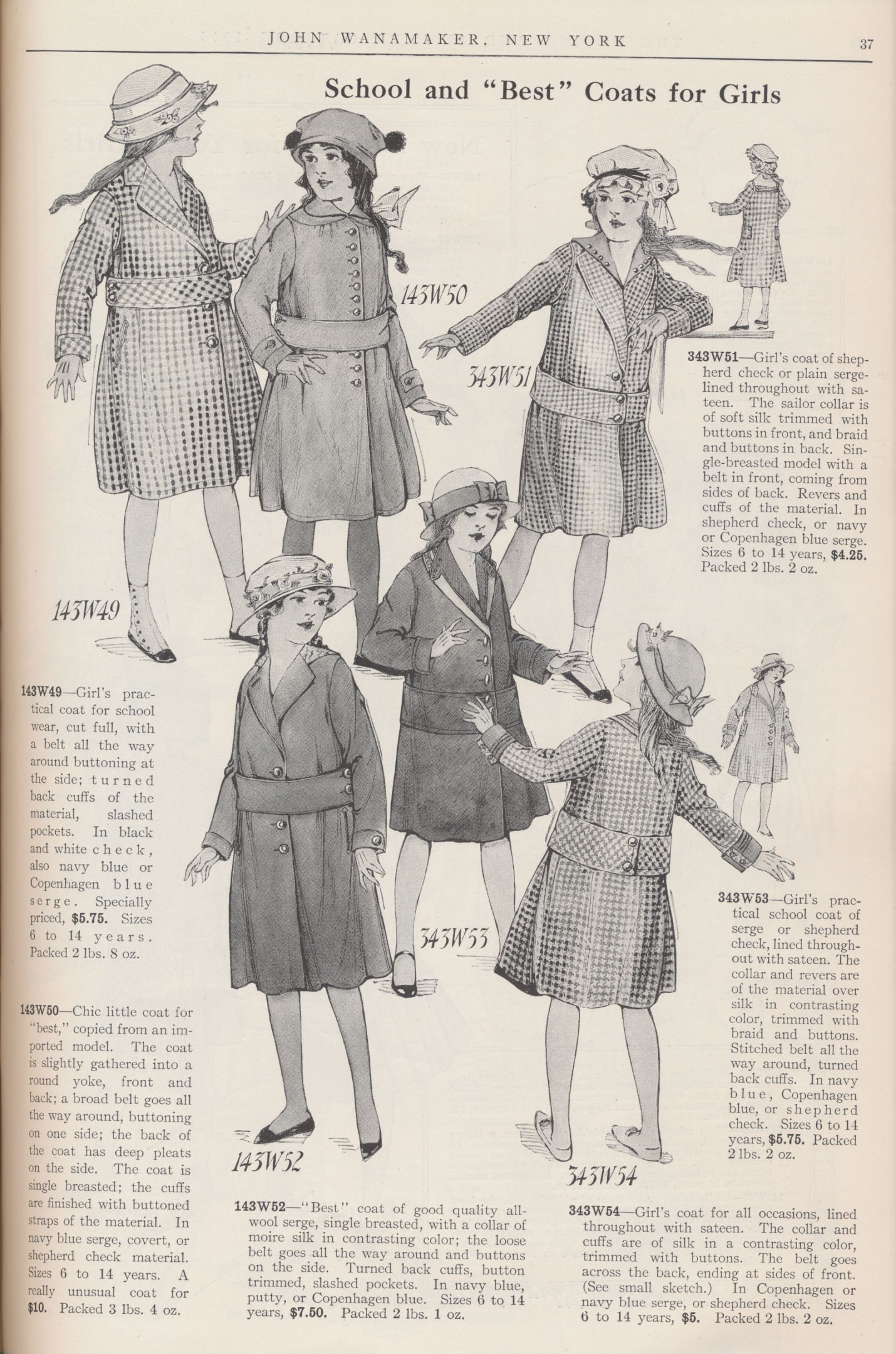 Another page illustrated school boys' outfits, such as Norfolk suits. One of these Norfolk suits is illustrated below (bottom left). The suit had three patch pockets and came with extra knickers. It was available in brown, gray, or tan mixtures and for sizes 7 to 18 years. A matching hat was available in gray, brown, or tan tweed or cheviot. For those rainy days, the tan raincoat and hat, illustrated below (bottom right) may have come in handy.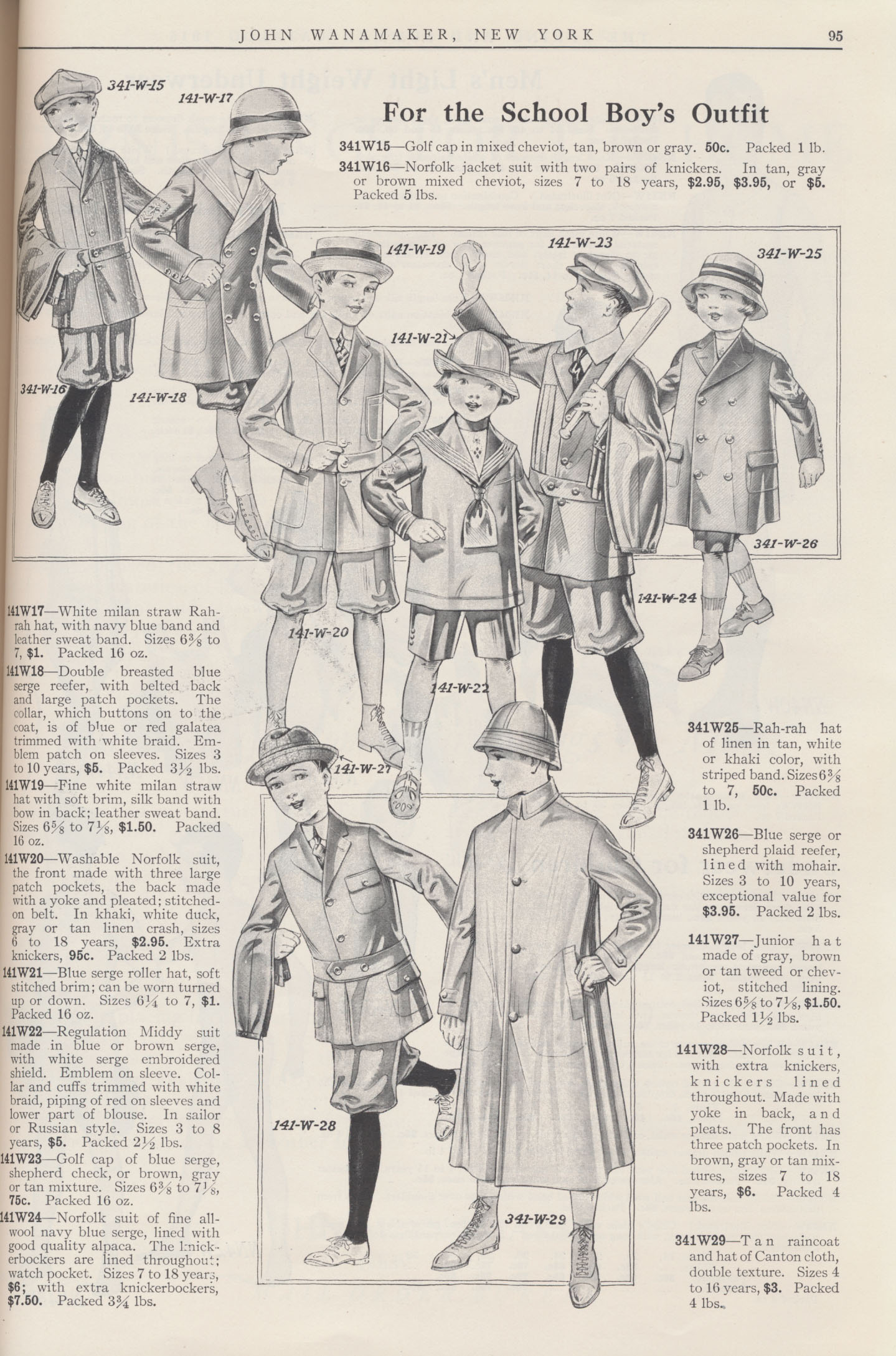 John Wanamaker also sold playtime clothing for younger children who might not yet be school age. This included a worsted sweater available in rose, white, or Copenhagen blue for sizes 1 to 6 years (below, bottom, second from left)
Several dresses were also available. A bloomer dress with separate bloomers is shown below (top middle). Made of checked gingham and trimmed with plain gingham, it was available in pink and white or blue and white checks. Sizes ranged from 2 to 6 years.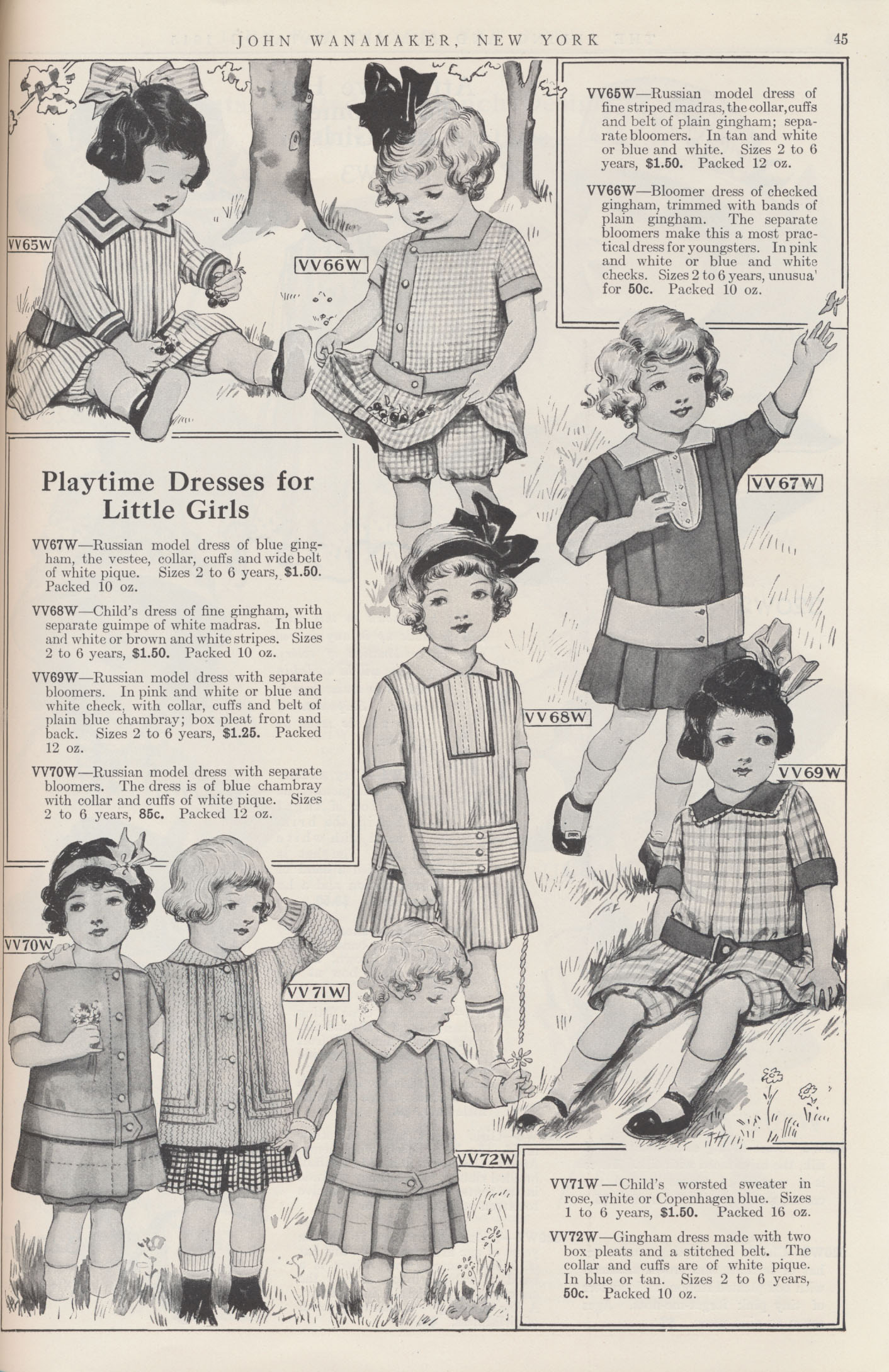 Besides suits for school age boys, this catalog also includes suits for younger boys. A Middy suit is shown below (middle, labeled VV31W). Made of blue chambray, it was trimmed with white pique at the collar and cuffs and included a pocket. It was available in sizes 2 to 5 years.
For those sunny days, the Child's Sun Hat (below, middle left) might have been especially useful. For ages 2 to 4 years, it was available in pink and white or blue and white check. Its button-on crown was a convenient feature, especially for cleaning.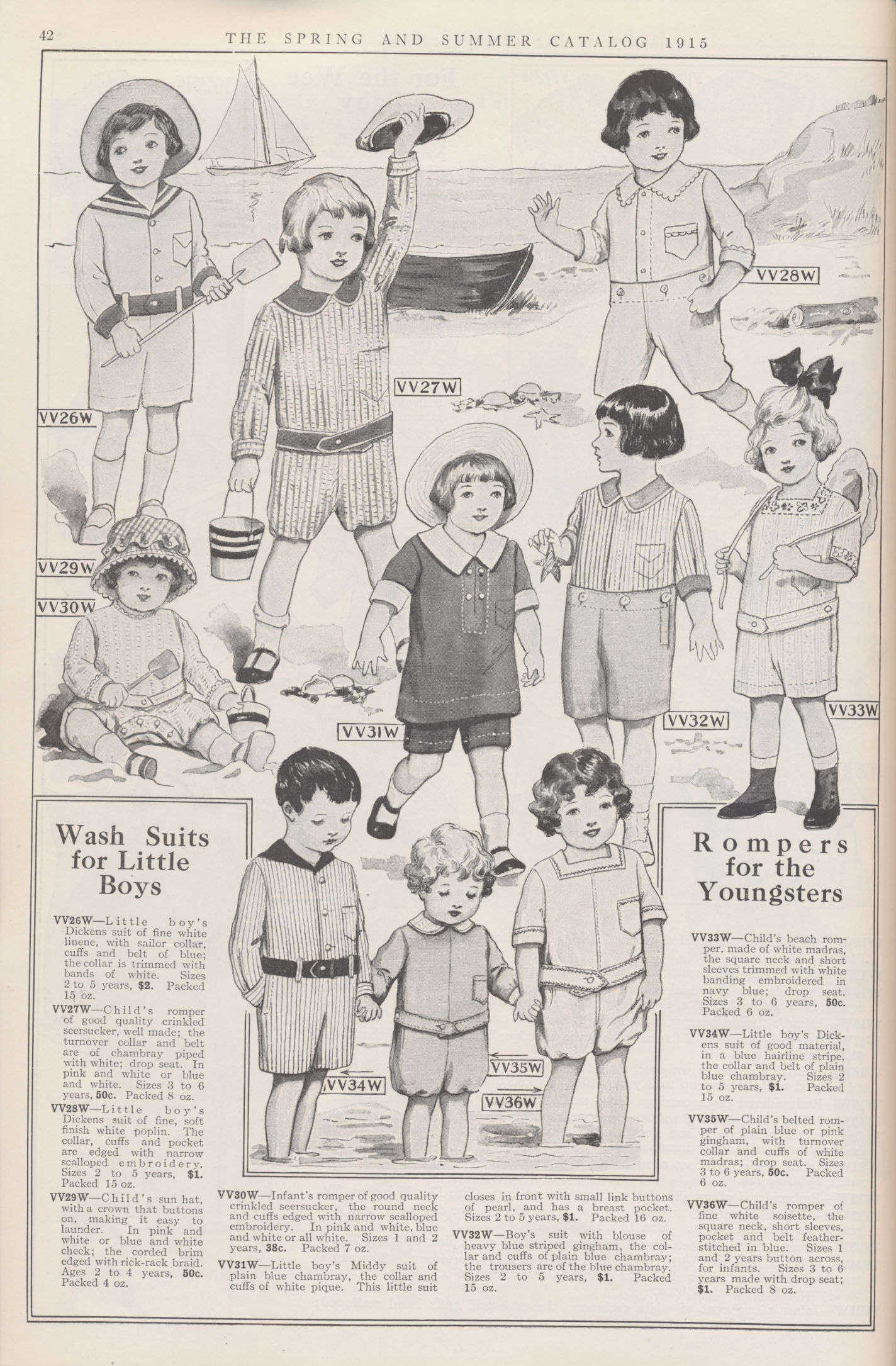 Spring & Summer Catalog (1915) by John Wanamaker is located in the Trade Literature Collection at the National Museum of American History Library.