If you were sick at the turn of the 20th Century, a doctor might have visited you at home. This was called a house call. But to do this, doctors needed reliable transportation. What were their options? One option was the Crestmobile.
This trade catalog is titled Crestmobile is What the Doctor Needs (circa 1901) by Crest Mfg. Co. (MA). It is directed towards physicians and describes features, specifications, and advantages of the Crestmobile. The final page includes a letter describing one doctor's experience with automobiles and how he transitioned from using a horse and carriage to steam vehicles and finally gasoline vehicles.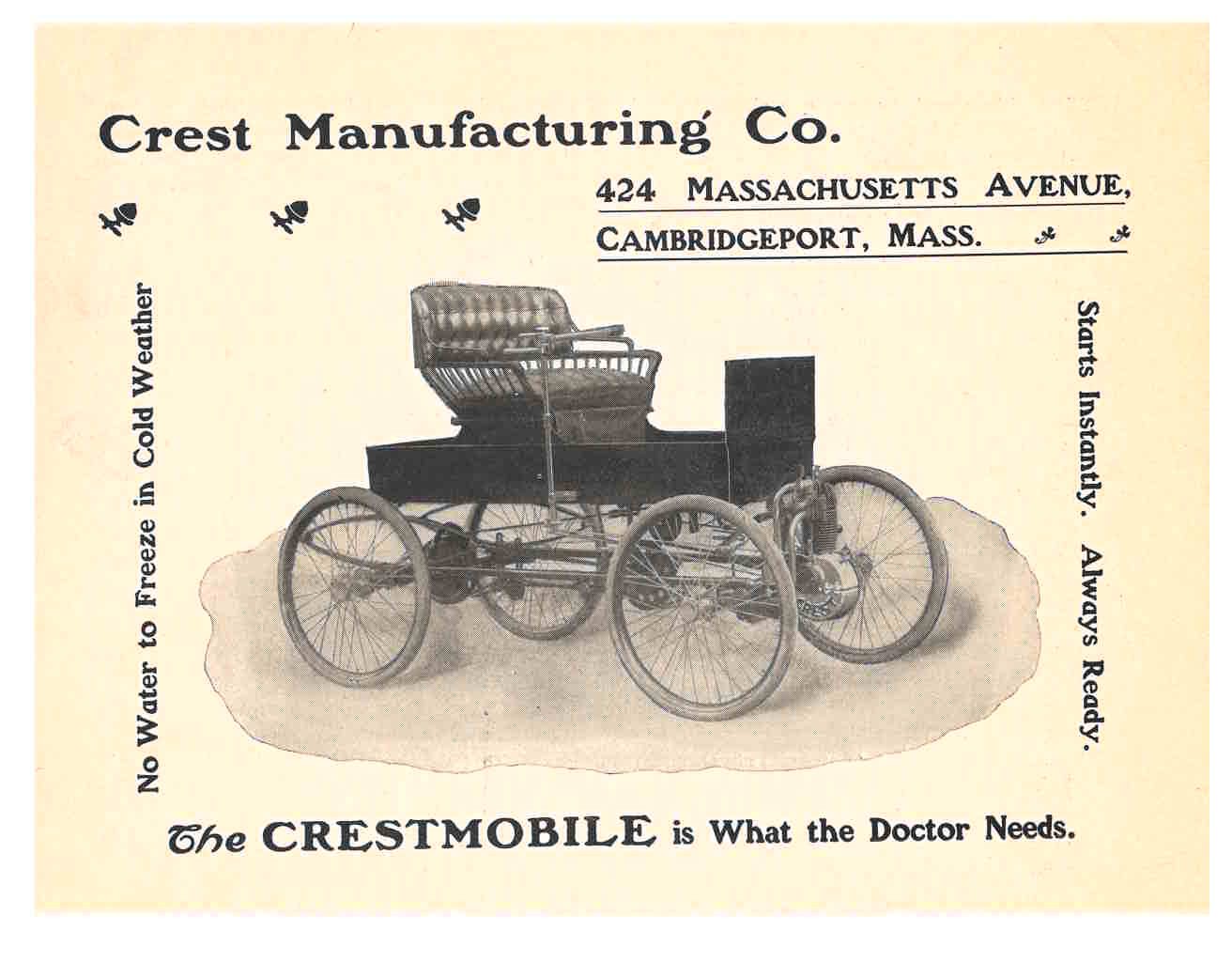 So, what were the advantages of an automobile over a horse and carriage? For one thing, speed. This was especially true in a medical emergency. A horse and carriage required extra time to harness the horses and prepare the carriage while a gasoline vehicle started instantly.
As the catalog points out, automobiles have the ability to cover more miles than a horse and carriage. It explains that a "horse is practically limited to from eighteen to twenty miles; with an automobile in the same time fifty or more miles can be made." By covering more ground in a shorter time period, it allowed doctors to make more house calls which led to more time in the office providing care to other patients and completing office work.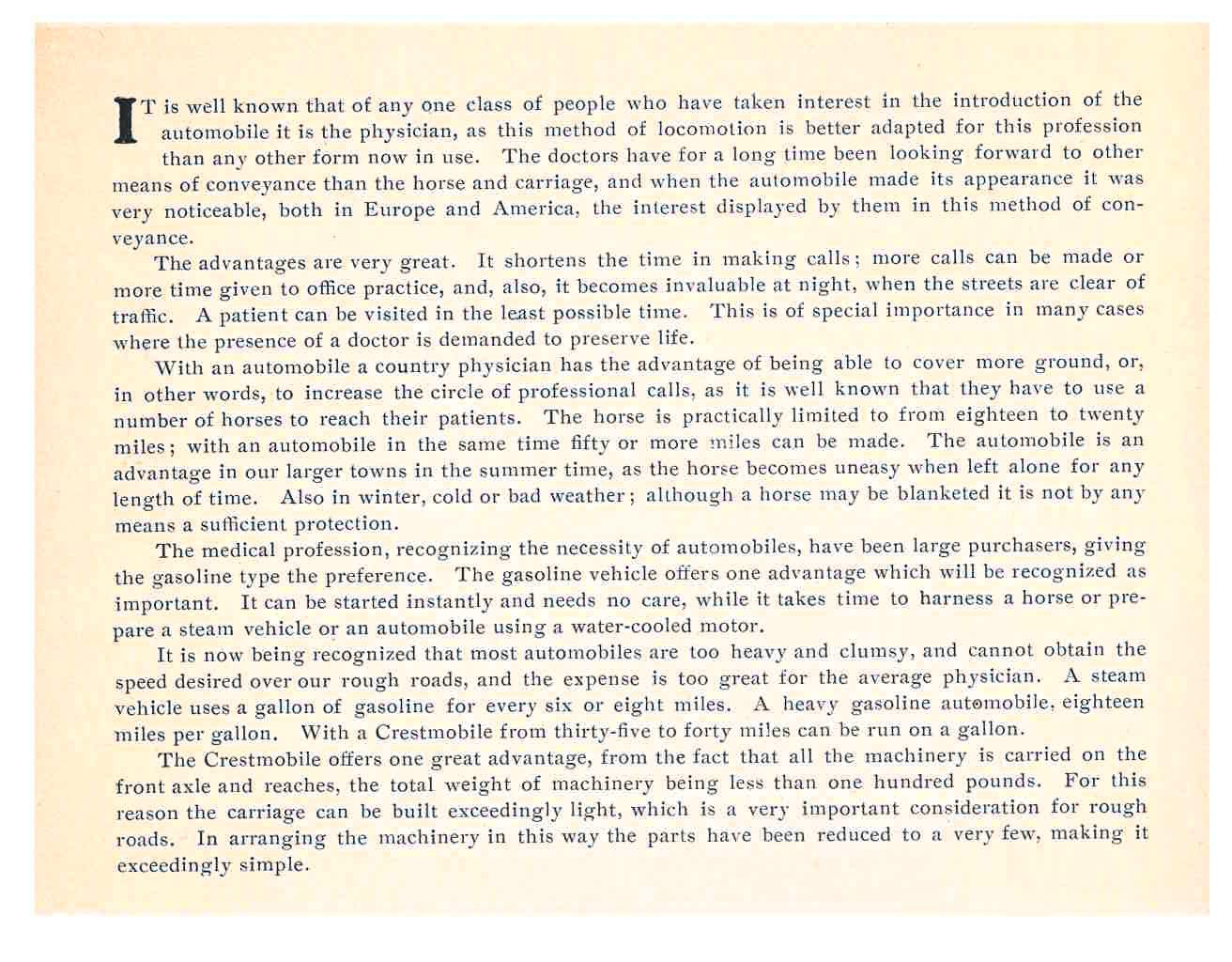 Now let's focus on the Crestmobile, in particular. The Crestmobile was a gasoline vehicle carrying all its machinery on the front axle area. According to this catalog, the machinery weighed less than 100 pounds. Its lightness was important, especially when driving on rough roads. In addition, the location of its machinery at the front of the vehicle made it easier to access for maintenance purposes. The gasoline tank was located under the seat and "easily removed." Specific measurements for the Crestmobile are included in this catalog, such as, "body, 42 x 60 ins.; length over all, 90 ins.; width over all, 51 ins."
The catalog mentions that the Crestmobile created "no noise, heat, or vibration." It got 35-40 miles per gallon and was fitted with side steering. The driver's left hand steered the carriage while the right hand operated the speed regulator.
For a doctor who most likely carried a medical bag and other supplies to treat patients, the vehicle provided ample space to store these items. It also came with the option of a top for the vehicle. The first page of this catalog shows the Crestmobile as an open-air vehicle with no top, but if desired a top could be supplied.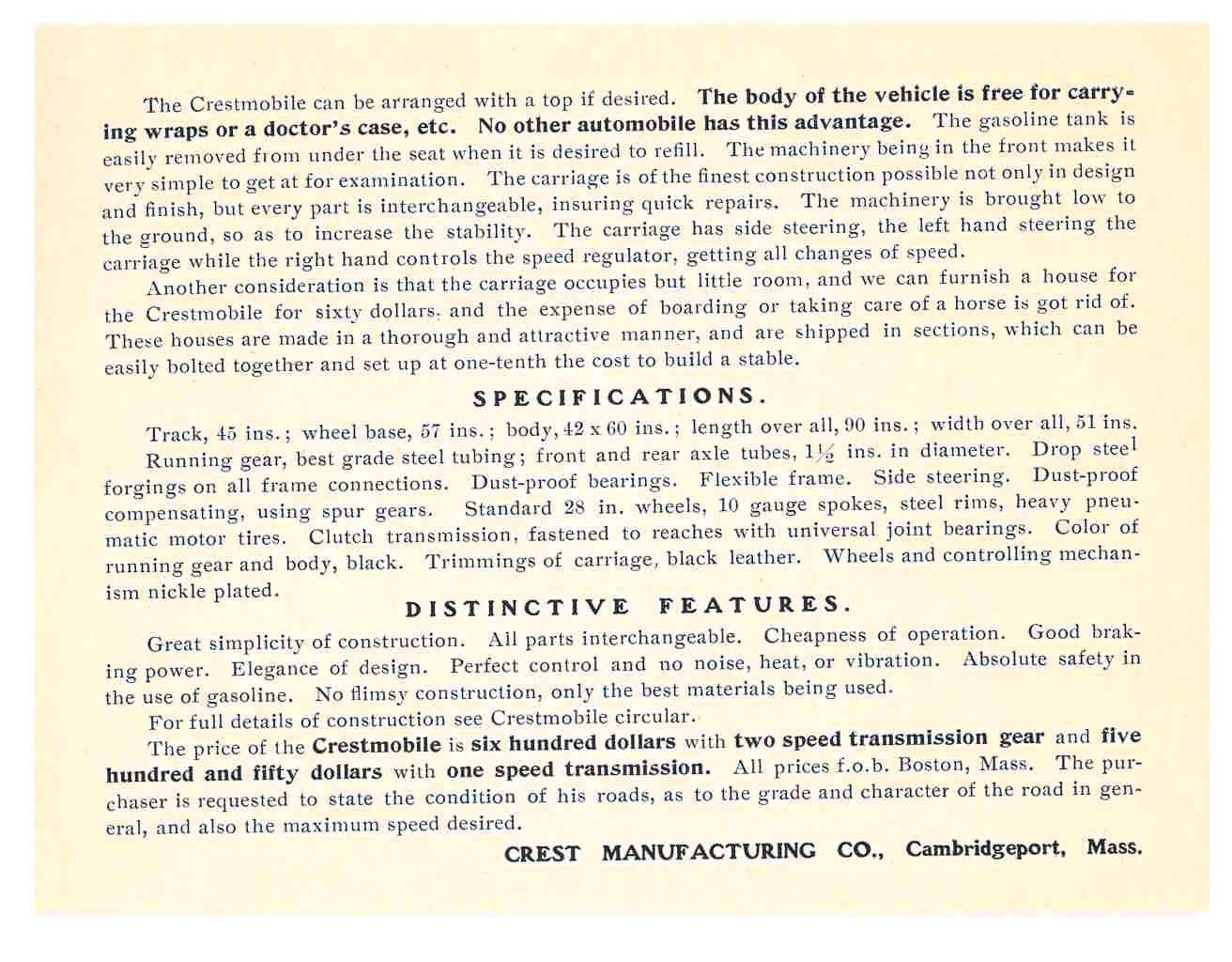 Another handy feature was the option to build a "house," or garage, to store the Crestmobile. The "house" was shipped in sections and then bolted together on location. As the catalog points out, this was a cost savings. It most likely cost more to build a stable or board a horse than to build a "house" for the Crestmobile.
But what did doctors at the turn of the 20th Century think of the various types of automobiles versus a horse and carriage? We can learn a bit from a letter included in this catalog. Printed in the Boston Transcript on January 26, 1901, describing a Boston doctor's experiences, it is titled, "A Doctor's Experience. How He Took to Automobiles in Place of Horses—He Used Steam First, but Gave it up for Gasoline."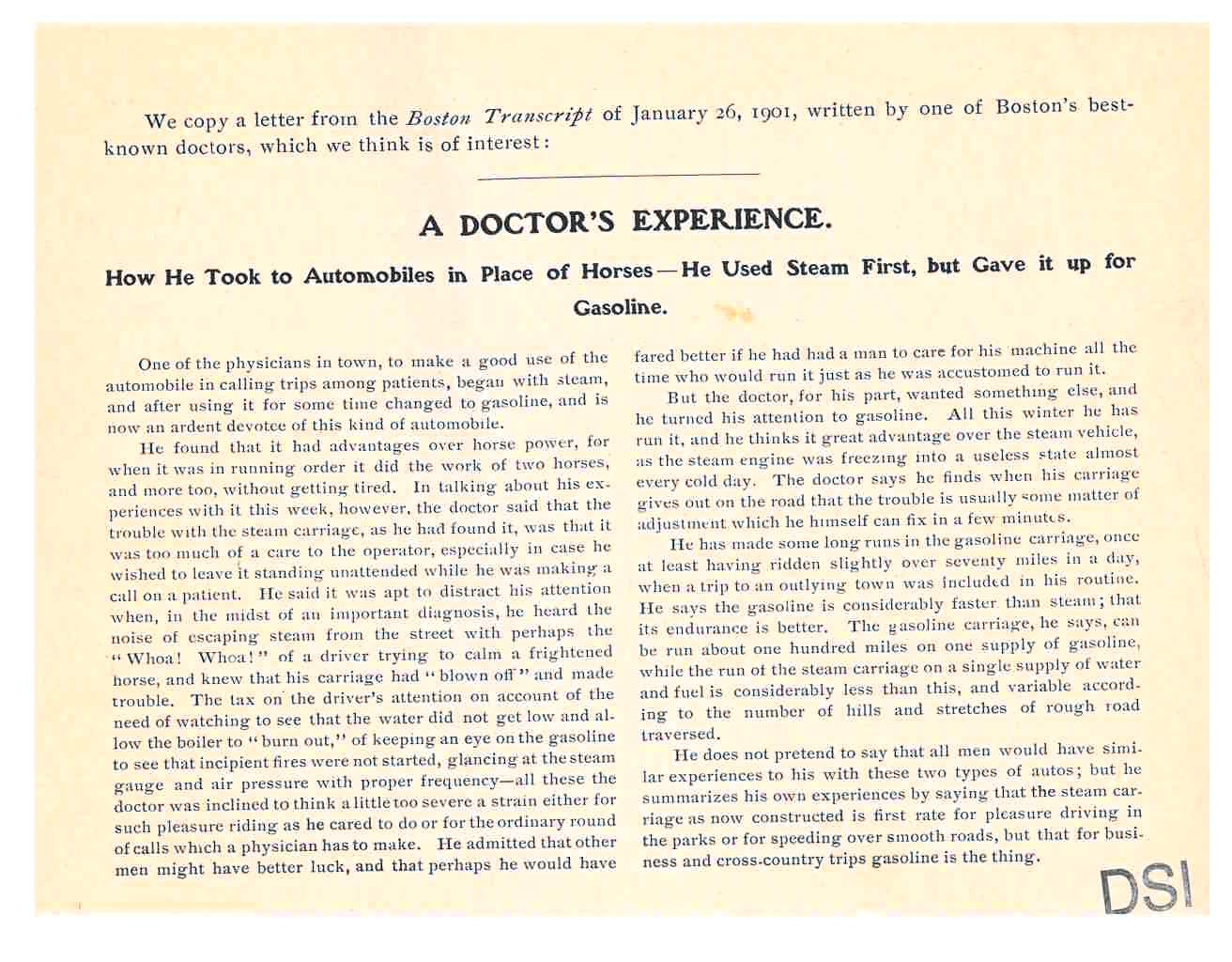 The letter explains how the doctor transitioned from using a horse and carriage to automobiles, first steam and then gasoline. In his experience, the automobile did the work of two or more horses without the extra worry of a horse becoming tired.
When he switched to a steam vehicle, he found that it required a good deal of maintenance and care even while making house calls. For example, on a house call tending to a patient, he might become distracted when hearing the sound of escaping steam from his vehicle.
However, when he switched to a gasoline vehicle, he found that he could take care of the general maintenance of the vehicle himself. Gasoline vehicles seemed to be faster and more capable of traveling over longer distances as opposed to steam vehicles. He even took one trip in a gasoline vehicle covering over 70 miles in one day.
The letter ends with an important acknowledgement. This particular doctor found the steam carriage of that time period to be "first rate for pleasure driving in the parks or for speeding over smooth roads, but that for business and cross-country trips gasoline is the thing." But he acknowledged that not everyone may have the same experience as he did.
Crestmobile is What the Doctor Needs (circa 1901) and other trade catalogs by Crest Mfg. Co. (MA) is located in the Trade Literature Collection at the National Museum of American History Library.