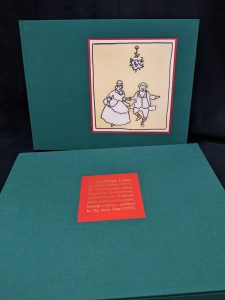 It is nearly impossible to go through a holiday season and not view some rendition of Charles Dickens' A Christmas Carol, whether it be in writing, on the stage, or on your television. There have been countless interpretations, each with their own altercations. However, the core message of generosity, empathy, and repentance often remains the same, no matter the method A Christmas Carol is produced.
The American Art and Portrait Gallery Library (AAPG Library) received the 1993 Arion Press edition of A Christmas Carol in Dr. Ronnyjane Goldsmith's donation of Arion Press books from her collection. Published on the occasion of the 150th anniversary of A Christmas Carol, the Arion Press edition sought to pay homage to the classic through the art of Ida Applebroog. While Arion Press has often selected artists who have not had much experience with book arts, Applebroog is a multi-media artist who is well known for her series of artists' books, particularly those with the subtitle "A Performance." These books showcase her signature style of cartoon-like characters, often in dramatic scenes exploring larger social issues, framed by curtains as if they are actors on a stage. The AAPG Library holds several of Applebroog's artists' books in its artists' books collection.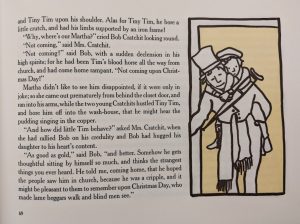 Applebroog's simple but bold style is a stark contrast with earlier, more detailed, illustrations of Christmas Carol. However, Applebroog spent a great deal of time preparing her illustrations. According to the Arion Press prospectus for this book (also included in the donation!), the artist not only studied the illustrations of many different editions of the book at the New York Public Library, she also viewed Dickens' original handwritten manuscript held at the Morgan Library. From this research, Applebroog found images that she felt best captured the story and recreated them in her own style: thick outlines, cartoonish characters, and framed like comic panels. Applebroog's versions of iconic scenes, such Tiny Tim on the shoulders of his father or the haunting image of the door knocker with the face of Jacob Marley, are instantly recognizable without immediate context.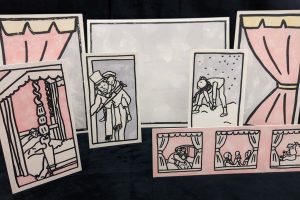 The limited edition includes an extra suite of 18 hand-painted prints of Applebroog's illustrations, of which only 25 sets were made. In addition to the book's illustrations, the set has 3 prints that create a backdrop with curtains, and all are printed on thick board and can stand upright. The reader can set the stage in any way they want, allowing them their chance to create their own interpretation. The inclusion of the backdrop with curtains not only ties directly with Applebroog's "Performance" book illustrations, it also serves as an homage to the theatrical history of A Christmas Carol as well. While this collaboration of Dickens and Applebroog might seem unlikely at first, it isn't difficult to see their similar interest in discussing the good and bad of mankind through their art.
For this edition, the fine press book has a festive green cloth binding with a matching slipcase. Applebroog created fifty drawings overall, including large illustrations, small vignettes, and initial letters. The text was handset and printed in black, green, and red inks. Applebroog's illustrations were printed in brown and yellow inks from photopolymer plates. The AAPG Library has edition number 16 out of 200.
Beyond the many books on and by Ida Applebroog in the AAPG Library, the Archives of American Art has many materials pertaining to Applebroog, including an interview. The Smithsonian American Art Museum has a silkscreen print by Applebroog in their collection, which serves as another great example of her work.